This post may contain affiliate links. Full disclosure policy
A couple of months ago I had some very exciting news.  The Oliso company offered to send me a Smart Hub Combo to see how I liked it!!
Hmm…the crickets I'm hearing after my announcement tell me that some of you may not know what a Smart Hub is.
Allow me to enlighten you.
The Oliso Smart Hub Combo (brought to you by the same people who make those marvelous irons) is a countertop cooking system that combines a single induction burner  topped with an enclosed, cordless sous vide water bath cooker.  It also includes an Oliso Vacuum Sealer with heavy duty, reusable bags.
And why is that good? Basically, because sous vide cooking is the bomb.
What is Sous Vide Anyway?
Sous vide means "under vacuum" in French. Sous vide preparations allow you to cook vacuum sealed recipes in a water bath at very precise temperatures.  Cooking sous vide allows foods to cook evenly and seals in flavors.  Combining that with Induction technology, using magnetic currents that heat the pan, not the cooktop, allow for quicker heating.
And since sous vide cooking doesn't allow for any browning, being able to take a cooked food out of the vacuum bad and sear it quickly at a high heat is, if you ask me, a little bit of genius. It helps me finish off meat, fish, or skin-on chicken dishes quickly and makes them look and taste gorgeous. The Oliso Smart Hub Combo is definitely an investment, but the results I've gotten so far have been terrific. Cooking sous vide with my Oliso Smart Hub is going to be a regular part of my kitchen repertoire.
Of course, cooking "under vacuum" means you need a vacuum sealer. I already had one but I do prefer my Oliso Vacuum Sealer because the bags can be reused up to ten times, which is a big plus. Being able to reuse the bags so many times is better for the environment and easier on my wallet.
Getting the Hang of it
I've been having a lot of fun with my Oliso Smart Hub combo in the last few weeks and my family has been enjoying the results of my experiments. It's definitely been a bit of a learning curve because the techniques were completely new to me. I bought a couple of different sous vide cookbooks to help guide me. My favorite was the Sous Vide for Everybody: The Easy, Foolproof Cooking Technique That's Sweeping the World by the people at America's Test Kitchen.
If you're already an experienced sous vide cook, then this might not be the book for you. But if you're starting from square one, like I was, and want to master the basics as well as understand the principles of why the recipe works (which will help me understand how to make my personal sous vide recipes work when I'm ready to branch out on my own), this cookbook is ideal. Every recipe I tried worked beautifully.
Over the last weeks, I've made beautiful soft boiled eggs (no vacuum bag needed for these), delicious miso glazed salmon, homemade yogurt and even my own ricotta cheese.  They've all been delicious. But when it comes to meat and poultry, sous vide cooking gives truly remarkable results.
Winner Winner Sous Vide Chicken Dinner
My husband and I eat organically and locally as much as possible, which means our beef and pork are usually grass fed. Grass fed meat are healthy and flavorful but they can also be tough. The grass fed steaks and pork chops I've prepared recently were incredibly tender and so, so good.
But the recipe I've found myself making again, and again, and again are these Lemon Herb Chicken Breasts.  They're heaven!
Anybody who watches their weight (so basically everyone) ends up eating a lot of chicken breasts.  There are good reasons that diet cookbooks are loaded with chicken breast recipes.  But, let's face it, unless you add all kinds of high fat, high calorie sauces, oils, or cheeses (which kind of defeats the point) chicken breasts can be boring, bland, and dry.
Cooking these chicken breasts sous vide with my Oliso Smart Hub infused the incredibly tender breast meat with gorgeous lemon and herb flavors. Every bite was heaven. I've marinated plenty of chicken breasts in my time. But no matter how long I left them in the marinade, I've never achieved the depth of flavor I was able to get with this recipe, which required zero marinating time.  Definitely a nice feature when you're in a hurry.
My Lemon Herb Sous Vide Chicken Breasts are wonderful served all on their own. Add a green salad (or my tomato couscous summer salad or my watermelon feta arugula salad) and you've got an healthy, elegant meal that's good enough for company. I also like to make extra and put them refrigerator later to top summer salads or chicken sandwiches.  They're scrumptious any way you serve them. When's the last time you said that about a chicken breast?
Flavor wise, this is there's nothing here that would make you think you're eating a diet friendly dish. But in case you're wondering, my Lemon Herb Sous Vide Chicken Breasts clock in at just two Weight Watchers points per serving.
Print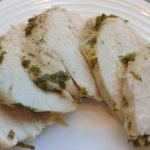 Lemon Herb Sous Vide Chicken
---
2 8 oz boneless, skinless chicken breasts
¼ cup fresh herbs, chopped (I used a mixture of basil and oregano)
1 large lemon
1 T olive oil
1 t. salt
½ t. pepper
½ t. garlic powder
---
Instructions
Fill your sous vide container with water and set temperature to 150 degrees.
Use a zester to grate the lemon zest into a small bowl.  Cut the lemon in half and squeeze the juice into the bowl. (There should be about 2 T of lemon juice.). Pour olive oil and spices into bowl and mix everything together.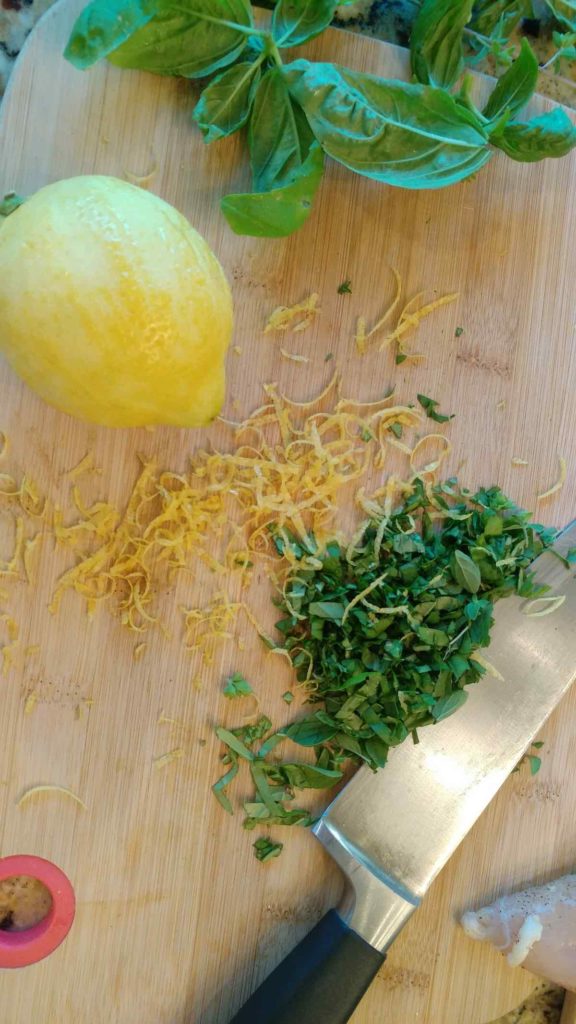 Rinse the chicken breasts and pat dry with a paper towel.  If desired, lightly salt and pepper chicken.
Place prepared chicken breasts inside vacuum sealer bag. Pour lemon marinade into bag. Use vacuum sealer to close bag.  (If using Oliso Vacuum Sealer, use the Moist setting.)
Place the sealed bag into the sous vide water bath, making sure chicken is completely immersed. Top of bag should be above water line.  Cook chicken in for 1 to 2 hours. (Sous vide recipes routinely allow for a wide range of cooking times without risk of overcooking.)
Remove from bag from cooker and chicken from bag, reserving the lemon marinade. Allow chicken to rest for 5 to 10 minutes.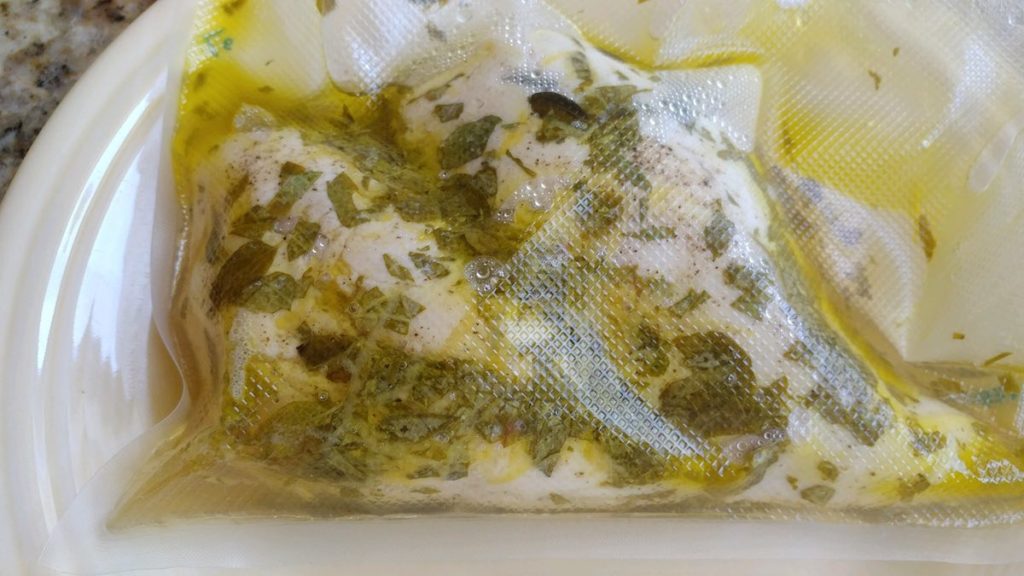 While the chicken is resting, place lemon marinade in a sauce pan over high heat. Allow marinade to boil for about a minute, to thicken slightly.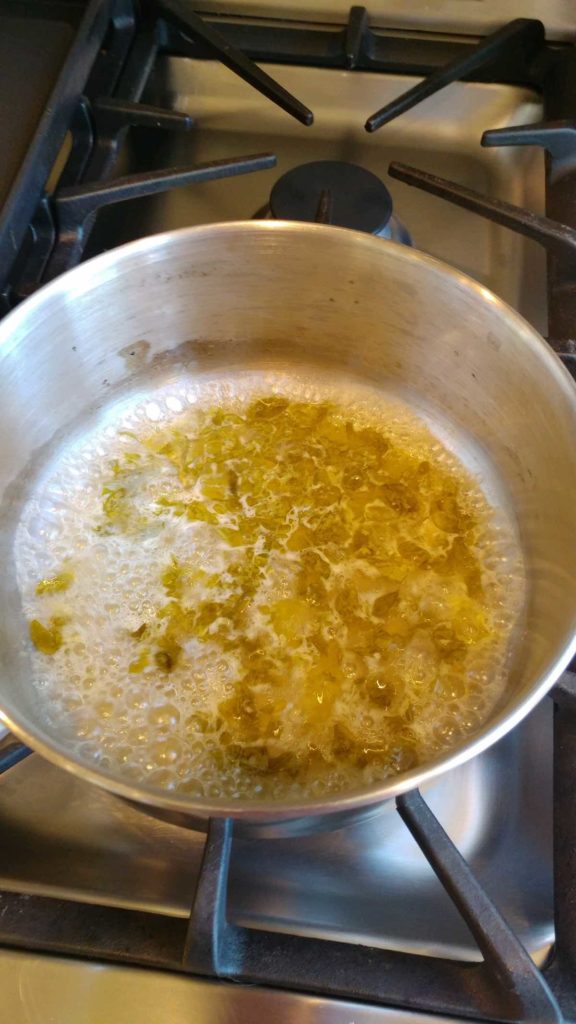 Slice chicken breasts diagonally, fanning out the pieces. Pour cooked lemon marinade over the chicken and serve immediately.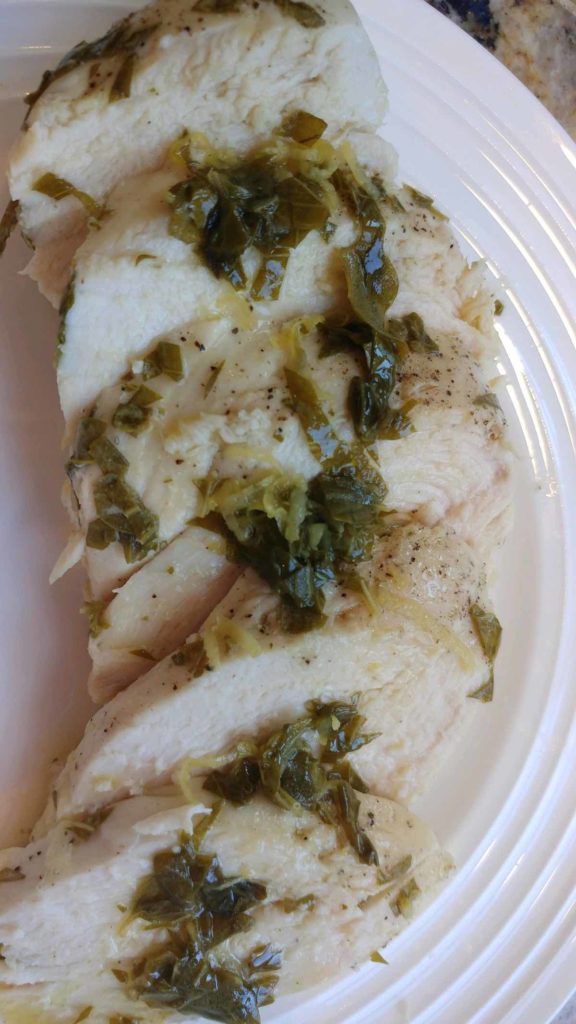 Category:

dinner

Method:

sous vide
Keywords: sous vide chicken, healthy chicken recipes, weeknight dinner ideas
There are so many great options for sous vide chicken! I've been eyeing this sous vide barbecue chicken I found on Pinterest and I really want to try cooking a whole chicken sous vide just to really take it up a notch.