This post may contain affiliate links. Full disclosure policy
I know a number of people who go to book club meetings just for the food and wine. They never, or almost never, actually read the book. They just like the idea of having a party with smart, bookish buddies every month.
I'm certainly not recommending or promoting this attitude. In fact, if you are that girl I want you to picture me right now, pointing my finger and tsk-ing my tongue at you. Life sometimes gets in the way of our reading schedule but this should not be a regular thing! If you aren't carving out time to read the book, you're not holding up your end during the discussion and that's not fair to the group. You're also missing out on the fun, which is even worse.
On second thought, forgive my scold. I'm sure that none of you are that girl. You're all much too brilliant and fierce to fall into such slovenly habits. Forget I mentioned it.
Food Is The Side Dish
But the fact that those guys are out there does highlight the role that food plays in successful book club gatherings. The book is and should be the star of the show but snacks definitely come under the heading of Best Supporting Actress.
Some book clubs serve entire dinners at their meetings, with menus that reflect themes or settings of the book. For example, if your book club was reading Moby Dick, you might serve New England style lobster rolls. (And if you do, be sure to invite me!) If you were discussing A Gentleman in Moscow you could make borscht or blini pancakes served with smoked salmon, or creamy mushrooms, or even caviar.
Creating a menu based on elements in the book can create a fun, festive atmosphere at your next book club meeting. Food has often played a role in my books. What can I say? My characters like to eat. So do my readers! That's why I nearly always create book based recipes to share with my readers. For a couple of my books, we created book club party kits with recipes for several different suggested menus as well as activities and even sound tracks! If you'd like to get the kit for Just in Time, click here.
When Simplicity Is The Name Of The Game
Creating an entire meal for a book club meeting can be great fun – if you've got the time.
But I'm also a fan of keeping it simple. If you've got to choose between time spent reading the book and time spent making the food, I think you know what the choice should be, yes? (Read the book!) Entertaining your book club can be as simple as making a pitcher of iced tea and putting out a plate of book club appetizers.
Because I like to be prepared for last minute guests, I keep pantry staples on hand that can be turned into an almost instant appetizer. This is one of my secrets for easy entertaining! My go-to appetizer favorites are the pickled Crunchy Carrots, Dilly Beans, and Classic Asparagus from Stonewall Kitchen.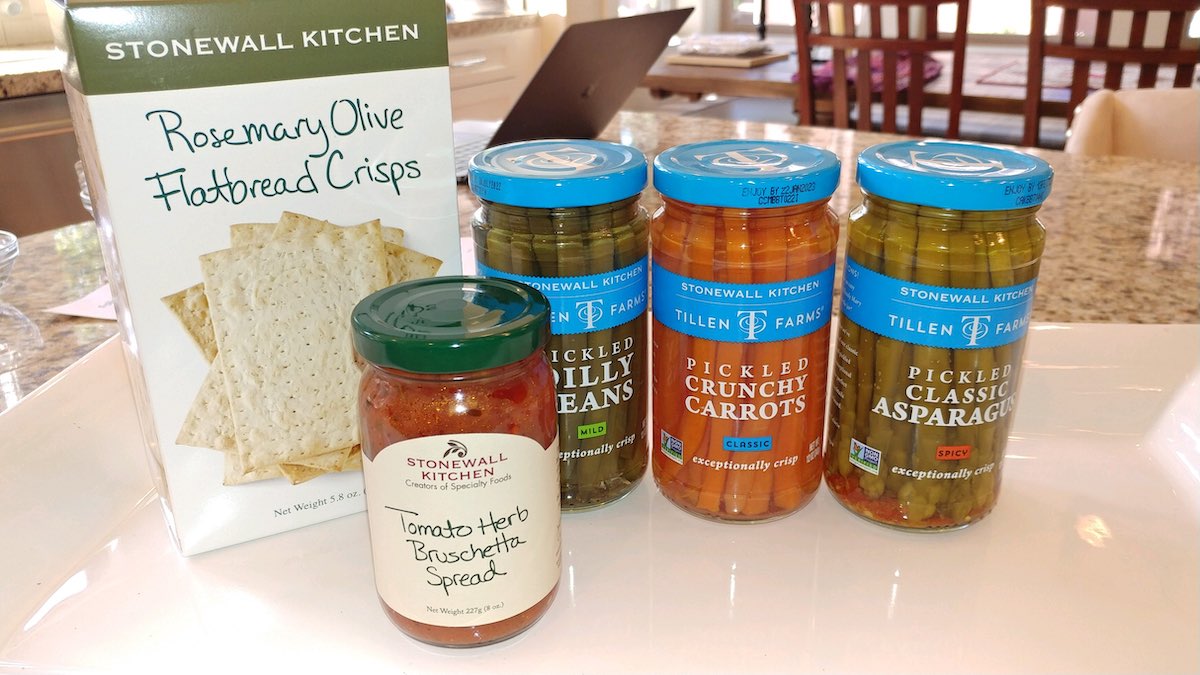 I'm also a big fan of their Tomato Herb Bruschetta Spread and the Rosemary Olive Flatbread Crisps. (I don't know what they put in those crackers but they are amazing! I always have some in the pantry but never open them unless I've got company, otherwise I'd eat the whole box by myself.)
My Idea Of Entertaining
We had some unexpected guests not long ago and I pulled out all of the above to create an appetizer platter on ten minutes notice.
I whipped up a little Feta Spread with feta cheese, Greek yogurt, olive oil, water, and fresh herbs to add to the mix and – Voila! Instant party! (The Feta Spread was absolutely divine topped with a dollop of the Herb Bruschetta Spread.)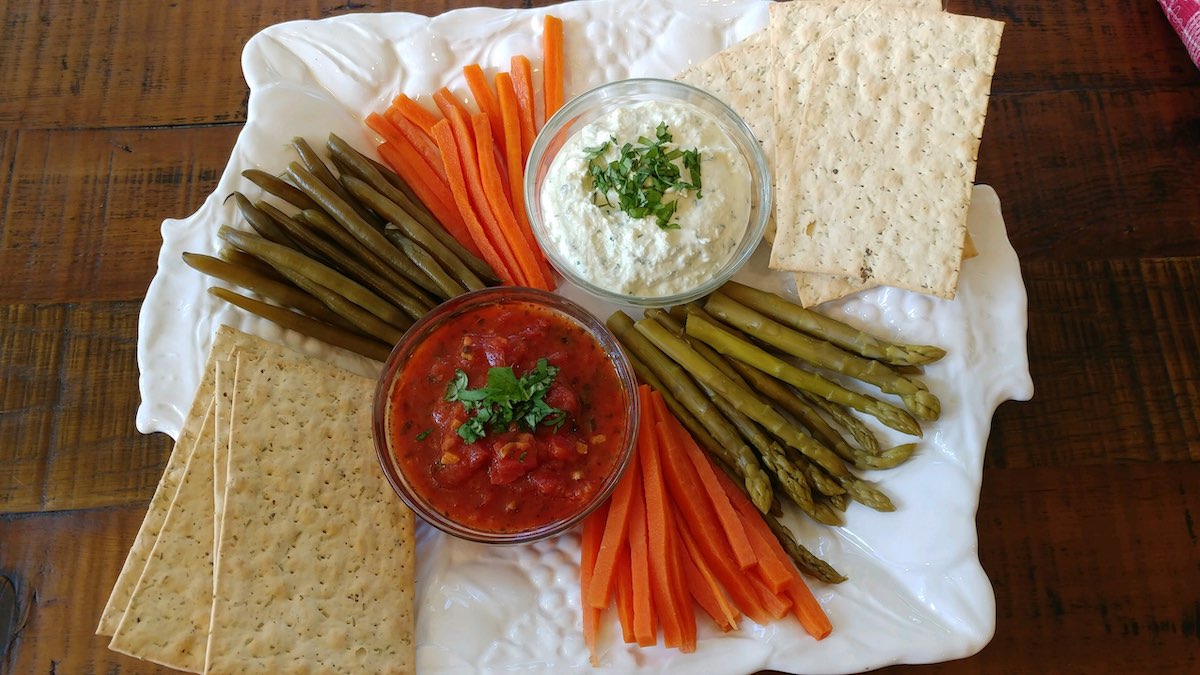 My point is, hosting a terrific book club meeting doesn't have to take a lot of time. Here are some more ideas for book club appetizers that can be prepared in just a few minutes.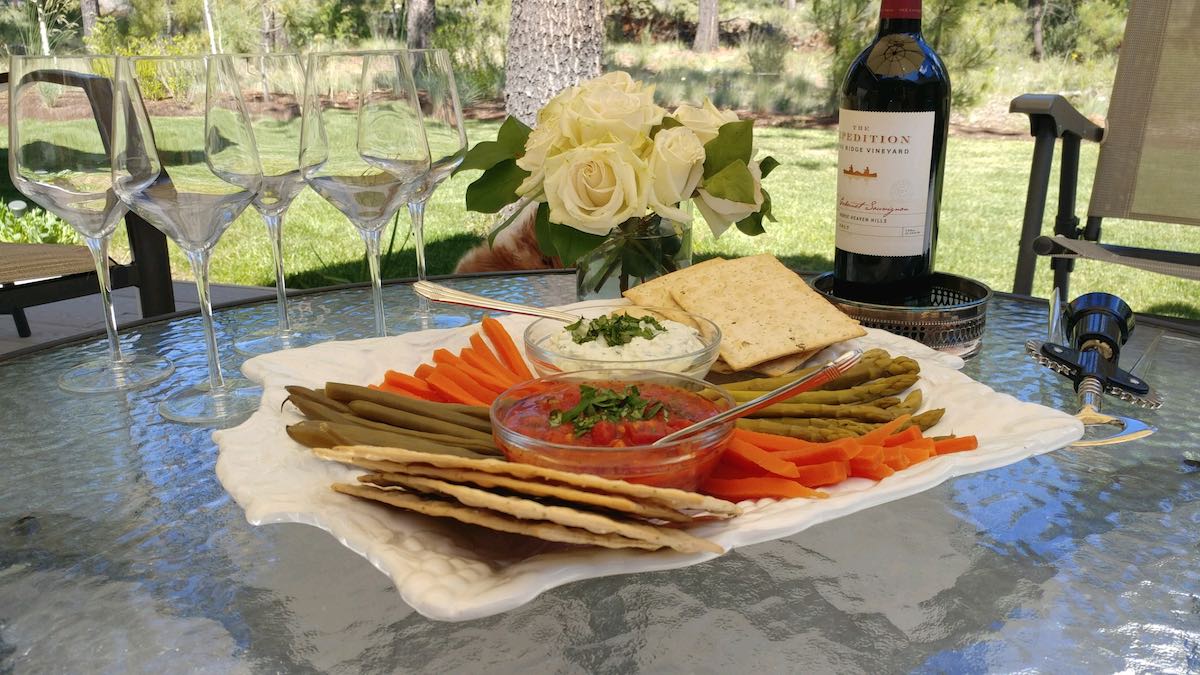 Other Book Club Appetizer Ideas
First stop – my friend, Sandy, also known as The Reluctant Entertainer. Sandy is the Queen of Charcuterie, creating the most gorgeous, delicious, positively epic appetizer boards that are easier than they look. You can't go wrong with any of her recipes. I was lucky enough to be invited over when she made this phenomenal board with roasted sweet mini peppers!
Here are some others that look really good and really quick!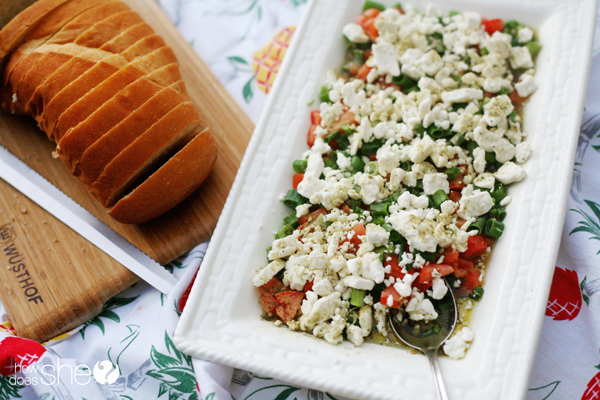 This Greek inspired dip made with feta looks fresh, easy and mostly delicious!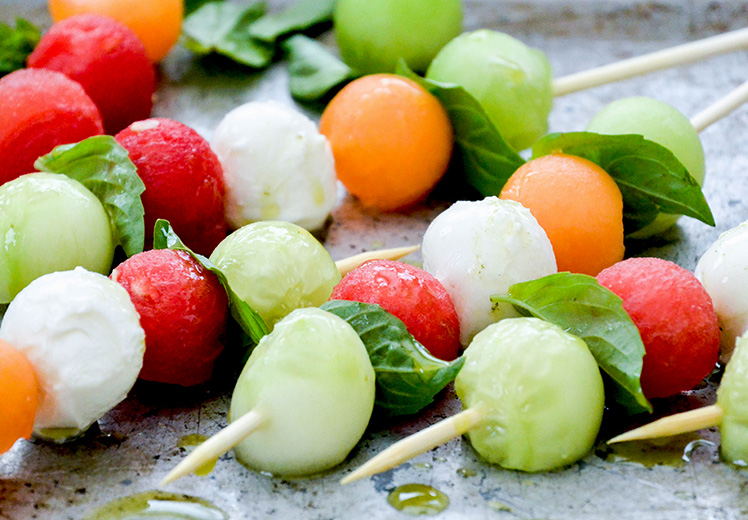 These melon Caprese skewers drizzled with an herb oil are so easy, and you could substitute so many things based on what you already had in the kitchen!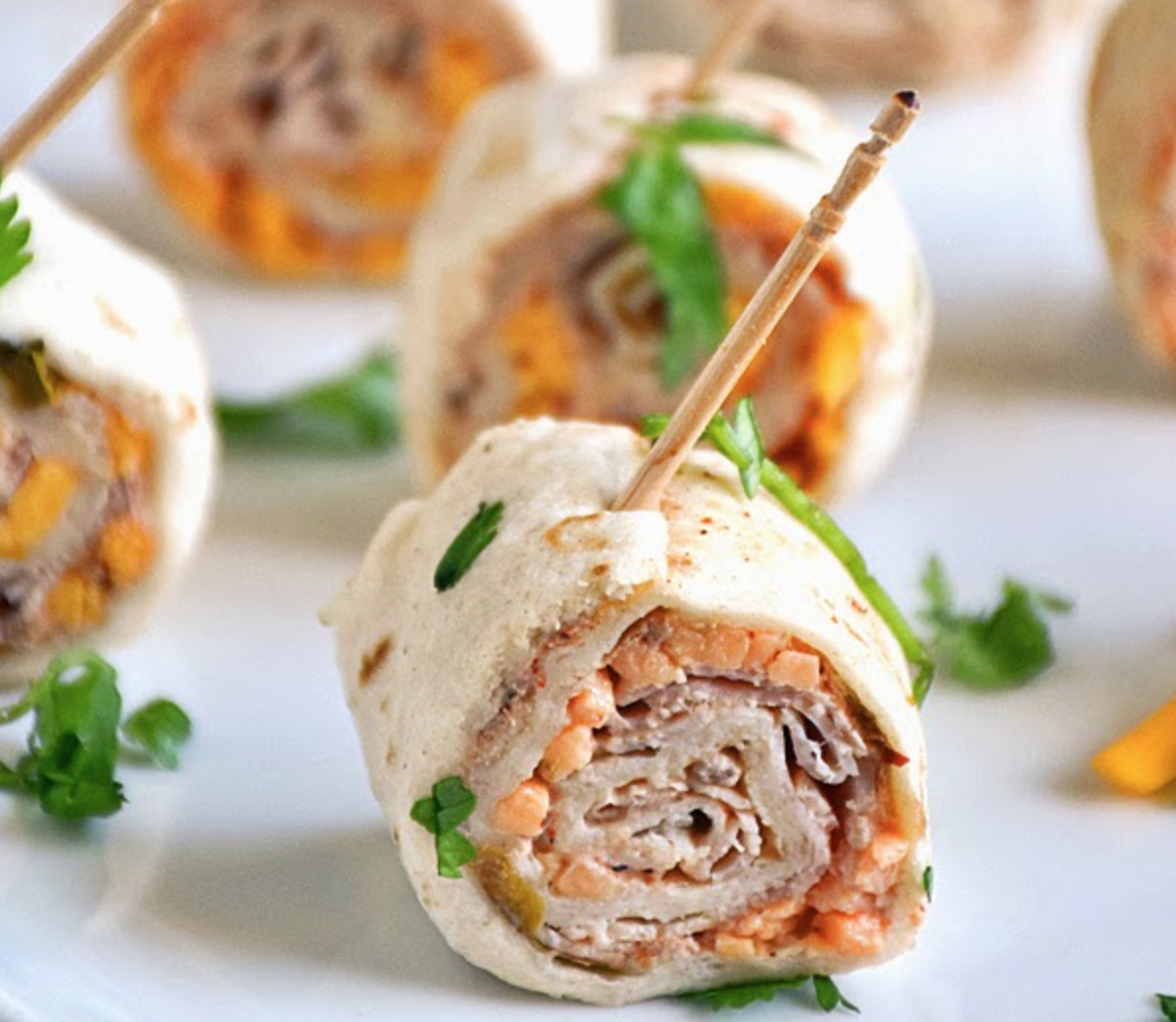 These easy to make taco-bites can also be pretty customizable based on what is in your kitchen, and who doesn't love rolled up tortillas!
Want more book club ideas? Check out my post on how to start a book club (including four appetizer options inspired by my latest novel, The Restoration of Celia Fairchild), a roundup of beach reads to read right now, how to make more time to read, and even a delicious and delightful book club party kit for my novel, Hope on the Inside.