This post may contain affiliate links. Full disclosure policy
So you've already decided that glamping is your style. But now you need the glamping gear and you don't know where to start. It should be no surprise that Marie is here with thoughts, opinions and suggestions.
I've long loved the idea of camping more than I've actually loved the camping. The great outdoors really is great. And a steaming cup of coffee on a chilly morning as you gaze at the canopy of trees – that is perfection. But a questionable night's sleep on uneven ground? That's something I could do without. And skipping a shower just makes me worry I'm easier for the bears to smell, which makes sleeping even more difficult.
Earlier this year, I marked a big item off my bucket list and took my mother on a girls-only glamping trip! Let me tell you, I couldn't believe how much more I loved nature with just one or two creature comforts.
Is Glamping For You?
After my mother and I returned from our weekend away I was inspired to find a time when The Chairman and I could replicate the experience. However, the summer kept trickling by with busy schedules and no glamping trip. Eventually I realized this trip would go on the "next year" to do list. But I'd done so much more research and found new, fun ideas that I don't want to waste. So I'm sharing my ideas with you (and publishing a blog so I can find all them again myself next year when we're ready to go!)
Glamping Gear 101: Where You Sleep
The first decision to make when planning a glamping trip is: RV or tent. Personally I would base this decision on what time of year the trip was planned for. (And maybe how much fortitude against the heat or cold you and your fellow travels possess.) If you're looking to go the RV route, let me suggest Outdoorsy where you can search and rent RVs in your area. We used Outdoorsy for our mother/daughter trip so I can't offer much specific insight on glamping tents. But I do love the idea of a sleeping in a wall tent, so perhaps that's in my future.  Here are a few you I found on Amazon that look like loads of glamorous fun.
Glamping Gear 201: The Comforts Of Home
If you're the type of person who is glamping and not camping, you're going to want comforts of home. What are those comforts? That depends on the person. We all have those things that we can't (or don't want to) live without. But what may be a necessity for some might seem indulgent or downright silly to someone else.
You know what works for you but a few options that come to mind are a self-inflating air mattress. (Note:  This mattress is great for camping but also as great as an instant bedroom for visiting grandarlings or other guests. The pump is attached to the mattress, so you just quickly press a button and, within a few minutes, it's inflated. It's surprisingly comfortable!) Do you worry about being chilly in your tent at night? Here is a stove that's safe to keep lit and burning inside your tent overnight! (It's pricey enough I think someone needs to buy it and loan it out to the rest of us.)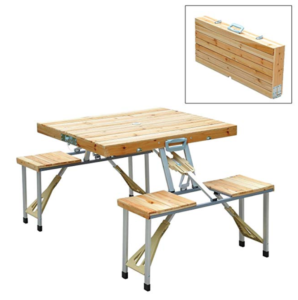 This folding picnic table is sturdy yet easy to carry. I can see so many uses outside of camping and the price point is very reasonable. This one is a leading candidate for me to purchase in advance of our travel next summer. You never know if you're going to have access to enough clean tables around your campsite.
Sometimes, I just can't believe the things someone has invented, and this is one of those times. Did you know you can have a portable shower that heats your water between 35-45 degrees hotter than it comes out of the top? I know that necessity is the mother of invention and I certainly understand the necessity part of this item.  But I'm still stunned someone went and actually made this.  It's a bit pricey but if you glamp on a regular basis, this might be a dream come true.
Glamping Gear 301: All For The Food
Speaking of surprising discoveries, allow me to introduce you to the travel oven! While I've seen may versions of portable stovetops or burners a camping oven is news to me. I could live without one, but if you make to-die-for homemade cinnamon rolls you probably need one of these for your next family campout. (And if you do, be sure to send me an invite!)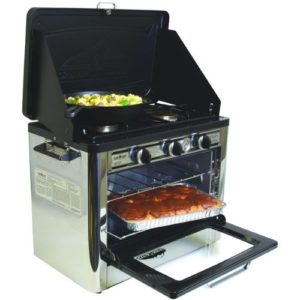 Another item I highly recommend is a dutch oven (and check out my post on Campfire Tamale Pie to see an easy campfire recipe you can throw together!) While you can use a dutch oven from your kitchen, there's also a convenience to having a campfire-specific dutch oven that gives you the option for a handle and fee to raise it from the coals. This is one item that I'm definitely eyeing for future outdoor adventures.
Glamping Gear Final Examination: The Decorations
You can't really call it glamping if you don't have a bit of glamorous decor to make the outdoors feel a bit more like home. I love all manner of string lights. None are too kitschy or over the top for me! Here are a few that are perfect for glamping (my favorites are the mini Coleman camping lanterns!)
Another glamping must-have is a wipeable tablecloth. You can either go the traditional route with a red-checkered picnic variety, or branch out with something floral or otherwise more decorative. The sky is practically the limit here, so choose something that will be fun to you!
One more fun piece of flair I'm planning to purchase before I glamp again next summer is this mystical powder. It comes in a packet you drop into a fire, and for 30-minutes the flames turn all different colors of the rainbow! These are new to me, but it looks like a low-stakes way to add some variety to my next glamping trip.
THIS POST MAY CONTAIN REFERRAL LINKS. IF YOU CLICK THROUGH AND TAKE ACTION, I MAY BE COMPENSATED, AT NO ADDITIONAL COST TO YOU.