This post may contain affiliate links. Full disclosure policy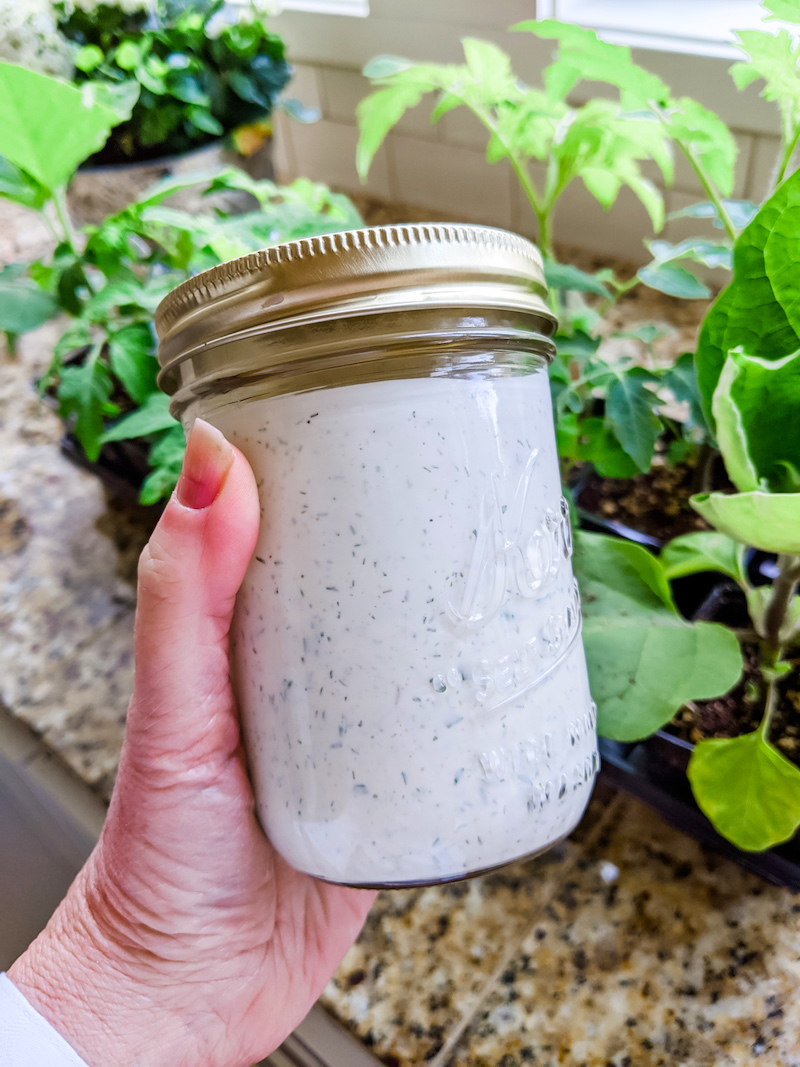 Last weekend, my Connecticut daughter-in-love sent me a short video of the granddarlings dancing around in a snow flurry. Yes, you read that right. It was May 9th and it was snowing.
In my opinion, snow in May is just wrong. I told my daughter-in-love that and she agreed. What I didn't tell her was that temperatures at our house were in the high seventies. It just would have been too cruel.The mercury has definitely been going up in my part of the world. I guess that explains why I've been thinking about salads a lot lately. Well, that and the need to shed my COVID-10. My quarantine weight gain actually clocks in at less than ten pounds, but COVID-6 just doesn't have the same ring to it. Numbers aside, there is still a little more of me than there was in early March – and I want it gone.
Getting Back to Normal
I know I'm not the only one who is dealing with this. One of the clerks at my local market told me that liquor, ice cream, sugar, and flour have been flying off the shelves since this started.
I do believe that all the comfort eating, drinking, and baking we've used to cope with this strange situation has been necessary (and if you're looking for a healthy baking idea, I'd heartily recommend my BEST Miracle Muffins!). Sometimes, you just have to get through it, you know what I mean?
But, as the world slowly and carefully begins to transition to whatever the new normal will be, I think it's time our diets did the same thing. I'm not planning to go cold turkey on ice cream anytime soon, but I do want to get back to healthy eating and my old weight. Eating more salads is a smart way to do that.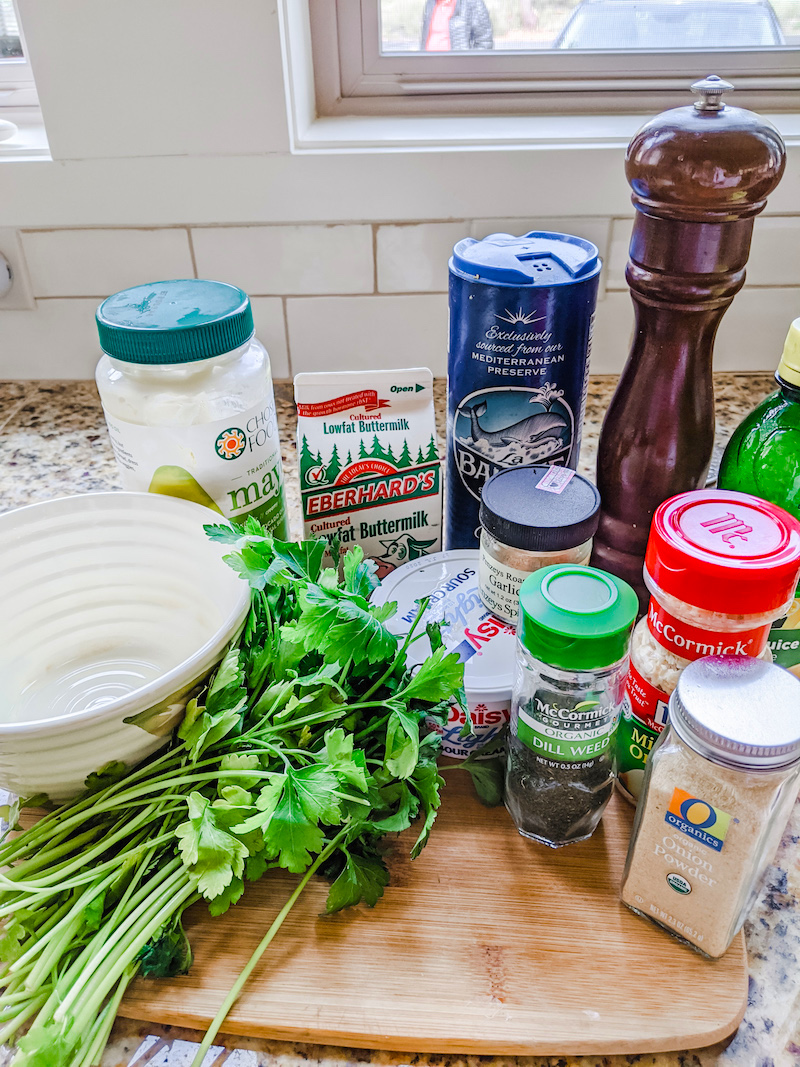 But after two months of comfort eating, I want to make that transition to healthier eating slowly. I'm not quite ready to go to the "mostly vinegar with a little olive oil over greens" mode of salad consumption just yet. Instead, I've been making a wonderful homemade Buttermilk Ranch Dressing, a delicious concoction that will turn your favorite salad into a newfound comfort food.
Is it Worth the Trouble?
Like most busy people, I often buy bottled salad dressing from the store. When I'm in a hurry, it just seems so convenient to grab a bottle of prepared dressing from the refrigerator. But as I've said before, convenience comes at a price.
Those bottled dressings are really expensive. Also, they don't taste nearly as good as homemade. And I'm not even sure they're that convenient because, the truth is, homemade salad dressing is ridiculously easy to make! It's literally just a matter of throwing some ingredients in a bowl and whisking them together.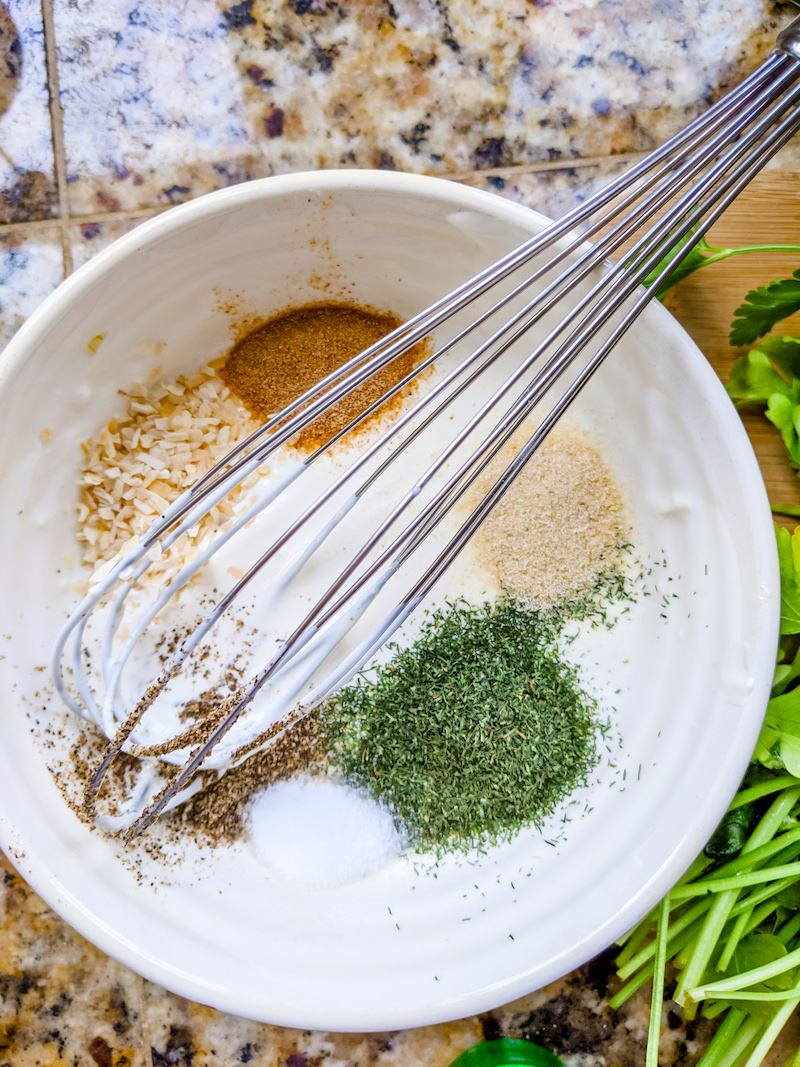 Every time I go to the "trouble" of making homemade salad dressing, I ask myself why I ever buy the bottled stuff. My homemade Buttermilk Ranch Salad Dressing tastes a zillion times better than store-bought. Also, it's free of added sugar, preservatives, and unpronounceable chemicals, which is a big step toward healthier eating.
The Truth is in the Homemade Buttermilk Ranch Dressing!
It's true; most creamy dressings are more calorie-dense than the vinegar and oil type. However, using low-fat versions of dairy ingredients helps hold down the calorie count on my Buttermilk Ranch Salad Dressing. And if adding a bit of delicious, leaning toward low-fat, creamy dressing gets me to eat more salad, then it's all good with me. (If you're seriously watching your weight, you can substitute non-fat dairy ingredients, but I think the flavor you get from using low-fat is worth the tradeoff.)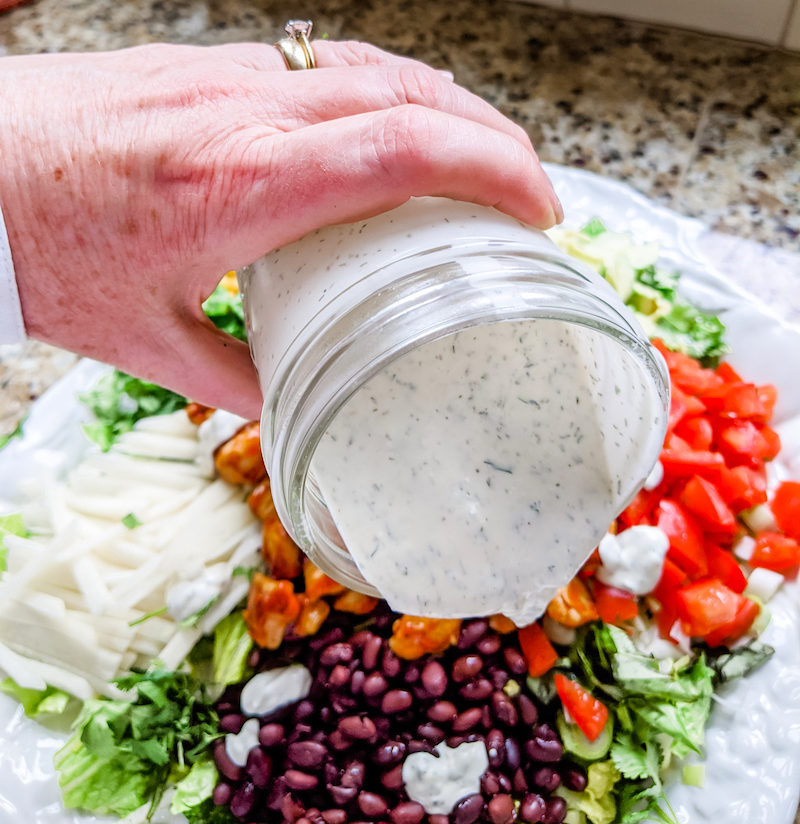 As a matter of fact, "All good" is the perfect description of this delectable dressing! The sharp tang of buttermilk is the perfect foil for the slightly creamy mayonnaise. The addition of fresh herbs, a variety of spices, and dried onion come together in a beautifully balanced culinary alchemy that will make even the simplest salad stand up and sing! It also makes a perfect dipping sauce for fresh veggies, pretzels, or your favorite crackers.
Give my homemade Buttermilk Ranch Dressing a try today. Once you do, you'll be tempted to make every day a salad day!
Print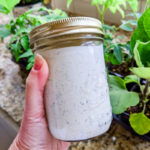 Buttermilk Ranch Salad Dressing
---
Author:

Yield:

Makes

1 ½ cup

dressing, or

12

2-Tablespoon servings

1

x
½ cup

low-fat sour cream

½ cup

reduced-fat mayonnaise

½ cup

low-fat buttermilk

1

t. salt

2

t. dried dill weed

1

t. onion powder

1

t. garlic powder

1

t. lemon juice

½

t. fresh ground pepper

1

T dehydrated onion flakes

2

T fresh parsley, minced fine
---
Instructions
In medium-sized bowl, whisk together sour cream, mayonnaise, and buttermilk until smooth to create dressing base.
Whisk in remaining ingredients into the dressing. Taste and adjust seasonings as desired.
Pour dressing into a jar with a lid. Store in the refrigerator for at least four hours before serving, to give flavors a chance to meld.
Leftover dressing can be stored in the refrigerator for up to one week. However, make sure that ingredients, especially sour cream and buttermilk, are fresh.
Keywords: salad, salad dressing, healthy