This post may contain affiliate links. Full disclosure policy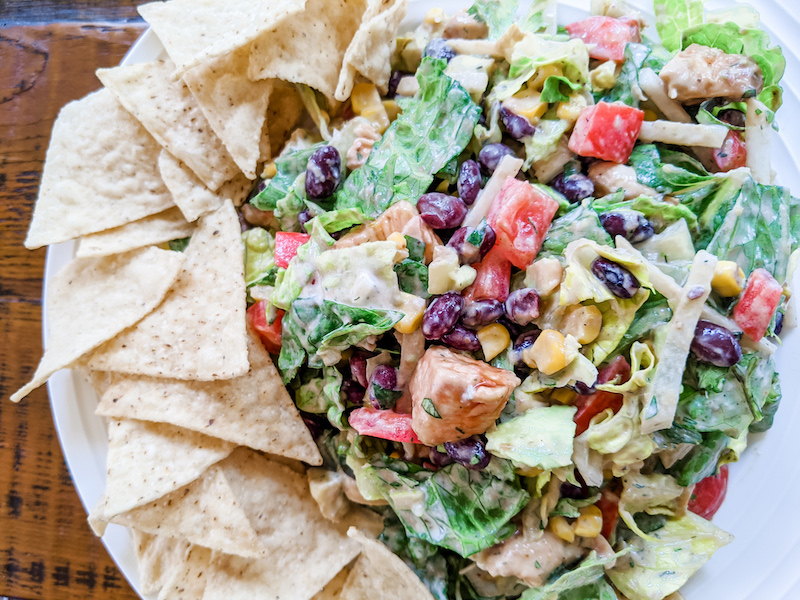 I've been taking a poll among my friends, asking them what they've most missed doing since the advent of social distancing. Everybody I know listed going out to restaurants within their top three spots.
I totally get that. Going out to eat is one of my favorite leisure time activities. There's something so relaxing about sitting down at an already set table, sipping a drink and chatting with your dinner companions, and then tucking into a delicious dish that's too much work to make at home. Not having to wash dishes is pretty great too.
But it recently occurred to me that one of the restaurant meals I've always loved really isn't too hard to make at home. As I said in my recent post about Buttermilk Ranch Salad Dressing, I've been thinking about salads a lot lately. And when I think of my very favorite salads, the idea of a BBQ Chopped Chicken Salad from California Pizza Kitchen copycat recipe always comes to mind.
Creating a California Pizza Kitchen Copycat of My Own
It was hot in my neck of the woods last weekend, so salad for supper seemed like a brilliant idea. And trying to create a copycat of that fabulous BBQ Chopped Chicken Salad seemed like it would be a lot of fun. My little town doesn't actually have a California Pizza Kitchen, so I also liked the idea of coming up with a recipe that would let me enjoy my favorite restaurant salad whenever I wanted.
When I told my husband about my plan, he seemed mildly interested. Once I put the platter down on the table, his interest definitely piqued. And why not? Forgive me for blowing my own horn here, but I may have created the most beautiful salad on the face of the planet.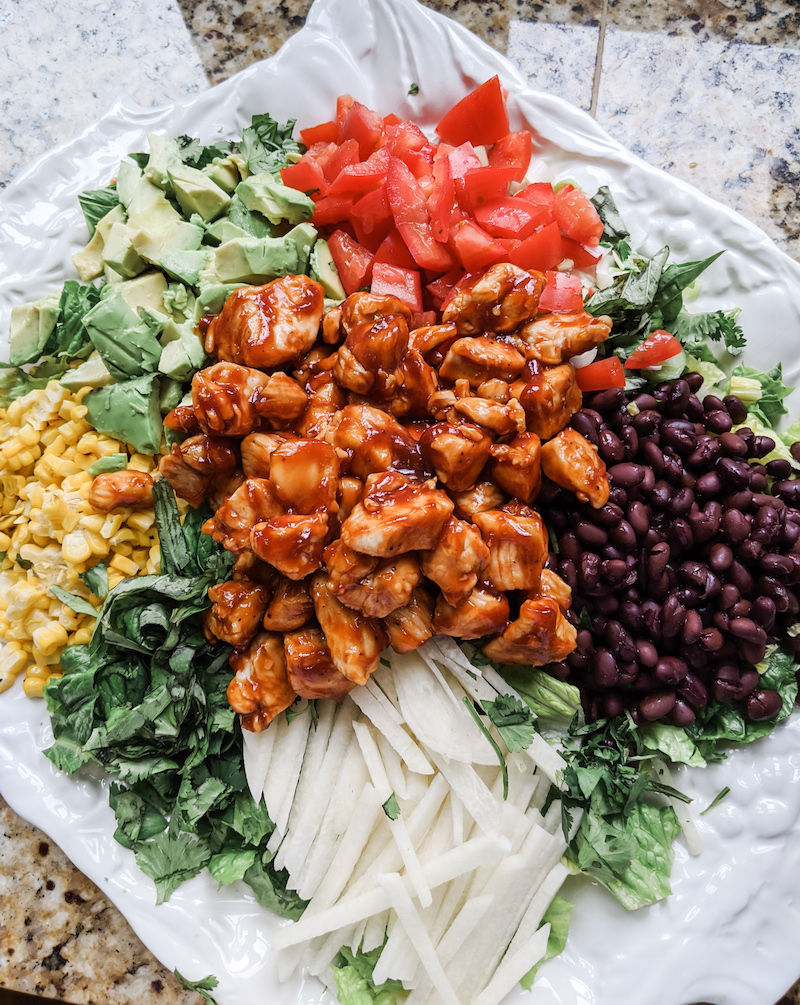 There are so many gorgeous, colorful ingredients in this salad – ruby red tomatoes, verdant green herbs, crisp and juicy white jicama, glistening black beans, onions as fresh and green as spring, golden yellow corn, creamy avocados, savory bites of barbequed chicken…
Hungry yet? I don't blame you!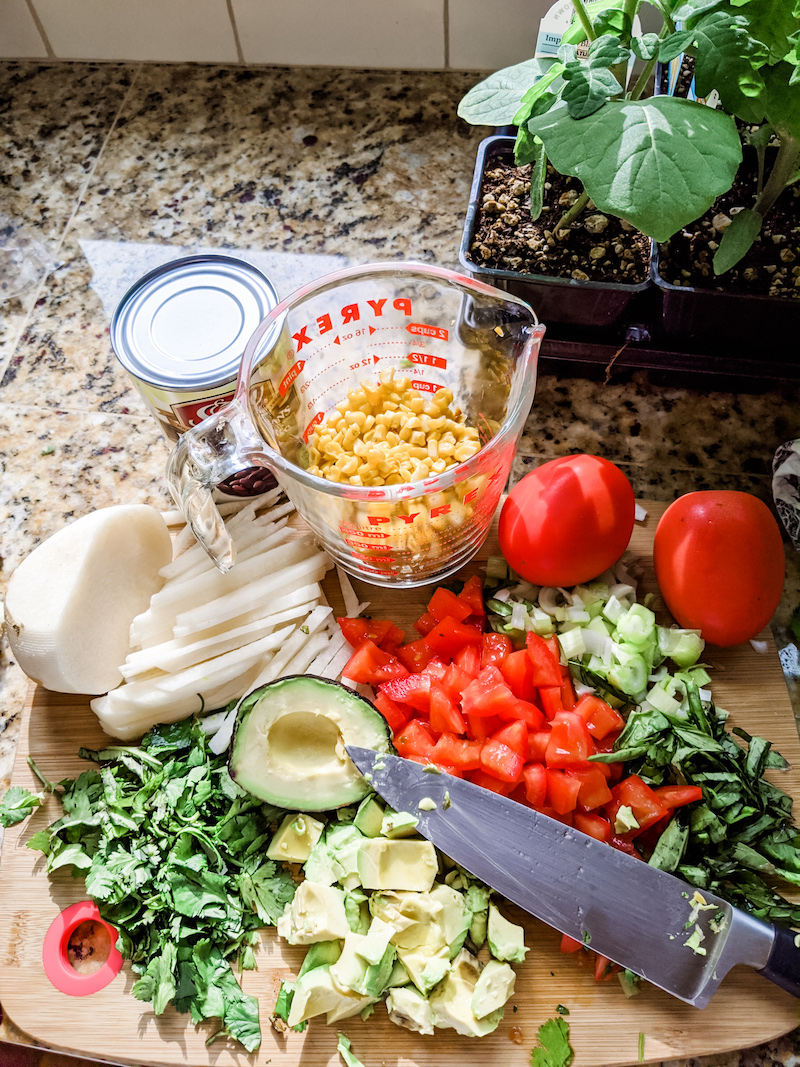 Delicious in More Ways than One
This BBQ Chopped Chicken Salad really is a feast for the eyes. That's why I recommend you wait to toss it until after everyone sits down to eat. A salad this beautiful deserves to be appreciated for the work of art that it is.
But the best part about my BBQ Chopped Chicken Salad California Kitchen copycat is that it tastes just as good as it looks. The second my husband took that first bite, mild interest turned to enthusiastic raves! He went on and on about it, and told me we need to add it to our regular dinnertime rotation. My thoughts exactly!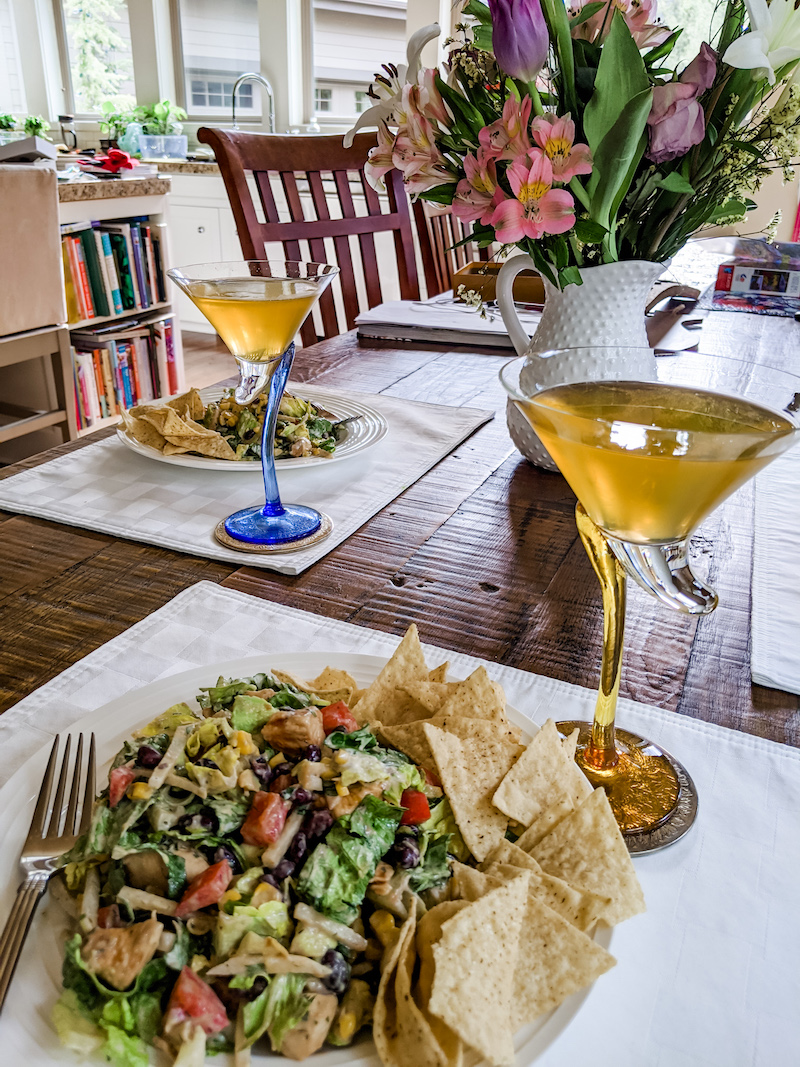 My California Pizza Kichen copycat BBQ Chopped Chicken Salad is a healthy, tasty, terrific family meal, great any day of the week. But I'm one hundred percent sure that I'll be serving this to company in the future as well.
Such a beautiful dinner will be sure to impress guests and I absolutely love that it can be prepared in advance. When we have company over, I always try to think of a menu that will allow me to spend time talking to my guests instead of fussing in the kitchen. Serving delicious food is an important element of entertaining, but giving guests your full attention is even more important!
Getting Things Ready Ahead of Time
Because my BBQ Chopped Chicken Salad uses romaine lettuce as a base, it can be prepared several hours in advance. Romaine is one of my favorite lettuces because it's flavorful and sturdy. It'll stay fresh tasting and looking longer than just about any other variety of lettuce.
If you want to prepare the salad in advance, just wash, dry, and chop the romaine, then top it with the other ingredients. Run a couple of paper towels under cold water, ring out the excess moisture, then lay the damp paper towel over the salad and put it in the refrigerator until it's time to serve, adding dressing at the table. (Wait until the last minute to add the avocados, otherwise, they will turn brown. Keep the BBQ chicken pieces in a separate bowl to add at the last moment as well.)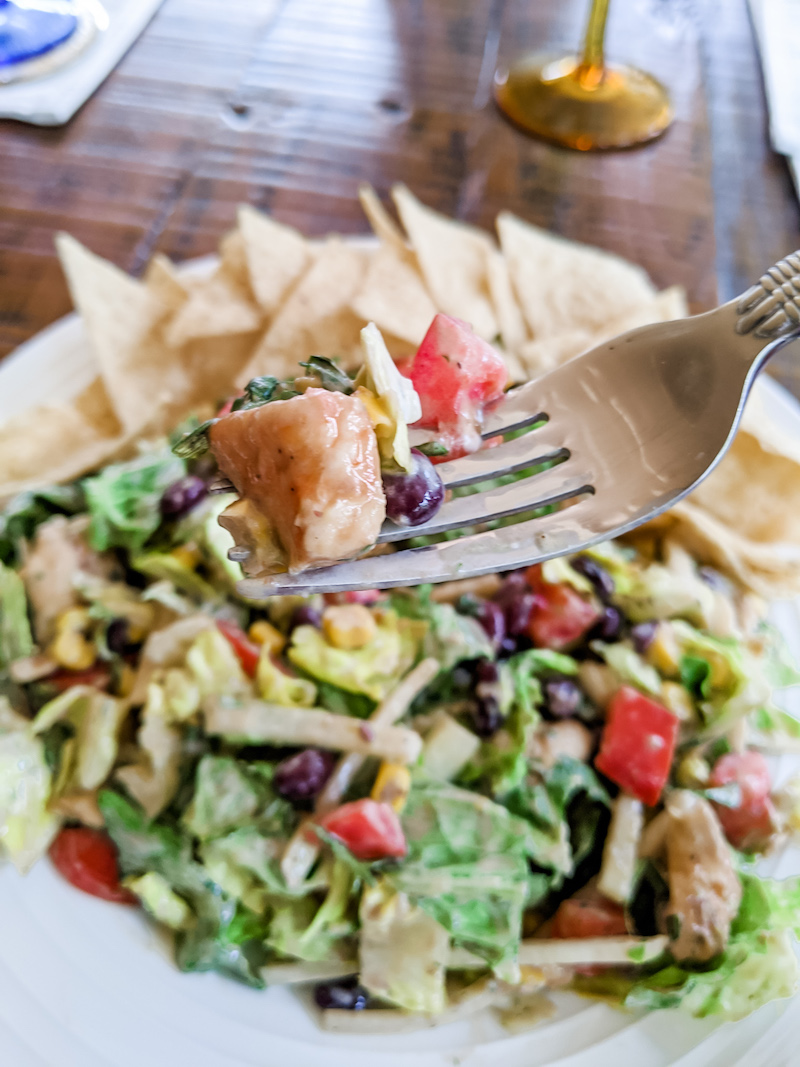 Finishing Off Your California Pizza Kitchen Copycat Salad
If you insist, you can use a store-bought ranch dressing for this salad. But I strongly suggest you use my homemade Buttermilk Ranch Salad Dressing instead. A salad this delicious deserves a dressing that's just as good. My Buttermilk Ranch Dressing is so easy to make and taste a zillion times better than bottled. Give it try. No kidding, you'll thank me later.
I do hope that we'll all be able to dine at our favorite local restaurants again soon. But, until that day comes, my BBQ Chopped Chicken Salad is a pretty wonderful way to enjoy the pleasure of restaurant cuisine, right in your own home.
Print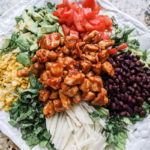 BBQ Chopped Chicken Salad
---
Author:

Yield:

4

-

6

servings

1

x
8 cups chopped romaine lettuce
1 cup corn kernels (fresh is best but canned works too)
½ of a small jicama, peeled and julienned
4 roma tomatoes, washed, seeded, and diced
1 large or 2 small avocados, diced
4 green onions, white and green parts, washed and chopped
1 can black beans, rinsed and drained
¼ cup chopped fresh basil
¼ cup chopped fresh cilantro
½ cup sharp cheddar cheese, shredded (optional)
1 pound cooked chicken breasts, cut into bite-sized pieces
¾ cup barbeque sauce (your favorite brand)
Marie's homemade Buttermilk Ranch Dressing, half the recipe or approximately ¾ cup.
---
Instructions
Wash, dry and chop romaine lettuce and place in large, wide bowl or platter.
Wash and chop remaining vegetables as listed above, place on top of romaine, composing each ingredient into a separate group for a visually pleasing appearance. (If you're preparing salad ahead of time, don't add avocado until just before serving. See instructions in post.)
Place bite-sized chicken pieces in a separate small bowl and toss with barbeque sauce to coat.
Place chicken and cheese, if using, on top of the salad.
Pour ranch dressing over salad, toss, and serve. Tortilla chips are a nice accompaniment to this salad, either served on the side or crushed and sprinkled on top.
Keywords: recipes, salad, healthy