This post may contain affiliate links. Full disclosure policy
THIS POST MAY CONTAIN REFERRAL LINKS. IF YOU CLICK THROUGH AND TAKE ACTION, I MAY BE COMPENSATED, AT NO ADDITIONAL COST TO YOU.
If I do say so myself, I was a pretty good mom. I'm also a pretty good Grammy.
It's not that I'm a totally indulgent grandmother. There are rules in my house and certain things I have no interest in doing.
For instance, I'm really no good at pushing toy cars around the floor and making motor sounds. Also, I'm not big on activities that involve dirt, danger, or the possibility of encountering insects or reptiles.  And when it comes to hide and seek, I have a limited attention span, especially if the other players aren't really big enough to hide properly.
However, if you want to read a story, bake cookies, or have a tea party, I'm totally on board. That's part of what makes me a good Grammy.
But the real secret to my popularity as a grandmother is that I'm all about crafting. 
In fact, I'm such a Crafty Grammy that I instituted my own Craft of the Month Club and gave all my grand darlings memberships.
This month, some of my grand darlings are visiting us here in Oregon. Naturally, I called for a face-to-face meeting of the club, complete with workshops and breakout sessions.
Our meetings were productive but frank, resulting in greater understanding across the generations and some truly adorable, easy-to-make, kid-friendly crafts.
Read on for supply lists and instructions for two of our favorite craft ideas for grandkids – Magic Bubble Wands and Rock Monsters.
MAGIC BUBBLE WANDS
It's a well know fact: kids of all ages love blowing bubbles. Especially if those bubbles are blown with their very own, hand-crafted, super-cool Magic Bubble Wand.
This craft is so simple to construct that all but the littlest grand darlings will be able to make these wands almost completely independently (make sure that only adults handle the hot glue gun!) With a little supervision from an adult (to make sure that beads go on the wands, not in mouths or up nostrils) even toddlers can join in the fun!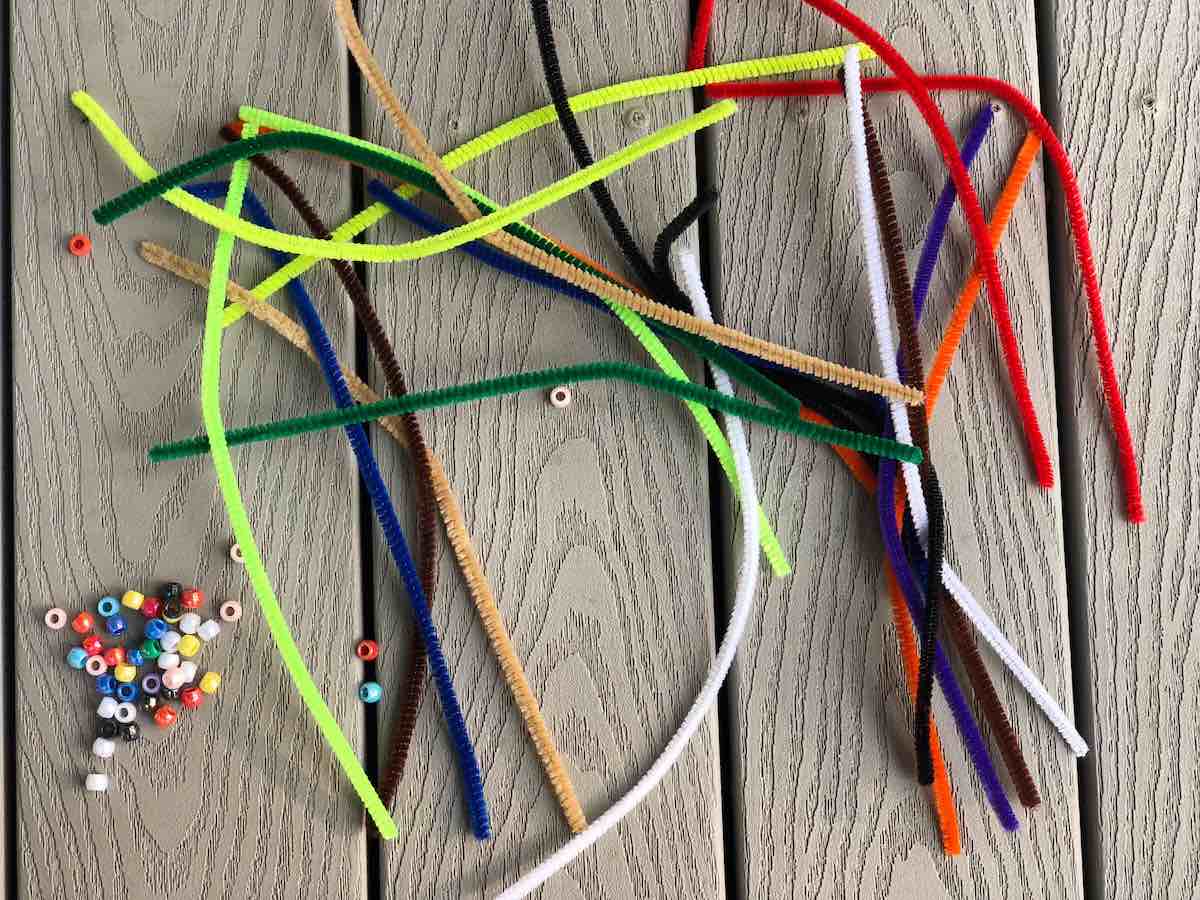 Supplies
Pipe Cleaners (12 inches long)
Chop Sticks
Assorted Beads (with holes large enough to fit over the pipe cleaners)
Ribbons (optional)
Hot glue gun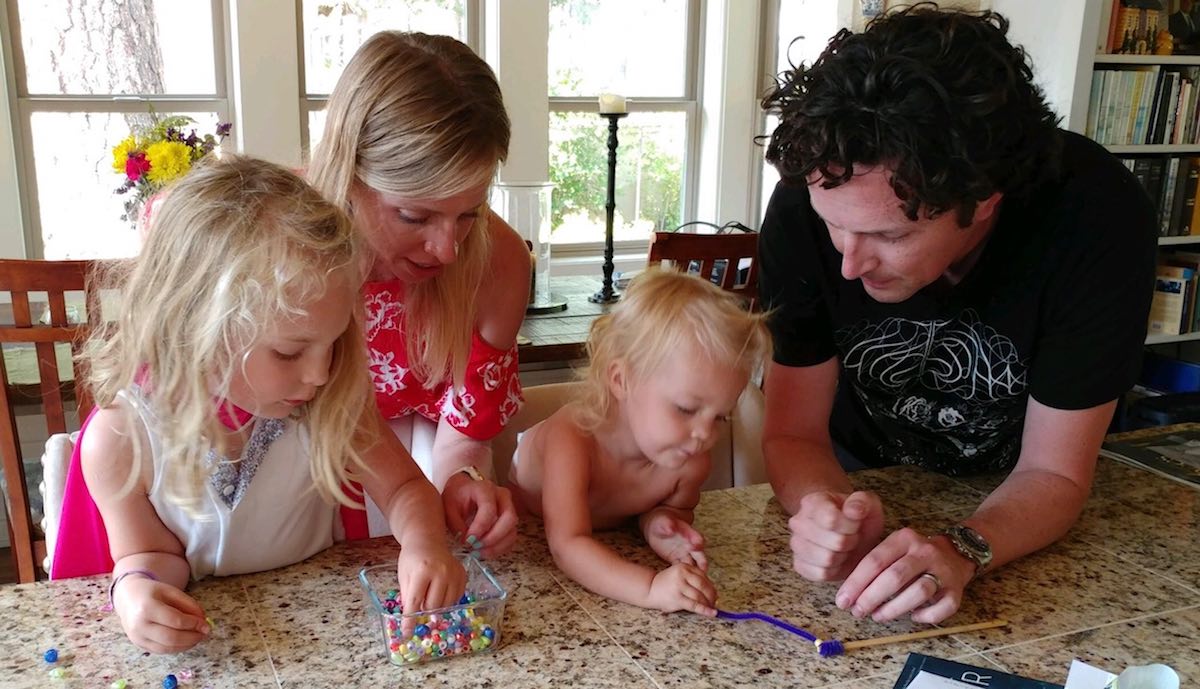 Instructions
Thread beads onto the center section of the pipe cleaner until you have about six inches of beads. (Let the kids take as long as they like with this. Choosing pretty beads is half the fun!) Twist the beaded section into a circle shape.
Wrap the un-beaded ends of the pipe cleaner around a chopstick, twisting tightly. Apply hot glue to the chopstick and twisted pipe cleaner to secure. If you want to add a little extra bling, glue some ribbons on as well. (ONLY ADULTS SHOULD USE THE HOT GLUE GUN!)
Allow the glue to cool completely.
That's it! Your Magic Bubble Wands are ready to use!  All you need now is some bubbles.
You can certainly buy bubbles at the store, but homemade bubbles are very easy and inexpensive to make. Mixing up a batch of bubbles would be a good activity while you're waiting for the glue to cool on your wands.
Here's a link to several great recipes for homemade bubbles. Any of them will work just fine. (One hint: no matter the recipe, the best results will come from using Dawn dishwashing soap.)
ROCK MONSTER
Keep your sweet little monsters busy and happy by letting them craft their very own Rock Monsters!
I love this craft because, once again, it's easy enough so that kids of almost any age can complete it successfully. Also, there really is a lot of room for self-expression when it comes to making the monster.  The kids can add hair, eyes, mouths, noses, ears, teeth, or even eyeglasses to their monsters – the only limit is their imagination.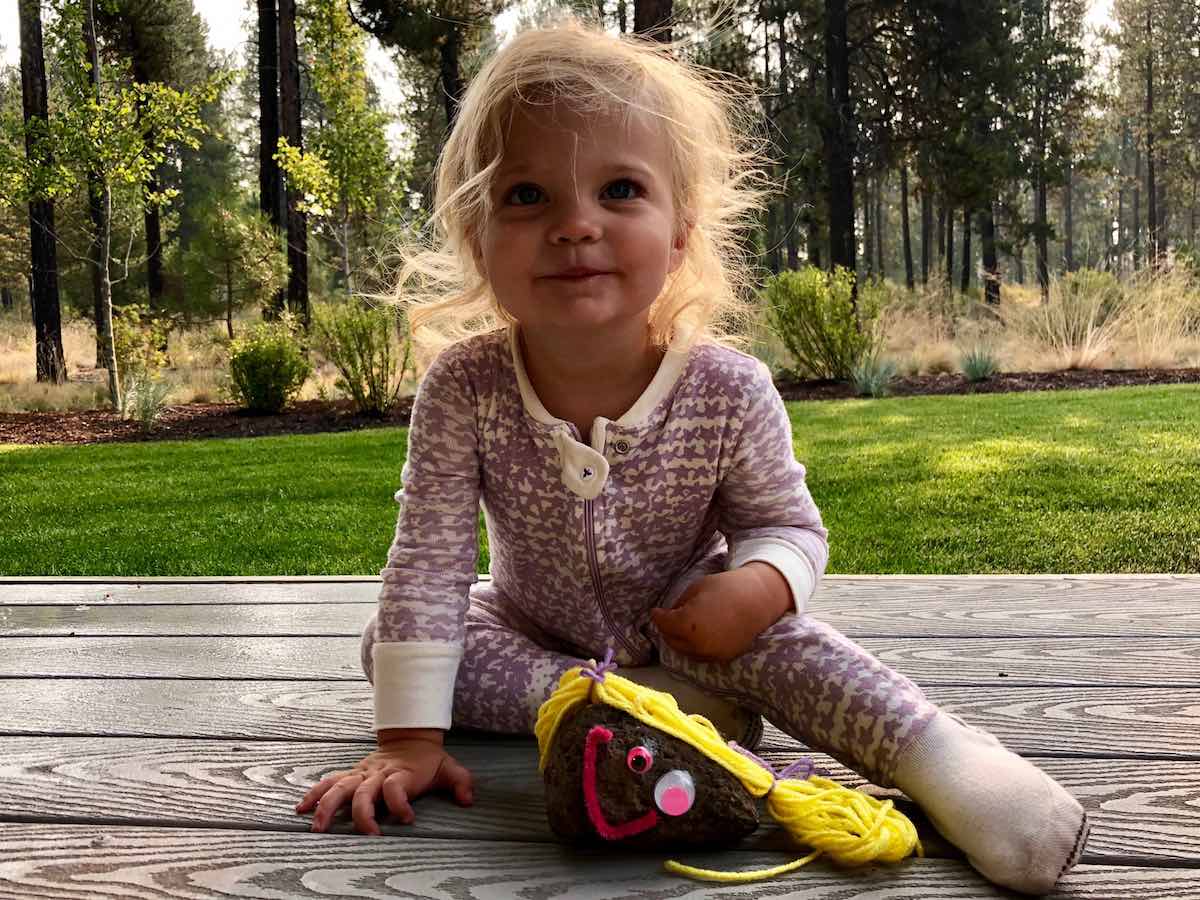 But the best thing about making Rock Monsters may be that it gives Grammy a little break.  You see, before you can make a Rock Monster, the kids are going to need a rock.
Not just any rock. A Perfect Rock.
As Perfect Rocks are not easy to find, the kids will have to go outside and hunt for them. And you, as supervisor, will need to inspect the rocks. Probably, you will reject the first several candidates, which will require the grand darlings to go outside and continue the search.
Rock hunting, done properly, will take at least long enough for Grammy to put up her feet and finish a big glass of iced tea.
Supplies
Perfect Rocks (one per child)
Craft Glue
Pipe Cleaners
Paint or crayons
Yarn
Instructions
When it comes to crafting, Rock Monster making is as easy as it gets.
1) Have the child start by gluing on the eyes – or eye! (As this is a Rock Monster, creating a Cyclops is perfectly acceptable. So is a three-eyed Monster.)
2) With the eyes in place, encourage the child to draw, paint, or glue on any facial features they feel their monster needs, making the monster as scary or sweet as they like. (Paint works well for this, but I do like the texture that comes from gluing on pipe cleaners.)
My granddaughter went for sweet and felt very strongly that her monster needed to have blond hair and purple bows.
3) To make a monster wig, wrap yarn around your hand or forearm in big loops, until you have a nice thick head of yarn hair. Then, either add some bows of a different color, or tie a small length of same colored yarn in the middle of the wig. (This will help hold the wig together and make it easier to glue. You'll need a lot of glue to make the wig stick to the rock.)
4) Let the glue dry thoroughly before handling the monster. Be sure to give monster a name. (It's rude just to call your monster, Monster.)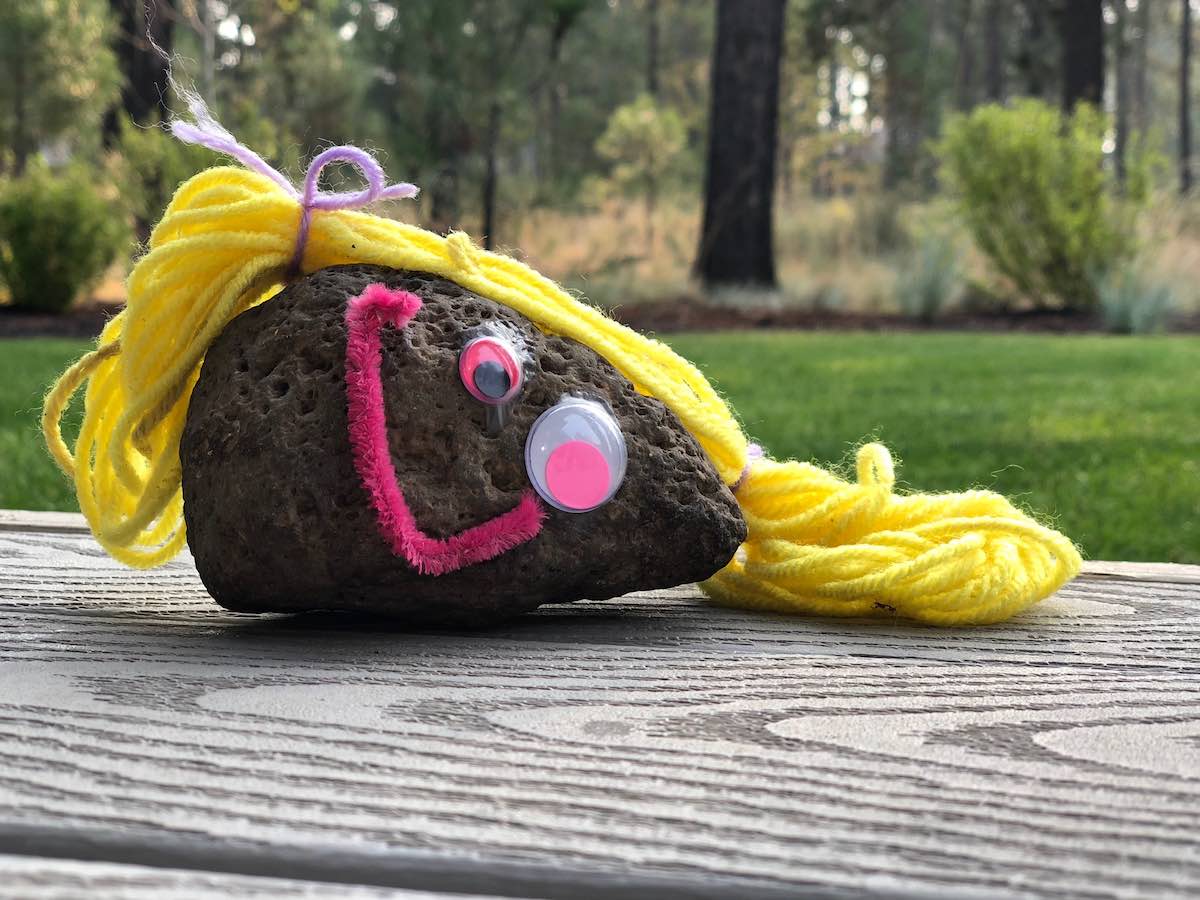 GROWING LITTLE ARTISTS
Fun, silliness, and grandmotherly popularity aside, I do think that helping the little people in our lives tap into their personal creativity is incredibly important.
Pablo Picasso once said, "Every child is an artist. The problem is how to remain one once we grow up."
Crafting with grandchildren may not be the entire solution to that problem, but it's a very good start.
If you have fun craft ideas for grandkids to share, please share them on social media and tag @fiercebeyond50! I love hearing fun new craft ideas!