This post may contain affiliate links. Full disclosure policy
THIS POST MAY CONTAIN REFERRAL LINKS. IF YOU CLICK THROUGH AND TAKE ACTION, I MAY BE COMPENSATED, AT NO ADDITIONAL COST TO YOU.
If you're busy (and who isn't?) hosting friends for dinner can be a real challenge.
Unless, of course, you're prepared.
This summer, I've pulled together some gorgeous, favorite recipes into an easy summer dinner party menu that can mostly be made ahead.
You know what that means, don't you? You can actually go to your dinner party instead of spending it in the kitchen. Doesn't that sound like a nice change?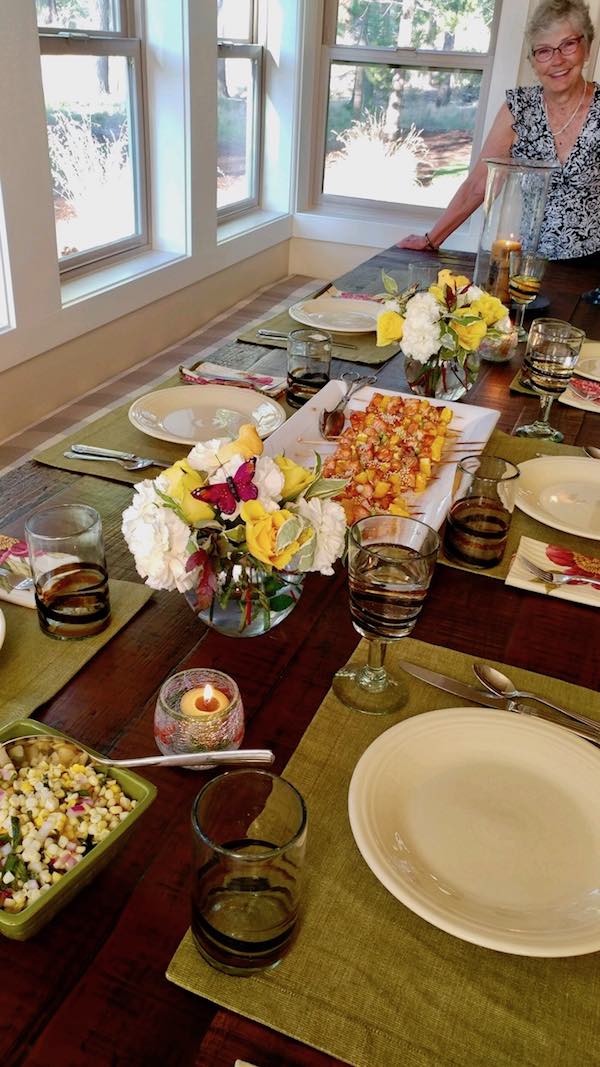 Not only that, the whole menu, which will serve 6 people, adds up to only 5 Weight Watcher points per person!  That's right, 5!  Not everything I make is compliant with my Weight Watchers Freestyle plan, but I really do try to keep it low calorie now that I've reached my goal weight. This menu is healthy, delicious, a pleasure to look at, and a breeze to prepare. Basically, it's the perfect menu.
So what are my guests enjoying this summer?
Salmon Kabobs
Fresh Corn and Basil Salad
Snow Peas with Ginger
If, perchance, you doubt the deliciousness of this 5-point party menu – let me reassure you.  After serving this meal to three different sets of guests this summer, my husband asked me to make it again, just for the two of us.
It's that good.
So call up a few friends and plan a party. With so many wonderful fresh and flavorful ingredients in season, summer practically does the work for you.
Salmon Kabobs
I found this recipe in the Washington Post just a few weeks ago and adapted it to suit my family's taste (the original was a little too spicy for us). My husband loves it so much that I've served it four times in the last month.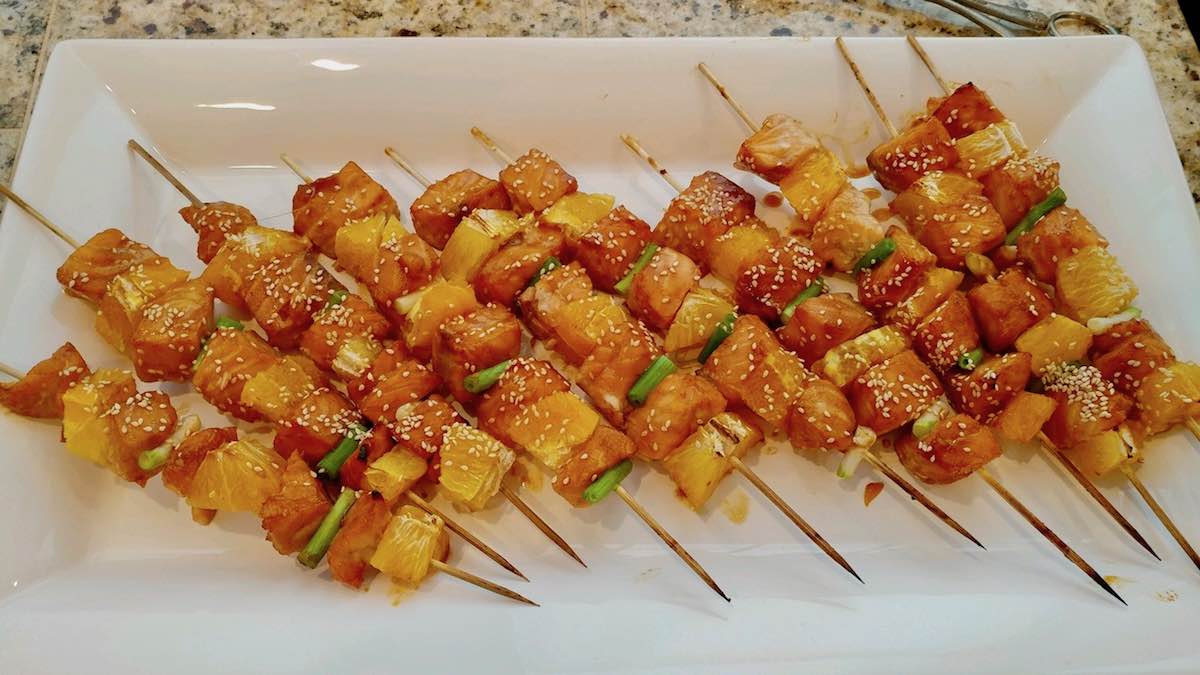 They're also perfect for a company supper. These kabobs are not only delicious to eat but beautiful to look at, and very easy to prepare. And since the cooking time is short, you can prepare them early in the day, leave in the refrigerator, and pop them into the oven about 10 minutes before you're ready to serve, leaving you time to enjoy your guests.
When purchasing the salmon, ask the butcher for a piece near the thicker,  front part of the fish (the tail section is too thin) and request that the skin be removed.
Ingredients
2.25 lbs salmon, skinless (0 points)
3 navel oranges (0 points)
6 scallions (0 points)
¼ cup hoisin sauce (6 points)
1 T honey (4 points)
1 t. sriracha sauce (0 points)
4 t. sesame seeds, toasted (2 points)
12 Weight Watchers points total, 2 points per serving
Directions
If cooking immediately, preheat oven to 450 degrees.
In medium bowl, mix hoisin sauce, honey, and sriracha sauce, then set aside. Cut salmon into cubes approximately 2 inches.  Place salmon cubes in hoisin mixture, stir to coat, put in refrigerator while prepping the oranges and scallions.
Cut scallions (white and green parts) into 1-inch pieces. Use sharp knife to slice peel off of orange, leaving no pith (that's the white part).  Slice peeled orange crosswise into 4 slices, the cut each slice into 4 pieces. Line a jelly roll pan or cookie sheet with aluminum foil.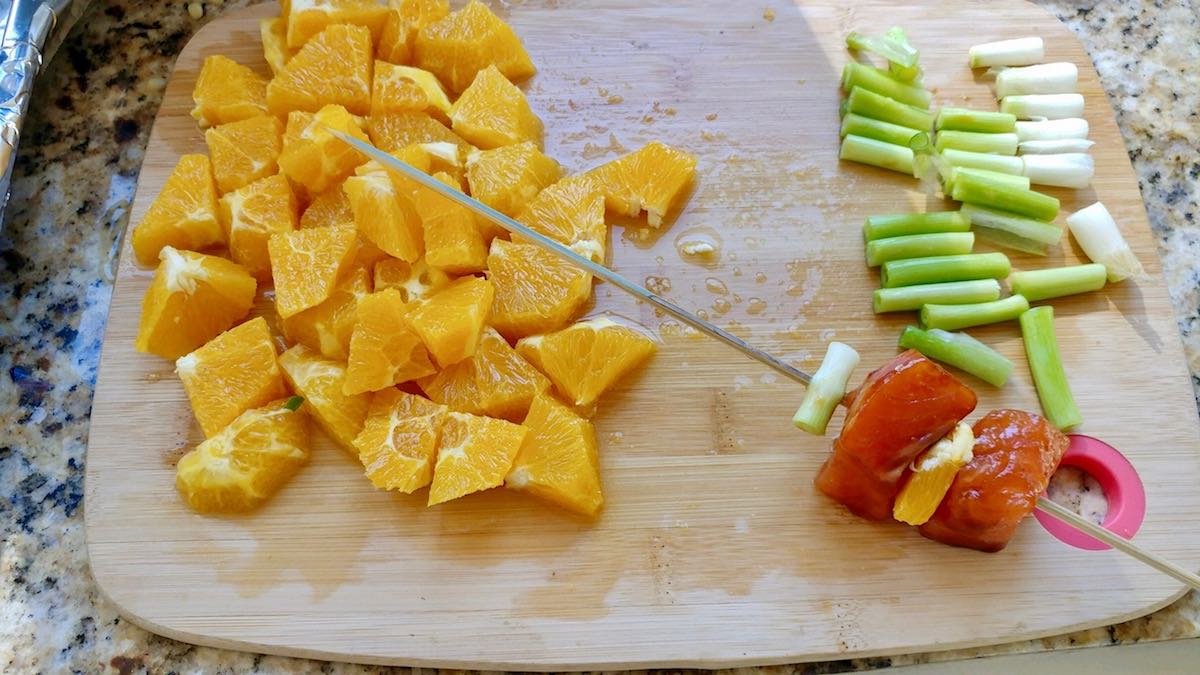 Remove salmon from refrigerator. Create kabobs by placing a salmon cube on skewer, then orange section, then salmon, the scallion, repeating the process until the skewer is filled.  Make 12 skewers total. Place prepared skewers on foil-covered pan.
At this point, you can either cover the kabobs with plastic wrap and place in refrigerator until you're ready to cook (must cook the same day you prepare them), or cook immediately.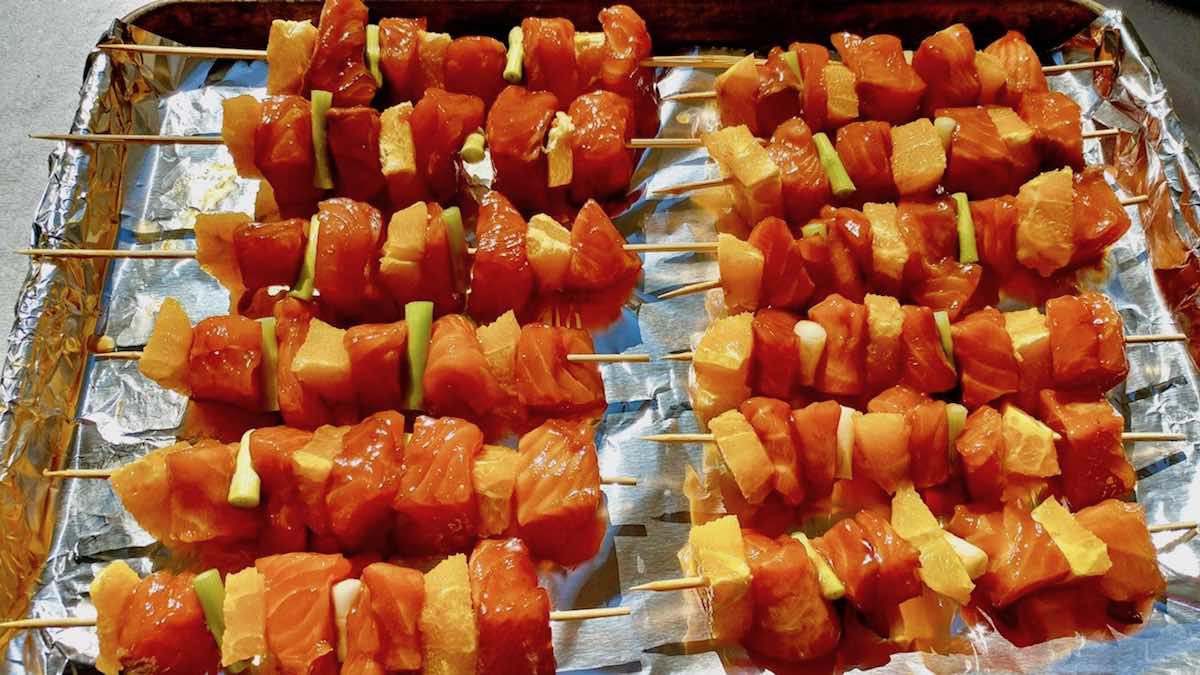 To cook, place in preheated 450 degree oven for 8 to 10 minutes.  When kabobs are ready, remove from oven, sprinkle with toasted sesame seeds, and serve immediately.
Fresh Corn and Basil Salad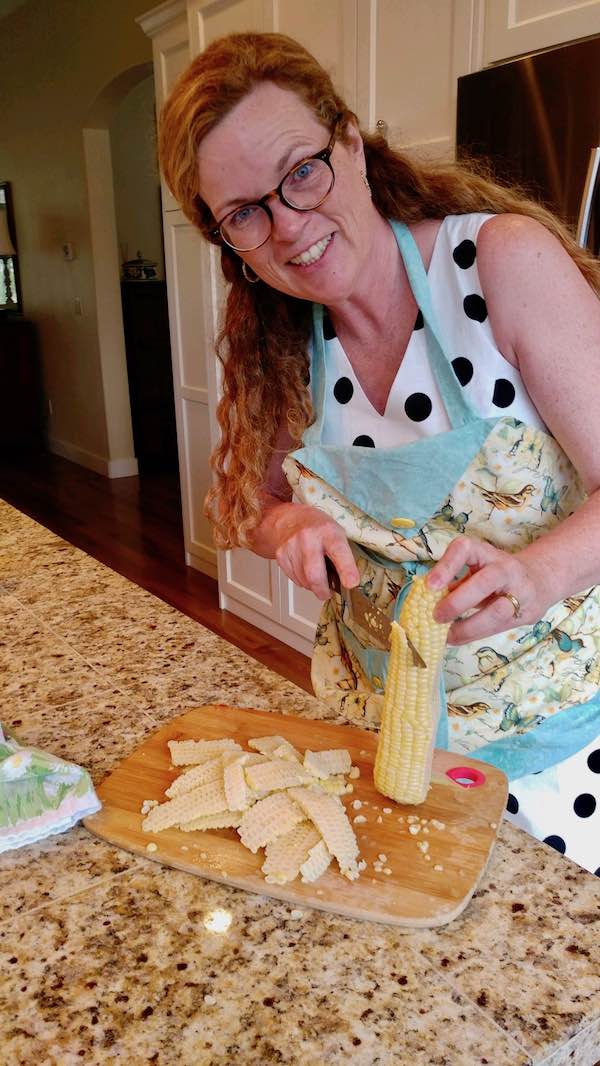 This recipe, from Ina Garten, is my favorite way to enjoy fresh, in season corn.  The simple cider and oil vinaigrette brings out the flavor of the corn, while the basil and red onion add a bright note that perfectly balances the sweetness of the corn.  I frequently bring this to summer potlucks or picnics and it always gets gobbled up.
Like the salmon kabobs, it can be prepared ahead of time and put in the refrigerator until you're read to serve. When company is coming, I really prefer to prepare as much of the meal in advance as possible so I can focus on talking with my guests.
Ingredients
5 ears fresh corn (0 points)
½ red onion (0 points)
½ cup basil, in chiffonade (0 points)
3 T cider vinegar (0 points)
3 T olive oil (12 points)
Salt
Pepper
12 Weight Watchers points total, 2 points per serving
Directions
Place a large stockpot of salted water over high heat on stove. Cover with lid and bring to boil.
In the meantime, remove husks and silk from corn, rinse and set aside.  Dice the red onion and set aside.  Cut basil into a chiffonade by stacking several basil leaves on top of each other, rolling into a cigar-like shape, the cutting crosswise into thin ribbons.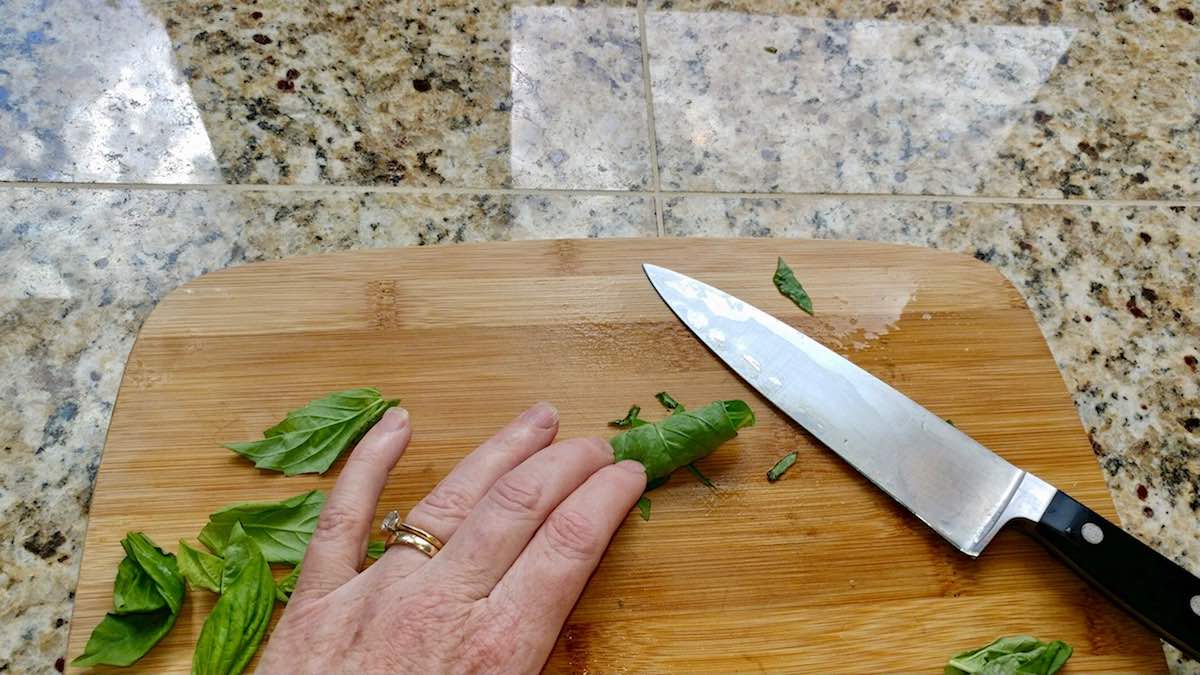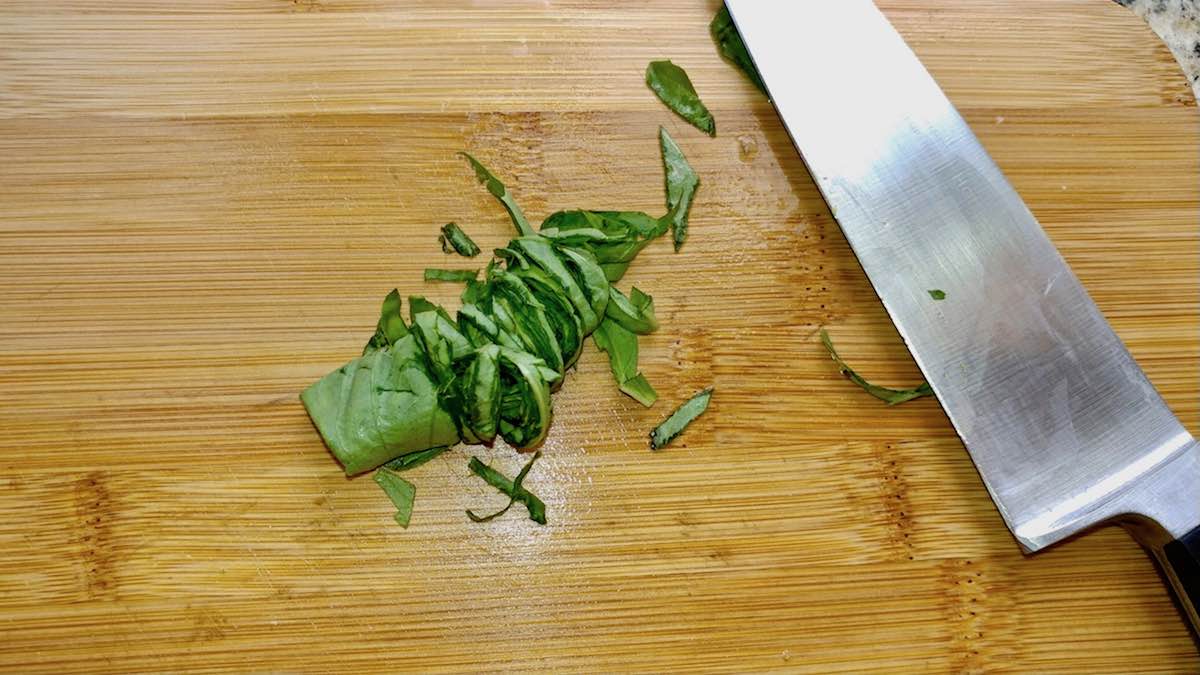 In medium bowl, mix oil and vinegar with salt and pepper to taste. Add onion and basil to bowl. Set aside.
When water reaches a rolling boil, place corn into pot. Boil for 3 minutes. Using tongs, remove corn from boiling water and place immediately into a bowl of very cold water to stop cooking process. When corn is cool enough to handle, slice kernels off the cobs. Place corn into bowl with basil and onion vinaigrette, and stir. Cover and refrigerate until ready to serve.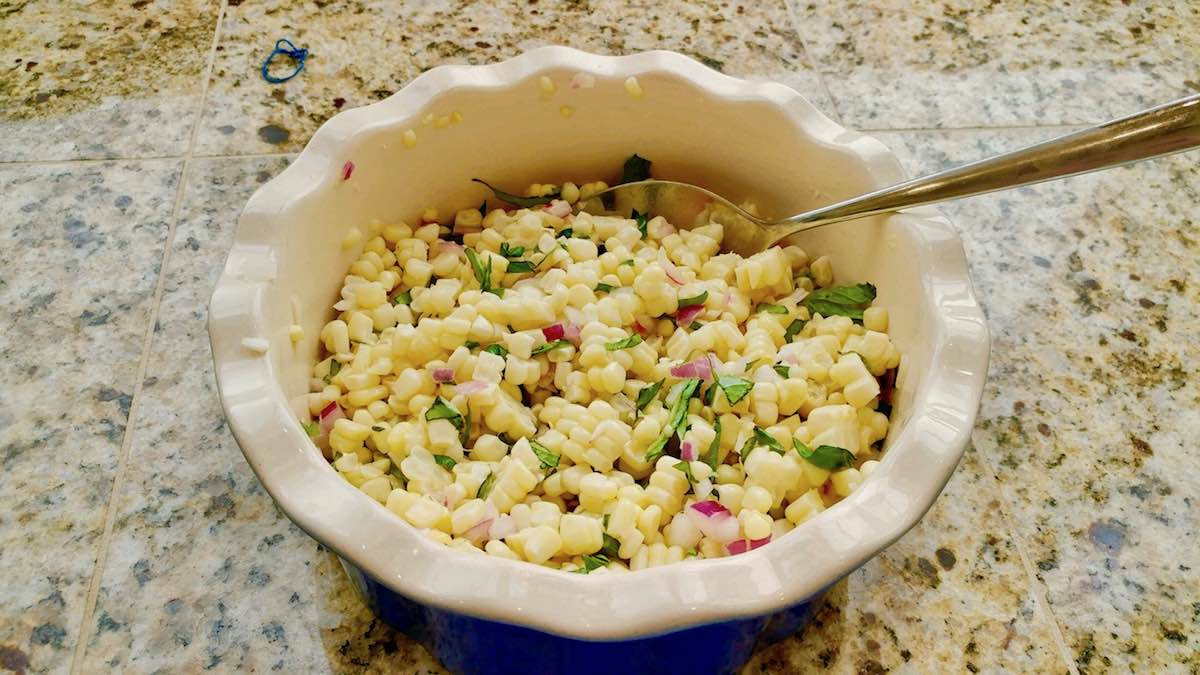 Snow Peas with Ginger
Quick-cooking snow peas make this a perfect and perfectly delicious side dish.  If you've prepared your kabobs and corn ahead of time, you can stir-fry the peas while your salmon is in the oven, and have dinner on the table in just few minutes.
Ingredients
12 ounces snow peas  (0 points)
1.5 T sesame oil (6 points)
2 t. fresh ginger, grated (0 points)
salt to taste
Directions
Place oil in non-stick pan over medium-high heat. Add fresh grated ginger and sauté for a few seconds. Add snow peas. Stir-fry for 3-5 minutes, until snow peas are just beginning to soften. Add salt to taste. Serve immediately.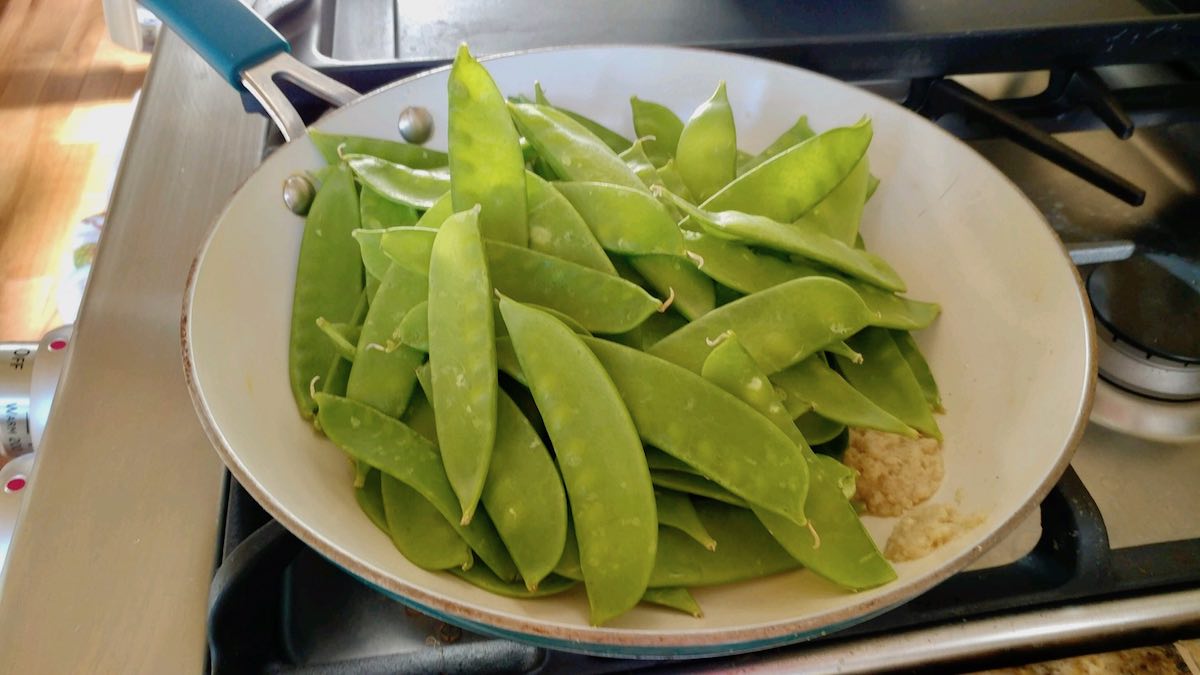 Dessert Anyone?
If you and your guests are watching their weight, then some simple fresh sliced peaches are the ideal way to end this sumptuous summer menu without adding any points.  If you'd like to guild the lily a bit, serve the peaches with a scoop of regular or low-fat vanilla ice cream.  Depending on the type and brand, ice cream will add between 5 and 7 points total.