This post may contain affiliate links. Full disclosure policy
THIS POST MAY CONTAIN REFERRAL LINKS. IF YOU CLICK THROUGH AND TAKE ACTION, I MAY BE COMPENSATED, AT NO ADDITIONAL COST TO YOU.
I've almost always lived in the country, so I'm used to dealing with deer.  But the deer in my new neighborhood are different.
For one thing, there are a lot of them. I'm starting to suspect there are more deer per square mile than people here. Okay, maybe not that many.  But every time I go outside for a walk, or bike ride, there they are.
The other thing about these deer? They aren't afraid of people. Not one bit. 
Declaration of War
Last week, I went for a bike ride.  There were several deer grazing near the bike path. One good-sized doe was actually standing on the path.  I rode up on my bike and she didn't budge, not one inch.
In fact, she just lifted her head and stared at me.  I cleared my throat. I politely asked her to move. Okay, I yelled at her. Still, she just stood there, staring. If she could have talked, she'd have said, "You talkin' to me?" in her best Bobby DeNiro impression.
She moved off the path eventually. But she took her sweet tim. Her message was clear. "You're not the boss of me, lady."
The tourists (we get a lot of vacationers in the summer months) think the deer are adorable.   They oooh and ahhh over them. They stop their cars and snap pictures, then post them on Instagram with cute captions.
The tourists don't know these deer like I do.
These deer are not like other deer.  They travel in packs, snapping their fingers in unison and wearing gang colors.  For all their big eyes and velvety noses, there is a sinister side to these deer.
I hate to be the one to say it, but these deer are bad news.  Really, really bad.  And I have proof.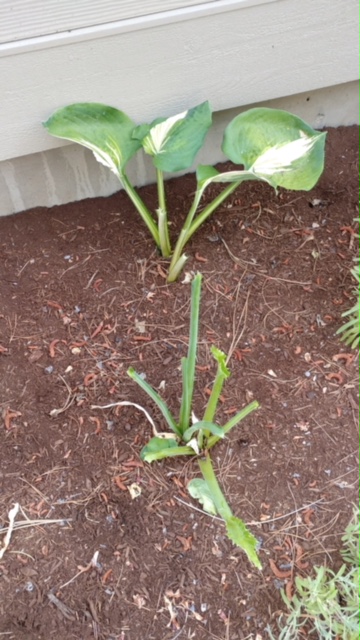 See this? It used to be one of my hostas.  That was before the deer got to it.  I'm telling you, these deer are bad!
Need more proof? I submit the before and after photos of my roses.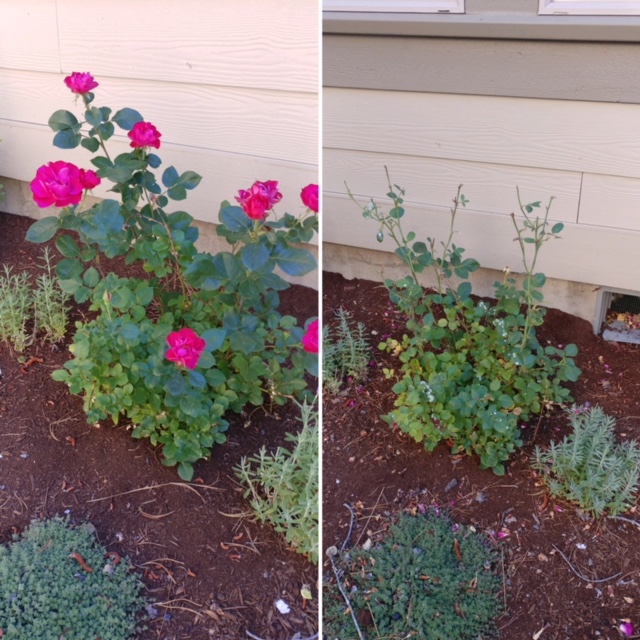 Plan A (Spoiler Alert: It Didn't Work)
Now look, I was aware of the deer problem when we moved in. If you live in the forest, you should expect that there will be deer around. That's why we put in deer resistant landscaping.
And, mostly, it has worked. They haven't done too much damage to the outer planters. But the problem with those deer resistant plantings is that they aren't very pretty.
I like flowers but my landscape designer's plan didn't include many, because of the deer.
Not a problem, I decided. We have this flagstone courtyard. It's closed on three sides and kind of small.  I figured that, between the lack of escape routes and strange feeling of flagstone under hooves, the deer would rather avoid it. This made it the perfect place to cultivate my less deer resistant plants.
I planted hostas, roses, lavender, and hydrangea, creating a pretty pocket flower garden. With the sound of water gurgling in the fountain, it was a sweet bower, a flowery refuge.  And, just as I had hoped, the deer steered clear.
Until last week.
I hate these deer. I really do.
So, okay. Fine. Round one goes to the deer. But I am not giving up. These deer are not going to get the best of me.
If it's the last thing I do, I will have flowers in my garden!
The flagstone courtyard was Plan A.  That didn't work so I'm moving on to Plan B.
Or rather, Plan Bulb.
WHITE FLOWER FARM TO THE RESCUE
The most recent copy of the White Flower Farms catalog arrived this week.
When I lived in Connecticut, my house was just five miles away from White Flower Farms.   Their demonstration gardens were simply spectacular and always on the tour when guests came to visit.
White Flower Farms is one of the premier garden supply companies. Their reputation for quality is well deserved and extends across the country.  Fortunately for this Connecticut transplant, their catalog extends just as far and they ship to all fifty states and growing zones.
I poured over the catalog pages, searching for a solution to the problem of Gangs of Bad Deer.
I didn't have to look for long.
Fall is the right time for planting bulbs and quite a few of those bulbs are highly deer resistant.
Could this be the solution to my problem?
I hope so because I've just ordered one hundred and forty bulbs from White Flower Farms.
DAFFODILS
I've always known that deer don't much care for daffodils.  Voles don't like them either, so that's a plus. The catalog didn't say anything about squirrels. I'll sprinkle the ground with red pepper flakes after I plant to discourage them.
But the problem with daffodils, for me, is that most are yellow.
Nothing against yellow; it's just not my favorite colors for gardens.  And since deer apparently don't much care for yellow flowers of all sorts, the gardens in my neighborhood have tons of yellow. I'm just so tired of looking at it.
Even so, I've ordered "Narcissus The Classic Mixture". It's a 25 bulb collection that includes four popular Daffodils – "Dutch Master", "Ice Follies", "Akita", and "Sir Winston Churchill".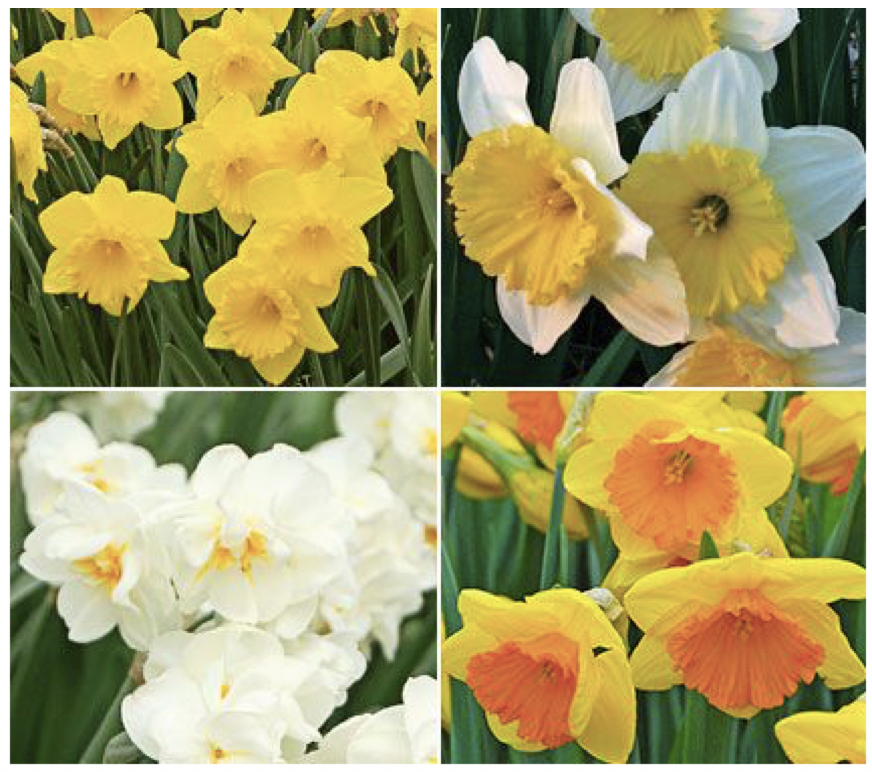 I think the white will balance out the yellow nicely.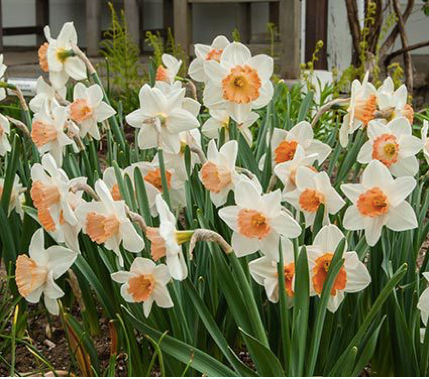 Happily, the catalog included several daffodil varieties that leaned a bit more toward pink! I've purchased 25 bulbs in the "First Blush – Pink Narcissus Mixture". I also splurged on a dozen "Narcissus 'Delnashaugh.'"  I absolutely love the apricot colored ruffles in the center of these creamy double blooms!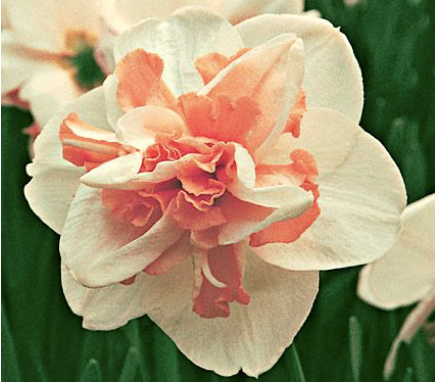 Image Credit: White Flower Farms 
SNOWDROPS
Nothing says, "Spring is just around the corner!" like a carpet of snowdrops.  These sweet, aptly named, bell shaped blooms pop up their pretty heads just as the snow is beginning to melt.
I've bought fifty and plan to plant them in the natural area of my garden, tuckin them in around the trees.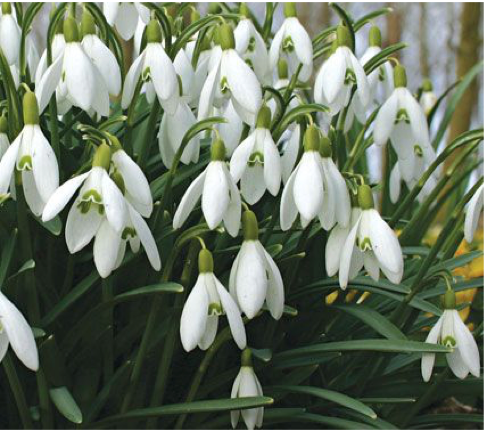 Image Credit: White Flower Farms 
ALLIUM
My nickname for allium has always been "Dr. Seuss Flowers."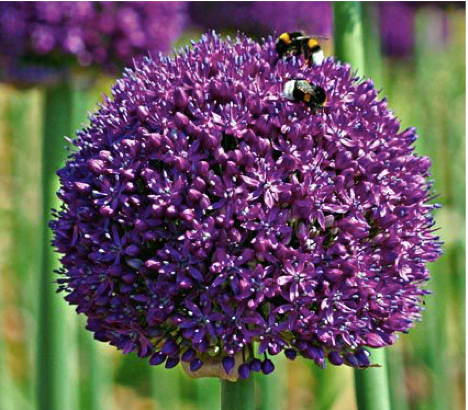 To me, those big, purple snowballs on spindly green stems look like something you'd find in Cat In The Hat's garden.
However, allium are actually members of the onion family. And deer don't seem to like the taste of onions. (Perhaps they're worried about bad breath?)
Just as important, planting allium in my garden will give me that pop of purple I crave.
Allium are fairly expensive, but the 25 Allium "Purple Sensation" I've ordered were a pretty good deal. That left enough in my budget to splurge on 3 Allium "Ambassador".
At more than nine dollars a bulb, they'd better be spectacular!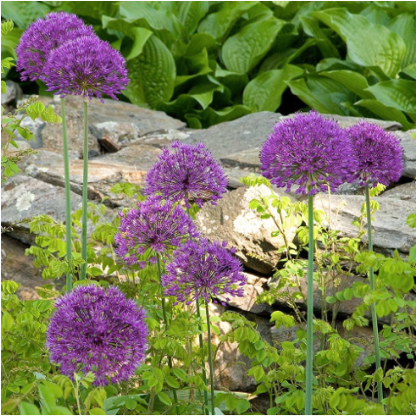 Image Credit: White Flower Farms 
Fingers crossed
With one hundred and forty bulbs to plant, I'm going to have some very busy days in the garden.
It's definitely an investment of cash and elbow grease. But I'm convinced that "Plan B" will pay off big time next spring.
However, just to hedge my bets, I might make one more investment in my garden – a sign that says, "No Deer Allowed!"