This post may contain affiliate links. Full disclosure policy
THIS POST MAY CONTAIN REFERRAL LINKS. IF YOU CLICK THROUGH AND TAKE ACTION, I MAY BE COMPENSATED, AT NO ADDITIONAL COST TO YOU.
Because I write books for a living, I may be biased. But there are few things that elevate the spirit like curling up with a good book. As I mentioned in a recent post, reading helps us combat stress, live longer, sleep better, and be more empathetic. All good things, right?
Most of my novels are uplifting works of women's and historical fiction. However, my personal reading interests run the gamut. I read almost as much non-fiction as fiction, and like to challenge myself to try new genres and authors.  A couple of years ago, I'd started reading mystery and have found some wonderful reads. Spiritual, devotional, and self-help books are also on my regular reading list.  (I don't care how Fierce you are, you never outlive or outgrow the need for inspiration and guidance, am I right?)
At a minimum, I endeavor to read one non-fiction and one fiction each month. Finding time to read isn't always easy, especially when I'm juggling deadlines, triathlon training, recipe testing, dog walking, and husband wrangling.
Still, reading is a necessity for me. In the midst of my crazy, go-go life, reading is a gift I give myself and an important means of maintaining my sanity.   By penciling time for reading in my magical Living Well Spending Less planner, just as I would an appointment to get my roots done, I make time for it.
How to Pick a Good Book
So how do you decide what to read next?  No one wants to waste time with a book that isn't a good fit, right?
Choose books that pique your interest. There's lots of great best sellers lists and the Oprah Book Club, but what other people like might not be what you like. Find books with settings that interest you, themes you can relate to, and values that inspires you! For me, that includes books on gardening, or quilting, or glamping, or even yarn farming.
(Yes, you read that right. Yarn farming. It's an actual thing).
Apart from a long, leisurely browse in my local bookstore, my favorite way to find books is through recommendations from girlfriends. Also, if I fall in love with a book by a particular author, I'm highly likely to read her next book, and the one after that, and the one after that.  (A particular perk to my line of work is that several of my favorite, must-read authors also happen to be my real-life friends. How great is that? I love my job!)
Here are a few titles I've read at the recommendation of others and absolutely loved. I think you will too!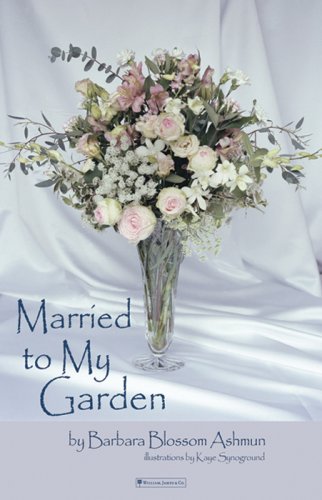 This year, an unusually hot and smoky summer, a gang of ravenous deer, and the high-dessert location of my new home has made gardening a challenge for me.  Needing a gardening fix, I sought inspiration in the pages of this simply charming, beautifully written little book, Married to My Garden  (How perfect is it that the author's middle name is Blossom? Clearly, she was born to write about gardening.)
The short vignettes throughout this book walk you through the stages of the author's romance with her garden.
At first she's obsessed, dreaming of plants day and night. Like a woman in love, she's possessed-until weeds, and slugs make her question the whole affair. Yet even a brief absence makes her realize that she can't live without her hands in the dirt. In the end, she surrenders to her garden, even with all its faults.
If you're short on time, these brief, bite-sized essays are perfect for you.  Each one is a delightful little bon-bon, a wonderful way to reestablish a reading habit, and possibly, spark or reignite a love of gardening.  But you don't need a green thumb to enjoy this book.  Married to My Garden is filled with wisdom, insight, and life lessons that will make you smile, pause, and reexamine everyday joys.
If I could spend a day with somebody famous, I'd want to spend that time with MaryJane Butters – preferably on her farm.
However, it's probably is a good thing that I haven't met MaryJane in person. If I did, I'm sure I'd turn into a dithering, stuttering, Fan Girl Mess. On the other hand, maybe I wouldn't. Or at least not for long.  Because MaryJane seems so completely down-to-earth. She seems like someone who would offer you a cup of organic tea and some cookies made with butter from her own cow, and sit down for a nice long chat, putting you totally at ease.  One thing I am certain of, if we ever do meet, MaryJane and I will have lots to talk about. We have so many interests in common!
If you aren't familiar with the wonderful world of MaryJane's Farm and its fierce Farmgirl founder, Mary Jane Butters, you are in for a treat. Living on a five-acre organic farm in Idaho, she embodies the spirit of the American farmgirl, with an empowered do-it-yourself attitude.
She also publishes a magazine (my absolute favorite), sells line of organic food products and linens, and has authored an entire shelf full of books.
I own every single one of them.  (See what I mean? I'm a total fan girl.)
This month, I've been re-reading two of my favorites.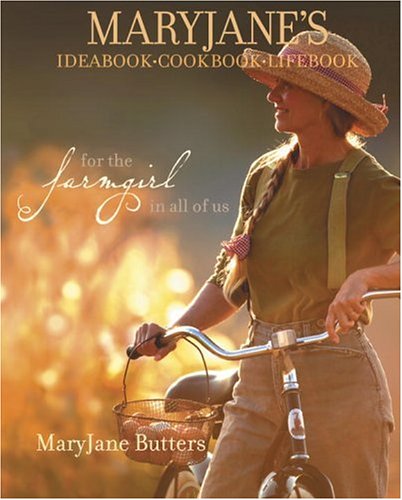 Like all of her titles, MaryJane's Ideabook, Cookbook, Lifebook is written in a cozy, conversational, girlfriend-to-girlfriend style that makes me feel like MaryJane and I are besties. It's loaded with projects, ideas, recipes, eye-candy, and inspiration for living a genuine, gracious, homespun life.  The photos are gorgeous and the instructions clear. I love everything about this book.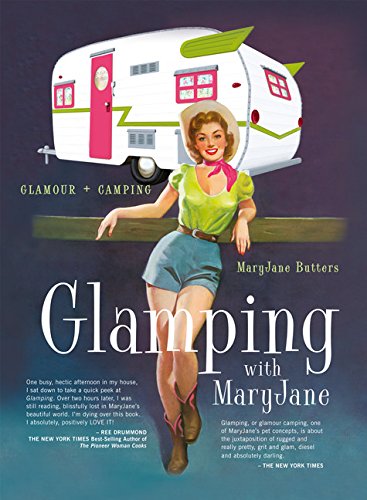 As you may know, I had an adorable RV a couple years back, Glinda the Glamper, that I had to sell when I moved to Oregon. I really miss Glinda, and the camping fantasy that accompanied her. The time isn't right for me to get a new RV, or even a cute little trailer just now. But re-reading Glamping with MaryJane has allowed me to scratch that glamorous camping itch from the air-conditioned comfort of my own home.  There are so many wonderful ideas for camping graciously in these pages! I'm gobbling up inspiration for my next camp fantasy like a girl scout 'round the campfire gobbles up s'mores.
When I get my next trailer (and there WILL be a next time), I'll be ready, thanks to MaryJane.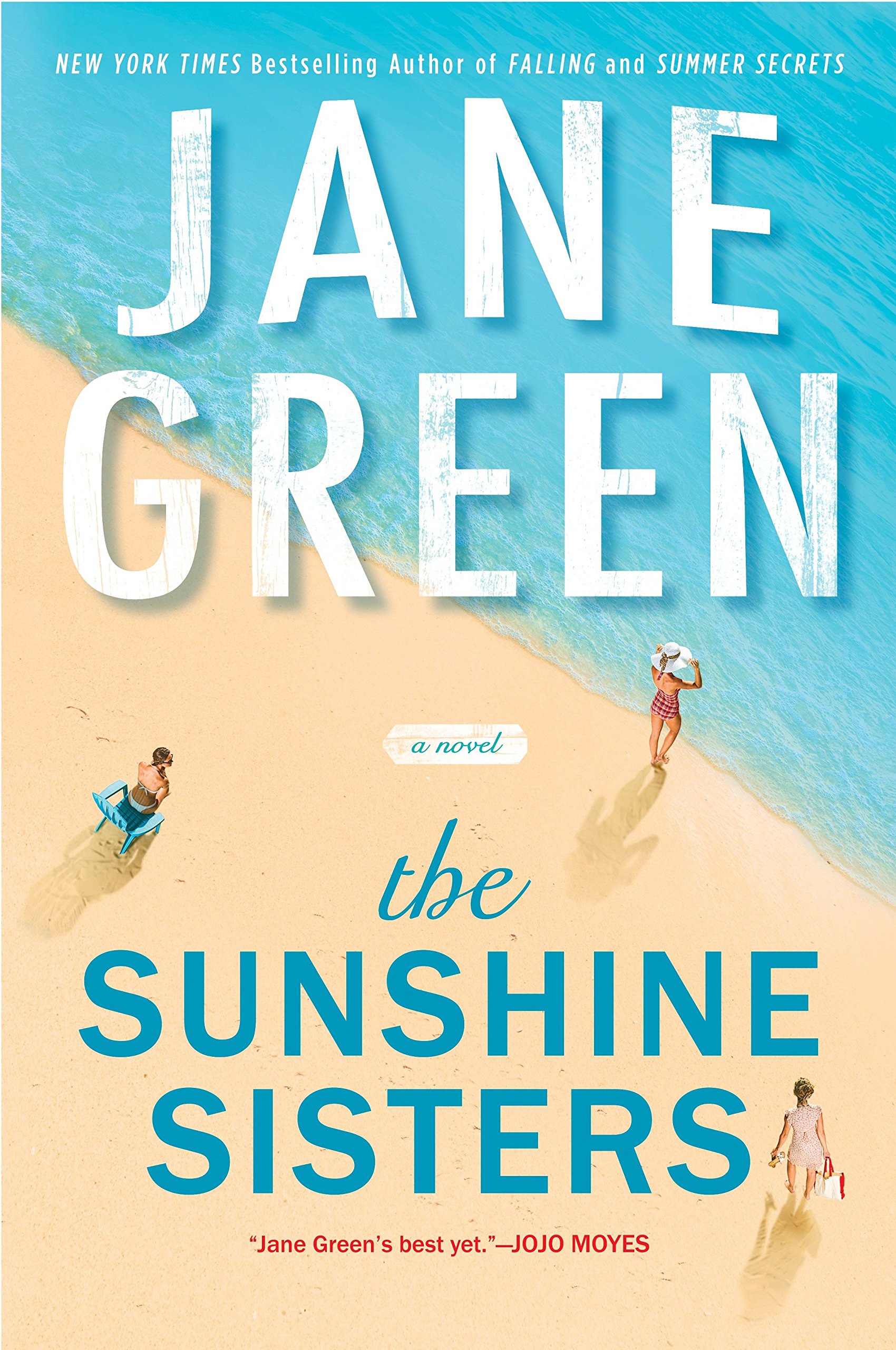 Summer always goes way too quickly for me. But we've still got a few weeks until fall, just enough time for one more juicy, delicious beach read.  If you're looking for a book to accompany your poolside lounger, lawn chair, or rocking chair on the porch, look no farther than
The Sunshine Sisters.
This is the story of three sisters, Nell, Meredith, and Lizzy. The three have never been close. But when their mother, an aging movie star whose narcissistic personality marred their childhood, becomes seriously ill, the sisters return home. The jealousies, scars, and family secrets each face aren't easy to confront but a satisfying, tear inducing redemption at the end.
I'm lucky enough to count a lot of writers in my circle of friends.  Sometimes I read their books, sometimes not, and vice versa. But
Jane Green
is both a friend and an author whose books I reach for again and again. When it comes to women's fiction, she's at the head of the class. She writes characters I want to know (and occasionally want to slap! Or at least give a good talking to), drawing me in emotionally and introducing me to new worlds, but always with a touch of glamour. Best of all, Jane always gives me that hopeful, satisfying ending I long for.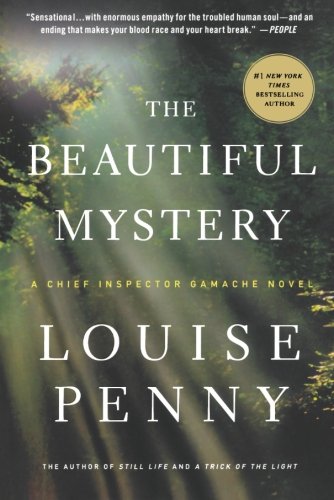 The monastery of Saint-Gilbert-Entre-les-Loups had been hidden for decades in the Canadian wilderness, with no outsiders ever entering its walls. The beautiful music – Gregorian chant – was said to be praising God in the voice of God, a musical tradition that has such a profound impact on the singer, its known as the beautiful mystery.
For monks who had taken a vow of silence, their voices merged together in beautiful harmony and eventually, their chants are shared with the world with a CD. When the world-famous choir director is found dead, Inspector Gamache and his colleague Jean-Guy Beauvoir of Surete de Quebec are called in. What they find is a not so black and white case with layers of deception they never imagined.
The Beautiful Mystery is another beautifully written and captivating novel that kept my heart racing until the very end. Until I found Louise Penny, I rarely read mystery but she turned me on to the genre. She is, quite simply, an amazing writer.  Every book she pens is a winner.