This post may contain affiliate links. Full disclosure policy
It's about this time of year that I start getting mad cravings for that spicy, smoky, and sweet taste of Hatch Chiles. If you have missed the loud ad campaigns from your local grocery store or the Hatch Chile pics flooding Instagram, it's Hatch Chile Season. Yes, it gets its own season.
Why are these such a big deal, you ask?
Well, for one, they are amazing and unlike any other chile. Stores roll out the red carpet welcome for these suckers every time this year in late summer. While they are more accessible in the Southwest, chefs all over are flying them in fresh just like oysters plucked from the sea.
Another reason they are a big deal is that they are super exclusive and fancy, because not just any chile can be called a Hatch Chile. They have to be from the Hatch Valley in New Mexico. Kind of like how Champagne can only be from Champagne or Parmesan can only be from Parma. All of these chiles are in an elite pepper club, with pedigrees, and terroir, as they say in wine-speak.
Wondering if they are spicy? Not in my opinion. The bright green ones, which you often see being roasted, are mild and actually not quite ripe. They ripen up to be bright red and apparently, those taste like an actual fireball. So as you choose your chiles, just go for the green ones at the store.
Oh, and did I mentioned that they pack a ton of flavor considering they are zero points on my Weight Watchers Freestyle plan?
I've Bought an Ungodly Amount of Hatch Chiles. Now What?
If you are anything like me, and splurged for the crate of chiles at the store, you are going to have to plan out what to do with them. And since they are only available once a year, it makes sense to freeze some roasted chiles or even use your food dehydrator to save some of that amazing flavor for those colder winter months.
The good news is that these are so versatile! Throw them in your favorite casseroles, soups, sauces, salads, and stews. Just imagine throwing them into a cheesy egg dish like my Green Chile Egg Puff or my recent Healthy Frittata Recipe. Mouth is watering already.
Later in this post I will share two of my favorite Hatch Chile Recipes plus five more amazing ideas I found on Pinterest!
How to Roast Chiles in the Oven
First of all, let's go over how to roast those chiles.
It's highly improbable you have one of those industrial looking roasters that spin around with fire like you might find on the streets in Santa Fe.
That's okay.
The chiles will still taste delightful without those theatrics.
Here's how I roast mine at home.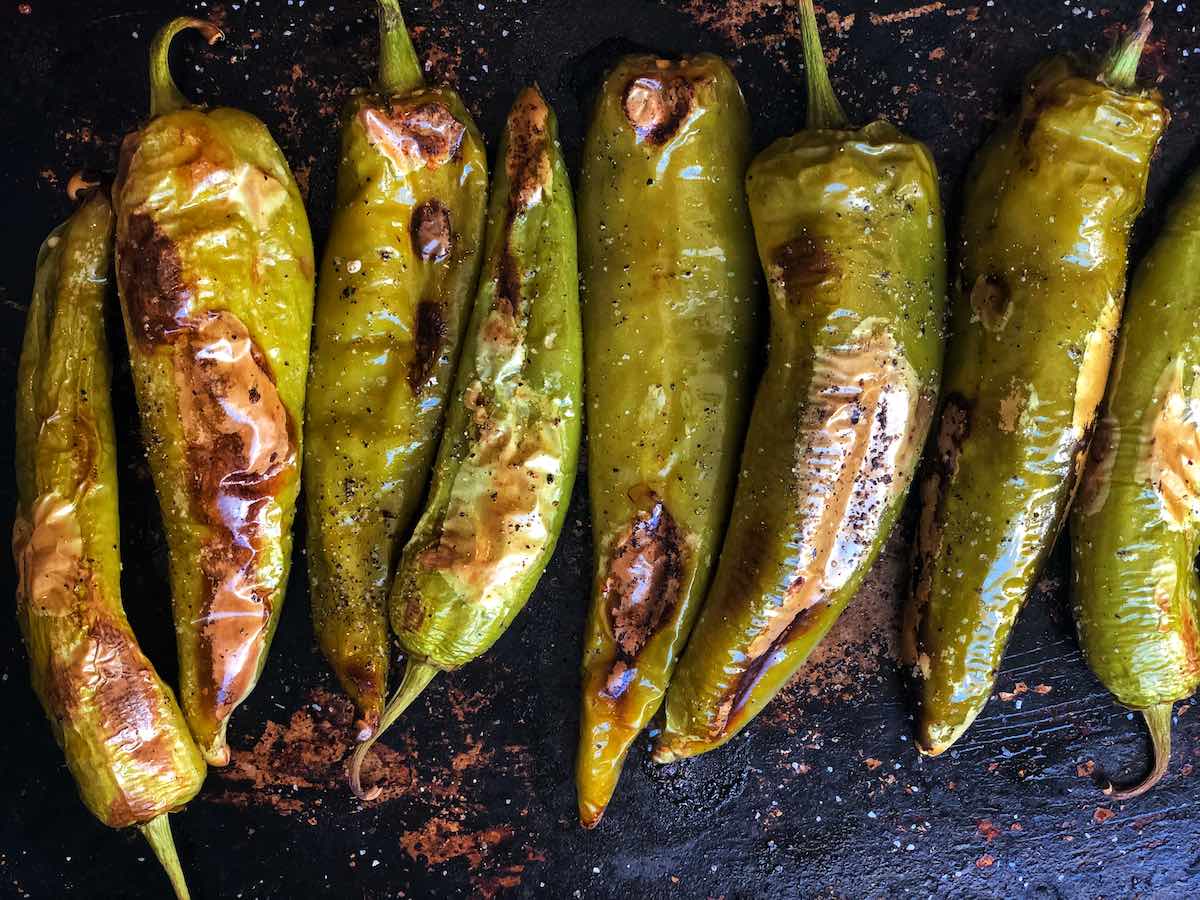 Heat your oven up to 425 degrees, lightly coat your peppers with olive oil, sprinkle with salt, and roast, about 7 minutes on each side. They should be blistery and puffed up but not entirely blackened, since that will decrease the amount of actual chile you get out of this exercise.
Your house will smell like Santa Fe.
Once cooled, the skin should peel off in large strips. Remove all skin, slice in half to open like a book, then scrape out seeds with a knife. This is kind of messy but not too difficult. And so worth it!
And Now for the Hatch Chile Recipes!
Print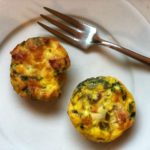 Hatch Chili, Bacon & Herb Frittata Bites
---
Description
For this recipe, I wanted something to showcase that smokey, mild Hatch flavor. It also needed to be easy to make and even easier to reheat for breakfasts on the go. Cooking mini frittatas in muffin tins is such an easy way to prep ahead for a busy week. They keep for up to three days in the fridge, are freezer friendly, and are easily popped into the microwave when you get hungry!
Another great thing about make ahead frittatas is that they are in very reasonably sized portions and high in protein. It's the right blend of indulgent and portion control if you ask me.
---
cooking spray
8 eggs
1/4 cup low-fat milk
4 strips of bacon, cooked and crumbled
2 TBS chopped cilantro
1 TB snipped chives
8 oz shredded provolone or cheese of your choice
4 Hatch Chiles, roasted, peeled, seeded and chopped
salt and pepper
---
Instructions
Preheat oven to 350 degrees.
Spray muffin tin with cooking spray to prevent sticking.
Crack 8 eggs into large bowl. Whisk until blended.
Add milk, bacon, cilantro, chives, chiles, a pinch of salt and pepper, and most of the cheese (save a bit to sprinkle on top!)
Pour into muffin tins about 3/4 of the way full, sprinkle remaining cheese on top.
Slide into the oven.
Bake for 35 minutes or until golden, puffed and aromatic.
Serve with salsa or fresh avocado to go turbo.
Print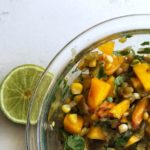 Hatch Chile Peach Salsa
---
Author:

Total Time:

5 minutes

Yield:

4 cups

salsa

1

x
Description
There are certain flavors I hold on to for dear life as summer starts to wane. Peaches, corn, and Hatch Chiles are some of those flavors (plus tomatoes, of course!). This salsa a delicious blend of sweet, smokey and spicy that captures the essence of late Summer cooking. It's the perfect accompaniment for tortilla chips or a topper for grilled chicken or fish. Did I mentioned it has ZERO points?
---
4 Hatch Chiles, roasted, peeled, seeded, and chopped
1/4 chopped cilantro
1 small shallot, minced
1 large peach (or 2 smaller), skinned and chopped
1/2 cup sautéed fresh corn kernels
juice from half a lime
pinch of salt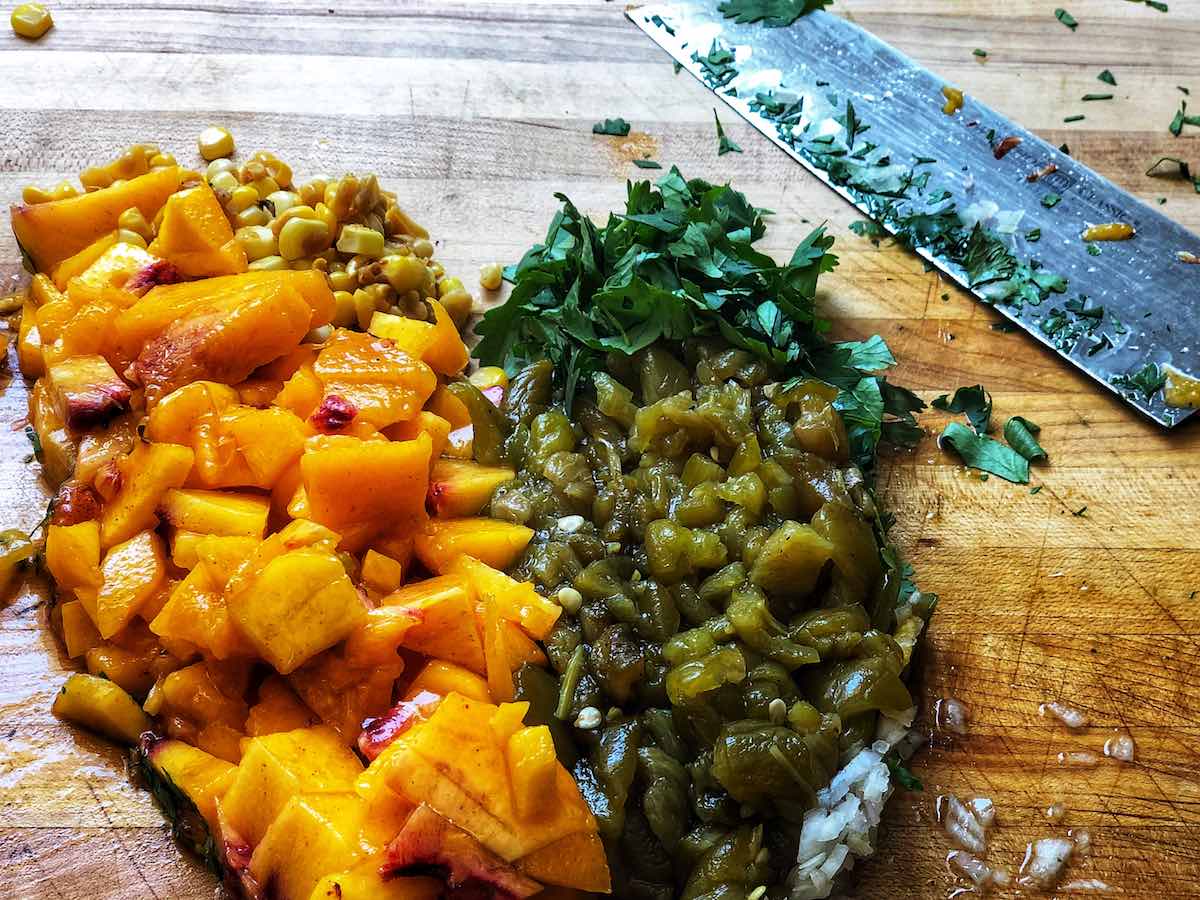 ---
Instructions
Mix all ingredients into bowl, sprinkle with salt to taste.
Go. To. Town.
Prep Time:

5

Category:

appetizer

Method:

no-cook

Cuisine:

Mexican
Hatch Chile Recipes I Pinned Immediately
Pinterest is seriously the Mecca of everything. Need easy ideas for dinner? Pinterest has the answer. Natural remedies for stress? Pinterest knows its stuff. Locally sourced and vegan options for fixing up your Glamper? Head on over to Pinterest. She will help you out.
So naturally, when I found myself with more Hatch Chiles than I knew what to do with, I headed over to Pinterest.
And of course she had all the answers, like the clever maven she is.
Here are a few of my favorites.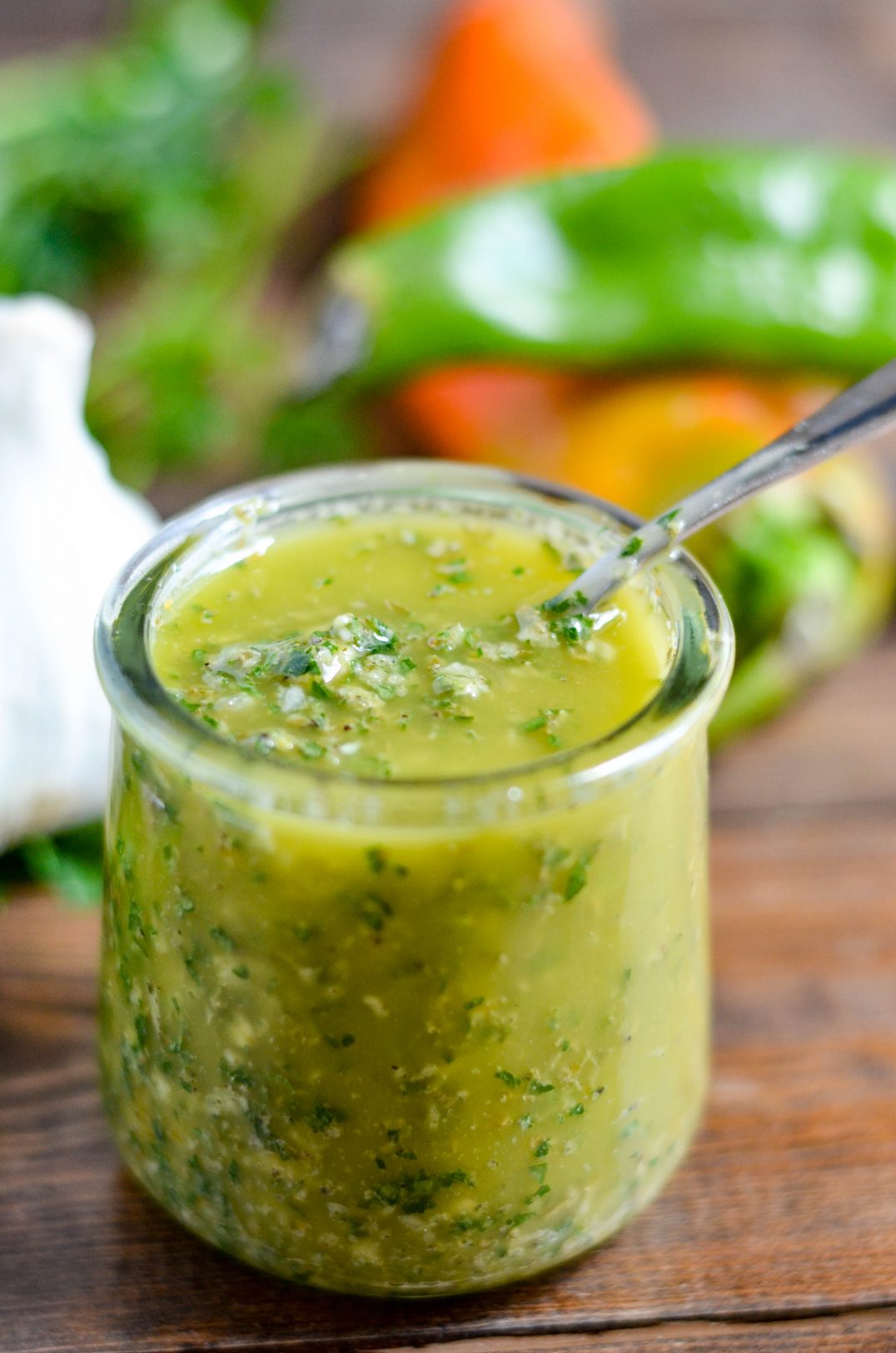 Image Credit: My Modern Cookery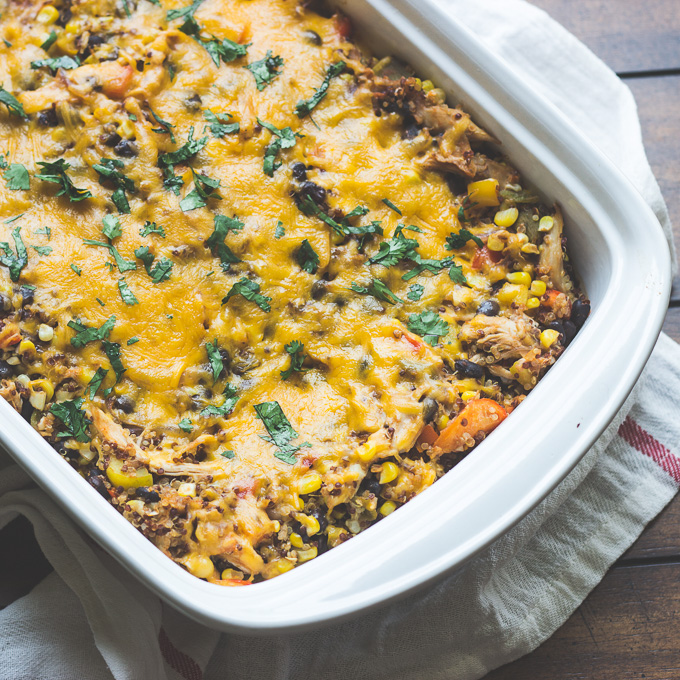 Image Credit: Healthy Aperture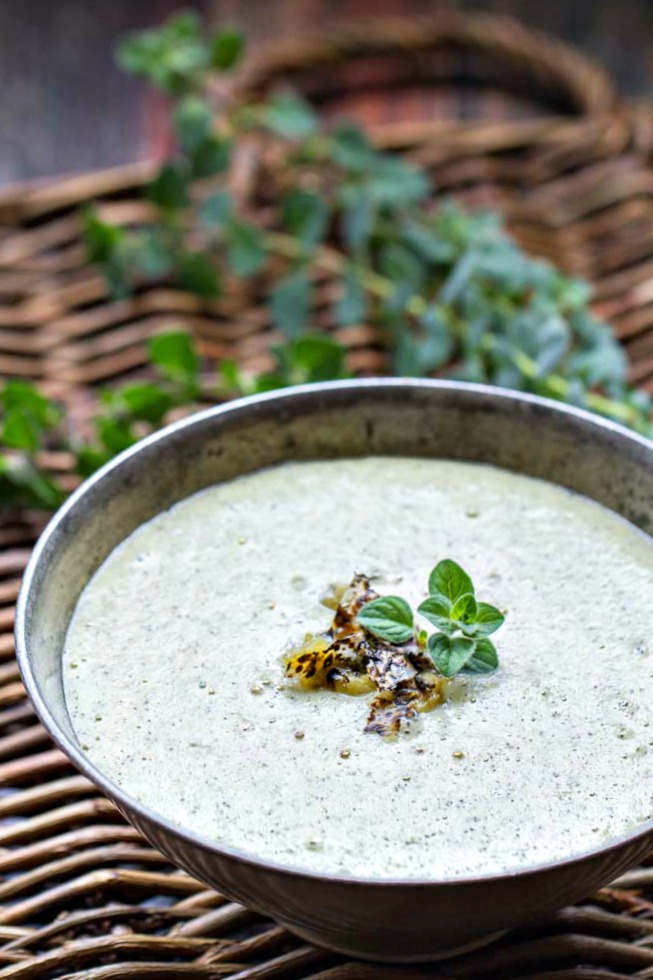 Image Credit: The Wicked Noodle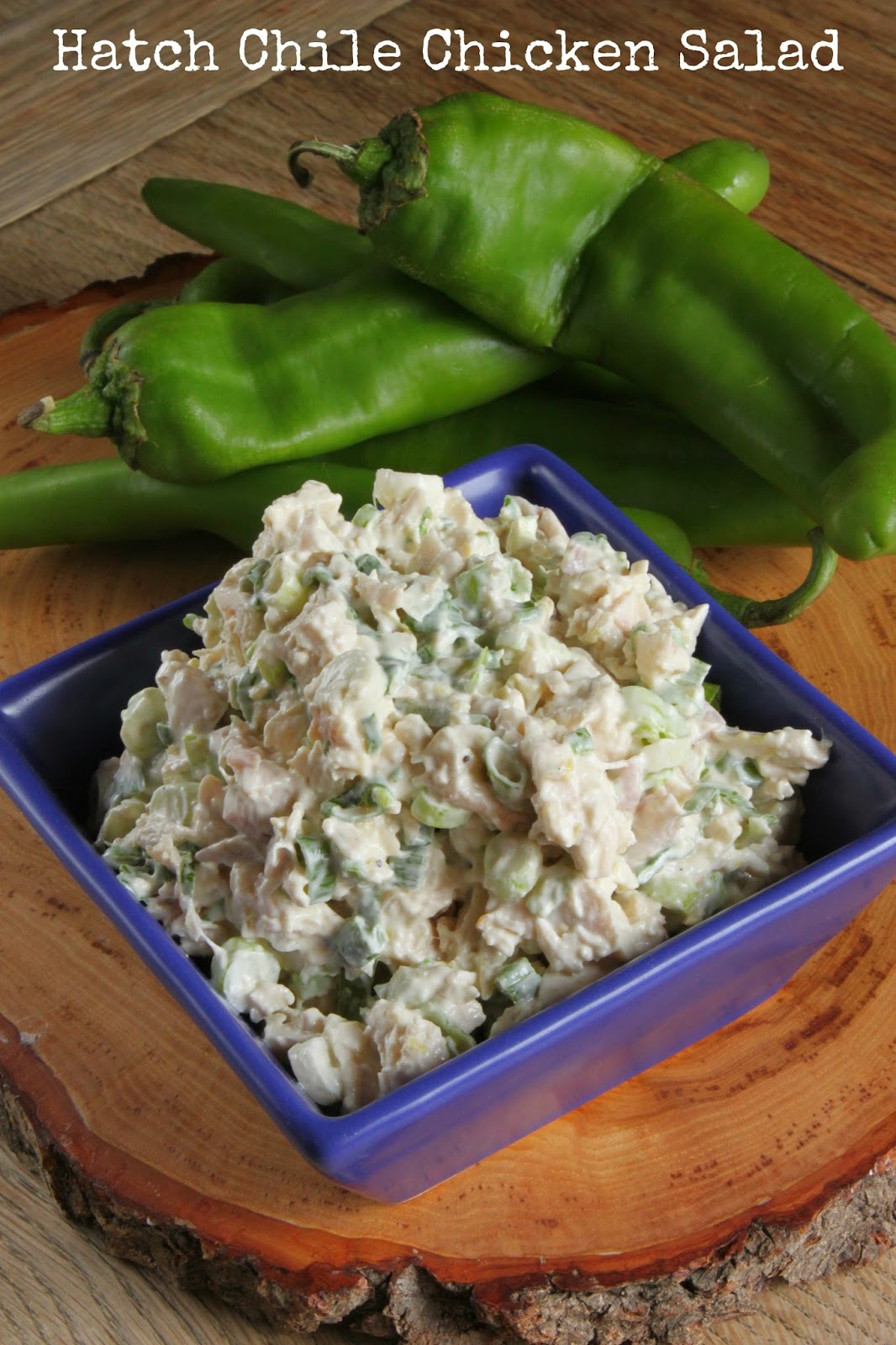 Image Credit: Erika's Kitchen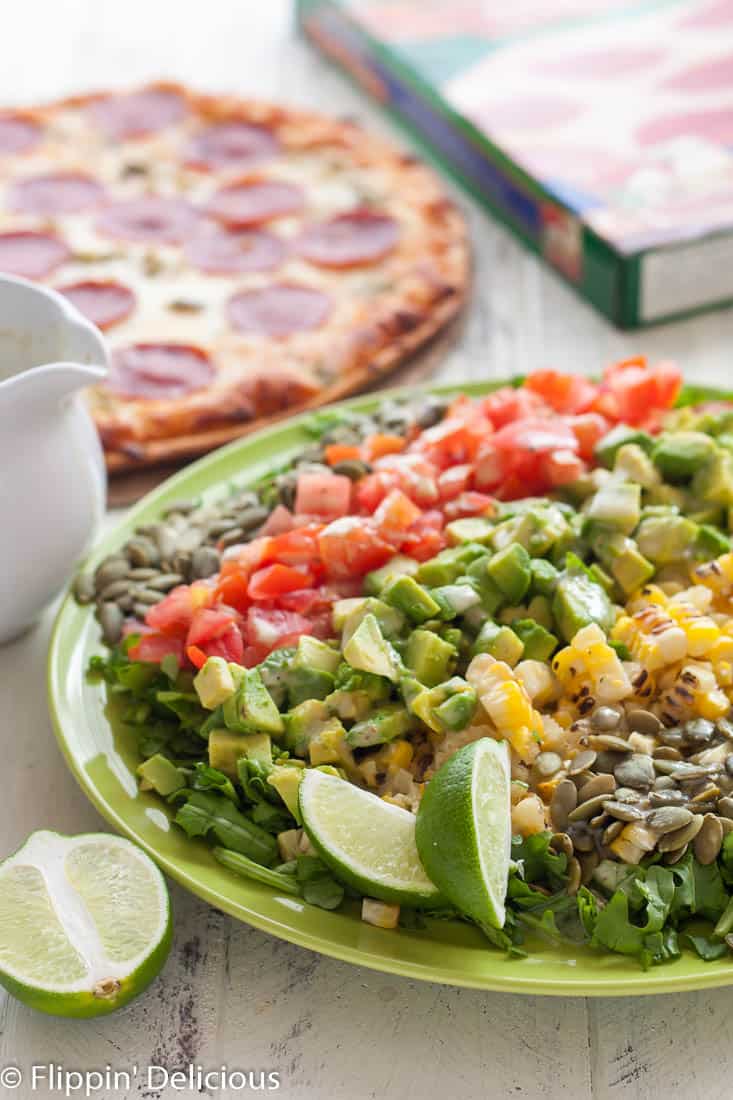 Image Credit: Flippin' Delicious