This post may contain affiliate links. Full disclosure policy
THIS POST MAY CONTAIN REFERRAL LINKS. IF YOU CLICK THROUGH AND TAKE ACTION, I MAY BE COMPENSATED, AT NO ADDITIONAL COST TO YOU.
Mother's Day and brunch seem to go together like April showers and May flowers. So why not knock it out of the park this year? Whether you are celebrating your own mother, celebrating yourself (we know, you've done a great job and deserve a delicious meal), or perhaps daughters, daughter-in-laws, or friends, Mother's Day brunch calls for a sense of occasion. It should be pretty, feminine, bright, and delicious. Most of all, it should make the moms in your life feel special and loved.
Don't forget to write a beautiful handmade card and make your own pretty spring floral arrangements for your table!
Here's my favorite Mother's Day brunch recipes that will be the talk of the town.
Huevos Rancheros! 3 WW Points!
Let's start with the healthy option first. After all, we all care about heart health, right? With only three weight watchers points on my Freestyle plan, this has become a guilt-free mainstay in my breakfast repertoire.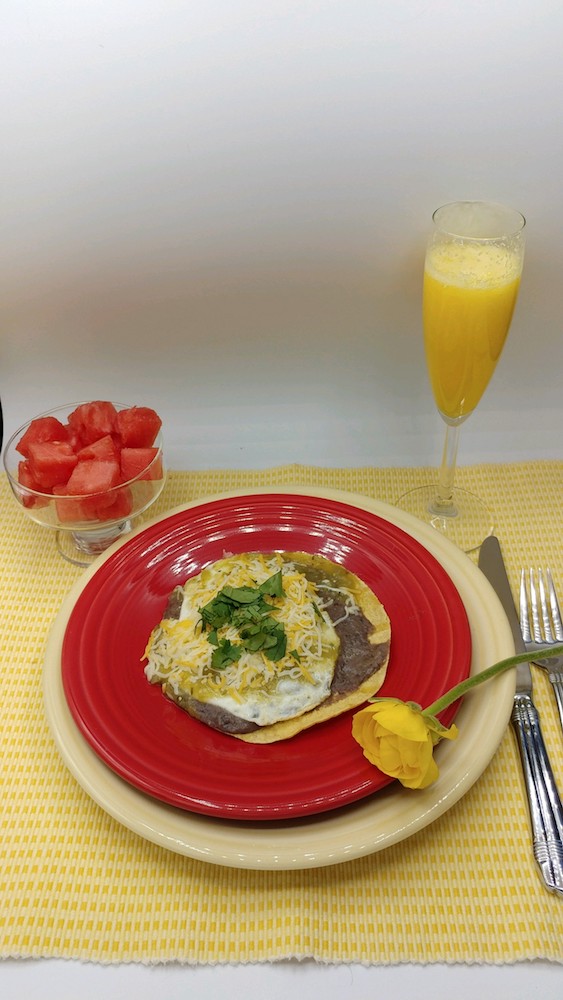 Ingredients
| | |
| --- | --- |
| 4 eggs | 0 points |
| 4 small corn tortillas (6 inch) | 2 points each |
| 1 can black beans (15 oz) | 0 points |
| 1 cup tomatillo sauce (green sauce) | 0 points |
| 4 oz. low fat cheese | 1 point per oz |
| 2 T chopped cilantro | 0 points |
| Cooking spray | 0 points |
Instructions
Preheat oven to 200 degrees.
Reserving 2 T the liquid, drain black beans.  Then blend beans and reserved liquid in a blender until smooth. Place beans in saucepan at low heat until they are warmed through.
Heat tomatillo sauce in a saucepan or in microwave.
Spray griddle or pan with cooking spray. Over medium heat, cook the tortillas on each side until they are soft and warm. Place tortillas on a baking pan or cookie sheet. Spread ¼ of bean mixture over each tortilla. Place pan in preheated oven to keep warm while you finish the eggs.
Spray griddle again and quickly fry the eggs, flipping halfway through the process, until yolks reach desired consistency. (Over easy or over medium.)
Remove baking pan from oven.  Plate a warm, prepared tortilla on each plate. Top each prepared tortilla with one egg, ¼ cup of warm tomatillo sauce, and one ounce of cheese. Garnish with chopped cilantro.
Serve immediately.

Green Chile Egg Puff
This Green Chile Egg Puff is the perfect make-ahead comfort food to bring to a new mom or any friend who deserves a hot meal at home—its cheesy and golden brown with just the slightest heat from the green chiles and jalapeños. This is a long-held tradition of my daughter-in-love's family and let's just say I request it every time I'm in town.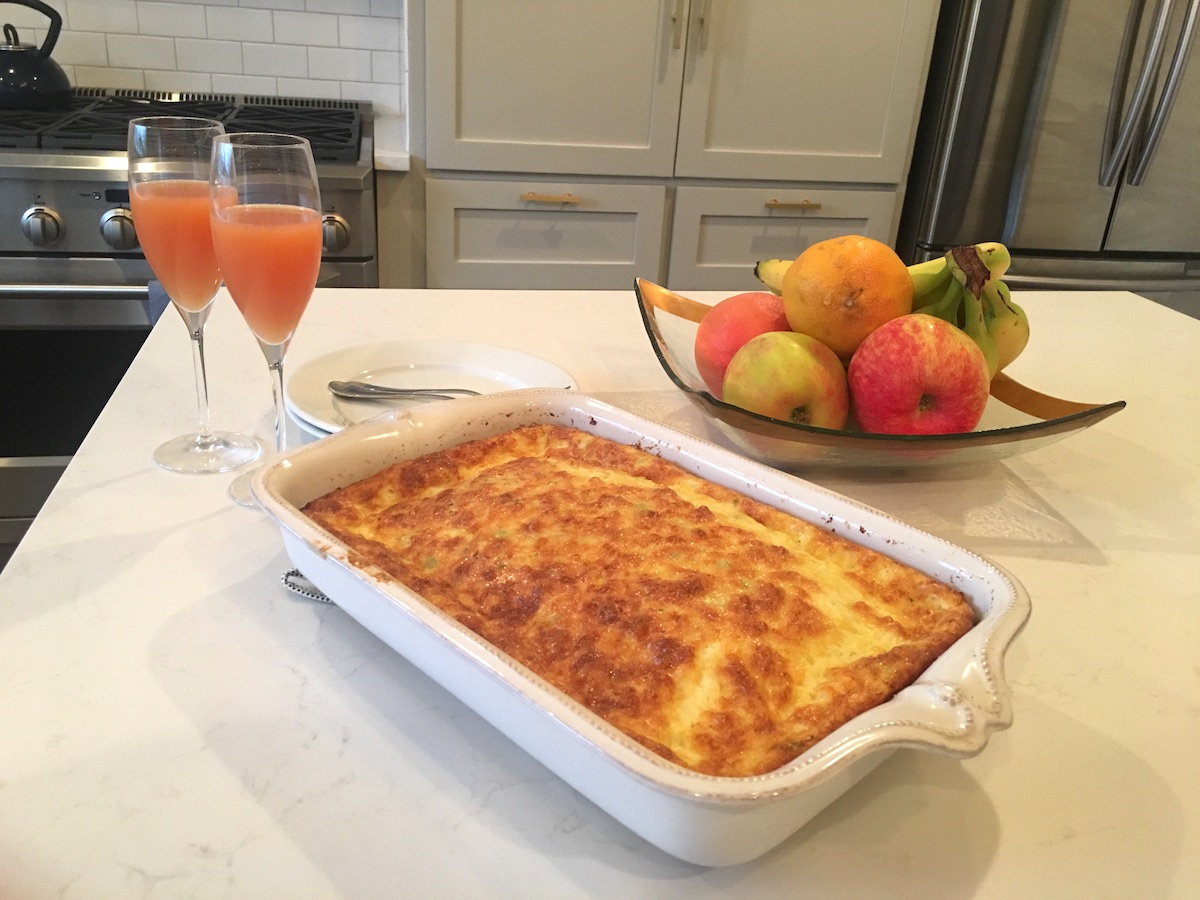 Ingredients
10 eggs, beaten
1 tablespoon butter
1/2 cup flour
1 teaspoon baking powder
1/2 teaspoon salt
16 ounces small curd cottage cheese
1/2 cup butter, melted
1/2 pound Monterey jack cheese, grated
1/2 pound Monterey Jack jalapeño cheese, grated
4 oz can of chopped green chiles
1 pound sausage, ham, or bacon, cooked (optional)
Instructions
Butter a 9 x 13 x 2 inch glass baking dish with 1 tablespoon butter.  Mix remaining ingredients together in large mixing bowl.  Pour in baking dish, then bake uncovered at 400 for 15 minutes. Reduce heat to 350 degrees and bake for another 30 minutes, until slightly browned.  Cut into squares. Top it off with salsa or guacamole and serve with mimosas!

Baked French Toast with Pecan Crumble and Vanilla-Poached Apricots
For all you sweet tooths out there, this one's for you. What I love most is that you can make it the night before and then cook it in the morning, or if you are crunched on time, you can cook it right away and it's still delicious!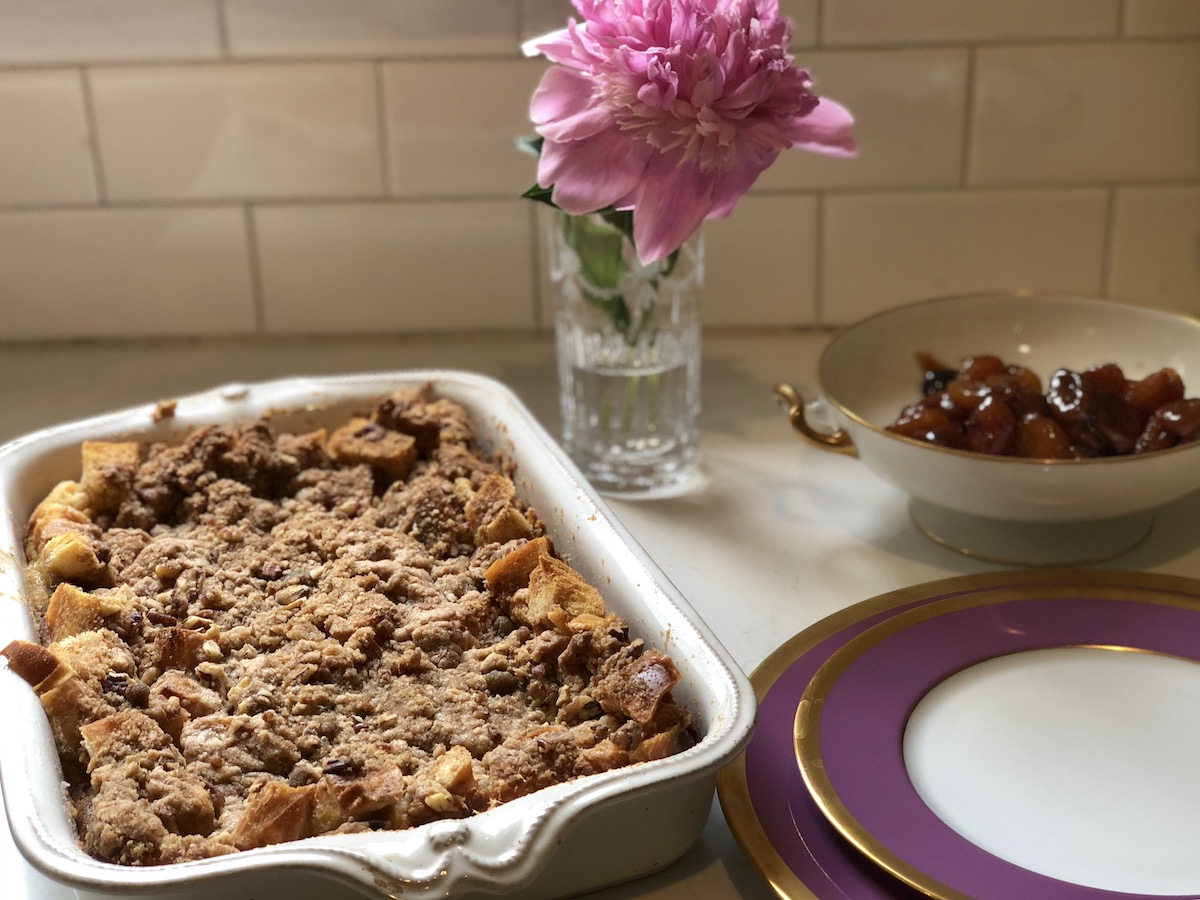 For the French toast:
1 loaf French bread, cubed
8 eggs
2 cups whole milk
½ cup cream
½ cup sugar
½ cup brown sugar
2 TBS vanilla extract
½ cup melted unsalted butter, cooled plus more for greasing pan
For the topping:
1/2 cup flour
1/2 cup brown sugar
½ cup chopped pecans
1 teaspoon cinnamon
1/4 teaspoon sea salt
1 stick cold butter, diced
Vanilla Poached Apricots for serving:
8 oz dried apricots
1 vanilla bean, halved lengthwise
1 cinnamon stick
1 1/2 cups water
1/2 cup sugar
2 TBS honey
pinch of sea salt
Instructions
Grease a 9 x 13 casserole dish with butter. Arrange bread cubes in casserole dish.
In a separate bowl, whisk together eggs, sugars, milk, cream, vanilla and melted butter.
Pour over bread cubes, pressing cubes down to absorb the milky eggy goodness.
In a medium bowl, whisk together eggs, milk, cream, melted butter, sugars, and vanilla. Pour over bread cubes.
Cover and chill for 8 hours or overnight.
Make the topping. In a food processor, pulse together flour, brown sugar, cinnamon, pecans, and salt until the texture of crumbs. You can also cut together with a pastry cutter.
When it's showtime, remove the casserole dish from the fridge and sprinkle crumble topping over eggy bread mixture.
Bake uncovered for 1 hour at 350 degrees, being careful to not let that top burn! Another word of advice, it's possible that the casserole might puff up and spill over the sides, so I recommend placing a sheet pan underneath to avoid a big mess in the oven.
While it's cooking, make the apricots. Scrape vanilla bean and throw contents and pod into a saucepan. Simmer together with water, honey, sugar, and cinnamon stick for 5 minutes, covered, until sugar dissolves. Add apricots and simmer covered until they are softened, about 30 minutes. Remove apricots, cinnamon stick and vanilla pod with a slotted spoon. Discard pod and stick and transfer fruit to a bowl. Reduce remaining liquid in saucepan to about 1/2 cup (about six minutes). Pour over apricots.
To serve, top each serving with butter, syrup, berries, and/or vanilla-poached apricots.

Broccoli-Cheddar Quiche Recipe
I snuck in kale! And broccoli! And garden herbs! This is basically like eating a salad. Plus, it's so pretty. Baking it in a tart pan seems to cut down on the amount of dough and crust, so I tell myself this is a healthier, cleaned up version of a quiche, even though I realize the dough, the cheese, the ham isn't exactly health food. Let's call it balance.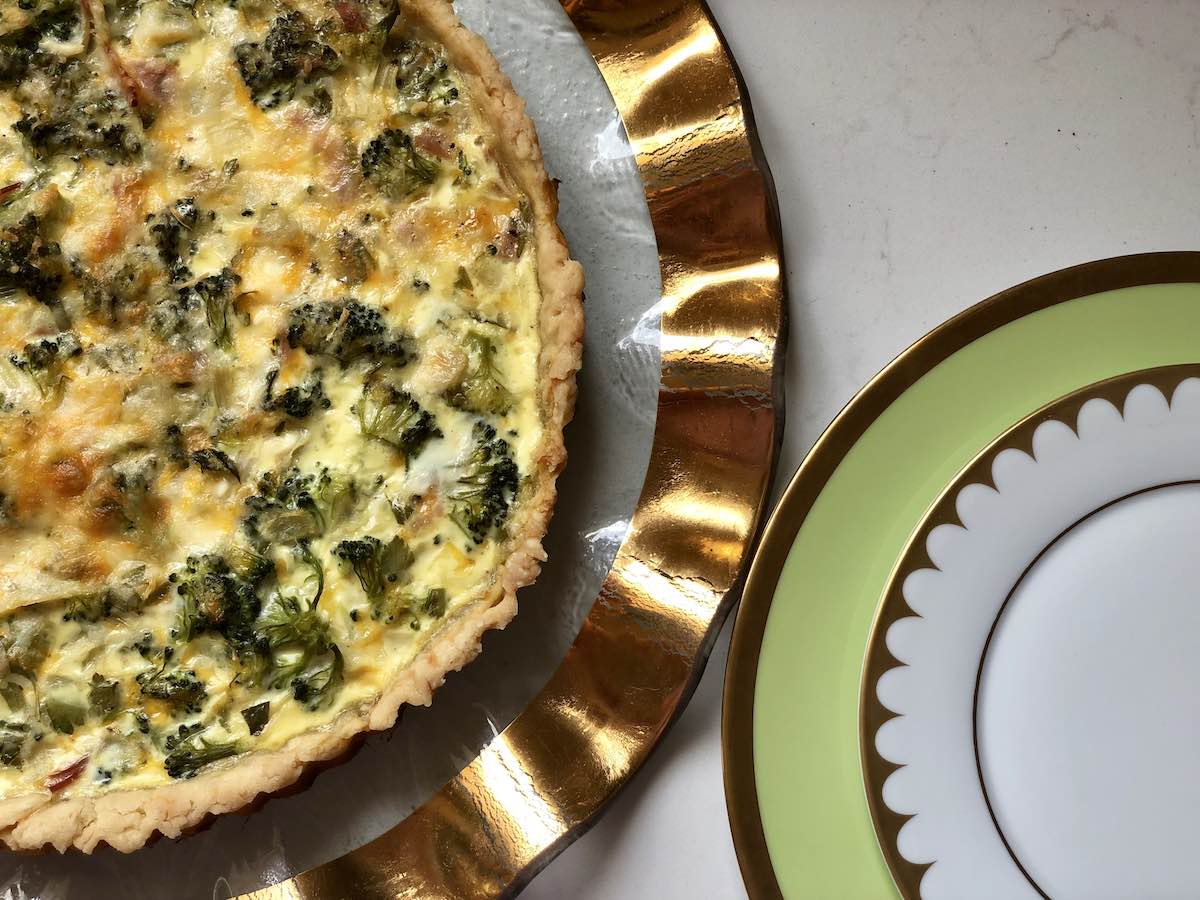 For the tart dough:
1 1/4 cups all-purpose flour
1/4 tsp. fine sea salt
7 Tbs. unsalted butter, chilled
1/4 cup ice water, or more as needed
For the filling:
2 cups broccoli florets. chopped
1/2 white onion, chopped
1/2 cup chopped kale, ribs removed
1 cup whole milk
3 large eggs
1 Tbs. chopped garden herbs (fresh dill, parsley, chives or whatever you have on hand)
Sea salt and freshly ground pepper
1 cup shredded sharp Cheddar cheese
1/2 cup diced ham (optional)
Instructions
For the crust, pulse flour and salt in a food processor with a pastry blade. (You can also do this by hand with a pastry cutter). Add butter cubes and pulse 10 times, until the consistency of peas. Slowly add ice water and pulse until the mixture begins to come together. If the dough seems too dry, just add a little more water.
Shape dough into disk. You should be able to see bits of butter! Wrap tightly in plastic wrap and pop in the fridge for at least 30 minutes or up to 2 hours.
On a floured surface, roll out dough into about a 12 inch circle. Transfer to tart pan with a removable bottom, tucking the dough into the sides and trimming the top so get rid of any overhang. Prick the dough with a fork all over. Cover top with foil and use pie weights or beans to keep it flat. Placing the tart pan on a baking sheet lined with parchment paper (in case there is runoff later), bake until the dough is set and beginning to turn golden brown, approximately 20 minutes.
While the tart dough is cooking, making the filling. Cook broccoli in boiling water for five minutes, drain, and pat with towels. Saute onions and kale until onions are translucent and kale is softened. Let cool. In a bowl, whisk together the milk, eggs, fresh herbs, and a pinch of salt and pepper until combined.
Take the baking sheet and tart pan out of the oven and remove the foil and pie weights. Pour the broccoli cheese egg mixture into the pastry shell. Top with more cheese (you knew that was coming). Pop the baking sheet back in the oven and turn the temperature to 350°F. Bake until the broccoli filling is set and golden brown, about 40 minutes. Keep an eye on the tart to make sure the crust doesn't burn. Let cool slightly or serve at room temperature.
Happy Mother's Day to one and all!