This post may contain affiliate links. Full disclosure policy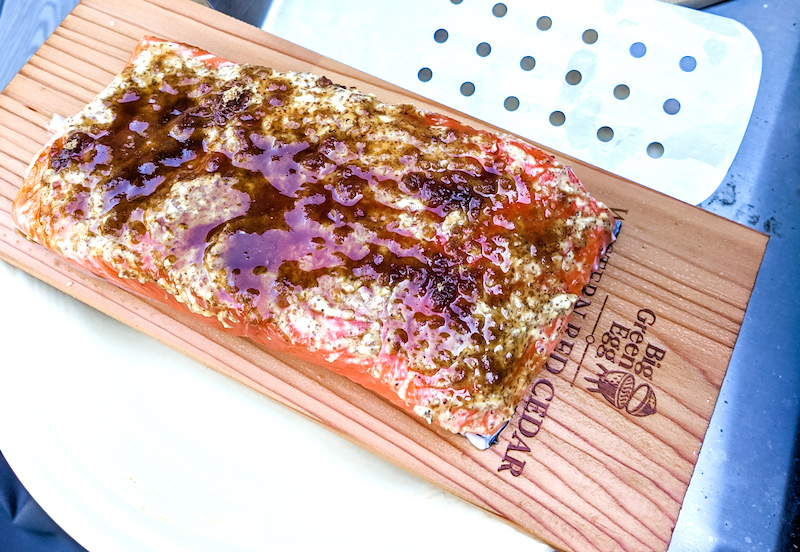 Cedar Plank Salmon is one of my all-time favorite recipes. I make it all the time and for good reason. It's incredibly delicious, healthy, and so ridiculously easy to make that it only requires 5 ingredients. You heard me right, 5! And that includes the salt and pepper.
My son shared this recipe for Cedar Plank Salmon with me about four years ago and it's been a go-to dinner for us ever since. That's why I almost can't believe that I haven't blogged about it before now! This mouth-watering combination of sweet and savory salmon, undergirded by just a touch of smoky cedar flavor makes frequent appearances on our dinner table. But when I went back and searched through my blog archive, I was shocked to see that I haven't shared the recipe until now. How is that possible?
Am I turning into one of those cooks who holds back her best recipes?
Never! I would never want to hold out on you, my friends. Let's just call it an oversight, one I am delighted to rectify today.
You should be delighted too! Because if you like salmon, my sweet and savory Cedar Plank Salmon is destined to become your new favorite.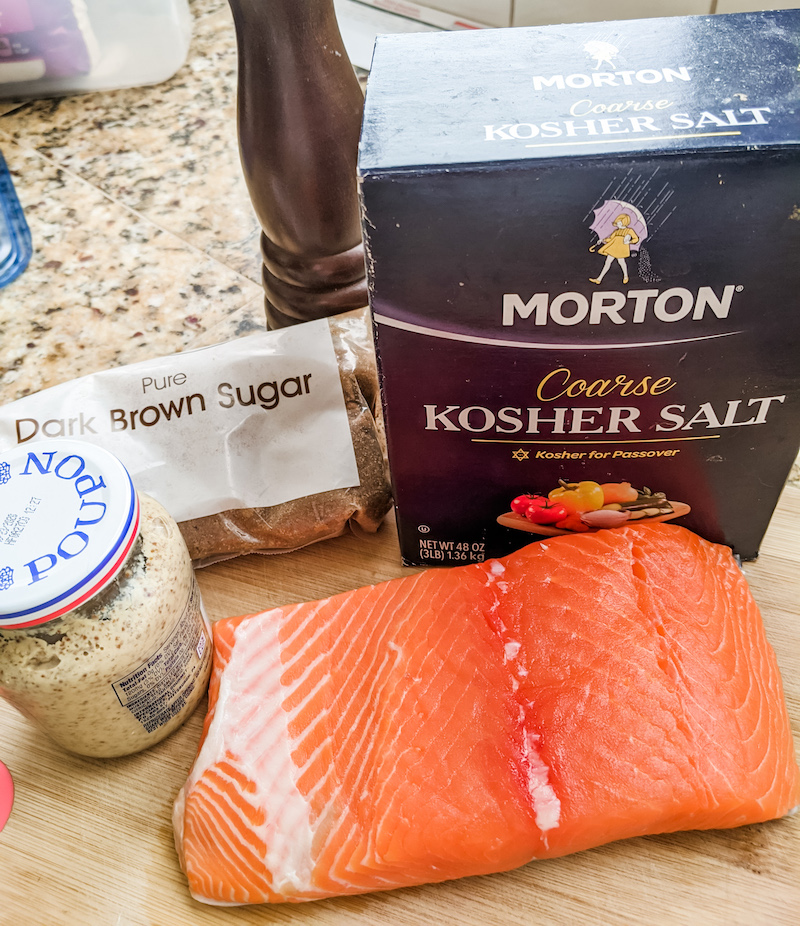 Cedar Plank Cooking
Until I tried this recipe, I'd never heard of cedar plank cooking. Maybe you haven't either but, trust me, it's a thing.
Placing food directly on a culinary cedar plank while grilling imparts a delicate, smoky cedar flavor to the dish. It's really kind of magical. But before you run out to the garage and grab an old board or shingle, please note that I said you need a "culinary" cedar plank for grilling. Why?
Because a lot of lumber is treated with chemicals that you really don't want making their way into your food or your body.
If your lumberyard carries untreated cedar boards, you can use them for grilling. But most people just buy a culinary cedar plank that is specially made for cooking. I usually find mine in the grilling section at my local hardware store. But some grocery stores may carry them as well, or you can buy them online.
Plan Ahead for Your Cedar Plank Salmon
Cedar Plank Salmon is one of the world's easiest recipes. But you do need to do a little pre-planning to make it. That's because the cedar plank needs to be submerged in water for at least one hour before it's placed on the grill. Otherwise, the plank would burn up quickly, resulting in a flambéed salmon.
During soaking, I usually just fill up the sink and then put a heavy glass or plate on top of the plank to keep it from floating. The planks aren't very thick, so a rimmed baking pan also works for soaking.
Gilding the Lily
When I said Cedar Plank Salmon requires only 5 ingredients, including salt and pepper, I wasn't lying. Some salmon, mustard, brown sugar, salt, and pepper are all you need to make this wonderful dish.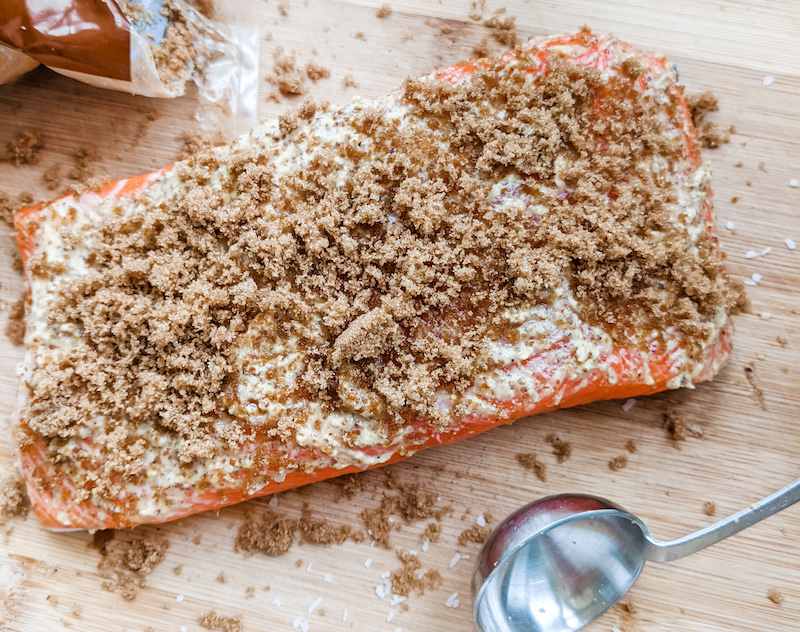 However, if you want to gild the lily a bit, or perhaps fool your family into thinking you worked a little harder than was the case, you can add a few extras. A sprinkling of chopped flat-leaf parsley, cilantro, or basil near the end of the grilling would be nice. You could toss some sliced green onions over the top too, or even some sliced green olives filled with pimento for a bit of tang and color.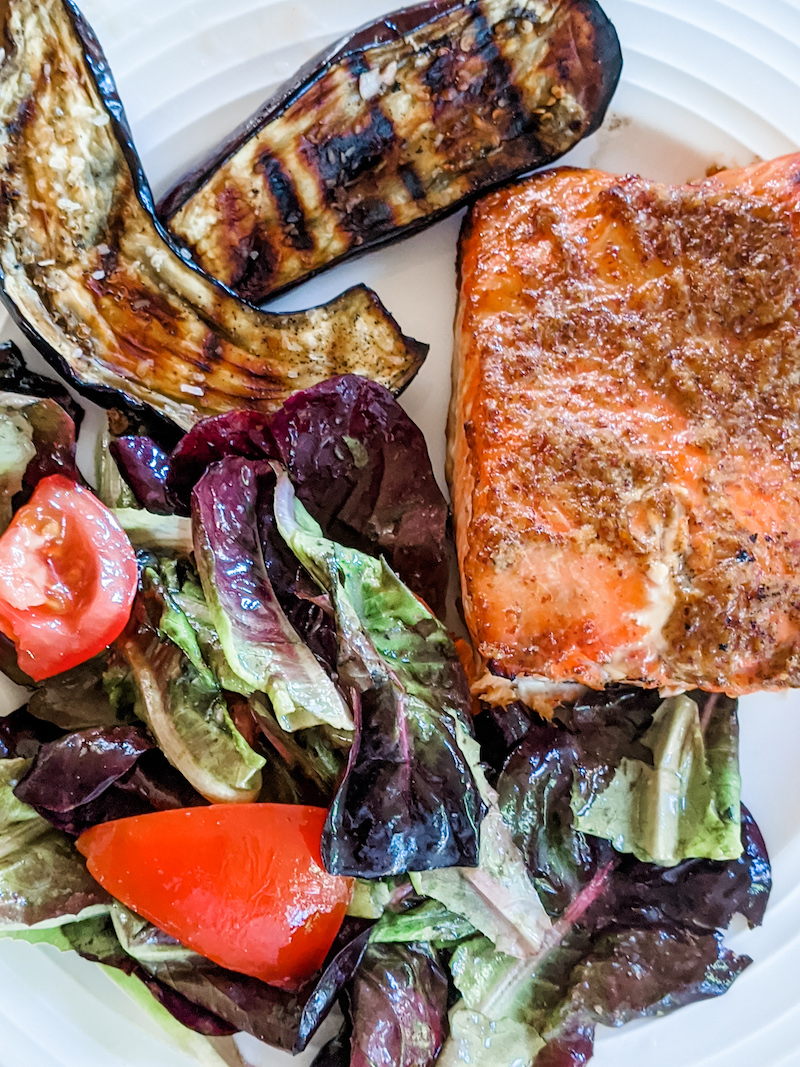 Yes, you can. But you certainly don't have to. The basic recipe is pretty terrific as it is.
My Grilling Tips
Preparing Cedar Plank Salmon couldn't be simpler. But I've got a couple of tips for maximizing the beautiful smoky flavor of your cedar plank.
Though you need to soak your cedar plank for at least an hour before using it, I recommend soaking longer if you can. Four hours would be ideal. More moisture in the plank will help create a smoky steam that helps keep your salmon tender and moist too. It will also help your board burn more slowly, which means you may be able to use it a second time. (After you taste it, you'll undoubtedly want to make Cedar Plank Salmon again, so this is a good thing.)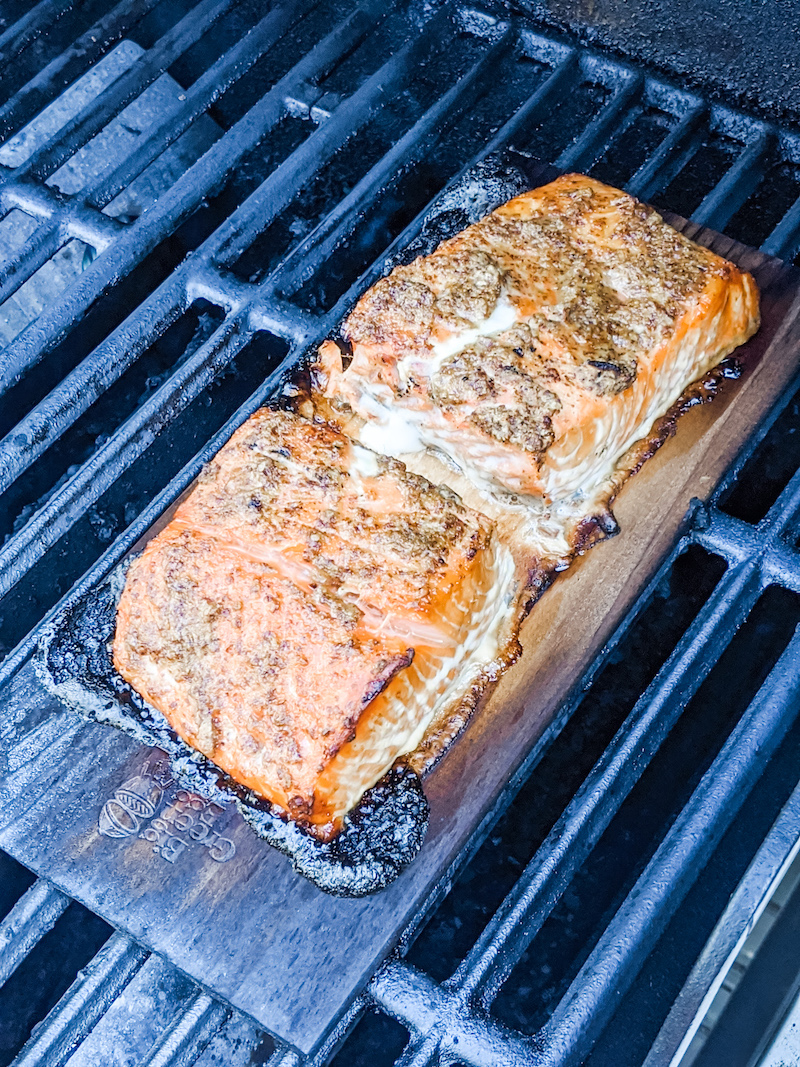 Also, it's a good idea to put the plank on the grill for about five minutes, before flipping it over to place the salmon on top. Putting the fish onto a board that's slightly charred will release more cedar smoke more quickly, which will add more flavor to your salmon. Make sure to close the top of your grill while cooking, to keep the smoke closer to the fish.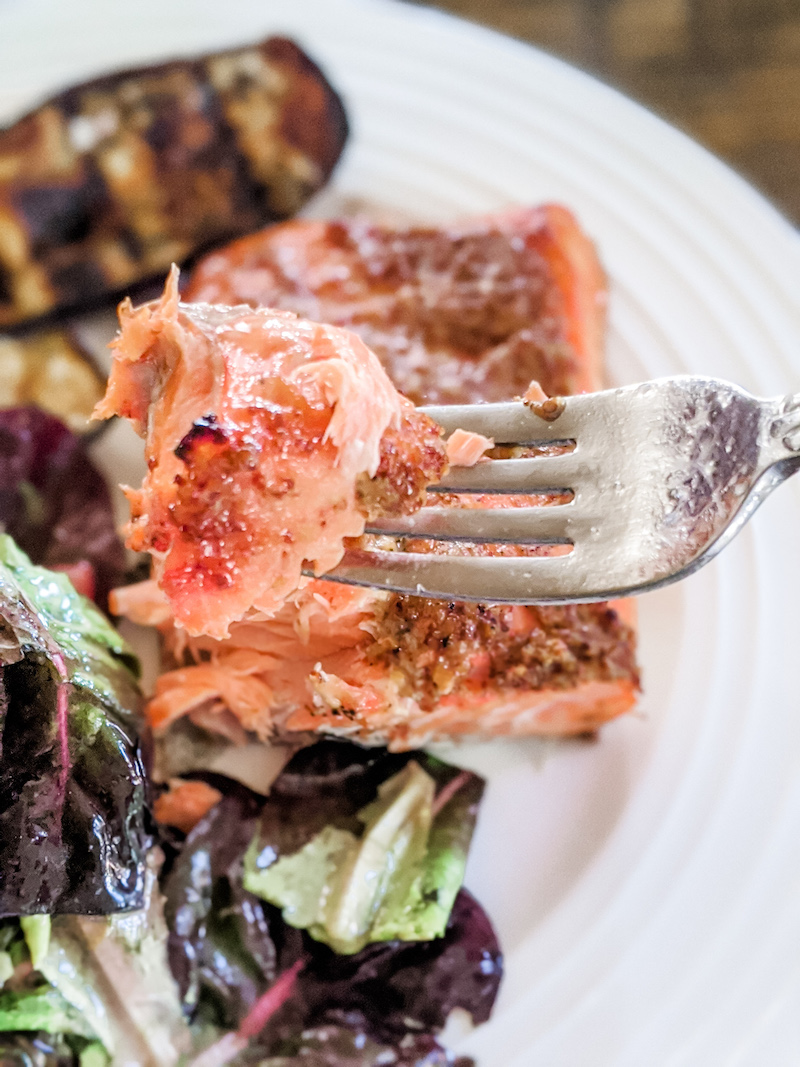 Cedar Plank Salmon is insanely delicious and so, so easy to make! Give it a try and you'll see what I mean. I'm pretty sure this is going to be your new favorite way to serve salmon. And if you're looking for more salmon recipes, try my Oven Roasted Herb Salmon as well!
Print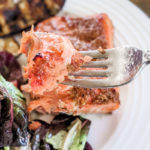 Cedar Plank Salmon
---
Author:

Yield:

4

servings

1

x
1 ½

pounds of fresh, wild-caught salmon, cut into 4 pieces (Choose a thick filet from the body, not the tail.)
Kosher salt
Fresh ground pepper

1 ½

T mustard, Dijon on Coarse style

2

T brown sugar

1

or

2

culinary cedar planks, soaked in water for at least one hour or up to four hours
---
Instructions
Preheat grill
Rinse salmon filets with water. Pat dry with paper towels. Sprinkle salmon generous with Kosher salt. Grind some fresh pepper over the top.
Brush mustard evenly over the top of each salmon filet. Sprinkle brown sugar evenly over the top of each filet.
Place soaked culinary cedar plank on preheated grill for 3 to 5 minutes, until plank chars slightly. Flip plank over and place prepared salmon filet on top. Close grill lid.
Grill salmon to an internal temperature of 145 degrees, or until center is cooked and filet feels slightly firm when pressed.