This post may contain affiliate links. Full disclosure policy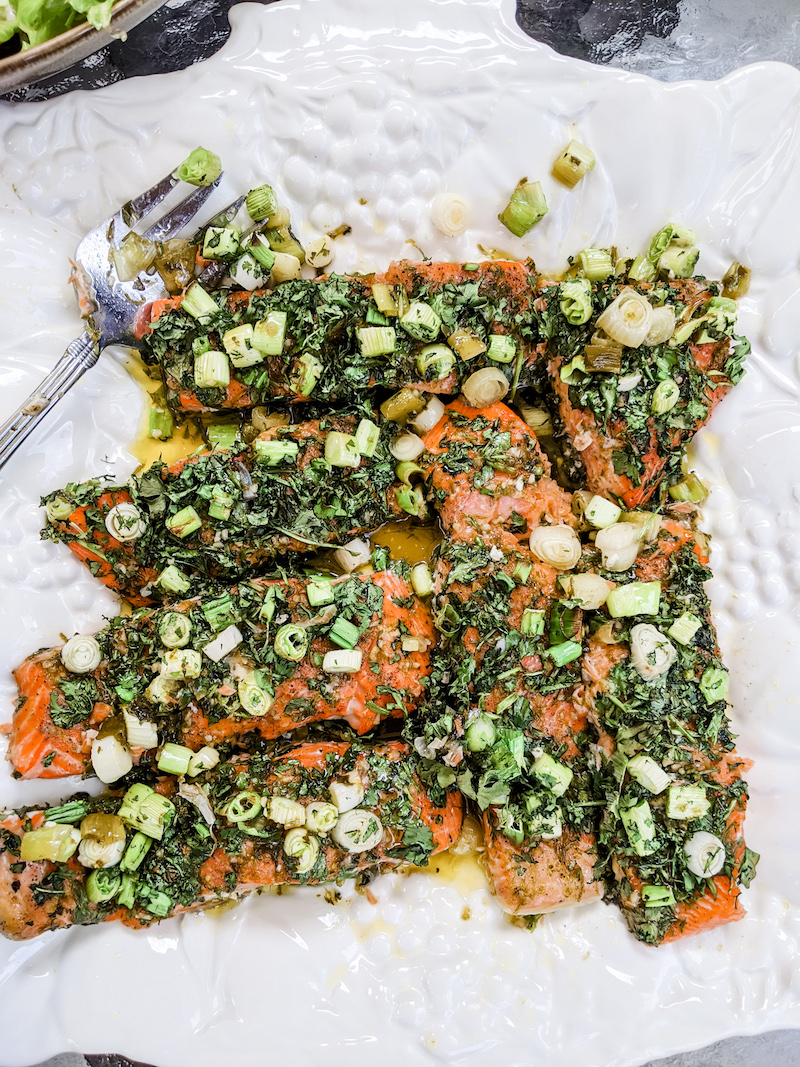 With all the fresh summer fruits and vegetables coming on, I've been so busy in the kitchen that I almost forgot to tell you about the fantastic Oven Roasted Herb Salmon my daughter-in-love made when she was visiting back in June. She took her inspiration from a recipe by Amanda Frederickson.
And, my, oh my! It was just delicious!
Having been raised in the Pacific Northwest, I eat and serve a lot of salmon. I like the health benefits offered by salmon but, more than anything, I like how it tastes. Even people who don't like most fish will often enjoy salmon. The flesh of salmon is firm, almost meaty, and it doesn't taste "fishy". I probably serve salmon several times a month.
Salmon: Simple and Versatile
Often, I just brush my salmon with a little olive oil, salt, and pepper, then toss it on the grill, and finish by serving it with a squeeze of lemon or perhaps a fruit salsa, like my Peach and Avocado Salsa. A piece of simply grilled salmon is always delicious but this Oven Roasted Herb Salmon takes my favorite fish to a whole different level of fabulousness! When my daughter-in-love showed me the ingredient list, I had my doubts. It seemed a little complicated at first glance. But, trust me, this salmon preparation is totally worth the effort.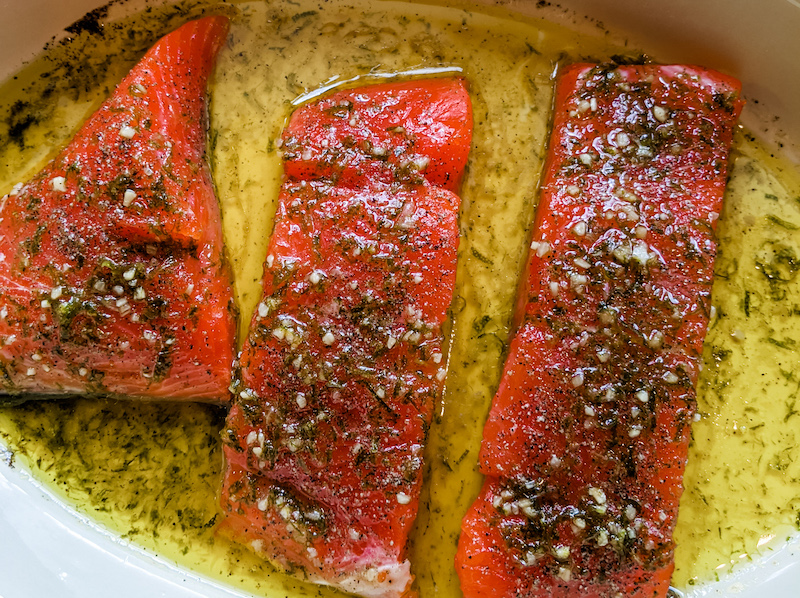 And even though this recipe requires a little more work than my usual salmon preparation, it really isn't that difficult. Basically, you're making a marinade with olive oil, honey, lime, and garlic and then topping it with lots of beautiful, flavorful herbs and onions before you roast it in the oven – simple! But there's something about the combination of that honey-lime marinade and fresh herbs that's a little bit magical.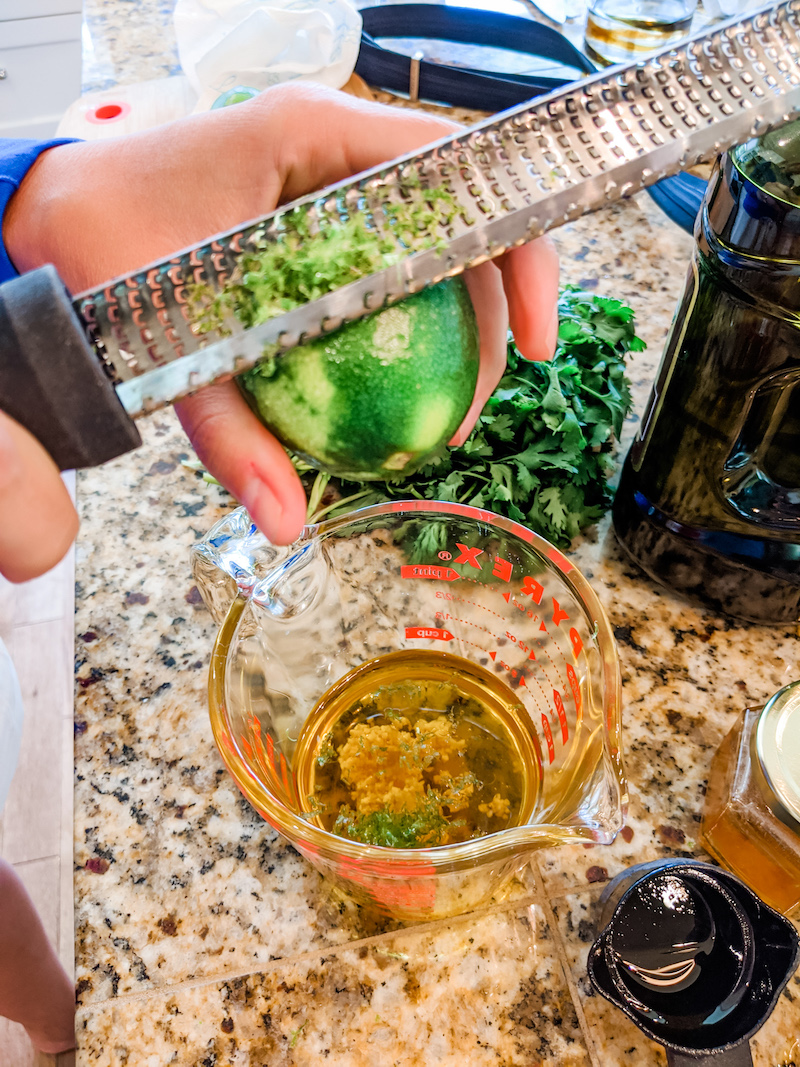 The Question of Herbs in my Oven Roasted Herb Salmon
When it comes to Oven Roasted Herb Salmon, the herb in question is cilantro. I happen to love cilantro but not everyone does. If you're in that camp, you can simply replace it with a different herb. Fresh basil could work here (though in that case, I think I'd change the lime juice to lemon). Flat-leaf Italian parsley would be nice as well, perhaps combined with a little fresh thyme.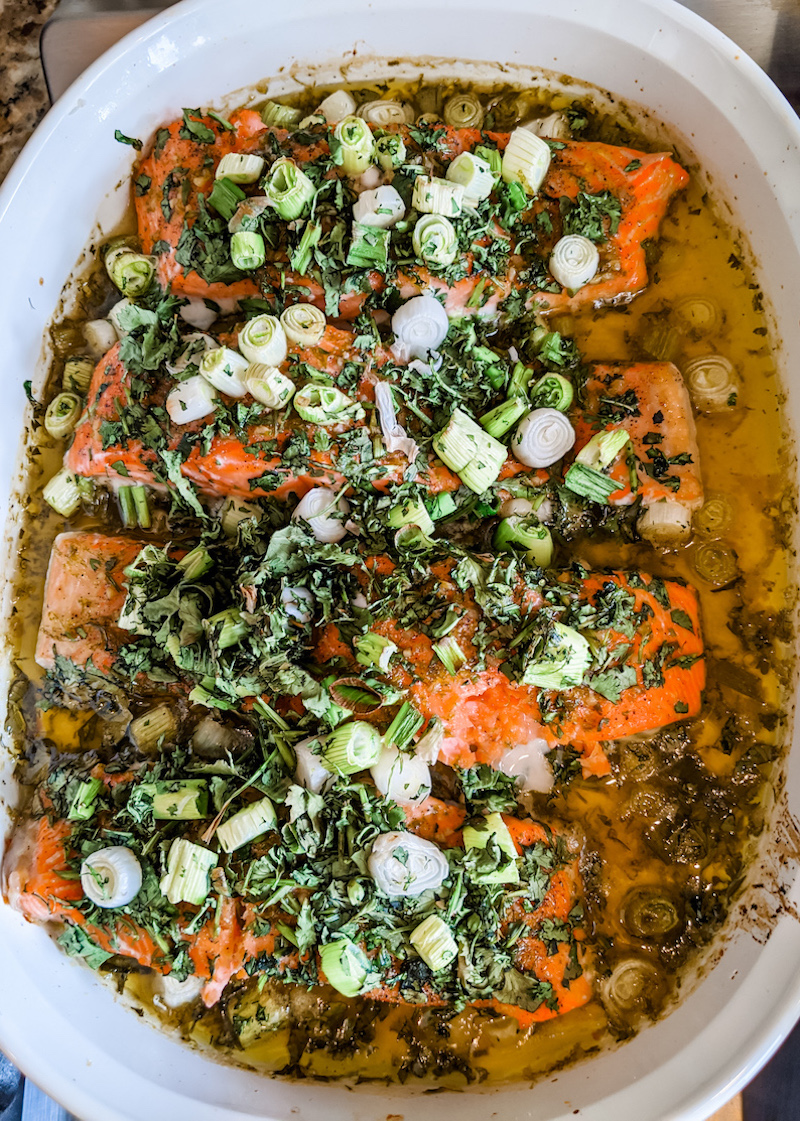 Since salmon is the main ingredient here, you'll want to choose yours carefully. Get a nice, thick filet, a cut that comes from the center of the fish. Rather than buy prepackaged filets at the market, ask the butcher to cut the filets for you. That way you can choose the piece you like. My favorite type of salmon is Chinook but that can get pricey so I'll sometimes buy Sockeye salmon. As long as the fish is wild-caught, it should work well in this dish. I avoid using farm-raised salmon as the flavor is entirely different and I just don't care for it.
Sturgeon also works really well with this recipe. If you don't care of the taste of salmon at all, try it with a halibut filet. Halibut is a very mild tasting fish and would be a tasty substitute here.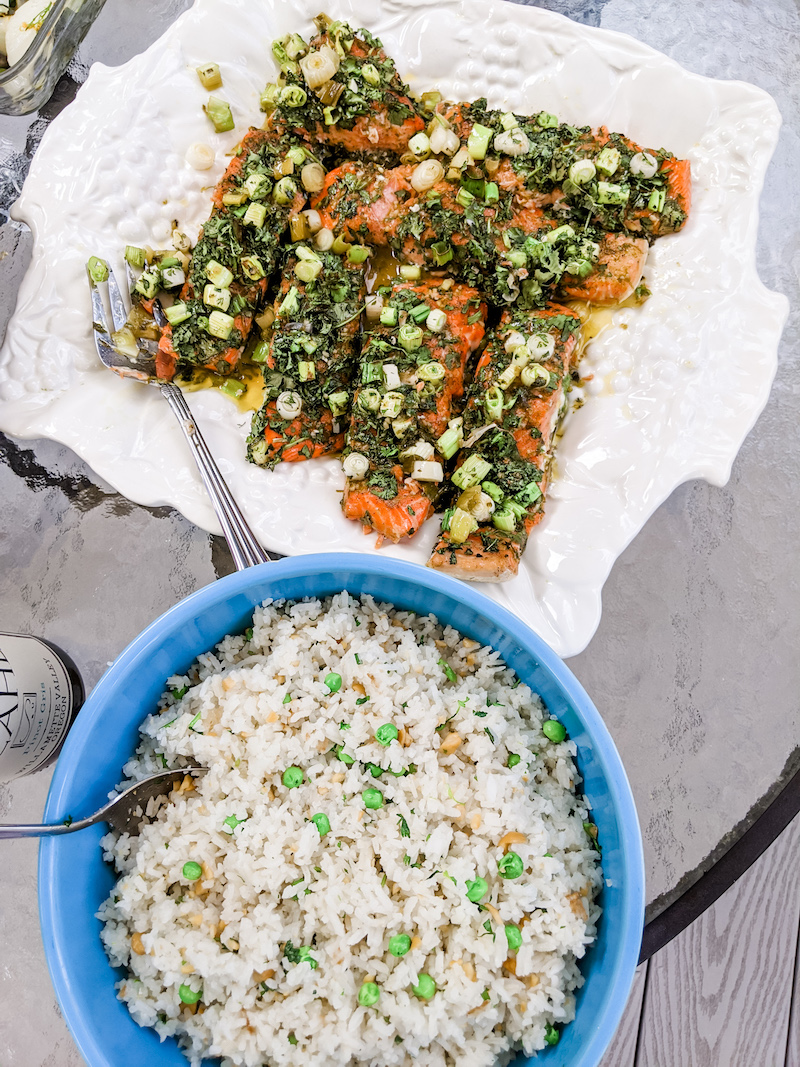 If you're looking for a healthy, delicious way to prepare salmon or any type of firm-textured fish, be sure to give this Oven Roasted Herb Salmon a try!
Print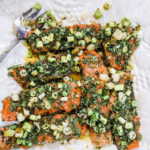 Oven Roasted Herb Salmon
---
Author:

Yield:

4

servings

1

x
¼ cup

olive oil

1

T honey
Juice and zest of 2 limes

2

cloves garlic, minced

4

–

6

ounce salmon filets (thick filets, bones removed)

1/3 cup

fresh cilantro, chopped

¼ cup

green onions, chopped
Kosher salt
Pepper
---
Instructions
Preheat oven to 425 degrees.
Mix together olive oil, honey, lime juice and zest, minced garlic in a small bowl to create the marinade. Set aside. Rinse salmon pieces and pat dry with a paper towel.
Place salmon, skin side down, in a shallow baking pan. Sprinkle salmon generously with salt and pepper. Pour marinade over the salmon and let it rest for about 10 minutes. (Don't refrigerate at this point).
Sprinkle herbs and onions over the salmon. Place on the center rack preheated oven for 10 to 12 minutes until the internal temperature reaches 145 or the thickest part of the filet feels somewhat firm.
Remove baking dish from oven and allow to rest of about 5 minutes. Drizzle any cooking liquid that's left in the pan over the top of the fish before serving.