This post may contain affiliate links. Full disclosure policy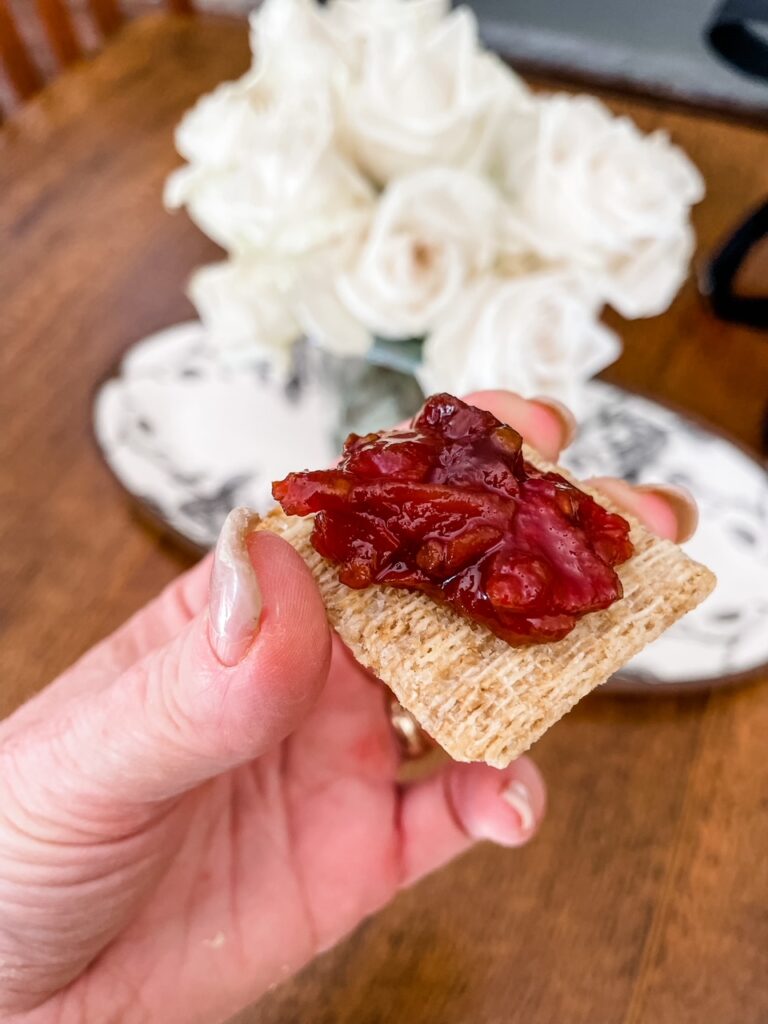 A dollop of this homemade Easy Tomato Jam with Maple is a delicious addition to burgers, appetizers, and so many other dishes. Thick, savory tomato jam is married with sweet maple flavor and a bit of spicy kick. So good!
Tis the Season – To Make Easy Tomato Jam with Maple
Hooray! Tomato season is here at last!
After months spent watering the plants and waiting for the tomatoes to ripen, gardeners everywhere are finally reaping the fruits of their labor. Non-gardeners are enjoying the season too, buying crates of luscious tomatoes for local farm stands.
Of course, you can buy tomatoes all year round. But the taste of those store-bought tomatoes, usually picked green and shipped hundreds or even thousands of miles, can't hold a candle to a locally grown, fresh-picked, vine-ripened tomato. In the contest for my favorite summer produce, tomatoes run neck and neck with corn on the cob.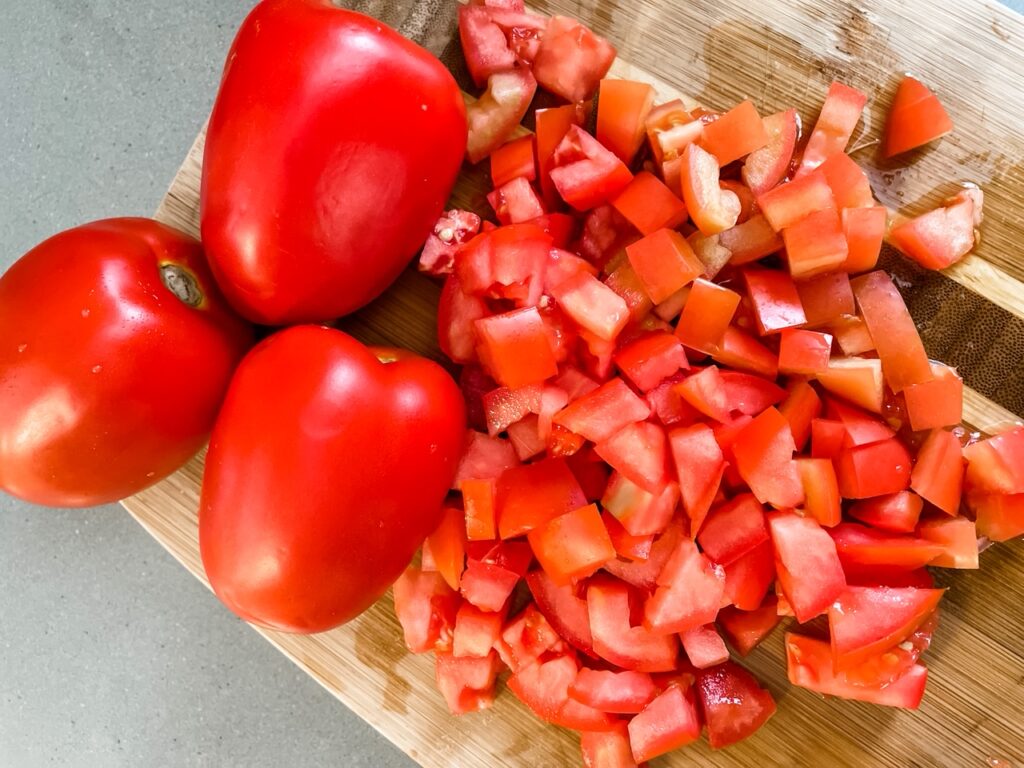 The only downside to tomato season is that it comes on all at once and is over so quickly. And once you've consumed as many raw tomatoes as you can hold, what do you do with the leftovers?
Canning your extra tomatoes for winter consumption is a good idea. So is making tomato sauce.
A couple of years ago, when I was just too tired to fuss with blanching, peeling, and seeding tomatoes, I came up with a recipe for No-Peel Fresh Tomato Sauce. It's really good and so easy that it quickly became my favorite.
This year, after enjoying tomato jam in restaurants, I decided to try making my own. I also decided to give the traditional recipe a twist by making mine with maple.
How did it work out?
Well, when it comes to tomatoes, I've got a new favorite recipe.
What Do You Need to Make Easy Tomato Jam with Maple?
Tomatoes
Ginger root
Lime juice
Maple syrup (the REAL kind)
Red pepper flakes
Cinnamon
Cloves
Salt
The ingredient list is pretty straightforward. However, I do have a few tips before you start.
Use ripe tomatoes that are at the peak of flavor. I prefer using the Roma variety. It has more flesh than some other varieties, so you'll get a thicker sauce.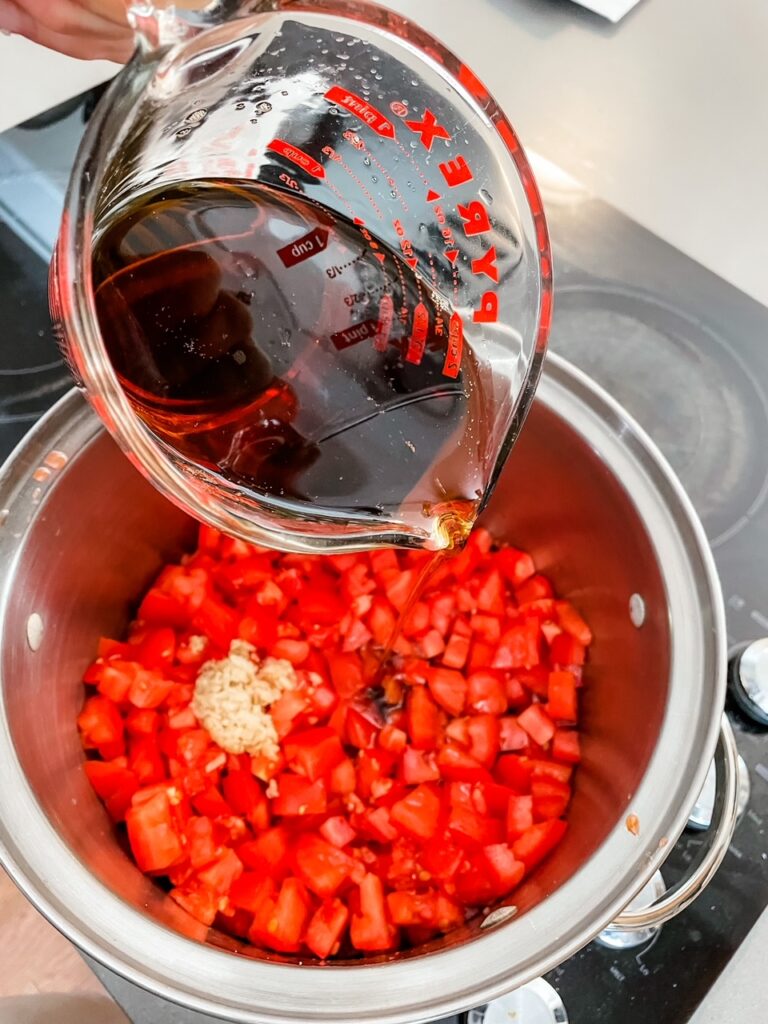 Real maple syrup (not the maple-flavored kind) is what makes my Easy Tomato Jam with Maple extra special and so delicious. I made two batches of tomato jam this year, one with regular sugar and one with maple syrup. The difference in flavor was marked. If you must, you can sub 3.5 cups of regular sugar for the syrup but…really. Try it with the syrup. You'll thank me later.
If you haven't used fresh ginger before, you might be a little intimidated by this weird-looking root. Don't be. Just remove the tough outer skin with a peeler or by scraping a spoon over the surface. Then shred it with the largest holes on a box grater.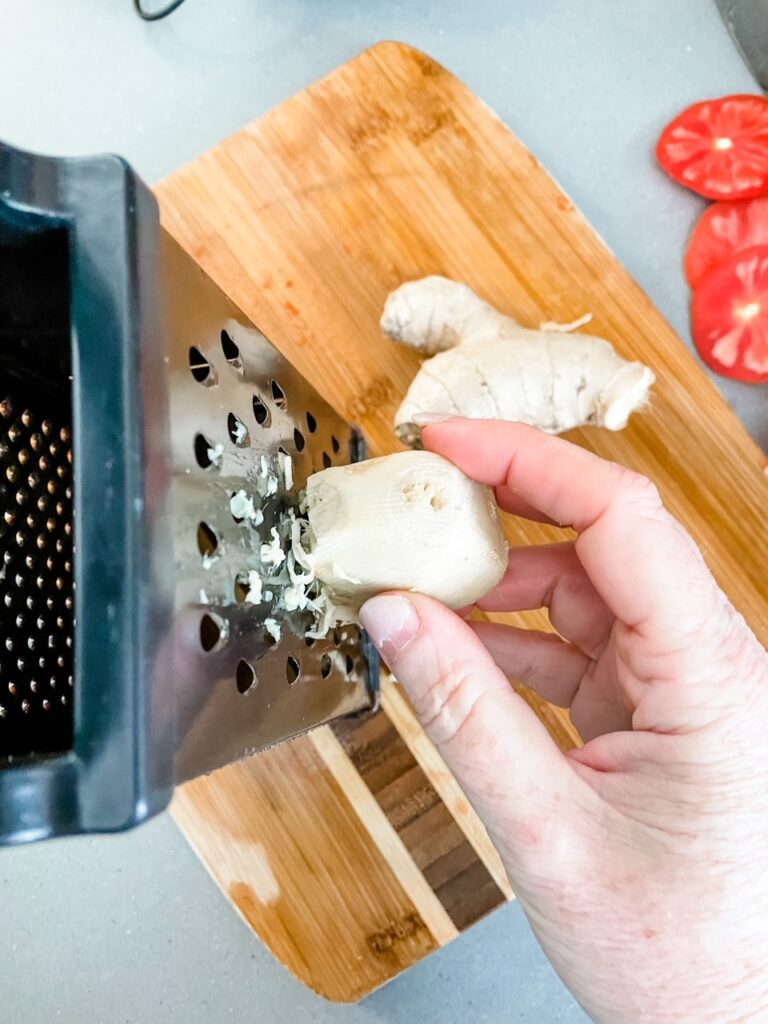 This Easy Tomato Jam with Maple has a bit of spicy kick that I love. It's noticeable but not so hot it'll set your tongue on fire. However, not everybody loves spicy food. I don't recommend you leave it out entirely but if you're worried about the jam being too hot, reduce the red pepper flakes to one or two teaspoons.
How Do You Make Easy Tomato Jam with Maple?
Making your own Easy Tomato Jam with Maple is crazy easy but a little time-consuming.
Basically, you just throw all the prepared ingredients into a stockpot, bring them to a boil, then turn down the heat and let everything simmer.
And simmer.
And simmer.
How long you simmer your Easy Tomato Jam with Maple will depend on how thick you want it to be. I like mine really thick, so I simmered the mixture for over three hours.
But it was so simple! All I had to do was give it a stir now and then, to make sure it wasn't burning on the bottom. And the mouth-watering scent of simmering tomato, syrup, and spices made my house smell amazing!
How Do You Serve Easy Tomato Jam with Maple?
Easy Tomato Jam with Maple is delicious on burgers or with roasted or grilled meat, poultry, and even firm fleshed fish, such as salmon. It's delicious in place of chutney too.
It's also great as an appetizer or snack. Just spread crackers with cream cheese, chevre, or another mild spreadable cheese and top with a dollop of Easy Tomato Jam with Maple. Yum! Lately, I've been skipping the cheese and just eating it with the crackers. Still yum!
But what is one of the very best things you can make with Easy Tomato Jam with Maple?
Presents!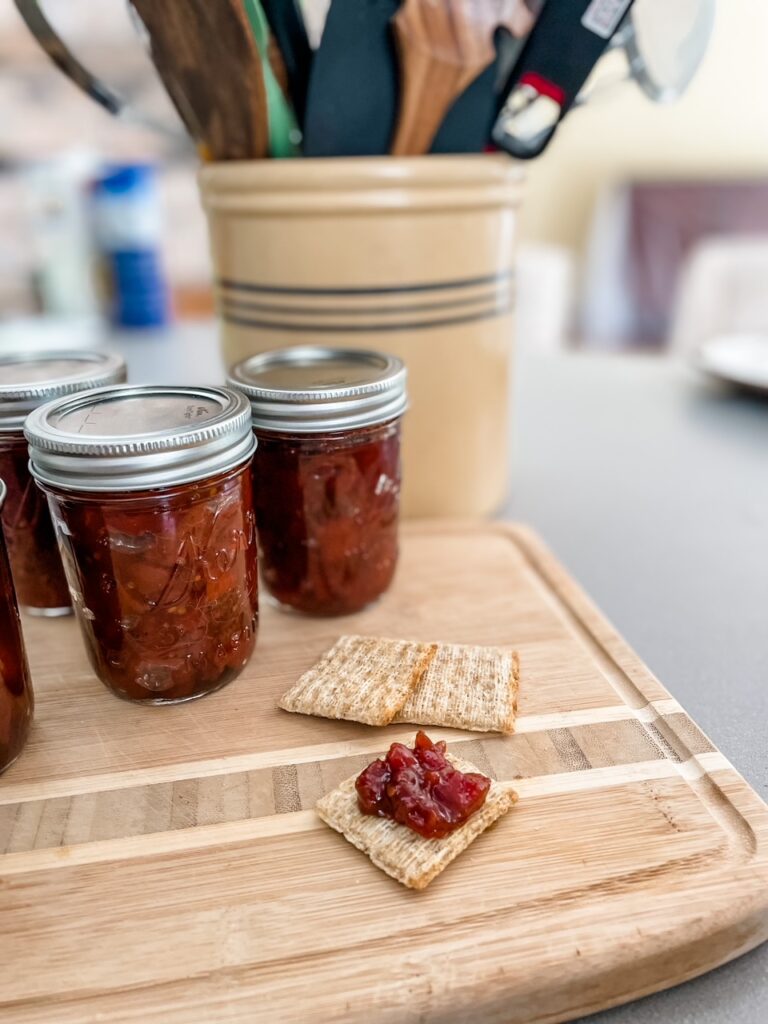 The amount of Easy Tomato Jam with Maple this recipe makes will vary depending on the type of tomato you use and how long you simmer it. But I got five half-pint jars from mine, which I canned in a water bath for about 20 minutes. If we don't eat it all before Christmas, some lucky bunnies will get some delicious holiday goodies!
Don't feel like canning? You can store your Easy Tomato Jam with Maple in a tightly covered container in the refrigerator for up to 2 weeks, or in the freezer for up to 6 months.
Print
Easy Tomato Jam with Maple
---
Author:

Yield:

Yield may vary. See recipe notes.
5

lbs tomatoes

1

T grated fresh ginger

2.5 cups

real maple syrup

1 tsp

cinnamon

½ tsp

cloves

1 tsp

salt

½ cup

lime juice

1

T red pepper flakes
---
Instructions
Seed and dice tomatoes, approximately ½ inch dice.
Add diced tomatoes, grated ginger, syrup, cinnamon, cloves, salt, lime juice, salt, and red pepper flakes to a heavy bottomed stock pot. Stir to combine.
Place pot on stove. Bring the ingredients to a boil, then lower heat and bring to a simmer.
Simmer until jam reaches desired thickness consistency, stirring occasionally to make sure it doesn't burn on the bottom. (Amount of time will vary depending on heat level and desired thickness of jam, anywhere from 90 minutes to three and a half hours.)
Remove pot from stove. Allow jam to cool and thicken before tasting.