This post may contain affiliate links. Full disclosure policy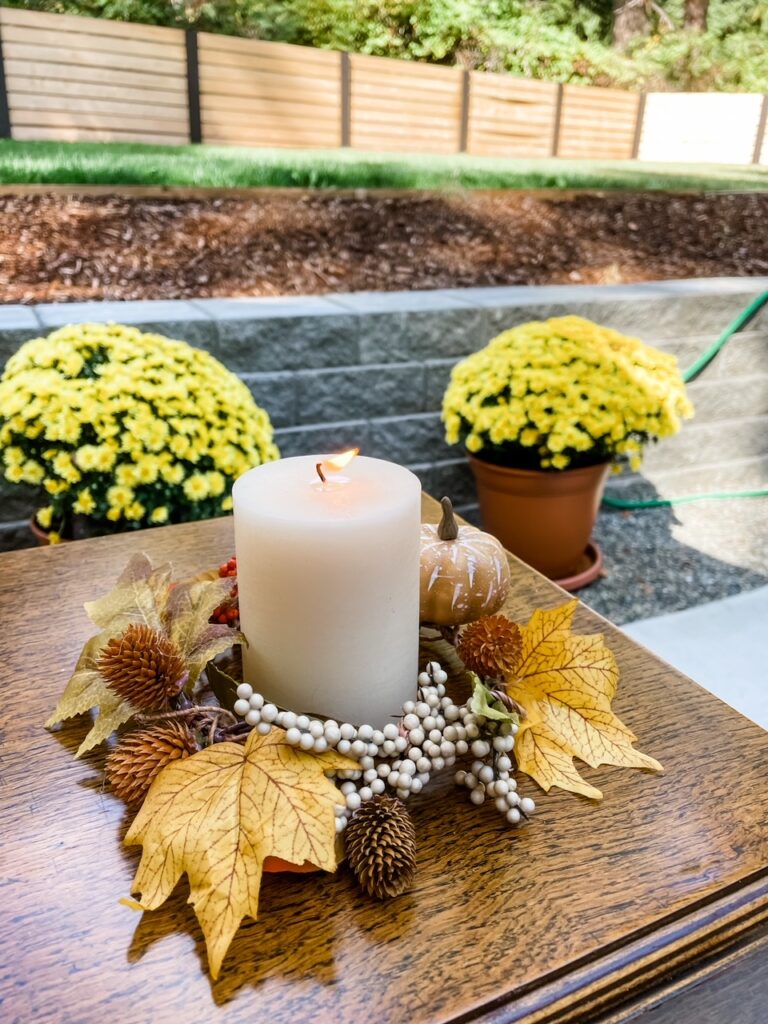 These pretty DIY Fall Candle Wreaths are easy to make and a wonderful way to celebrate the arrival of autumn. Make one to accent an entry table or a few to decorate your dining room table. Perfect for an autumn or Thanksgiving centerpiece!
DIY Fall Candle Wreaths: An Easy Autumn Craft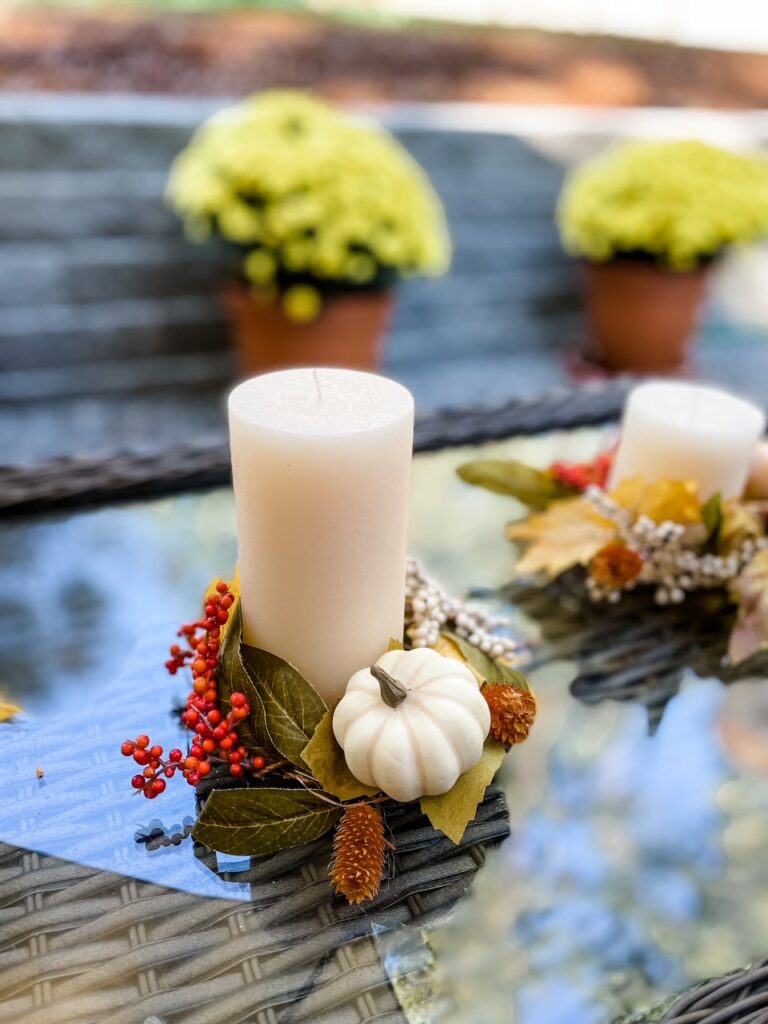 If you've been following my blog for a while, you may have noticed that it's been some time since I posted any craft projects.
The move to a new home and state hasn't left me much time for crafting. The remodeling isn't helping either. We're playing musical boxes right now – shifting them from one room to the next (and sometimes back again) depending on the construction project of the day.
And do you know what's in some of those boxes? My craft supplies and tools!
So, yes. Being short on time, supplies, and an organized workspace has definitely put a damper on my crafting habit. I'd kind of resigned myself to the situation, figuring I'd make up for lost time after the remodeling is done.
But then, last week, I opened a fancy catalog and saw that they were selling some pretty fall candle rings – for $80! What?
That just seemed crazy to me! I mean, fall candle wreaths are a really easy DIY project.
Seriously, anyone can make them, even people who don't think of themselves as crafty. In fact, this would be a fun craft to make with kids. And all you need is a few simple supplies that you can find at your local craft shop or buy online.
What Do You Need to Make DIY Fall Candle Wreaths?
The supplies to make DIY Fall Candle Wreaths are minimal and readily available at most craft stores. Here's what you'll need…
Pillar Candles
You'll need one candle for each ring. Choose white, ivory, tan, or autumn colors.
Assortment of Imitation Leaves, Stems, Flowers, and Picks in Fall Colors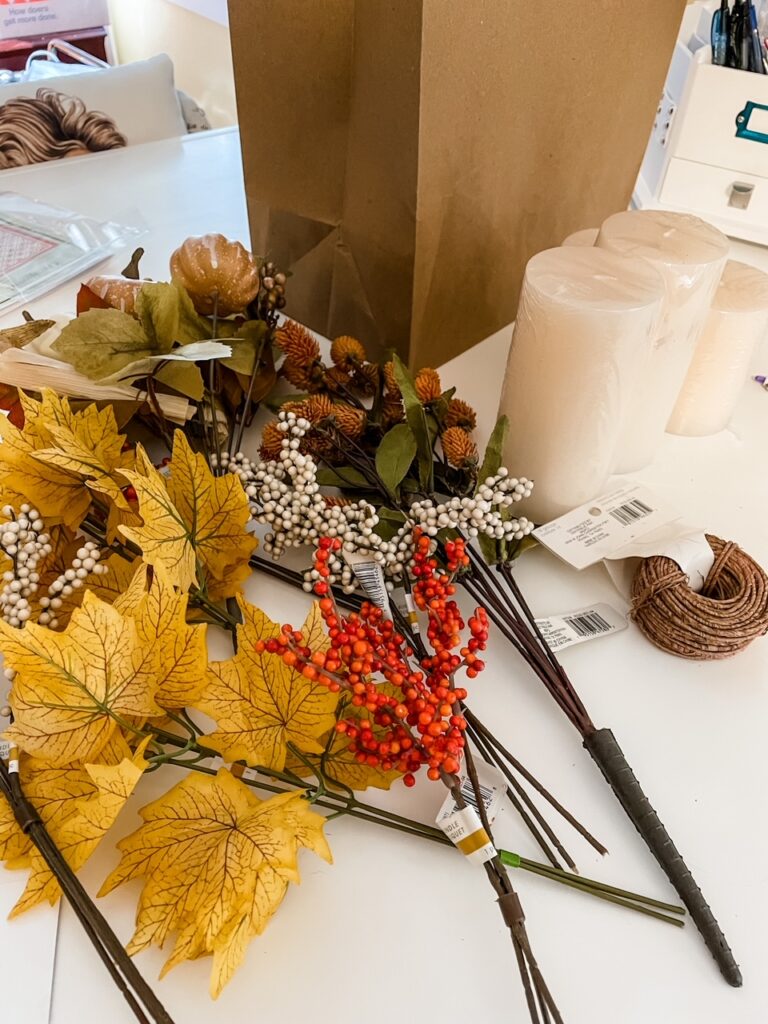 Choosing a wide variety of colors, textures and shapes will add visual appeal to candle wreaths. Autumn leaves are a natural choice but also consider imitation bittersweet or berries, colored thistles, and eucalyptus, imitation mums, or small pine cones. Miniature imitation pumpkins are fun too.
Silk flowers and floral picks can be expensive, so be on the lookout for sales and specially priced seasonal products. Michaels and Joanne's frequently offer coupons digital coupons, so be sure to take advantage of them.
Wire Cutters or Heavy-Duty Scissors
If you like to create floral arrangements, wire cutters are a nice thing to have in your toolbox. However, in a pinch, a good pair of heavy-duty scissors can be used for cutting floral wire. Since my wire cutters are packed away in some box somewhere, I used my scissors this time. (But please, in the name of all that is holy, do NOT use your sewing scissors to cut the floral wire!)
Wired Hemp or Jute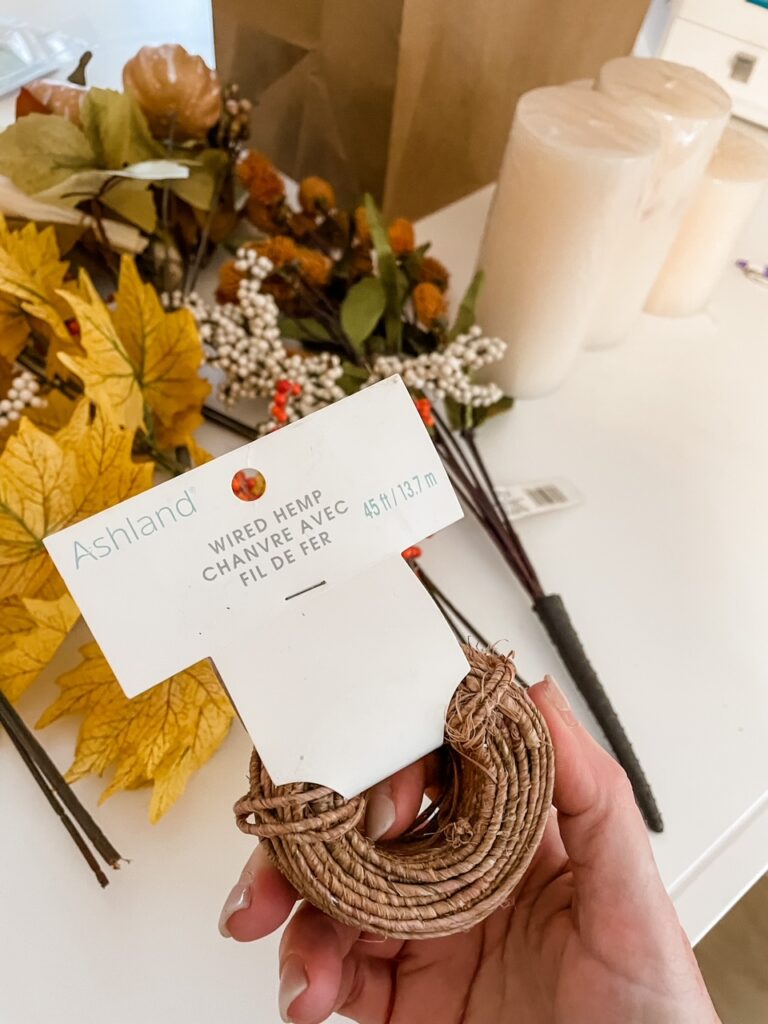 Wire that's wrapped with hemp or jute is the secret sauce for these DIY Fall Candle Wreaths. They'll blend in beautifully with your fall leaves and flowers and will give your fall candle rings an appealingly rustic appearance, like a miniature twig wreath. Best of all, it's really easy to work with and will hold your leaves and flowers securely on the candle wreath.
I used a roll of Ashland Wired Hemp, purchased from Michaels. It's was only $4.99 for 45 feet, which was about twice as much as I needed to make 3 fall candle rings.
You could also use this kind from Amazon. It comes in several colors. A 673-foot roll would probably last you for years.
How Do You Make DIY Fall Candle Wreaths?
Measure and Make the Wreath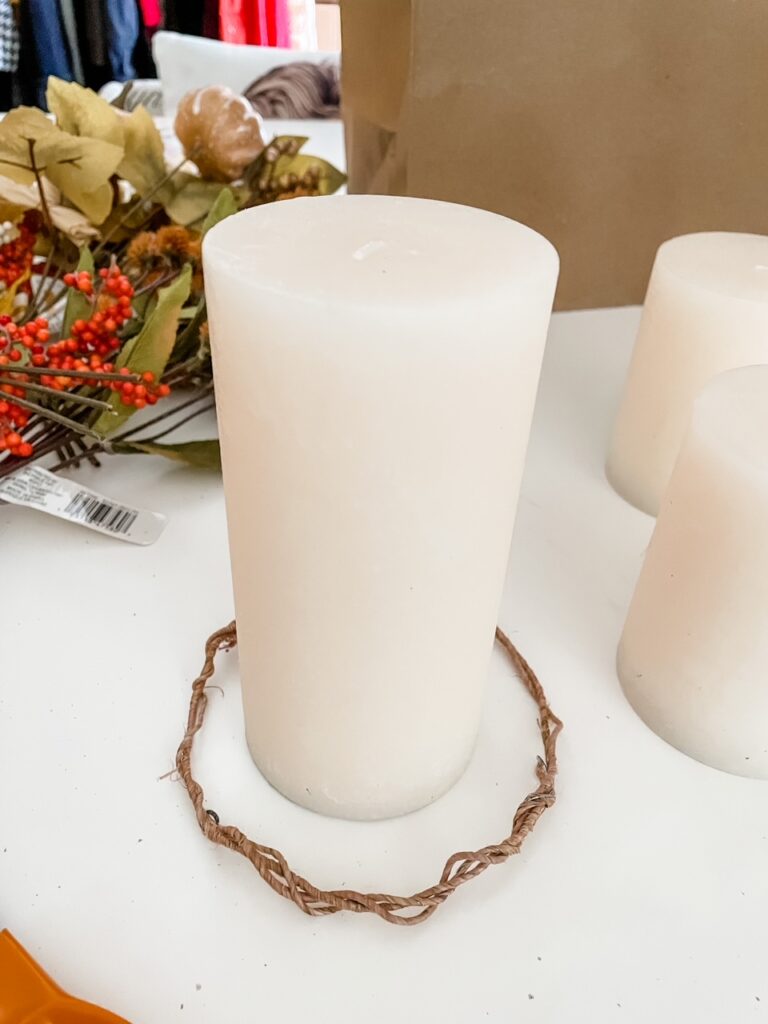 Once you've gathered your craft supplies, it's time to make your fall candle rings. The first step is to figure out how large you want your candle ring to be.
Measure out a length of wired hemp big enough to create a circle around your candle. about an inch wider than the candle base. Tightly wrap the end around the wire two or three times to create and secure the circle.
Next, loosely wrap more wired hemp around the entire circle twice. This will give your candle wring a wreath-like appearance, and leave small openings where you can tuck in the stems of your leaves and flowers before securing.
Add the Leaves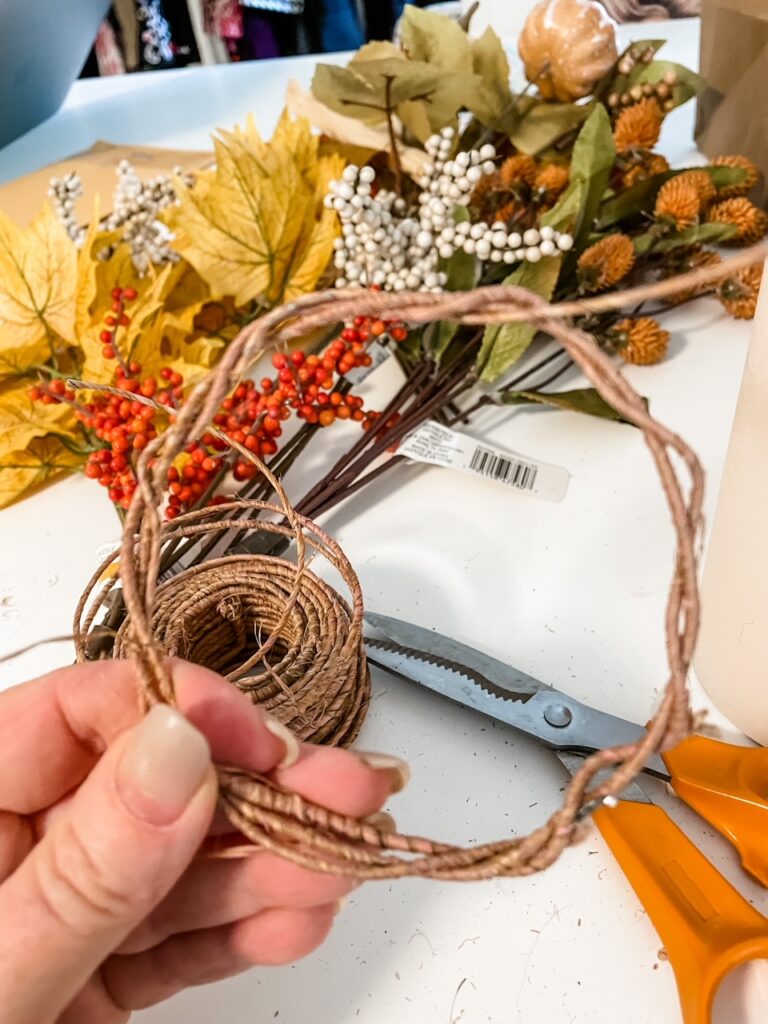 Cut a variety of leaves from the floral stems and picks you purchased. If possible, leave an inch or more of stem on each leaf.
Decide where you want to place the leaves. Loosely tuck the stems into the openings of your wreath, positioning them into a pleasing design, and making sure the leaves cover most of the circle.
Cut a length of wired hemp. Wrap it tightly around the wreath to secure, then wind it around the entire ring, wrapping the stems of the leaves tightly as you work your way around the candle ring.
Add the Flowers, Stems, and Other Elements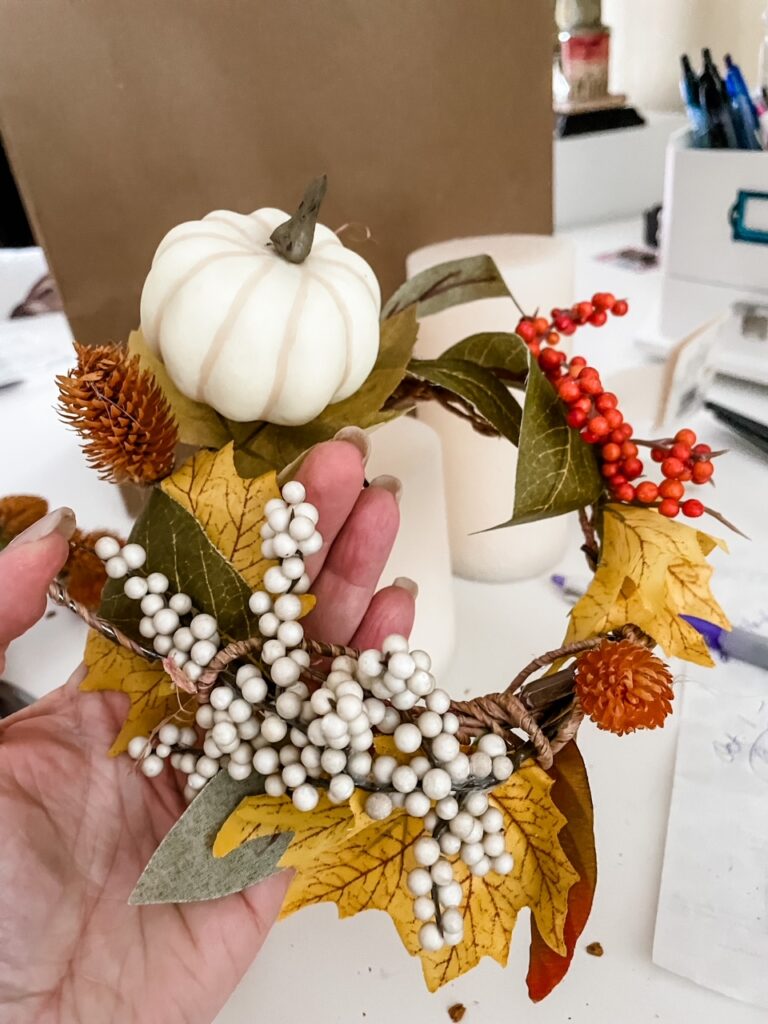 As you did with the leaves, cut a variety of flowers, stems, mini pumpkins, or small pine cones, leaving at least a one-inch stem on each item.
Once again, place the items on the wreath, tucking the stems loosely into the gaps in the layers of wire. Cut another length of wired hemp and wind it around the ring, wrapping tightly around the stems to hold them in place.
That's all there is to it! Your DIY Fall Candle Wreath is done!
DIY Fall Candle Wreaths – A Gift for a Friend, or Yourself!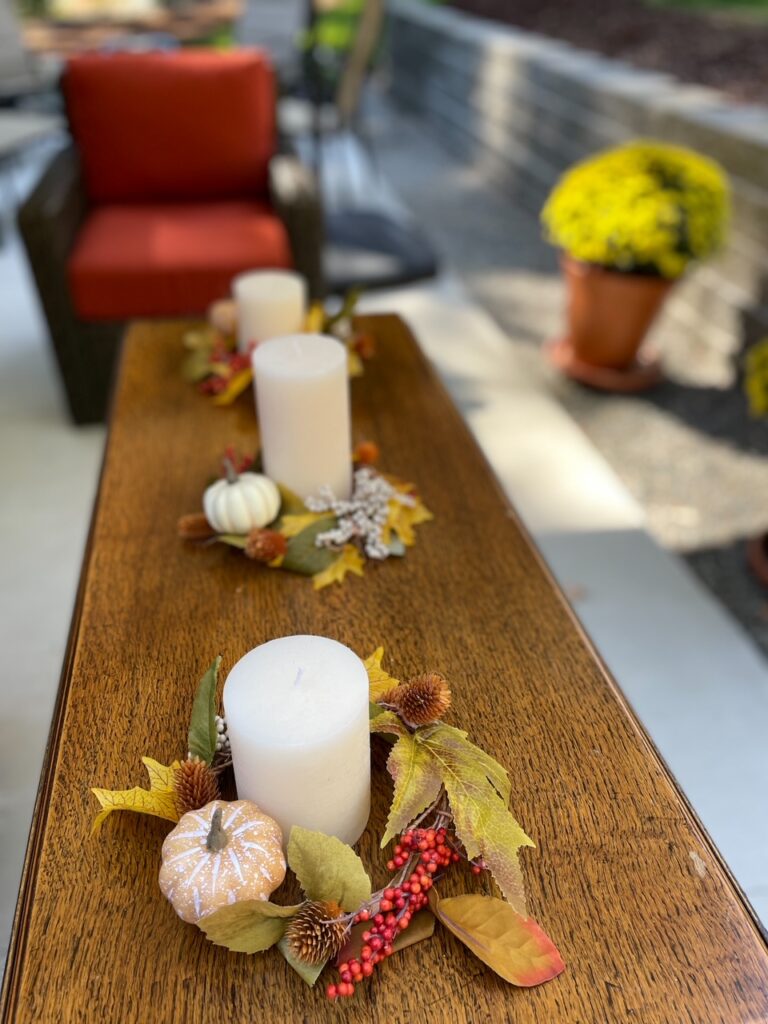 Use a single candle and candle ring to create a welcoming atmosphere on an entry table. Or make a few and group them together to create a pretty centerpiece for a dining or coffee table.
DIY Fall Candle Wreaths also make great gifts. I brought one as a hostess gift for a friend this week and she loved it!
Make some DIY Fall Candle Wreath for yourself or a friend this week. They're a wonderful way to welcome the new season.