This post may contain affiliate links. Full disclosure policy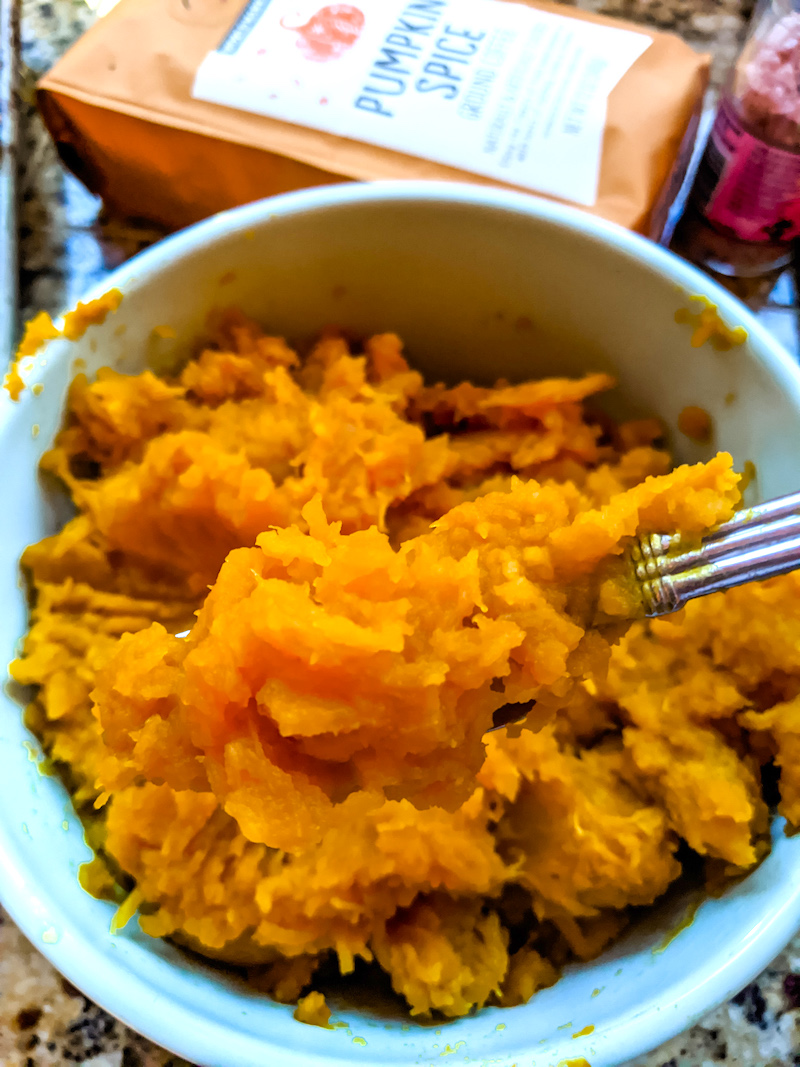 Making your own pumpkin puree is easier than you might think. And this easy homemade pumpkin puree tastes so good that you might never buy canned again!
Baseless Rumors – and Good Reasons
Though I'd recently heard rumors about a shortage of canned pumpkin, it turns out it really was just a rumor. And that rumor itself is probably the reason you might not be able to find canned pumpkin puree on the shelves of your local supermarket right now.
Rumblings of a shortage seem to have brought on a buying frenzy. Having endured the toilet paper shortages, panicked bakers determined to save Thanksgiving ran to the market and cleared the shelves. But don't worry! Thanksgiving is still on. There's apparently plenty of pumpkin in the fields and it will be canned and sent to grocery stores soon.
But even though the canned pumpkin shortage isn't real, you still might want to consider making homemade pumpkin puree this year. Why?
Homemade pumpkin puree is incredibly simple to make. It's also kind of fun and will give you some pumpkin seeds that you can oven roast later for yummy, healthy snacks. But the best reason to make homemade pumpkin puree is that it tastes so, so much better than canned! It's thicker, fresher, and sweeter tasting than canned.
I used homemade pumpkin puree when baking pumpkin bread this weekend. The pumpkin was so sweet tasting that I was able to reduce the sugar in the recipe by one third. The bread was delicious! We didn't miss that extra sugar one bit. So that's another good reason to use homemade pumpkin puree; because using fresh pumpkin can result in healthier food.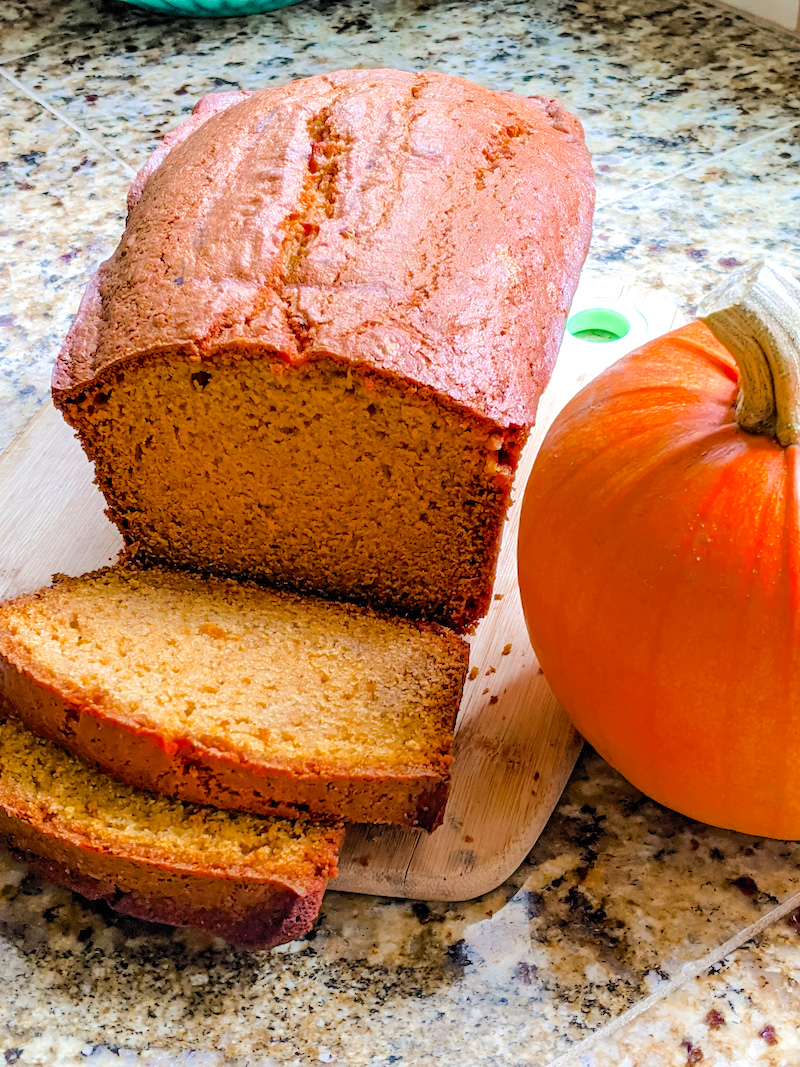 What Do I Need to Make this Easy Homemade Pumpkin Puree?
Apart from an oven, baking pan, sharp knife, and a little salt, the only thing you need to make my easy homemade pumpkin puree is a pumpkin. But not just any pumpkin.
This time of year, you'll probably find mountains of pumpkins at your local market. However, most of those pumpkins are carving pumpkins and aren't ideal for eating. The best pumpkins for making puree are known as pie pumpkins or sugar pumpkin.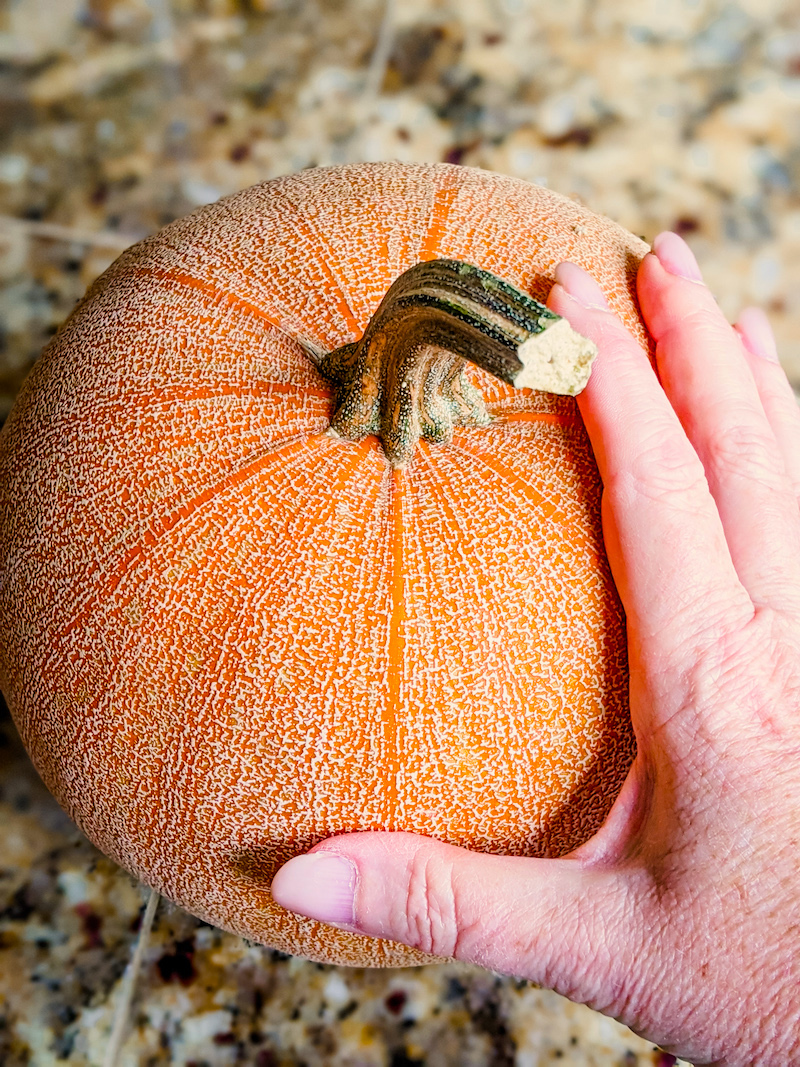 As that last name implies, the flesh of these pumpkins is sweeter. That's exactly what we want when we're making pumpkin pies, bread, cakes, or cookies. They're usually a little smaller than carving pumpkins with a better flavor and are easier to handle. Pumpkins that are around five pounds are ideal when making puree.
If you're lucky enough to have access to local farms or a farmer's market, you can find sugar or pie pumpkins there. However, local markets may also have them in stock. The pie pumpkin I used for my homemade pumpkin puree came from my local Whole Foods Market.
How Do I Store My Easy Homemade Pumpkin Puree?
If you don't plan to use it right away, you can store your pumpkin puree in a covered container in the refrigerator for about five days.
For term longer storage, place your puree into zippered freezer bags. It will keep in the freezer for four to six months. Frozen puree may experience some separation of liquid when thawed, but should still be useable.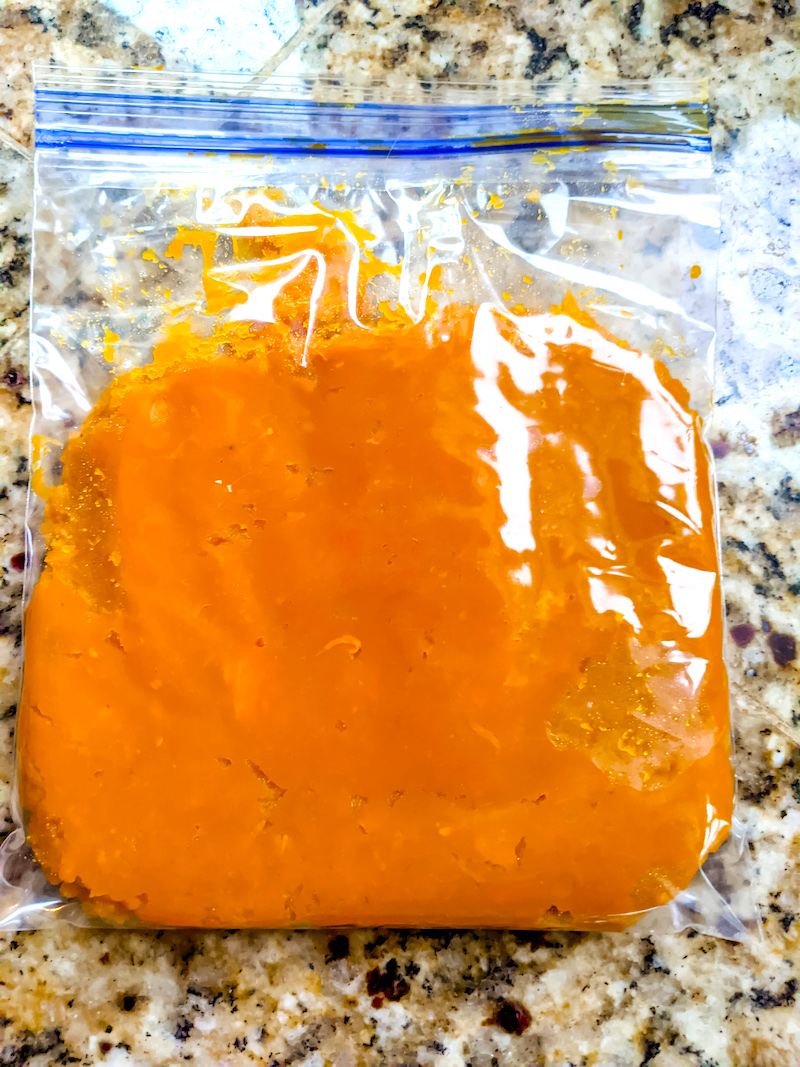 What Can I Make with My Easy Homemade Pumpkin Puree?
When it comes to pumpkin, pies are just the beginning!
Pumpkin is a delicious addition to all kinds of baked goods including sweetbreads, cakes, and cookies. If you haven't tried my Chewy Pumpkin Harvest Cookies, you should. They're even more delicious when you use homemade pumpkin puree.
But do you know who really loves pumpkin? Your dog! Pumpkin is a popular ingredient for homemade dog biscuits, like these healthy treats from Food with Feeling. And not to be indelicate, but if your dog has issues with loose stools, try adding a teaspoon or two of pumpkin puree to his breakfast kibble. It's a natural way to deal with the problem.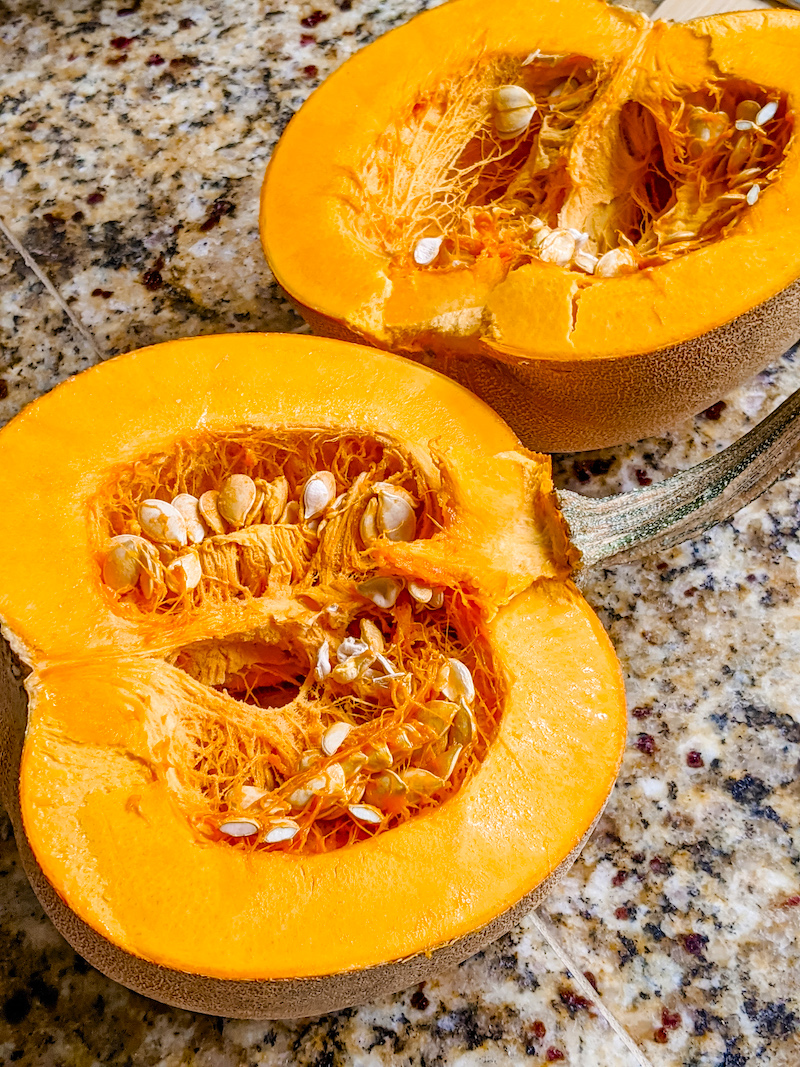 Pumpkin puree is a great addition to savory dishes too. It's a wonderful base for a hot, delicious pumpkin soup, just right for fall. You can also use it in casseroles, or as a filling for homemade ravioli or in homemade risotto dishes.
Homemade pumpkin puree tastes better than canned, is a terrific addition to so many different recipes, and could not be easier to make. Check out my recipe below!
Print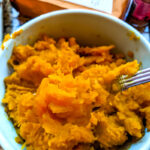 Homemade Pumpkin Puree
---
Author:

Yield:

Makes approximately

4 cups

1

x
One

4

–

6

lb. pie pumpkin or sugar pumpkin (It's important to use the right kind of pumpkin!)
Salt
---
Instructions
Preheat the oven to 400 degrees. Line a baking sheet with parchment paper. (Parchment isn't required but it makes cleanup easier.)
Cut the pumpkin in half, using a large, sharp kitchen knife. Remove the stem.
Scoop out the seeds and stringy interior with a large spoon, scraping the sides until the inside pumpkin flesh is clean and smooth. (Reserve the seeds for later. They're delicious roasted in the oven with salt, pepper, and a little oil or butter.)
Cut the halves again, creating four total pieces of pumpkin. Place on the prepared baking sheet and sprinkle each piece with a little salt.
Place pan in oven. Bake for 45 to 60 minutes, until the pumpkin flesh is very soft. Remove the pan from the oven and allow the roasted pumpkin to cool.
Scoop the cooled, soft pumpkin flesh from the skin. Place in a food processor or blender and pulse until smooth. Alternatively, place pumpkin in a bowl and smash with a potato masher or back of a fork until smooth.