This post may contain affiliate links. Full disclosure policy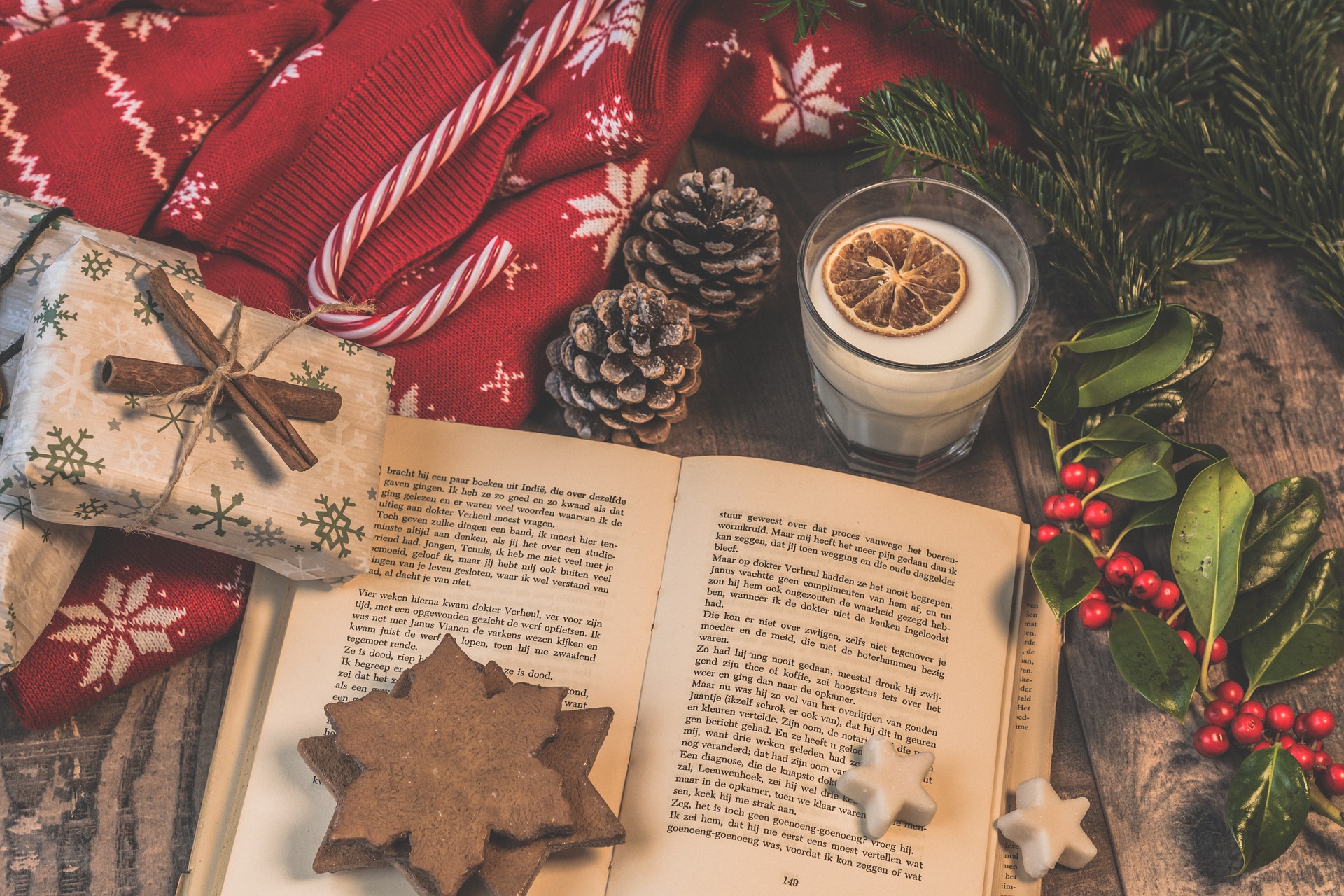 Let me explain why I decided to post my 2020 Holiday Reading Roundup in the middle of October, even before Halloween.
If you enjoy musicals, you might remember the old movie version of "Auntie Mame", starring Rosalind Russell.
At one point in the story, things are looking bleak for the characters. Auntie Mame lost her money in the 1929 stock market crash, and she's also lost her job. Though Christmas is still a few weeks off, she decides to haul out the decorations, open the presents, celebrate early, and break into song. Sometimes you just need little Christmas, right this very minute.
Normally, I'm a stickler for schedules and savoring each season and holiday at the proper time. This year, I am putting precedent aside and sharing my 2020 Holiday Reading Roundup a few weeks early. In 2020, we need all the Christmas we can get, right this very minute.
Fortunately, the publishing world has gifted us with a stocking full of happy, hopeful, holiday reads in all sorts of genres this month.
Most of these are new releases, so I may not have cracked all the covers yet, but here is a roundup of books I'm looking forward to reading during the 2020 holiday season.
Romance 2020 Holiday Reading Roundup
Debbie Macomber: Jingle All the Way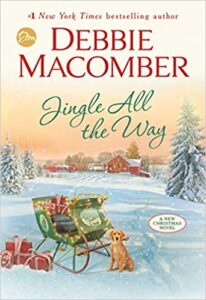 Debbie Macomber is the undisputed Queen of Christmas books. I've just started this one and I'm already hooked!
Top real-estate executive, Everly Lancaster finds her work is her life, leaving no space for anything (or anyone) else. Sensing her stress, Everly's boss insists she take December off. At first, a month away seems crazy–how will the company survive without her? But Everly's mother convinces her otherwise. She deserves a vacation–plus, when she returns, she'll have no excuse to skip family Christmas like she did last year. But after her vengeful assistant books a guided cruise in the Amazon instead of the luxury beach vacation she expected, Everly is horrified to realize that she's about to spend the next two weeks trapped–with no Wi-Fi!–in the rain forest. Not even Asher Adams, the ship's charming naturalist, can convince Everly that the trip will be unforgettable. Slowly but surely, she realizes he is right: the sights are spectacular. And with each passing day, Everly's relationship with Asher deepens, forcing her to take a long, hard look at her priorities.
Robyn Carr: Return to Virgin River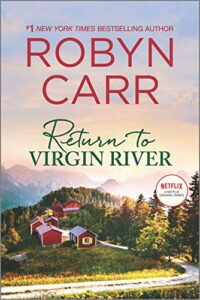 Robyn Carr fans rejoice! We're going back to Virgin River, for Christmas!
Kaylee Sloan's home in Southern California is full of wonderful memories of the woman who raised her. But the memories are prolonging her grief over her mother's recent death. A successful author, Kaylee hoped she could pour herself into her work. Instead she has terrible writer's block and a looming deadline.
Determined to escape distractions and avoid the holiday season, Kaylee borrows a cabin in Virgin River. She knows the isolation will help her writing, and as she drives north through the mountains and the majestic redwoods, she immediately feels inspired. Until she arrives at a building that has just gone up in flames…
Sheila Roberts: One Charmed Christmas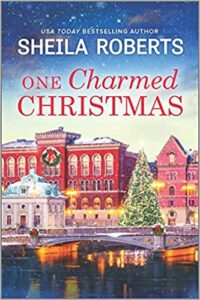 If you're needing a good laugh, this hilarious holiday tale will do the trick!
Catherine Pine is hoping her Christmas is a bit more jolly than last year's. That one was her first without her husband, and with her kids and their families absent this year, she's worried. But things change when her good friend invites her on a Christmas cruise to lift her spirits. Suddenly every day is an adventure and she's making a bunch of new friends, including the lovable Sophie Miles.
It's like a gift from Santa when Sophie and Catherine meet the charming Dr. Rudy Nichols, a perfect match for hypochondriac Sophie. But he comes with a two-legged lump of coal, his guard-dog daughter. And then there's chocolatier Trevor March, who's also interested in the scrumptious Sophie. Can he convince her that chocolate is the perfect cure for what ails her? Who knows what Santa has in store for these holiday travelers? Anything could happen this charmed Christmas!
Shanna Hatfield: Roping Christmas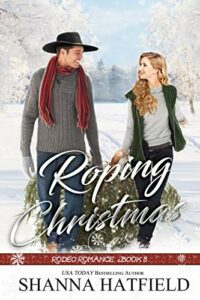 Shanna is a new to me author but I like the idea of cowboys as Christmas, and I love that during the holidays, Shanna donates a portion of her book sales to the Justin Cowboy Crisis Fund. October 22nd, kicks of her 7th annual Read a Book Help a Cowboy campaign!
Wyatt Nash is a professional tie-down roper, a good ranch hand, and not too shabby when it comes to attracting women. But according to his five-year-old niece, he needs to work on both his roping skills and his dating game. His sister thinks he needs to settle down. And don't get him started on the advice he gets from well-meaning friends. When his rodeo sponsor, billionaire Jon Sinclair, asks for his assistance in tutoring a clueless city girl about Sinclair Industries, Wyatt doesn't feel like he can say no. Then he discovers he'll be teaching none other than the one woman on the planet who wants nothing to do with him…
Women's Fiction 2020 Holiday Reading Roundup
Kristin Hannah: Comfort and Joy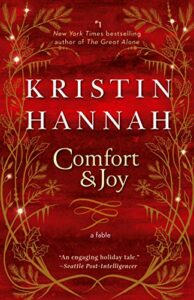 You can't ever go wrong with Kristin Hannah. Love everything she writes!
Joy Candellaro once loved Christmas more than any other time of the year. Now, as the holiday approaches, she is at a crossroads in her life; recently divorced and alone, she can't summon the old enthusiasm for celebrating. So without telling anyone, she buys a ticket and boards a plane bound for the beautiful Pacific Northwest. When an unexpected detour takes her deep into the woods of the Olympic rainforest, Joy makes a bold decision to leave her ordinary life behind–to just walk away–and thus begins an adventure unlike any she could have imagined.
Marie Bostwick: The Second Sister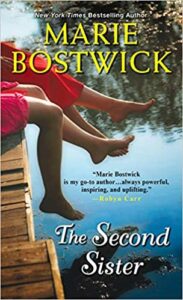 Yes, it's my book. And no, it doesn't look like a Christmas book. What can I say? It was released in March. But it IS a great book for Christmas reading. If you don't believe me, ask the people at Hallmark. They made The Second Sister into the 2018 Hallmark Hall of Fame movie, Christmas Everlasting.
Years of long workdays and little sleep as a political campaigner are about to pay off now that Lucy Toomey's boss is entering the White House. But when her estranged older sister, Alice, unexpectedly dies, Lucy is drawn back to Nilson's Bay.
An accident in her teens left Alice mentally impaired, and she was content to stay in Nilson's Bay. Lucy, meanwhile, got out and never looked back. But now, to meet the terms of Alice's eccentric will, Lucy has taken up temporary residence in her sister's cottage–and begins to see the town, and Alice's life, anew. Alice's diverse group of friends appears to have little in common besides an interest in quilting. Yet deep affection for Alice united them and soon Lucy, too, is brought into the fold as they share problems and stories. And as she finds warmth and support in this new circle, Lucy begins to understand this will be her sister's enduring gift–a chance to move beyond her difficult past, and find what she has long been missing…
Romcom 2020 Holiday Reading Roundup
Christina Lauren: In a Holidaze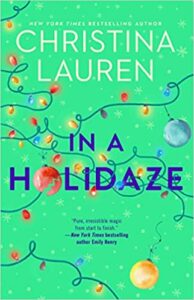 This one sounds like fun!
It's the most wonderful time of the year…but not for Maelyn Jones. She's living with her parents, hates her going-nowhere job, and has just made a romantic error of epic proportions.This is the last Christmas Mae will be at her favorite place in the world—the snowy Utah cabin where she and her family have spent every holiday since she was born, along with two other beloved families. Mentally melting down as she drives away from the cabin for the final time, Mae throws out what she thinks is a simple plea to the universe: Please. Show me what will make me happy.
The next thing she knows, tires screech and metal collides, everything goes black. But when Mae gasps awake…she's on an airplane bound for Utah, where she begins the same holiday all over again. With one hilarious disaster after another sending her back to the plane, Mae must figure out how to break free of the strange time loop—and finally get her true love under the mistletoe.
Jasmine Guilleroy: Royal Holiday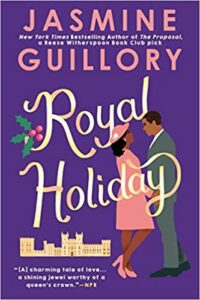 Christmas with the queen? Yes, please!
Vivian Forest has been out of the country a grand total of one time, so when she gets the chance to tag along on her daughter Maddie's work trip to England to style a royal family member, she can't refuse. She's excited to spend the holidays taking in the magnificent British sights, but what she doesn't expect is to become instantly attracted to a certain private secretary, his charming accent, and unyielding formality.
Sophie Kinsella: Christmas Shopaholic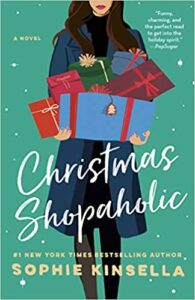 Never read a Sophie Kinsella book that didn't make me laugh out loud!
'Tis the season for change and Becky Brandon (née Bloomwood) is embracing it, returning from the States to live in the charming village of Letherby and working with her best friend, Suze, in the gift shop of Suze's stately home. Life is good, especially now that Becky takes time every day for mindfulness–even if that only means listening to a meditation tape while hunting down online bargains.
But Becky still adores the traditions of Christmas: Her parents hosting, carols playing on repeat, her mother pretending she made the Christmas pudding, and the neighbors coming 'round for sherry in their terrible holiday sweaters. Things are looking cheerier than ever, until Becky's parents announce they're moving to ultra-trendy Shoreditch–unable to resist the draw of craft beer and smashed avocados–and ask Becky if she'll host this year. What could possibly go wrong?
Cozy Mystery 2020 Holiday Reading Roundup
Arlene Sachitano: The 12 Quilts of Christmas
Christmas, quilts and a tastefully done murder. This book from my friend, Arlene Sachitano, is perfect for cozy mystery fans looking for a little holiday spirit.
In the air there's a feeling of…murder?
Harriet Truman is looking forward to creating happy Christmas memories with her husband James and their new foster son Luke. She and the rest of the Loose Threads are also delighted to see their special quilts displayed throughout the downtown in festive store windows.But a shocking murder disrupts the joy of the season, and when another body turns up, and then Harriet and Luke only just manage to escape a black-clad attacker, it's clear all isn't holly-jolly in Foggy Point.
Anne Perry: A Christmas Resolution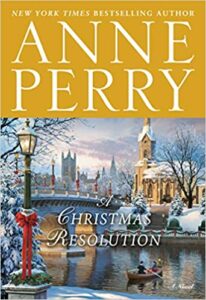 I do love an English Christmas, even when the festivities are marred by murder. This is the 18th edition of mystery writer Anne Perry's Christmas books, and it sounds intriguing!
Detective John Hooper, William Monk's right-hand man at the Thames River Police, is blissfully happy in his new marriage to Celia, the cousin of a victim in one of the river police's recent murder cases. Celia wants the same happiness for her good friend Clementine, who's just announced her engagement to Seth Marlowe, a member of her church. Christmas is nearing, and this should be extra cause for celebration, but when Marlowe begins receiving threatening letters about his first wife's death, it becomes clear that he is far from the devout man Clementine thought he was. In his rage, Marlowe accuses Celia of sending the letters, claiming she wants to ruin his engagement to Clementine. At a loss as to how to defend herself, Celia enlists Hooper to investigate the letters' claims, and what he finds makes her desperate to show Clementine the truth about her soon-to-be husband.
Non-Fiction 2020 Holiday Reading Roundup
Rachel McMillan: A Very Merry Holiday Movie Guide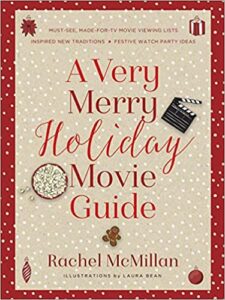 If you own a "This is My Hallmark Movie Watching Mug", you absolutely need this guide to the best made for TV Christmas movies!
Are you a holiday film fan? If so, you're in good company. Fellow made-for-TV movie buff Rachel McMillan invites you to skip the office Christmas party, put on your coziest pj's, and crash on the couch with a cup of hot chocolate in one hand and your remote in the other to watch the movies that have become the "hallmark" of the holiday season.
This one-of-a-kind illustrated guide features 15 themed celebrations featuring customized viewing lists, fun suggestions for starting new traditions, and festive facts about the happiest season of all. From baking to books, romance to royalty, and more, Rachel has put together a picture-perfect selection of holiday films to suit any interest.
A Very Merry Holiday Movie Guide is an ideal gift or stocking stuffer for the Christmas movie lover in your life or a welcome addition to your family's holiday traditions.
Allison Pitman: Keeping Christmas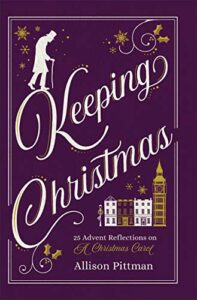 These 25 Advent reflections on A Christmas Carol will bring the true and divine Spirit, into your holiday reading.
Charles Dickens's A Christmas Carol is second only to the nativity story itself when it comes to public consciousness. Just as Jesus Christ changed the world on the night of his birth, so Ebenezer Scrooge changes during a single night of supernatural visitations.
This contemplative, entertaining read is the perfect companion for those dark winter nights as we eagerly anticipate the coming celebration of Christmas when, like Scrooge, we are given the gift of reflection, repentance, and life anew.
Classics 2020 Holiday Reading Roundup
Louisa Mae Alcott: Little Women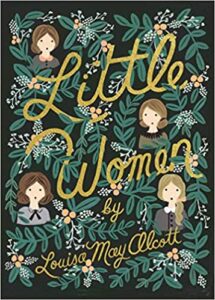 I don't really need to explain this one to you, do I? If you're feeling down, a visit with the March sisters is sure to lift your spirits!
Grown-up Meg, tomboyish Jo, timid Beth, and precocious Amy. The four March sisters couldn't be more different. But with their father away at war, and their mother working to support the family, they have to rely on one another. Whether they're putting on a play, forming a secret society, or celebrating Christmas, there's one thing they can't help wondering: Will Father return home safely?
Charles Dickens: A Christmas Carol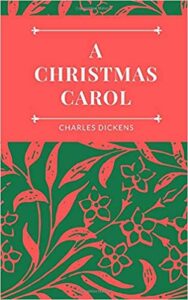 Not just A classic, Charles Dickens story of the transformation of Mr. Scrooge is THE classic Christmas, story, worth revisiting every single year.
A Christmas Carol is a story about Ebenezer Scrooge's redemption from greed. He is a miser who, before Christmas day, is visited by the ghost of his former business partner Jacob Marley and three Christmas spirits: past, present, and future. After their visits, Scrooge is transformed into a kind and loving soul.
Barbara Robinson: The Best Christmas Pageant Ever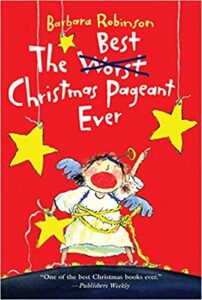 Technically, it's a kid's book, but I just love this hilarious story of what happens when the nastiest kids in town show up to take part in the church Christmas pageant. I consider it a Christmas classic!
Laughs abound in this bestselling Christmas classic by Barbara Robinson! The Best Christmas Pageant Ever follows the outrageous shenanigans of the Herdman siblings, or "the worst kids in the history of the world." The siblings take over the annual Christmas pageant in a hilarious yet heartwarming tale involving the Three Wise Men, a ham, scared shepherds, and six rowdy kids.