This post may contain affiliate links. Full disclosure policy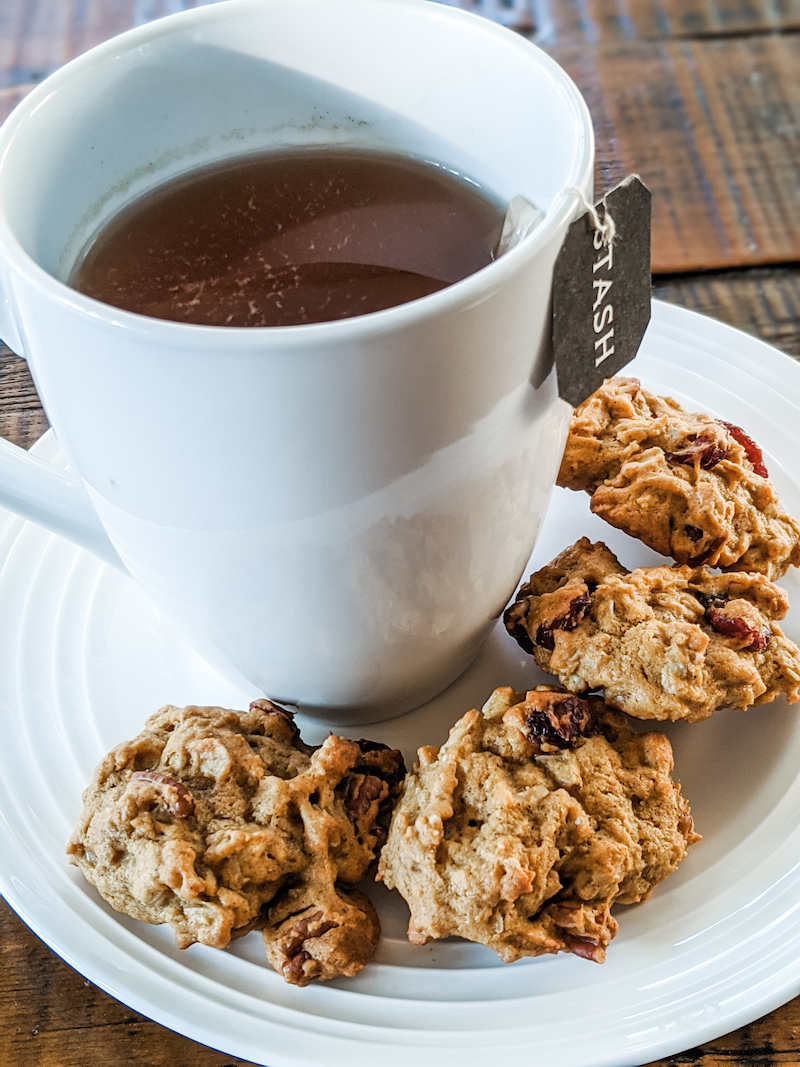 The arrival of fall means that I am all about pumpkin right now. My chewy Pumpkin Harvest Cookies are delicious and full of autumn flavors. This generous recipe makes plenty of dough share with friends and neighbors.
That's where the inspiration for creating chewy Pumpkin Harvest cookies started, with some new neighbors and a lost dog.
Has Anybody Seen Ruby?
My husband and I were enjoying dinner on the patio last week when a young woman came down the bike path, asking if we'd seen a lost dog, named Ruby. We hadn't but said we'd be on the lookout.
The woman's face wasn't familiar, so I thought she had probably rented a vacation home for the weekend. We get a lot of visitors in our area. Since the dog was unfamiliar with the area, she might be well and truly lost. And that, as we all know, is every pet owner's worst nightmare.
After supper, my husband and I went looking for Ruby. Before too long, Ruby's owner came walking toward us with new that the lost dog had been found. Someone had spotted her more than a mile away and called the police. Whew!
We started chatting with the woman and found out that she, her husband, and three children had just moved into their new home, only a couple of streets over from ours. We don't have a lot of young families in our neighborhood, so I decided it would be nice to welcome them to the neighborhood by with some home-baked pumpkin cookies.
The Quest for a Chewy Pumpkin Harvest Cookie
Pumpkin has a lot of liquid in it, so pumpkin cookies are usually quite cakey. But I really prefer cookies with a chewy texture.
After a bit of online sleuthing, I came upon Sally's Baking Addiction and a recipe for a chewy pumpkin chocolate chip cookie. According to Sally, using melted butter, leaving out the egg, and blotting the pumpkin with paper towels would result in a chewy cookie.
These techniques sounded promising, but I really wanted to make pumpkin harvest cookies. I'd bought one at one of the gourmet markets in our town a couple of weeks before and couldn't stop thinking about it.
An Oatmeal Cookie by Any Other Name
If you haven't tried them before, harvest cookies contain plenty of oatmeal, nuts, and dried fruit. Most harvest cookie recipes call for either walnuts or pecans. Pecans are my personal favorite so I went with that and used dried cranberries.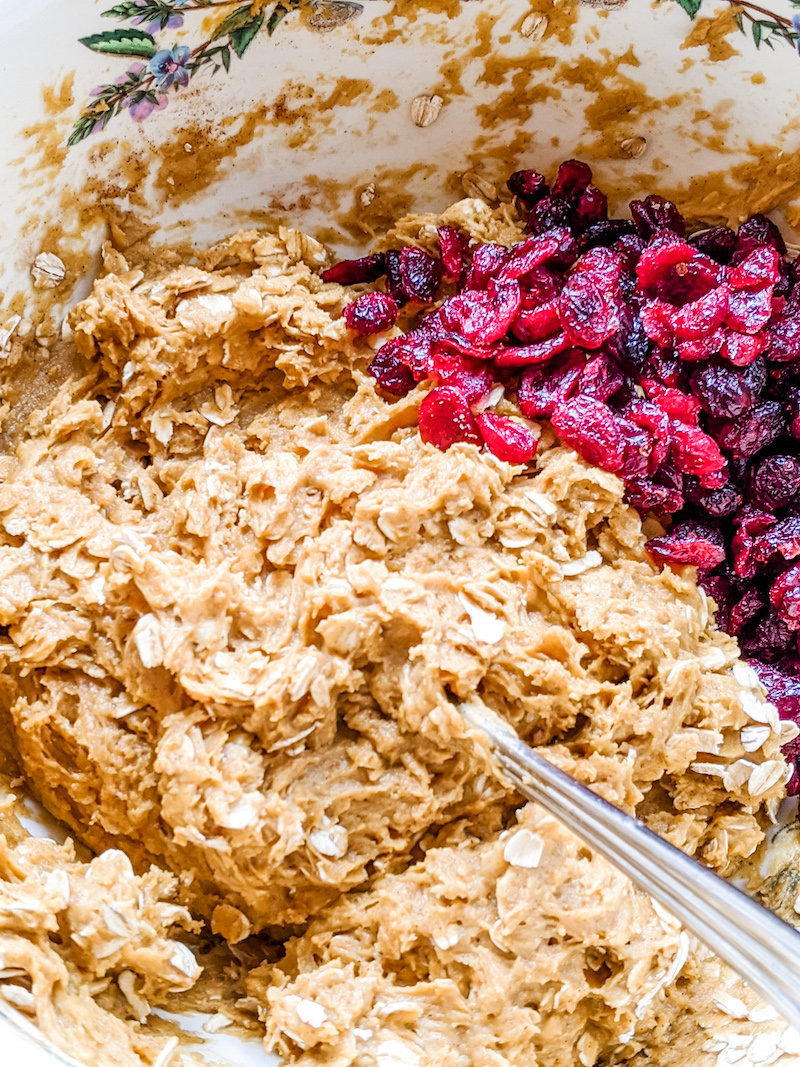 That's a traditional harvest cookie combination that paired nicely with the flavors of pumpkin. Why not use raisins instead of dried cranberries, I hear someone asking? Because then you've pretty much have an oatmeal cookie.
The cranberry is what makes a harvest cookie a harvest cookie. But hey, if you'd rather make your Pumpkin Harvest Cookies with raisins, who am I to deter you? Dried apricots or cherries would also be good.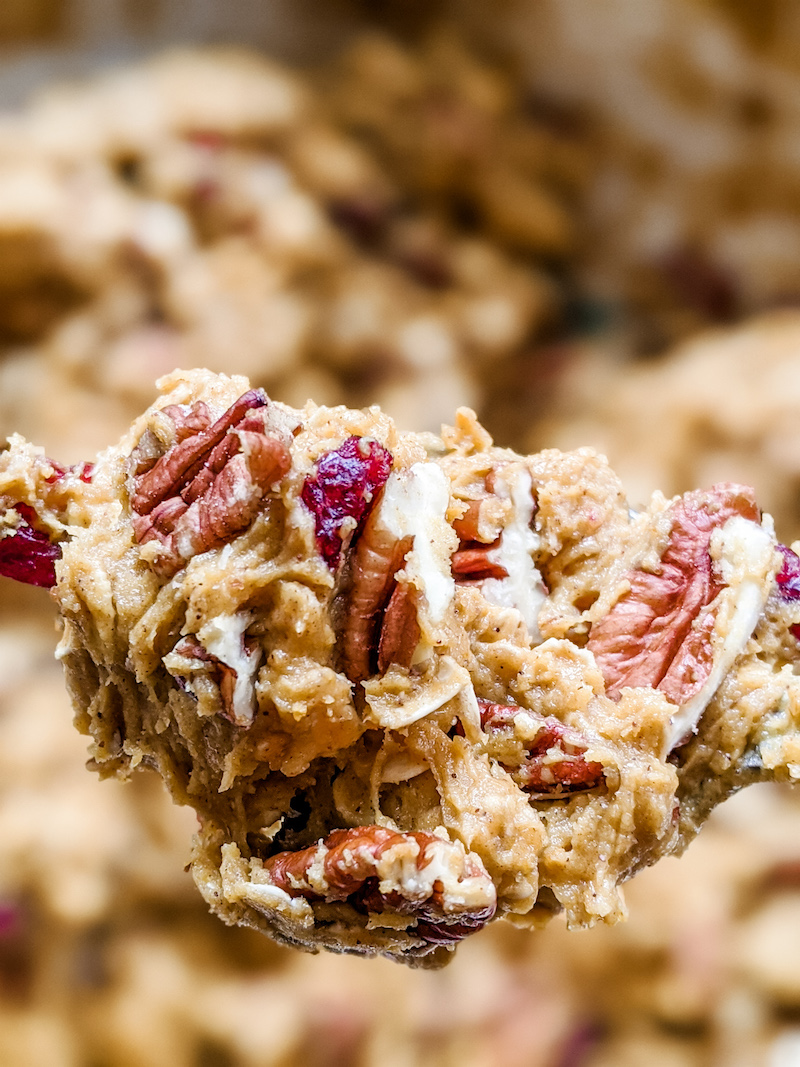 Less Watery Pumpkin for a Chewy Pumpkin Harvest Cookie
Pumpkin Harvest Cookies are very easy to make. The preparation is very similar to a standard chocolate chip cookie.
However, following tips from Sally, I used melted butter in mine and left out the eggs. The main purpose of eggs is to help bind the dough together. But since the pumpkin already does that, you don't need them. In fact, they'd probably make the dough too wet.
Pumpkin is about ninety percent water. Blotting the pumpkin with paper towels will remove a little of that water. But I used a different technique to get more water out.
I put a paper coffee filter inside a mesh strainer, suspended the strainer over a larger container, then put the pumpkin inside to drain. After about fifteen minutes, a quarter cup of liquid had drained off the pumpkin. If you've got a yogurt strainer on hand, that will work just as well as. I also used a paper towel to blot the pumpkin on top.
(My yogurt strainer, which I've had for years, has gone missing. My husband says he has nothing to do with it. I have my doubts. Nine times out of ten, when something disappears from my kitchen, the passage of time somehow links it to him. I'm not absolutely saying he threw it out. But still….)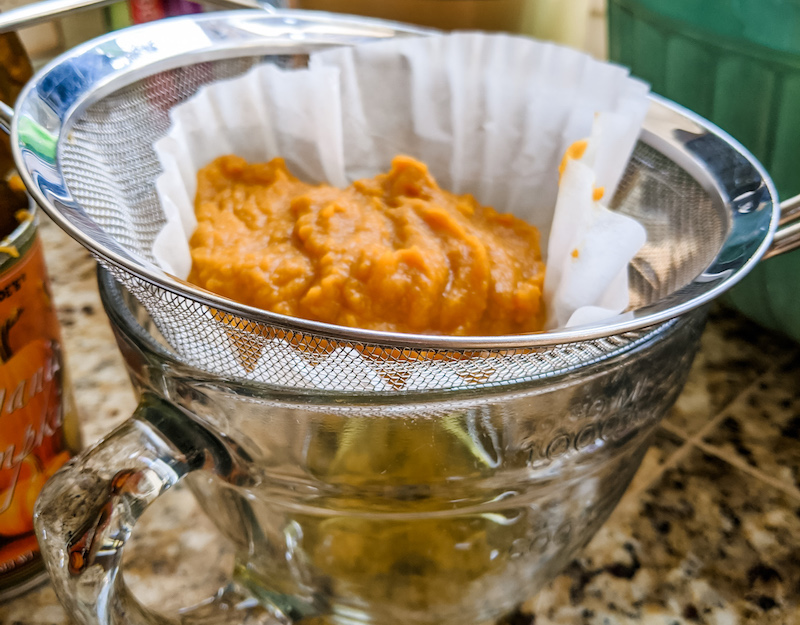 Using wetter pumpkin will result in a softer, cakey cookie. If you want your chewy Pumpkin Harvest Cookies to have a truly chewy texture, draining the liquid from the pumpkin is a must.
Also, chill the dough before baking. Forty-five minutes in the refrigerator will do the trick.
Plenty to Share!
This is a BIG recipe! It makes 5 dozen nicely sized cookies. Why so many?
Honestly, I'm not sure. I may have gotten carried away.
But the good news is, I had plenty of dough to make cookies for our new neighbors! AND three sets of old neighbors on my street, with lots left for my family.
If you're not looking to feed the whole neighborhood, you could either cut the recipe in half or carefully wrap some of the dough up in plastic and store it in the freezer to bake later. Frozen, it should be good for at least a couple of months.
But, really, feeding the neighborhood sounds like an even better idea to me. Just about everybody I know could use some cheering up right now. And what could be more cheerful than a plate of homemade, warm from the oven, chewy Pumpkin Harvest Cookies?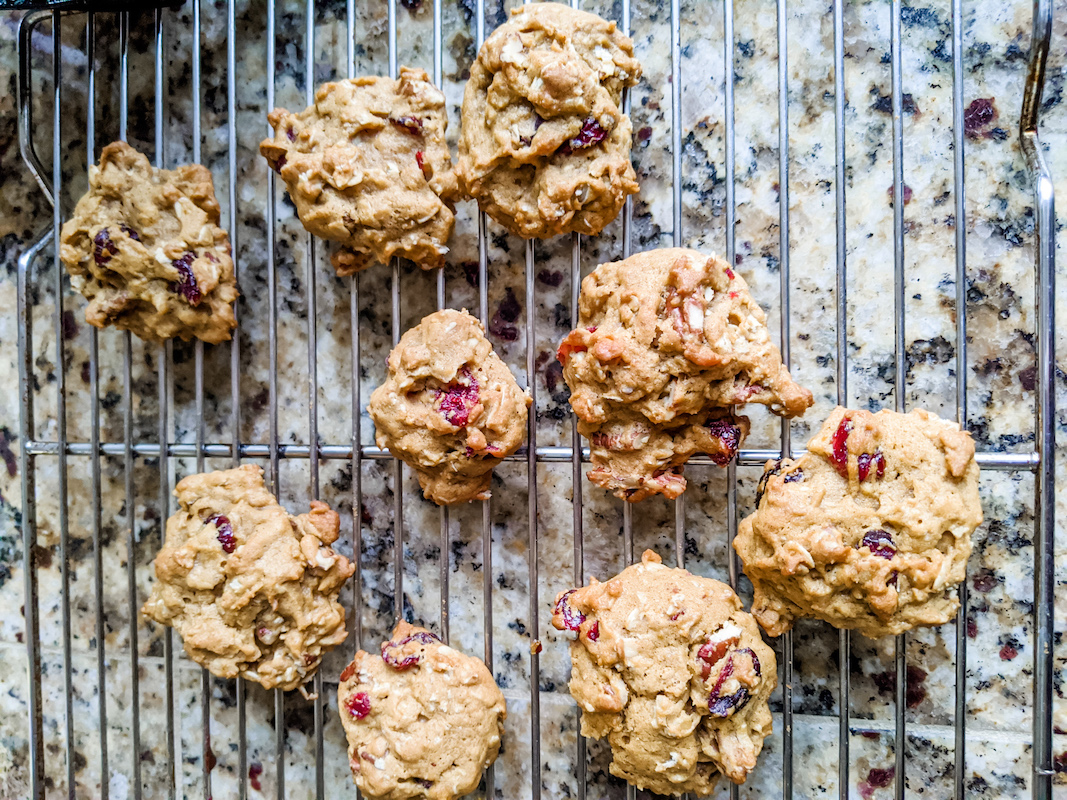 Apart from the return of a lost dog, not much comes to mind. So do yourself and your neighbors a favor; bake up a big, beautiful batch of my Pumpkin Harvest Cookies this week!
Print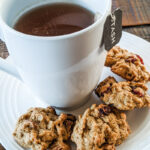 Chewy Pumpkin Harvest Cookies
---
Author:

Yield:

Makes approximately

5

dozen

1

x
1 cup

butter, melted

¾ cup

brown sugar

¾ cup

white sugar

1.5 tsp

vanilla extract

1

15 oz can pumpkin, drained (See note in blog post. Amount is

1 cup

pumpkin if using homemade pumpkin.)

2 cups

white flour

1 tsp

baking powder

1 tsp

baking soda

2 tsp

salt

2 tsp

pumpkin pie spice

1 tsp

cinnamon

2 cups

old fashioned oats

1 cup

dried cranberry (or other dried fruit, see blog post)

1 cup

pecans, chopped
---
Instructions
Melt butter on stovetop or in microwave. Cool slightly.
Place brown and white sugar into medium sized bowl. Pour melted butter and vanilla into sugar and whisk vigorously to thoroughly combine. Stir well drained pumpkin into mixture. Set aside.
In large bowl, place flour, baking soda, baking powder, salt, and spice. Stir to mix dry ingredients.
Pour wet ingredients into the dry ingredients, mixing thoroughly. Add oats, cranberries, and nut to bowl. Stir to distribute evenly. Cover bowl and place in refrigerator for 45 minutes.  (Chill only 30 minutes if using half the recipe.)
Preheat oven to 350.
Line a baking sheet with parchment or use a silpat. Remove the chilled dough from the refrigerator. Scoop rounded tablespoons of dough onto the prepared baking sheet. (I like using a melon baller to scoop out my dough.)
Bake cookies in preheated oven for approximately 14 minutes, until they're golden brown and slightly firm if you press on them. Cool before serving.