This post may contain affiliate links. Full disclosure policy
I know what you're thinking. Granola has a zillion calories.
It's basically what squirrels eat to fatten up for winter.
So why would I want that when I'm trying to get tankini ready?
My answer is two fold here. Stay with me on this. The following is jam-packed with juicy nuggets of wisdom we need in life.
Why Granola Is Worth It (And Other Life Lessons)
The first reason is because life is too short. It's too short to miss out on the joy of homemade granola. Life's too short to cut out delicious food from your diet by drawing a hard line in the sand. It's too short to let a squirrel's diet dictate what we eat.
The second reason, equally important, is that everything (well, almost everything) is okay as part of your diet as long as you stick to the serving size. Granola has a smaller serving size than say, green beans. It's also so flavorful and yummy that you don't need a lot of it to feel the flavors and textures tap-dancing across your tongue. I find myself pairing it with protein-rich Greek yogurt or covered with fruit and milk for a power-breakfast.
From a nutritional standpoint, the oats are filled with fiber and iron and the nuts and seeds are packed with heart-healthy unsaturated fats (like Omega 3s!) and protein. A lot of granola you buy at the store will be loaded with sugar, so my recipe leans on honey to sweeten it instead of actual sugar. With the oil, it's still pretty high in calories but I find that if I stick to a small portion, I don't have too much explaining to do with my Weight Watchers plan. 
Embracing the Crunch with Easy Homemade Granola
Granola is one of those things that all of my friends assume I make all the time since I moved to Oregon, the land of the sustainably grown, the Birkenstocks, the Subarus, and all things crunchy.
While I fully embrace the stereotypes of my new home, I truthfully don't get around to making granola as much as I should. I don't home brew Kombucha or grow my own food either. I just don't have time. But on occasion, I'll summon up the concentration in an afternoon while I'm writing to toast oats and nuts and coconut flakes, the base of my super-charged granola. If you are easily distracted like I am, it's best to use a loud timer to remind you to toss the oats as they roast. It's so easy to burn it and I've done that more times than I care to share.
But once the base of the granola is roasted, toasted, and aromatic, I'll add dried fruit (like the dehydrated strawberries I have on hand in my prepared pantry) and other ingredients I keep in my pantry like like chia or cashews or vanilla. Then the pure crunchy magic happens.
My house smells amazing. My neighbors usually reap the benefits over the over-sized batch, and I'm happily snacking away as I get back to work on my book.
So have I talked you into it?
Let's jump to the good part.
Here's how to make my super-customizable, use-whatever-you-have-in-your-pantry, easy homemade granola.
Print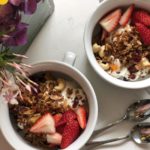 Easy Homemade Granola
---
Author:

Prep Time:

15

Cook Time:

60

Total Time:

1 hour 15 minutes
4 cups old-fashioned rolled oats (not the steel cut kind or the instant oats!)
2 cups unsweetened shredded coconut
2 cups sliced almonds
3/4 cup vegetable oil
1/2 cup honey (I use local, but just use a good quality here)
1 1/2 cups unsweetened small diced dried apricots
1 1/2 cup dried unsweetened cherries
1 1/2 cup dried unsweetened cranberries
1 cup roasted, unsalted cashews
Other optional goodies: Add dried blueberries or any dried fruit, spices like cinnamon, chia seeds for a little extra omega 3 punch, try maple syrup instead of honey, swap canola for coconut oil, or spike it with a little vanilla or a pinch of sea salt! I've also heard its delicious swirled with a 1/4 cup of peanut butter.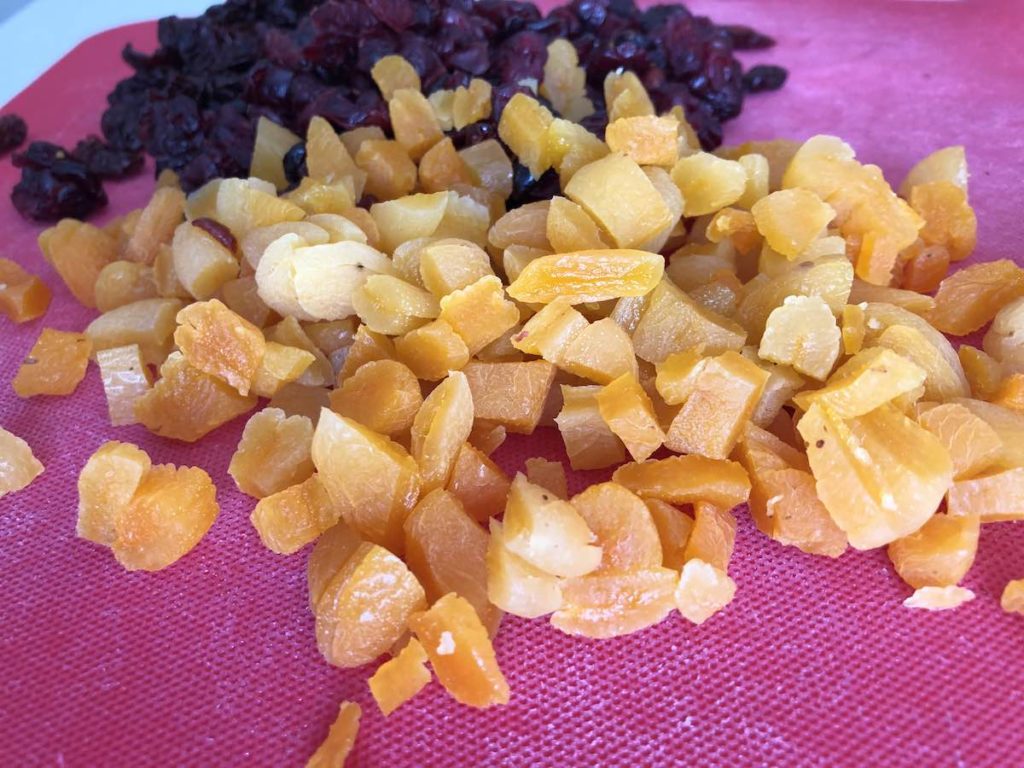 ---
Instructions
Preheat oven to 350 degrees.
In a large bowl, toss together the oats, coconut, and almonds. Whisk the oil and honey in a separate bowl, then pour over the oats, almonds and coconut. Stir until everything is cohesive, like in this picture.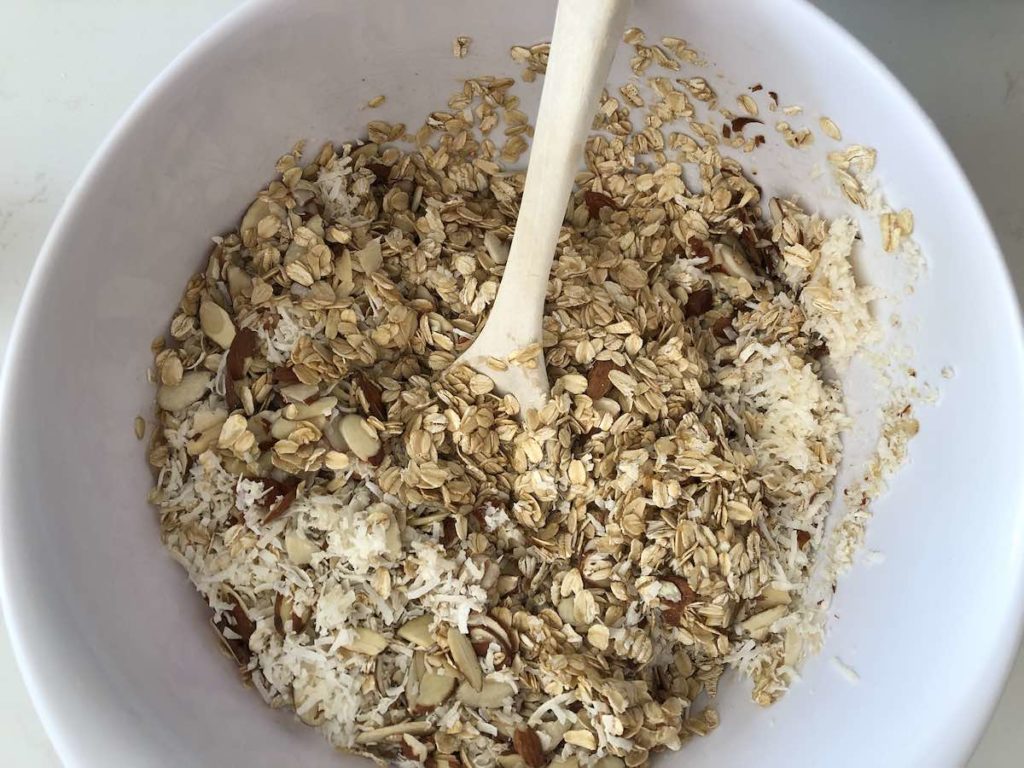 Using two half sheet pans, pour the mixture equally into each. Roast, taking it out to stir occasionally so the bottom doesn't burn. When it looks beautifully golden brown and the nutty wafts are taking over your kitchen, it's time to take it out. This takes about an hour for me.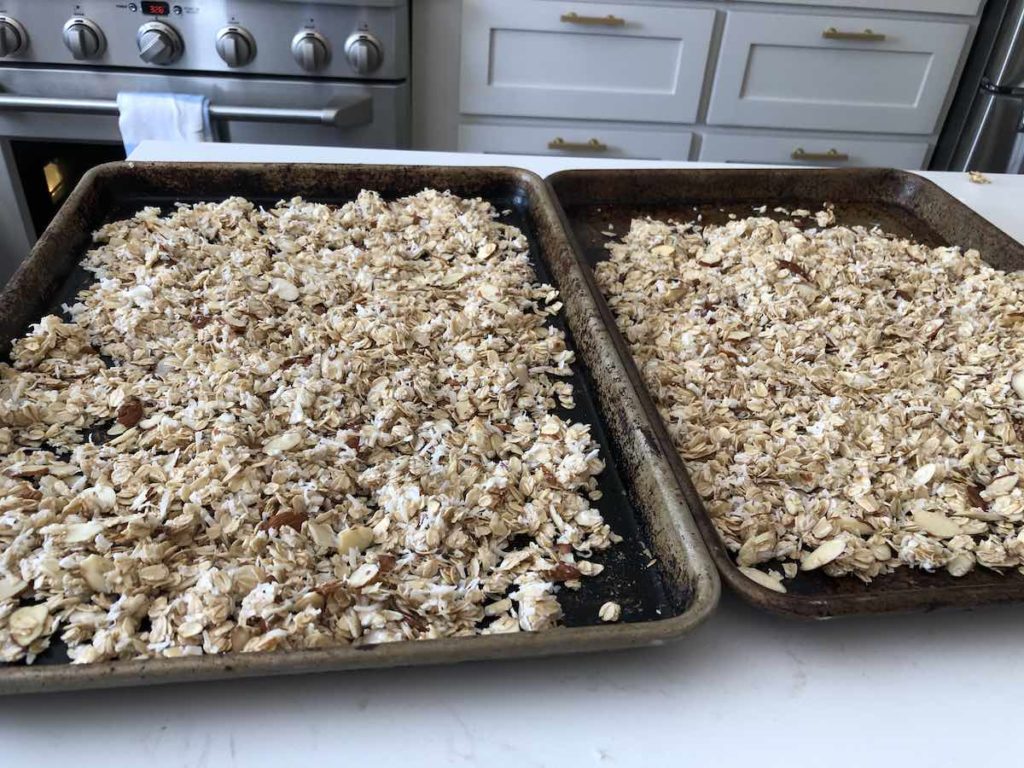 Remove from the oven and cool slightly. It will need to be a little warm to stick to the rest of the goodies you throw its way.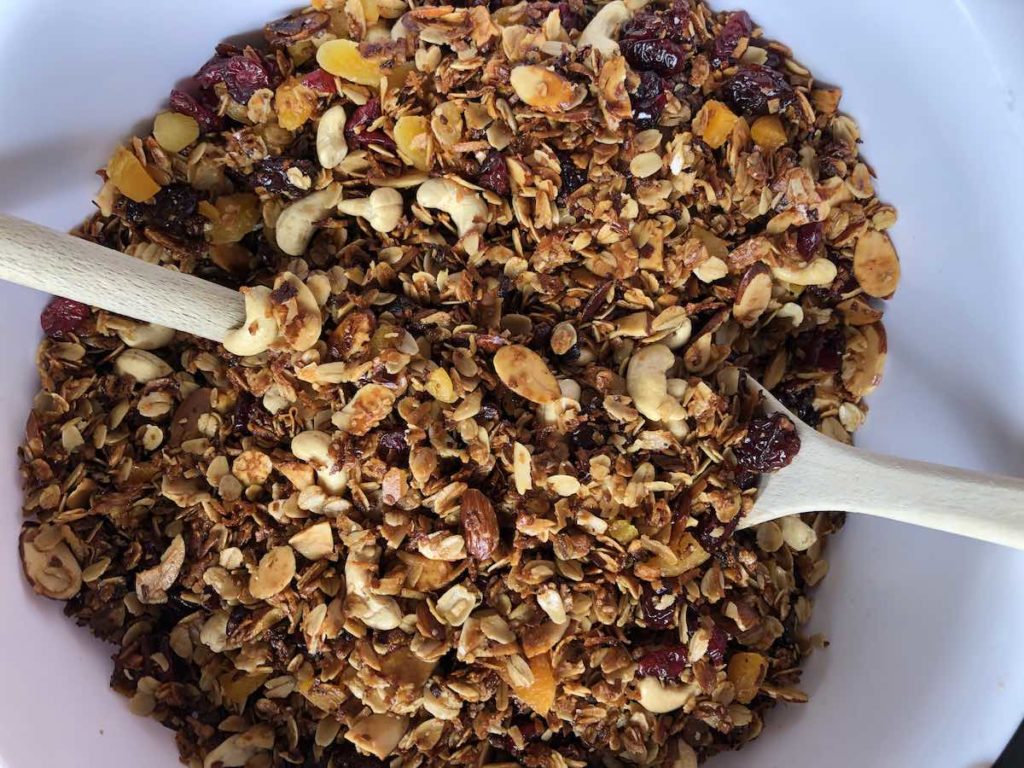 Add the dried fruit and cashews. Now is the time to throw in extra flair like chia seeds or vanilla or sea salt.  I usually just throw into freezer bags and promptly send one to a neighbor. This makes a lot!
Serve with milk and fruit or sprinkle atop Greek yogurt for a fierce way to start your day!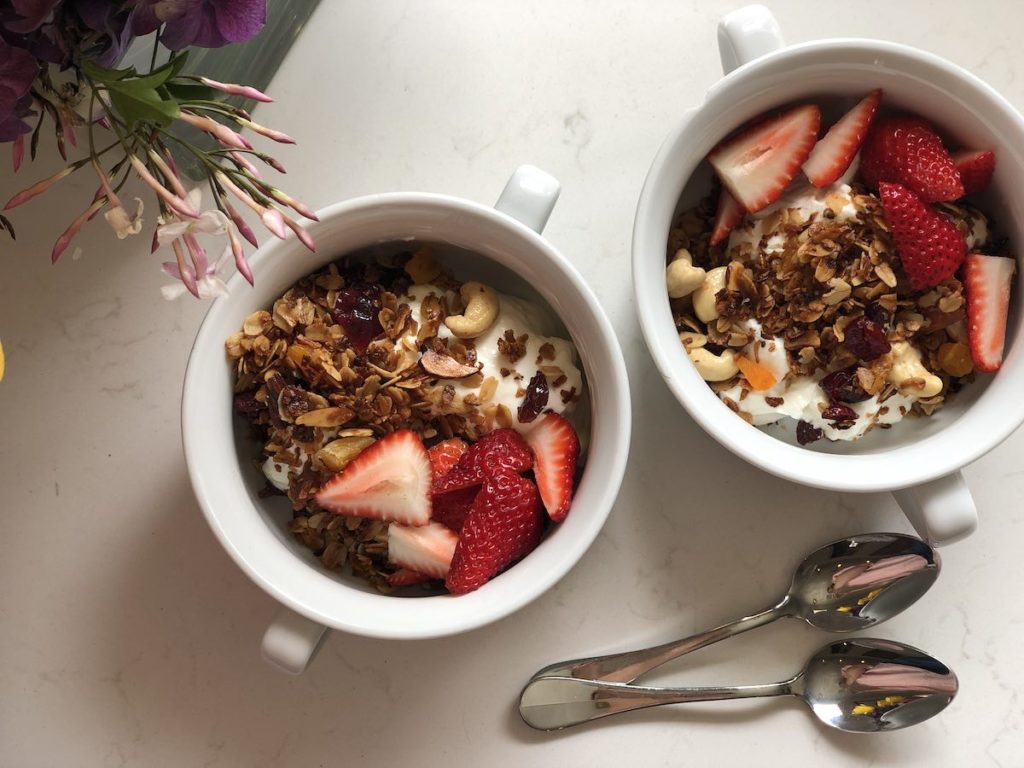 Category:

breakfast

Method:

oven
Keywords: easy homemade granola, healthy breakfast ideas