This post may contain affiliate links. Full disclosure policy
THIS POST MAY CONTAIN REFERRAL LINKS. IF YOU CLICK THROUGH AND TAKE ACTION, I MAY BE COMPENSATED, AT NO ADDITIONAL COST TO YOU.
Memorial Day is so many different things: the unofficial beginning of the summer. A day off work. The end of the school year. The day on the calendar after which your mom decreed you can wear white pants.
However, we all know the Federal Holiday commemorates something more. But through the years, as more and more time passes from those civics classes of our youth, it's easy to muddle up some of our related holidays. So let's take a moment for a mini educational opportunity, courtesy of yours truly.
Memorial Day: Last Monday in May. In remembrance of American service members who have died in armed conflicts.
Veterans Day: Always November 11th. Celebrates the service of all United States Armed Forces veterans.
Armed Forces Day: Third Saturday in May. Honors Americans currently serving in one of the five branches of military service.
And thus concludes your remedial American History lesson by Professor Bostwick. Don't worry, I won't quit my day job.
However you choose to spend your Memorial Day, it's the first of the two summer holidays that come with a likely dose of red-white-and-blue somewhere in your schedule. Whether you're hosting a barbecue, prepping a dish to take to the friend who is hosting or just getting away from it all with a weekend vacation there are ways big and small to add a little Americana to your life.
Here are a few of my favorite DIY Memorial Day decorations!
Bandanas Never Looked So Cute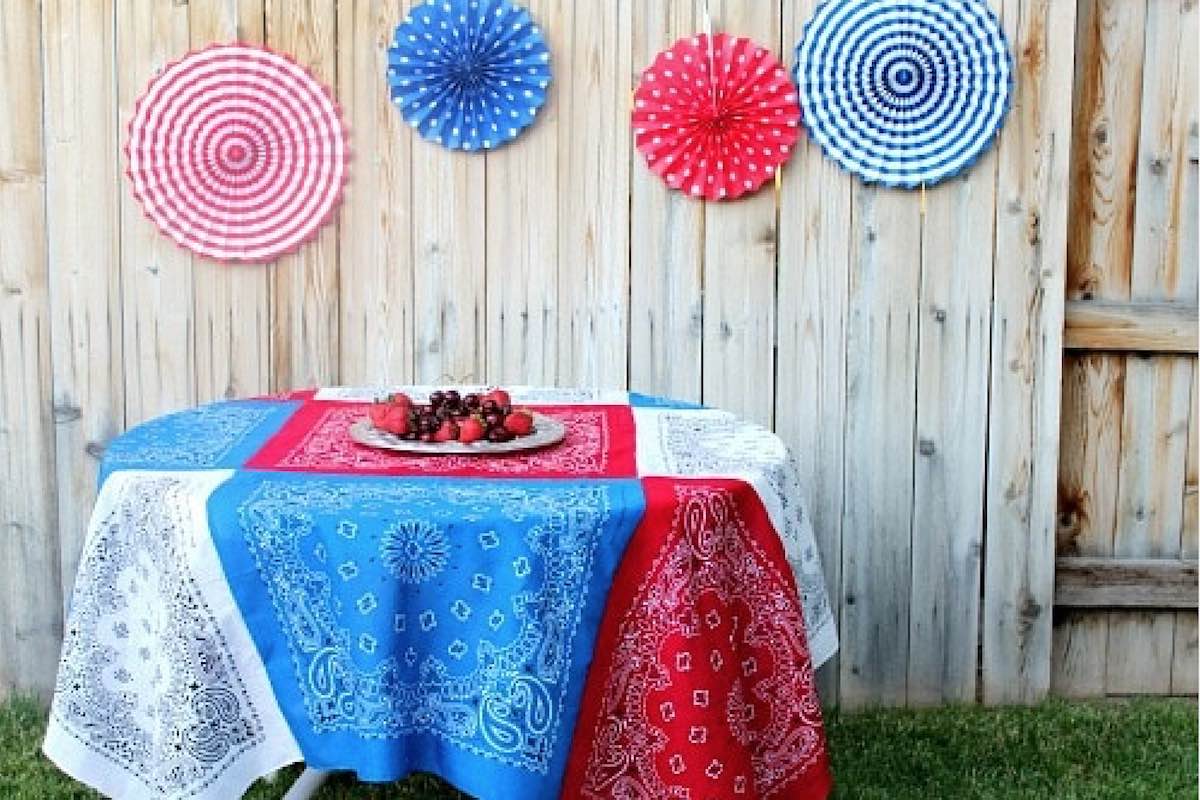 Just a handful of different colors bandanas + a sewing machine = a tablecloth you'll use for years to come! Seriously though, how easy is this? It would probably qualify as the cheapest fabric purchase I've ever made. (Shhh, The Chairman doesn't read this blog, he doesn't need to know any more about my fabric habit than I tell him.)
Paint The Yard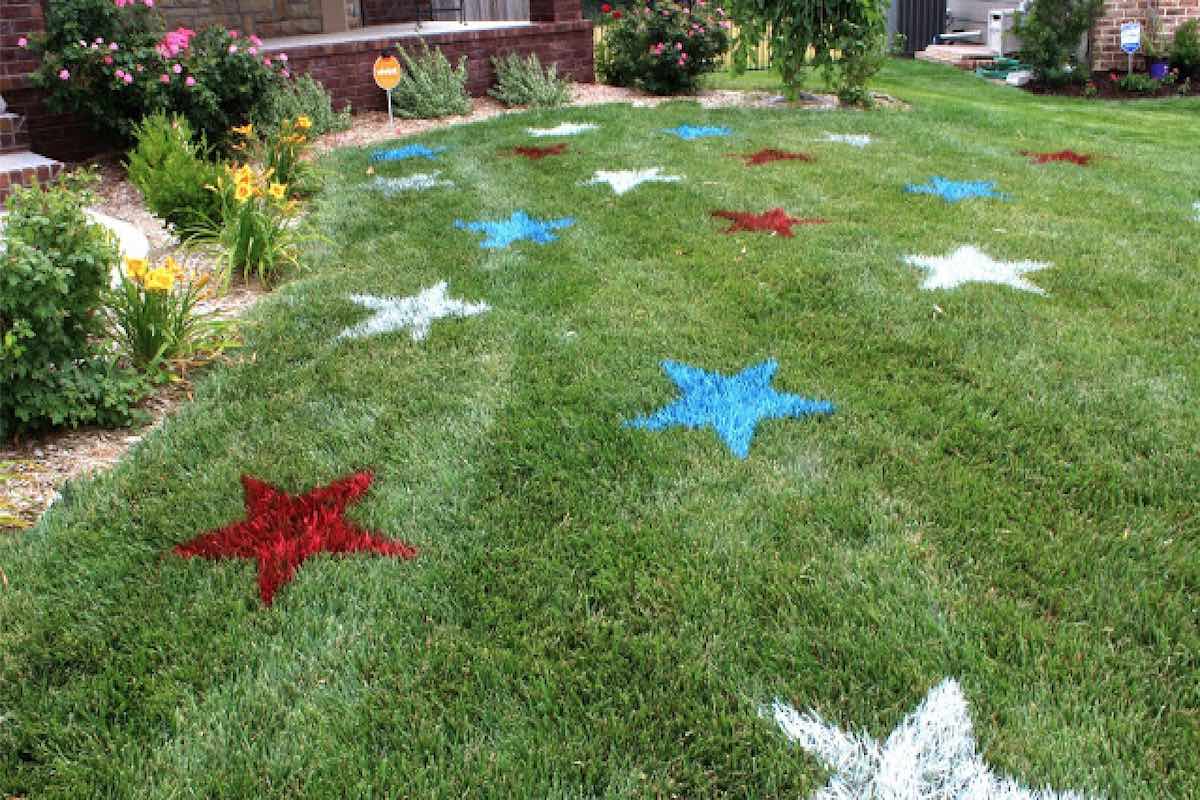 I can't even get over how great this idea is. Something I never would have thought of on my own, but it's so smart! Using construction marking paint, so it washes away with time you can paint stars (or jack-o-lanterns, or…anything) on your yard.
The Stars and Stripes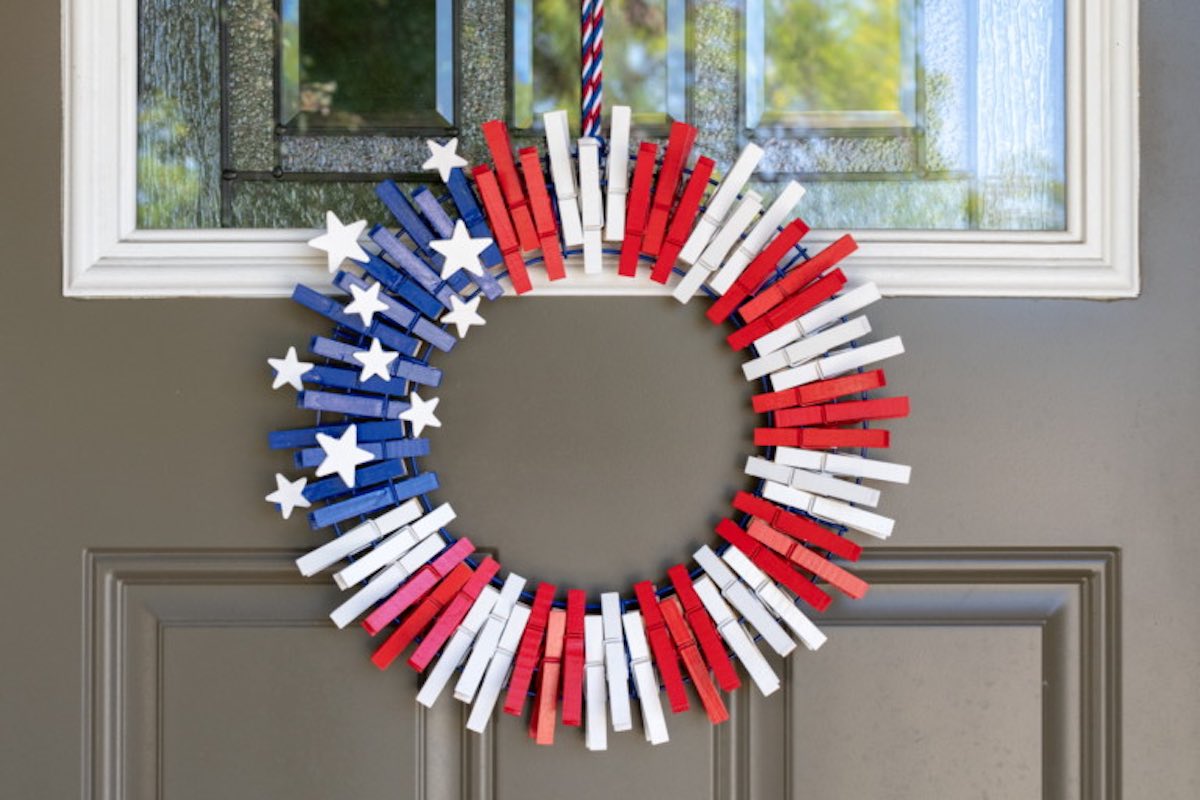 I'm generally not a fan of clothespin crafts. Not really any particular reason, maybe they just remind me of my youth when I actually used clothespins to hang my clothes before our washer/dryers got smart enough they practically fold them for you. But, I digress. For whatever reason, clothespins and crafts just don't usually cut it for me, but I really like this patriotic wreath. It looks simple and classic, and certainly a craft that kiddos can help with too!
A Healthy Patriotic Salad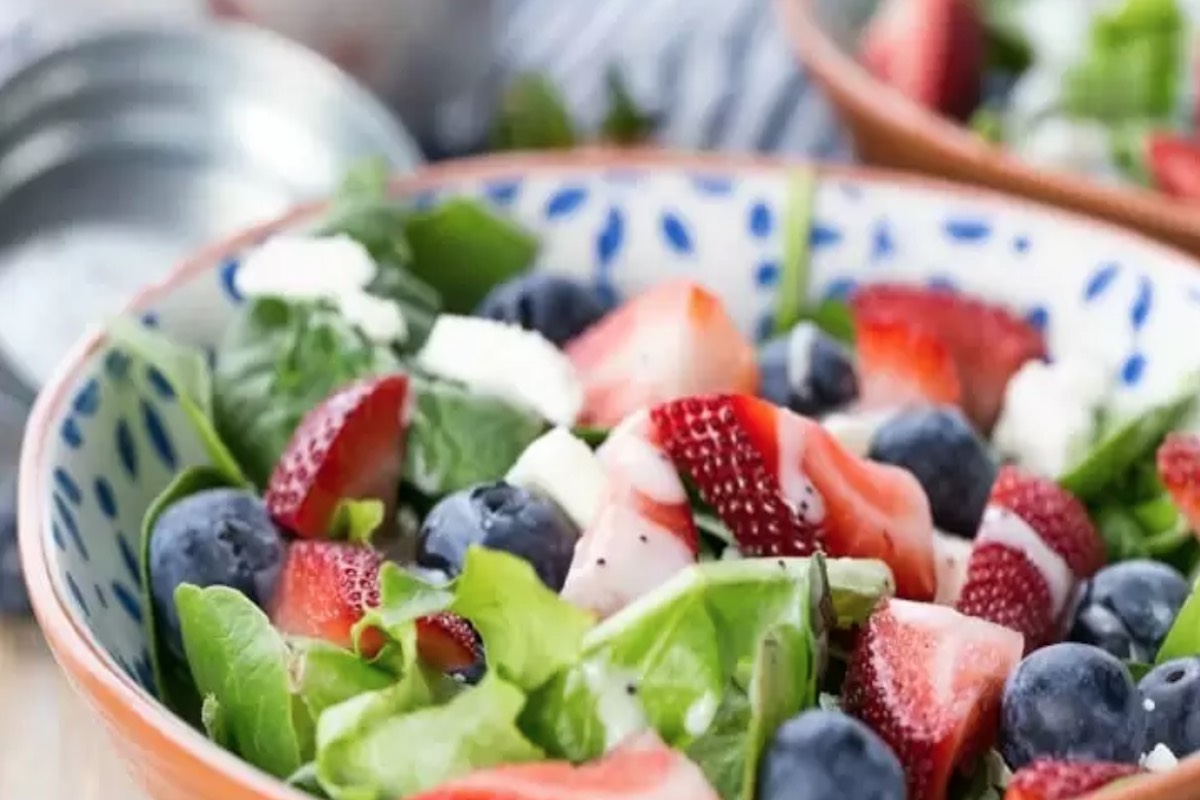 I feel like any party you're invited to Memorial Day weekend will have a plethora of meat being grilled. Burgers, brats, kebabs, you name it and a man with an apron will be seasoning it and have strong feelings about that seasoning. You know that's covered, so make sure everyone at least has a yummy, healthy salad to kick things off with. Blueberries, strawberries and feta cheese combined with a light dressing pretty much guarantees everyone will start off with heaping of this before they move on to the grill.
Firecracker Popcorn For Dessert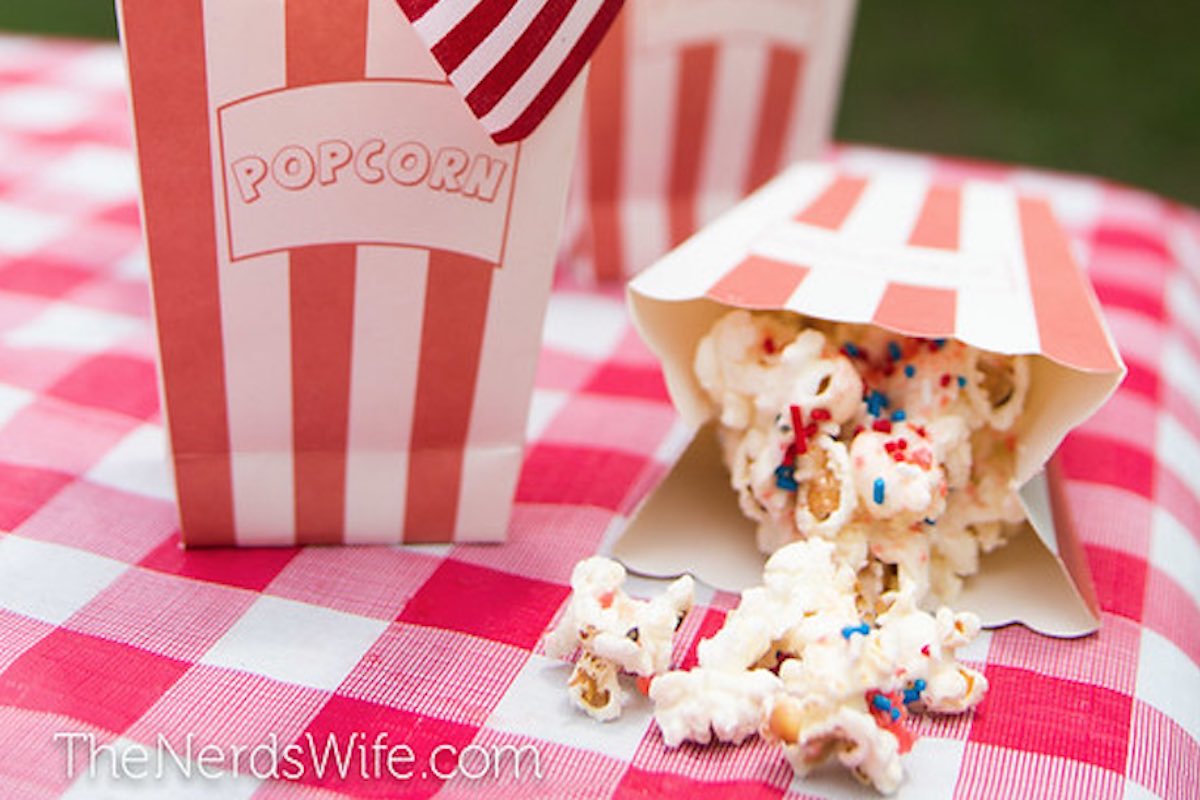 You had a second helping of the healthy salad. Sure, you had a burger but it didn't have bacon on it. Your sweet tooth has earned itself a handful of this terribly addictive and terribly wonderful dessert. You start with popcorn, drizzle with a variety of sweet treats and you've got yourself a sweet+savory combination treat that's difficult to stop eating. I highly recommend, but know that you've been warned.
The Most Patriotic Game of Corn Hole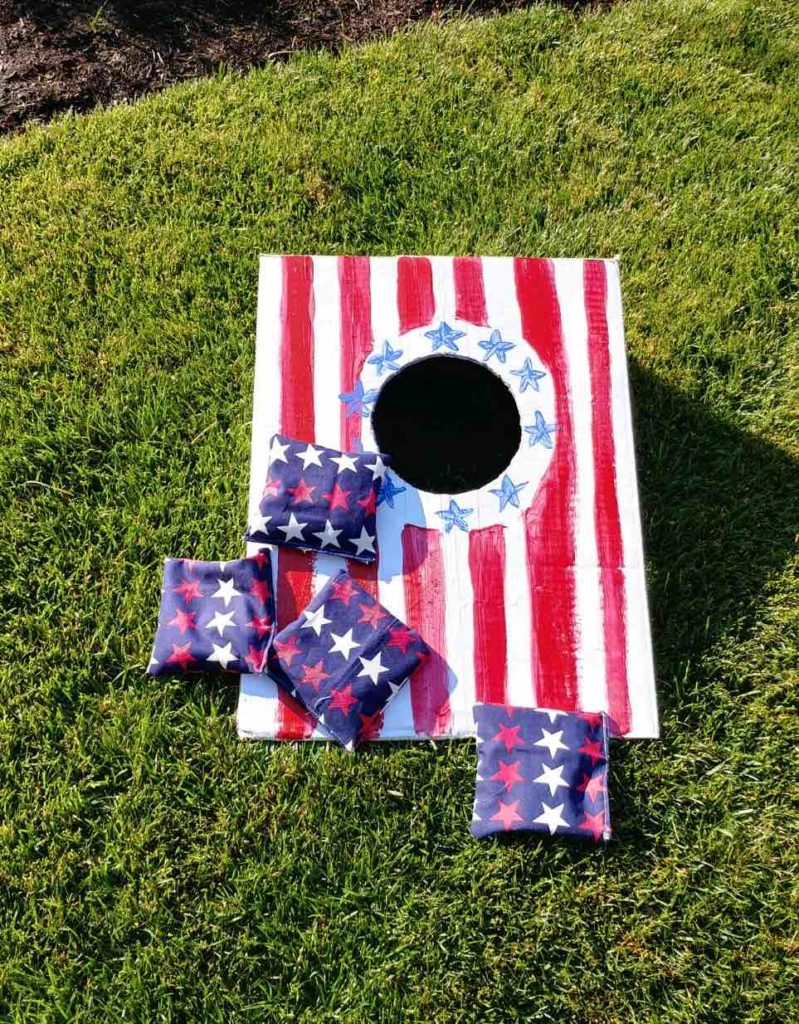 Corn hole, or the bean bag toss game, is one of those things that just reminds me of my childhood and picnics and being sticky from too much watermelon. I mean all of that in the best way possible. Last summer, I decided to make a DIY corn hole game at home that was as patriotic as Betsy Ross. I think I accomplished that.
However you choose to spend your time for the upcoming Memorial Day weekend, enjoy it with friends, family, good food, and outdoor time! And remember the reason why we celebrate that day in the first place.