This post may contain affiliate links. Full disclosure policy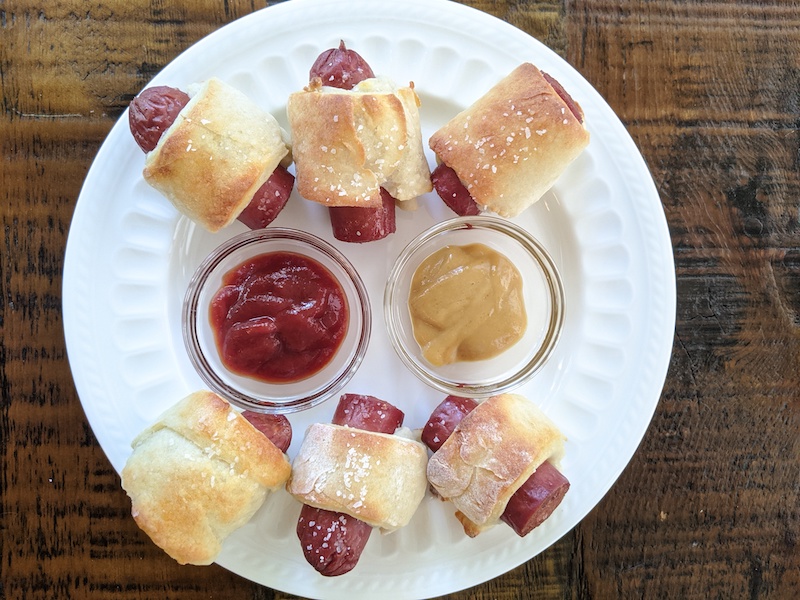 If you're like most of us, your team will not be suiting up on February 2nd.
(If your team did make the cut; good for you. Congratulations. But, please don't gloat. The rest of us are still in mourning.)
It's always a little disappointing when your hometown favorite is eliminated. But, hey, the fact that only two teams can make it to the Superbowl is part of what makes it super. And the good thing about sports is that there is always next year.
(Seahawks, you had a great season. And 2021 will be your year! I can feel it!)
Big Game, Big Food
I think it's a good thing that there's a pro-football-free weekend once the two teams going to the Big Game have secured their spots. It gives fans time to move on from disappointment and to focus on the other things that make the Superbowl so special, no matter who is playing.
You know what I mean, right? The chance to get together with friends (and, if you're like me, to work on your knitting!), the halftime show, the commercials, and, most importantly, the food.
I really, really adore football fare – nachos, chili, wings, burgers, and the like. (If you're looking for an alternative to the usual burger, be sure to check out my Tailgate Turkey Sage Sliders). Getting to share these delights with friends makes them taste even better. The only downside to these game day snacks and appetizers is that they aren't usually very healthy.
TWO TEAMS + TWO INGREDIENTS = GAME DAY DELICIOUSNESS
I was thrilled to be invited to a big Superbowl party but found myself a little stumped when it came to what I should bring. I've been winning the battle to shed a few post-Christmas pounds, and really want to keep on track. Sure, I could always bring a crudité tray, but that just doesn't feel like football food to me. Also, I wanted to bring something that everyone will enjoy, weight watcher and civilians alike.
The answer? Two Ingredient Dough Easy Appetizers!
If you haven't yet heard about Two Ingredient Dough, you've really been missing out. It's a fast and easy way to make home-baked dinner rolls, pizza crusts, calzones, bagels, and so much more. Best of all, a single serving of Two Ingredient Dough clocks in at just 3 Weight Watchers points. Talk about a game-changer!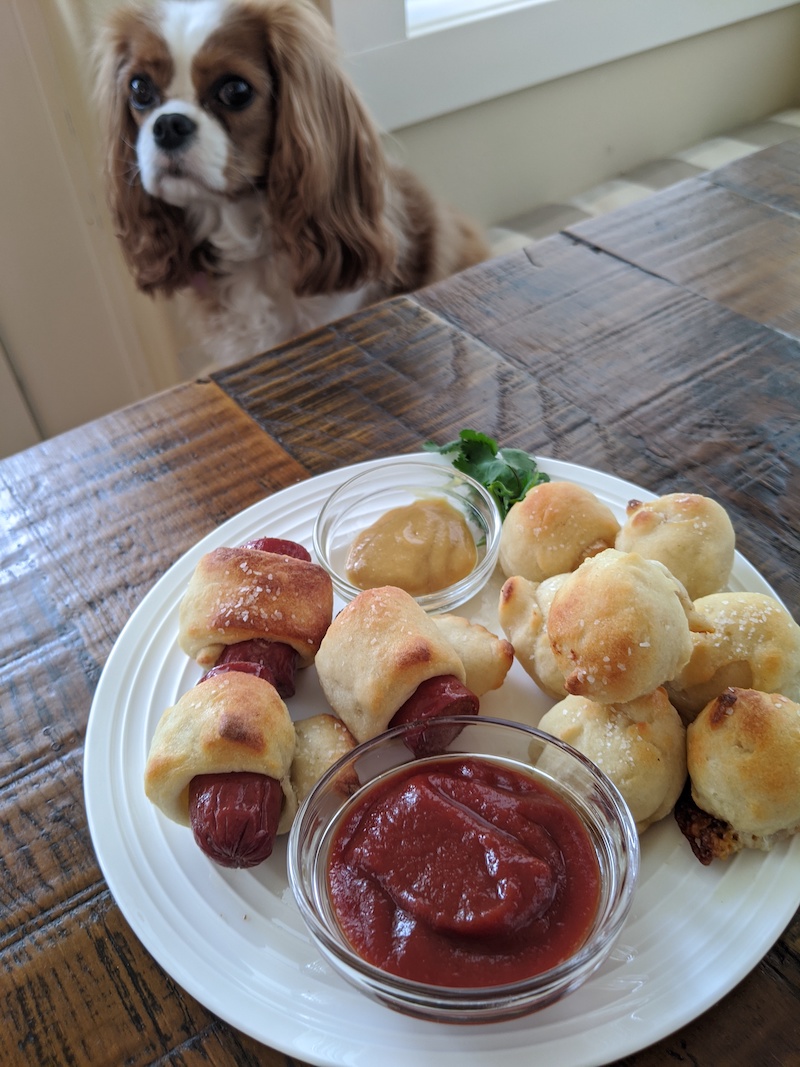 Easy Appetizers for Game Day
The name is no lie. All you need to make it is two ingredients: self-rising flour, and nonfat Greek yogurt, in equal parts. That's it.
For my game day easy appetizers, I decided to go with a classic – pigs in a blanket. They're delicious, fun to eat, football friendly, and something I can enjoy during the game without feeling guilty or blowing all my points.
Here's the recipe…
Print
Pigs in a Blanket – with 2 Ingredient Dough
---
Author:

Yield:

8

servings of 3 rolls

1

x
Description
Preheat oven to 350 degrees.
In a small bowl, mix one cup of nonfat, unflavored Greek yogurt and one cup of self-rising flour. Stir to combine thoroughly, then turn dough out onto a floured surface. Knead until dough is no longer sticky – 2 to 3 minutes.
Shape dough into a disc and divide into four roughly equal portions.  Using a rolling pin, roll one of the portions into a long rectangle. Slice across the rectangle to create six smaller rectangles. These are the "blankets" for your "pigs".
Take two hot dogs and cut crosswise into 3 equal pieces. (Six pieces total from the two hot dogs.). Wrap a dough rectangles around the middle of each piece of hot dog. Pinch the dough to make sure it stays together during baking.
Repeat process three more times, using all the dough and hot dogs.
Line a metal baking pan with parchment paper.  Place the "pigs" on the sheet, making sure there is space between them.  Place baking sheet in preheated oven and bake the pigs for approximately 15 minutes.
Briefly, remove baking pan from oven. Spray the dough lightly with cooking spray and sprinkle with a little Kosher salt. Return to oven and bake for an additional 5 minutes, or until the dough golden brown.
Remove from oven and serve.
---
1 cup

nonfat, unflavored plain Greek yogurt

1 cup

self-rising flour

8

Oscar Meyer Turkey Hot Dogs (You can use regular dogs too but these are just

3

WW points)
Cooking spray
Kosher salt
---