This post may contain affiliate links. Full disclosure policy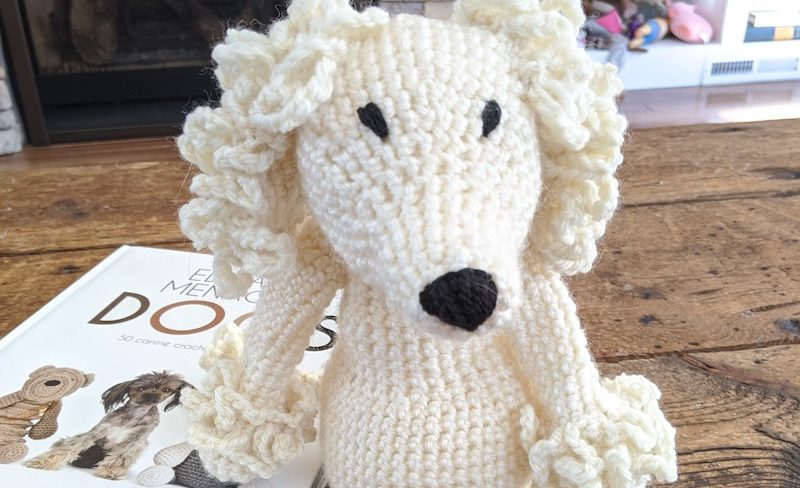 This is one of those things that I may regret saying out loud but I'm going for it anyway.
Next year, I intend to make all my Christmas gifts by hand.
Okay, I realize even before beginning that this might not come to be. After all, I have a really big family. Making gifts for absolutely everyone is a huge undertaking. I know this because I did so once before and with somewhat mixed results.
It's a true and somewhat embarrassing story.
A Lofty Christmas Dream
Once upon a time, back in the 90s, I was driving through Vermont and spotted a billboard for a basket outlet. I love baskets, so I stopped to check it out and was inspired by the selection, quality, and prices. SO inspired that I made up my mind, then and there – I would fill those beautiful baskets with homemade goodies for everyone on my Christmas list! Kitchen mixes, I decided, would be the perfect way to go!
Now, look, you have to give me an A for effort. I did, indeed, fill all those baskets.
I made soup mix, cocoa mix, brownie mix, cookie mix, tea blends, and a whole bunch of other stuff. For weeks on end, my kitchen was a gift-making factory. I artfully packaged each item with love and care. Some of the goodies went into jars, but most were placed in plastic bags that I tied with pretty ribbons. Too many jars would have cost a fortune in postage.
When the baskets were filled, I placed each one in a big plastic bag, tied with even more lovely ribbons. Then I packed them into boxes, wrote out the addresses, and carried them to the post office in batches. I mailed the ones to the west coast relatives first, because I figured those would take longer to ship.
A Rather Unexpected Delivery
The first box arrived at my sister's house a few days after I mailed it. She called to say it had arrived and how thoughtful I was to go to all the trouble of actually making gifts.  And then, after a long pause, she said, "So, Marie. Have you mailed all of them?"
Yes, I informed her. I'd sent out the last one only that morning. Something in her voice told me that I needed to ask the next question…
"Why? What's wrong with them?"
A long pause.
"Well…they kind of exploded."
Seriously. I'm not making this up.
After all that work, about 70 percent of my baskets "exploded" – all those that had shipped by air. Airfreight isn't pressurized, so all of those powdery mixes went "poof" sometime after takeoff, ruining all that hard work.
If at First You Don't Succeed…Crochet a Stuffed Animal!
It's a pretty funny story now. My family still teases me about Marie's Exploding Christmas and I join in. But it was so disappointing at the time!
Still, I've decided to give it another shot. I don't honestly know if I'll be able to make gifts for everybody, but that's my intention. They say if you want to go to the moon, you should aim for the stars. (Translation: Always aim high!) And if I do something every month, I really do think I can make it. And to start, I thought why not some crocheted stuffed animals?
I started out by making some crocheted stuffed animals from a book found in the Edward's Menagerie collection by Kerry Lord, Dogs: 50 Canine Crochet Patterns.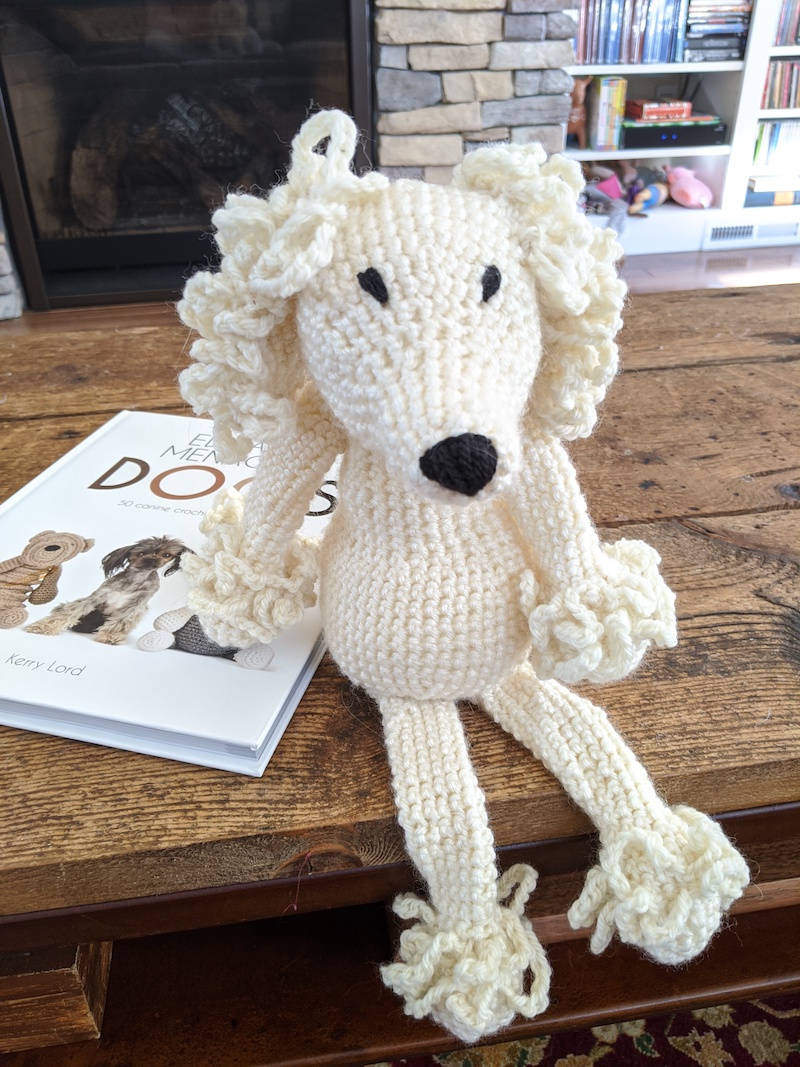 Isn't she adorable?
I haven't crocheted since I was a little girl, so I was a little worried that this might be beyond me. But the instructions were fairly clear, and with help from a couple of YouTube videos, I was able to figure it out. The legs are kind of twisty and I can't figure out why (if you know, send me an email!) but she's still super cute.
The First Craft: A Crocheted Stuffed Animal
The book calls for the use of pretty expensive yarn, but I used something more affordable that I found at the local craft store. (While I do believe in using the best yarn I can afford for projects, I need to make a lot of these and they will all be used and loved by children, so I need to be able to wash them.)
The basic pattern for the body, head, ear, limbs, and tails are the same for almost every dog. What makes the difference for each breed are the color combinations, positioning of the ears, and any extra fur, whiskers, curls and such that you add later.
This dog, as you can clearly see, is a poodle. (Note the curly ears).
I would love to make six crocheted stuffed animals for all six of my granddarlings. That's the plan. (Looking for a slightly messier craft that the children in your life can help make? See my homemade slime recipe!) But this little darling is meant as a gift for my dear friend, Jeffrey Turner. Jeff, an author and illustrator, has a new children's book coming out soon, designed to teach shapes to little ones. The book is called My New Haircut and features, you guessed it, a poodle.
I thought it would be fun to make a poodle to commemorate the new book, and also to have Poodle reading one of Jeff's previous books that my grand darling adored, Who Broke the Vase.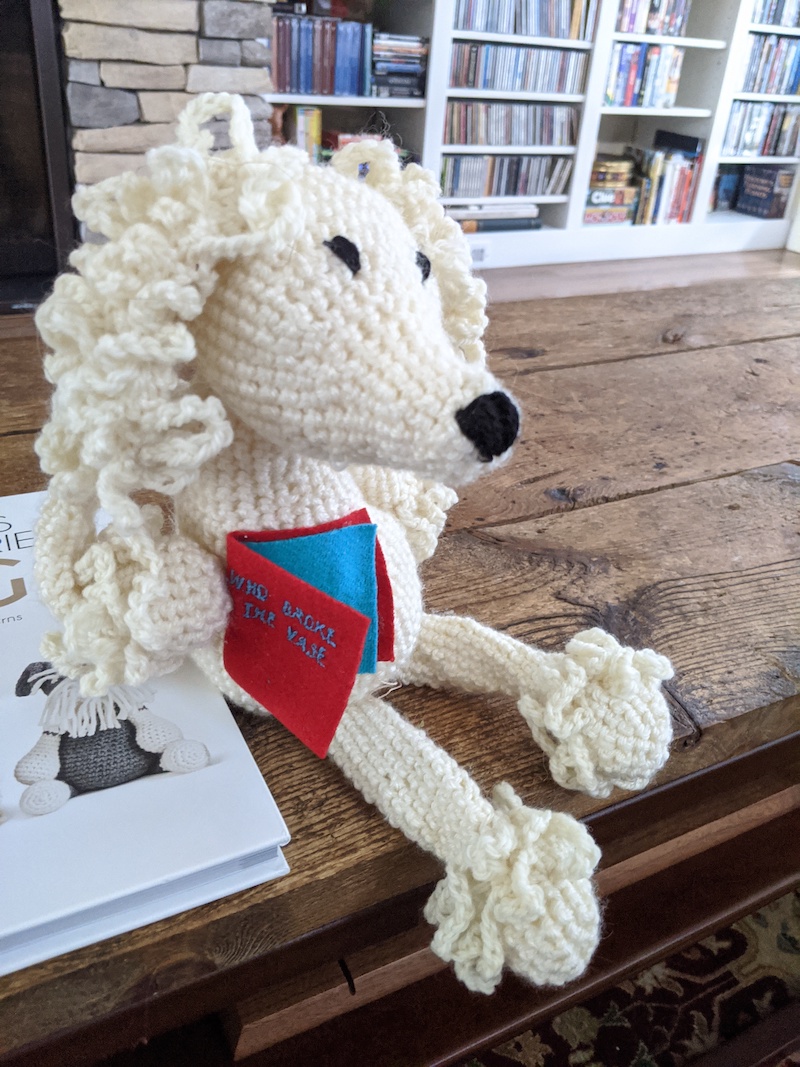 A Much More Promising Start!
Twisty legs and all, I am ridiculously pleased with how Poodle turned out. I'm mailing her off to Jeff tomorrow. I only wish I could be there to see his face when he opens the package! I know he'll appreciate all the effort, love, and thought that went into making her. (That, my fierce friends, is the real pleasure in creating handmade gifts.)
If you crochet, or used to crochet, or would like to learn to crochet, the projects in Dogs: 50 Canine Crochet Patterns, might be right up your alley. I had so much fun making Poodle!
Now that I've made one, I feel like making six more crocheted stuffed animals for the granddarlings should be a piece of cake. Stay tuned, friends. We'll see if I'm right!