This post may contain affiliate links. Full disclosure policy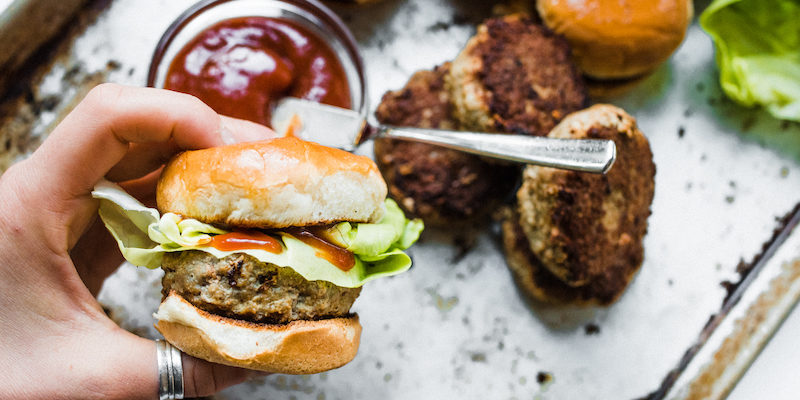 Some of you, after reading the title of this post are undoubtedly scratching your heads and saying, "Tailgate? And sage?"
I understand. The words "football" or "tailgate" don't often appear side-by-side with the likes of "sage".
But after years of hosting tailgates, game watch parties, and other football-oriented get-togethers, I've found that I'm totally over the store-bought cheese plates and delivery pizzas approach to football party fare. If you're going to have a party, have a party. Make it an occasion. A football game is as good an excuse as any for gathering with old or new friends.
I think got a pretty good start on my game day goodies last year with my Three Healthy Superbowl Recipes. But this season, I decided to opt for something a little heartier that includes a little more protein.
And rest assured, even with the herbal ingredients and that beautiful sage flavor undergirding it all, my Tailgate Turkey and Sage Sliders recipe still packs a punch of other classic favorite flavors, from garlic and pepper to good old sharp cheddar. The sage and generous amount of butter just helps to kick it up a notch.
My Turkey Sliders Recipe: The Perfect Crowd & Hostess Pleaser
When it comes to levels of enthusiasm for the sport, there's usually a lot of variety among the crowd at tailgates and game parties – from diehard fans and casual watchers, to those who are just there for the atmosphere (or the food), or purely out of duty. With the Superbowl coming up, there's also a lot more to watch besides the game! Some of my personal favorites include the commercials and halftime show. And if there's an extra TV in the house, a few fans might sneak off to watch one of my favorites, the classic Puppy Bowl. (Cuteness alert!)
Regardless of how dedicated the crowd may actually be to the sport, one thing that accompanies any football game is food. And lots of it. And, of course, that means that there's often a lot of work for the host or hostess as well. Still, hosting "an occasion" should be fun for the hostess too! That's what I love about this Turkey Sliders recipe. It's easy to prep the patties the night before, store them in the fridge, and simply grill 'em up once the game gets going.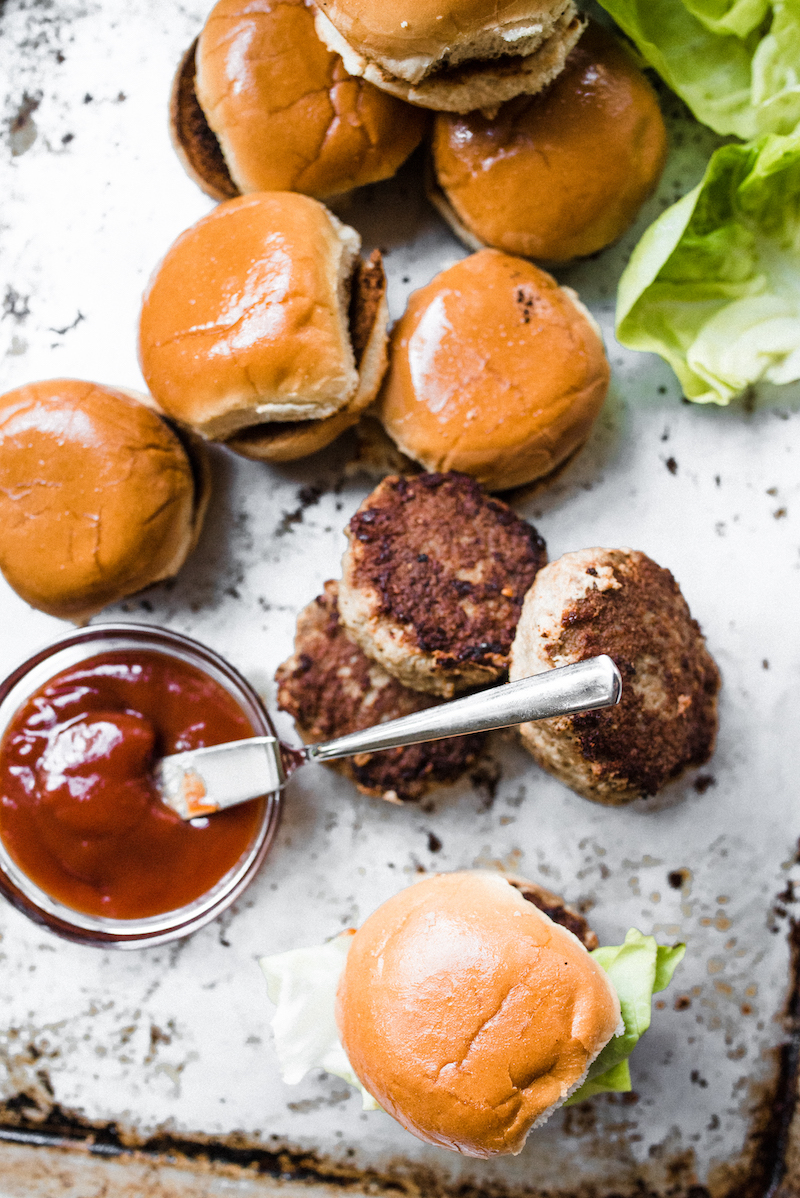 Still not easy enough for you? Let your guests do the work! Lay out the condiments – ketchup, mustard, onion, pickles, buns, lettuce, and anything else they might want to top their burgers with, and let them assemble their own sliders as they please.
Oh, and here's another tip – top off your Turkey Burgers with some of the Reluctant Entertainer's Bacon Guac. Absolutely to die for! (You can thank me later!)
Finally, without further ado, here's the recipe.
Print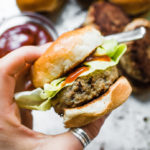 Tailgate Turkey Sage Sliders
---
Author:

Yield:

10

servings

1

x
Description
In a small mixing bowl, combine egg, salt, pepper, sage, and milk. Whisk to combine.
In a large mixing bowl, combine the ground turkey and egg mixture—use your hands or a large spoon to mix together until just combined.
Divide meat into 10 patties and place on parchment paper.
Cut the 3 tablespoons of butter into 10 even pats. Press each pat into the center of each patty, then, seal the top of the butter by reforming the meat around the pat.
Preheat a large skillet on medium-medium high heat.
Coat the bottom of the pan with a thin layer of canola oil (or a different high heat, cooking oil), then place each burger down onto the skillet—You will likely want to do this in two separate batches. Cook for about 3-4 minutes per side or until meat is browned and fully cooked.
To assemble, spread ketchup or any other desired condiments on each bun, then layer the burger, lettuce and any other desired toppings. Enjoy!
---
1 1/2

 lb ground turkey

1

 large egg

3/4 tsp

kosher salt

1Tbsp

dried sage

1 1/2 tsp

garlic powder

3/4 tsp

ground pepper

1

 tsp cold, whole milk

3

 Tbsp cold, salted butter

10

slices sharp cheddar cheese

10

slider rolls or buns (like ciabatta)
Ketchup to serve
Butter leaf or other lettuce
Canola oil
---
Keywords: turkey, turkey sliders, turkey burgers