This post may contain affiliate links. Full disclosure policy
THIS POST MAY CONTAIN REFERRAL LINKS. IF YOU CLICK THROUGH AND TAKE ACTION, I MAY BE COMPENSATED, AT NO ADDITIONAL COST TO YOU.
I've saved the best for last, a helpful list of gifts for those men in our life. If the saying is true that, "behind every good man there's a good woman" (and it is!), then we are grateful to have those good men to stand behind.
There aren't too many days left until Christmas. So if you're still looking for ideas right now I'll keep this short-and-sweet and get you right to my gift suggestions.
(Are you still looking for gifts for girlfriends, or grandchildren or book lovers? I've got you covered there too!)
Gifts For Men This Year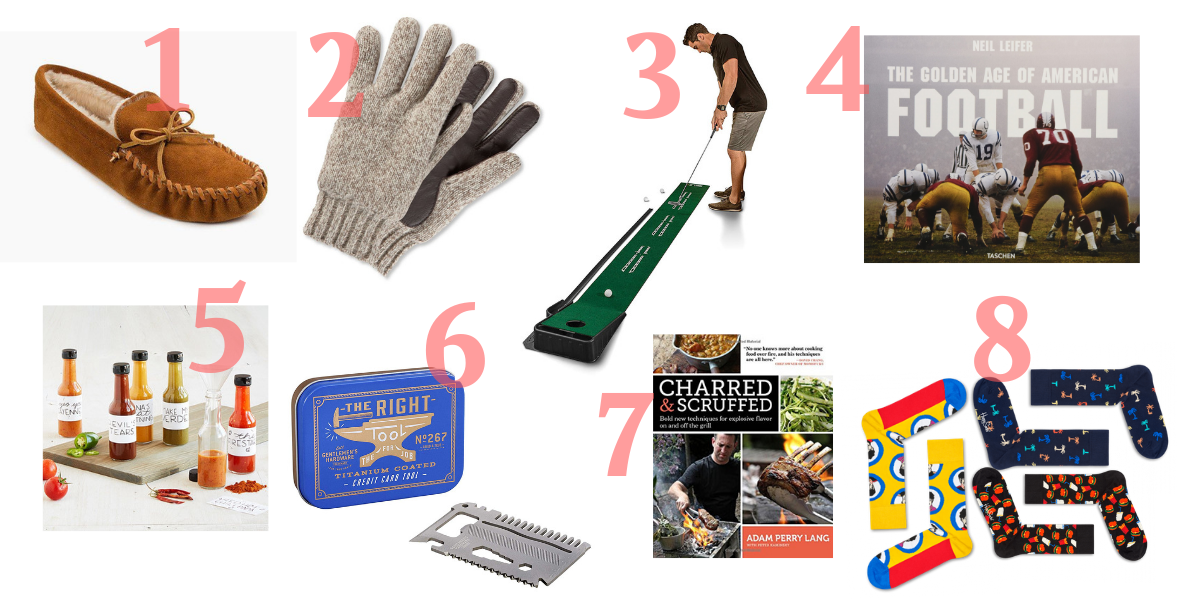 Out with the Old, in with the New: Sometimes, those men have a tendency to hold on to items longer than they should. (Ahem, but not The Chairman…nope…never him.) If his house shoes have holes, take this opportunity to buy a new pair of fuzzy slippers and he'll have warm toes for Christmas!
Fits Like a Glove: Gloves are easy to lose one of, or just easy to forget to stick in your pocket. But with a pair of gloves this comfortable and handsome he's more likely to remember.
Hole in One: For the office or for home, this indoor putting green will keep his golf game up to par during the winter months. And maybe the grand darlings will even learn to putt while they visit!
Sports Fan: It's a compromise: a book about football, but one pretty enough it can stay on the coffee table!
And a few more Christmas Gift Ideas for Men From the Second Row
Some Like it Hot: Some men just love their hot sauce, they'll put it on everything! If that sounds like your husband, buy him this hot sauce making kit and let him experiment in the kitchen and make his own blend.
Go Go Gadget: Did you marry Mr. Fix It? Is there nothing he can't tinker with and improve? Make sure he's always the handiest guy in the room with this multi-tool that fits into a credit card slot in his wallet!
Subtle Hints: His own cookbook, all about grilling. For those nights you don't feel like making dinner, give him a book full of ideas to perfect his grilling skills.
Fashion Statements: Fun and festive socks are in style. They are the perfect gift for the hard to buy for because they are practical and you can find something for everyone. Don't believe me: Beatles Yellow Submarine socks, hamburger socks and palm tree socks. They make whimsical but classy gifts for men!