This post may contain affiliate links. Full disclosure policy
I'm going to keep this one short and sweet because we all probably have a few things to do this week.
Every family has their own traditions when it come to Christmas morning. I love holding on to these and enjoying them year after year. (Like forcing my children to watch It's a Wonderful Life, much to their chagrin).
But I also love finding new traditions.
What I've learned since I've acquired three beautiful and advanced daughters-in-law is that new members of the family mean new traditions.
One of my daughters-in-law who lives in Oklahoma has a Christmas morning tradition of egg casserole. But not just any egg casserole, mind you. This one has a southwestern flair of green chiles speckled throughout the whole cheesey, gooey, decadent dish.
Let's just say I request this every time I'm in town. I forget about the calories and the Weight Watchers Freestyle points and just enjoy every. last. indulgent. bite.
Enjoy your Christmas traditions and don't forget to try new ones from time to time!
Here's the recipe for the best Christmas morning recipe in the world.
Print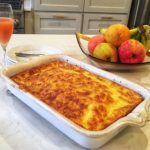 Meet the Green Chile Egg Puff, the Best Christmas Morning Recipe in the World
---
10 eggs, beaten
1 tablespoon butter
1/2 cup flour
1 teaspoon baking powder
1/2 teaspoon salt
16 ounces small curd cottage cheese
1/2 cup butter, melted
1/2 pound Monterey jack cheese, grated
1/2 pound Monterey Jack jalapeño cheese, grated
4 oz can of chopped green chiles
1 pound sausage, ham, or bacon, cooked (optional)
---
Instructions
Butter a 9 x 13 x 2 inch glass baking dish with 1 tablespoon butter.  Mix remaining ingredients together in large mixing bowl.  Pour in baking dish, then bake uncovered at 400 for 15 minutes. Reduce heat to 350 degrees and bake for another 30 minutes, until slightly browned.  Cut into squares. Top it off with salsa or guacamole and serve with mimosas!
Notes
This isn't the healthiest. I'll be honest.  Just remember, this is a dish for special occasions! It deserves to be special.