This post may contain affiliate links. Full disclosure policy
THIS POST MAY CONTAIN REFERRAL LINKS. IF YOU CLICK THROUGH AND TAKE ACTION, I MAY BE COMPENSATED, AT NO ADDITIONAL COST TO YOU.
Let's face it: grandchildren are the most fun to buy presents for, but can sometimes be the hardest. It's difficult to keep track of what kids these days are interested in, and after you learn, it can change faster than you can say "iPhone!"
But there's nothing quite as special as the look of joy on a child's face when Christmas morning comes and they open presents. (And the inevitable hug afterwards!).
When I shop for my grand-darlings, I try to think back to being a parent and remember the practical side of gifts, too. Here are a few ground rules:
SAFETY: Even if you're buying for an older child, be sensitive to lots of small parts that could be dangerous to younger kids.
SANITY: Keep parents in mind. Ask about things like an art set that might create large messes or a drum set that might affect the acoustics of home life. Your grandson might be the next Picasso or Ringo Starr but sometimes those messy or loud  gifts are best kept at grandma's house!
SMART: It's no secret that all of our grand-darlings are clearly advanced, which is why it's important to look for educational toys that help develop their young (and obviously brilliant) minds.
LOCAL: Shop local when you can. 'Nuff said.
BOOKS ARE SUPREME: The last rule for me is that each grandchild always gets a book, no matter what. (Not that I'm biased or anything because I'm an author, I just think kids and books go together like partridges and peartrees).
There are so many creative and special gifts, you're certain to find something that yours will enjoy! As I've mentioned before, gift giving is truly my love language.
Here are my best Christmas gift ideas for grandkids.
What To Buy Your Younger Grandkids This Year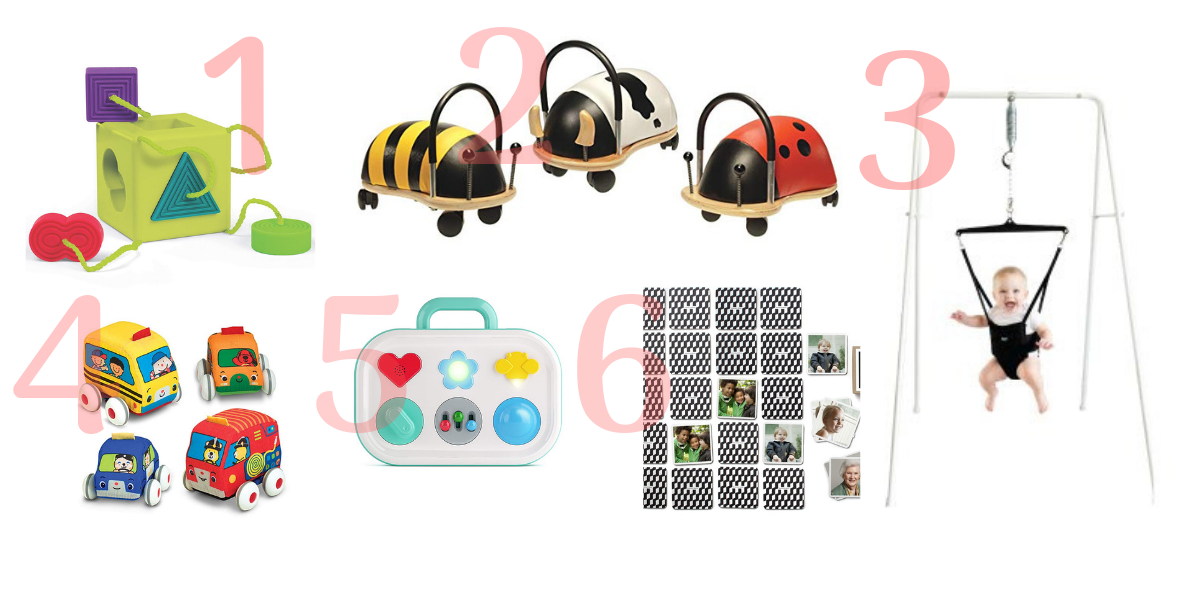 1 – (age 10m+) This toy teaches shapes, colors and matching! It's safe to chew on, and BONUS: no parts to drop under the table when out to dinner! Because what grammy wants to crawl around on a restaurant floor searching for runaway toys?
2 – (18m+) This wheeled toy goes forward, backward and sideways – your grand-darling can go anywhere and use for years to come. Safe for indoors or outdoors, comes in two sizes and seven adorable animals all manufactured in the USA by a family-owned company since 1973.
3 – (3m+) Your kids (or even you!) might have had a Jolly Jumper – the same company has been making them since 1948! In addition to the traditional model that attaches to a door frame, this model comes with a stand so it can be placed anywhere. Yes, it's a tad pricey. But I love this because after your grand-darling outgrows the jumper you can sew a cover and give them a customized fort to play in! And who doesn't love an excuse for a sewing project?
4 – (9m+) These stuffed cars and trucks have wooden wheels so they really zoom! For those practical grandmas out there, don't worry, the wooden base is detachable so you can wash them clean!
5 – (6m+) Kids love the lights and sounds of toys, but sometimes parents hate them! It may seem like this is a basic toy, but the sounds are more mellow and much less annoying. This sounds like a win-win for everybody.
6 – (24m+) I can't say enough about this one! A memory game you can customize with pictures of yourself and other family members! Not that they would ever forget who you are, but it's great for those cousins they don't get to see as much!
What To Buy The In-Between Grandkids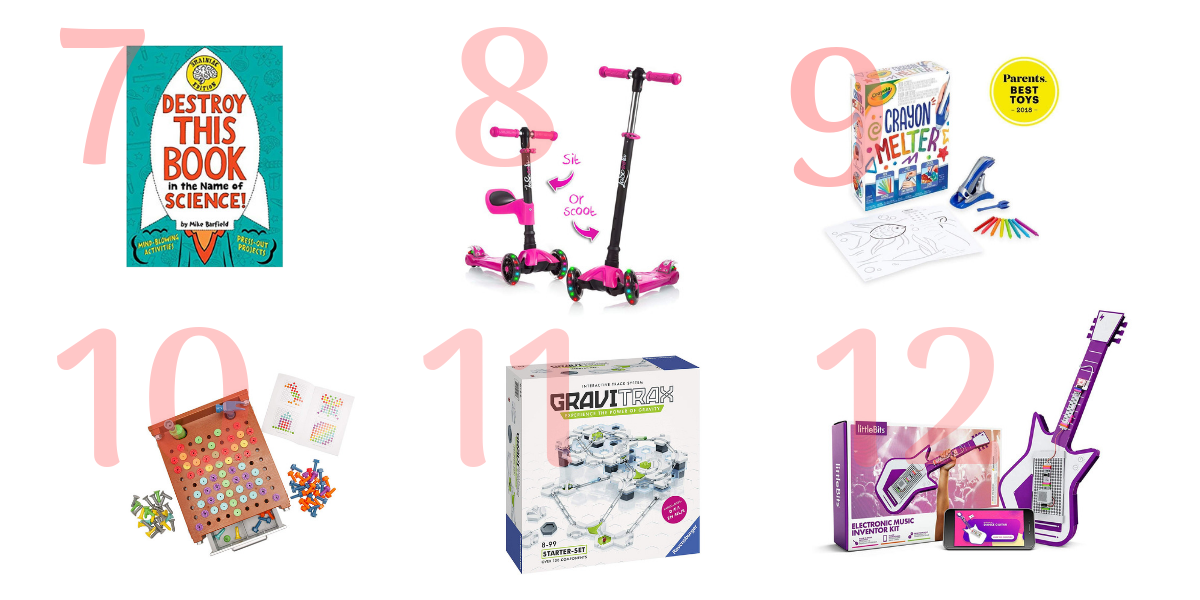 7 – (7-9y) Kids are always told what they can't destroy, so give them something they can destroy for once! Destroy This Book In the Name of Science fits the bill.
8 – (2y-14) Another gift that can be used for years, it starts out as seated toy and turns into a scooter! Comes in a handful of colors, with wheels that light up so your grand-darlings are safe while they're riding!
9 – (8y+) Great for your crafting partner-in-training! Functions much like a glue gun: you insert unwrapped crayons and melted dots of color come out. Kit includes a handful of crayons and paper, but once you have the melting device there's no end to the things you can decorate – pottery, glass…personally I think a birdhouse would be charming!
And remember, crafts don't have to be only at Christmas time! To see how I craft with my grand-darlings on a monthly basis, see my post about Grammy's Craft of the Month Club!
10 – (3y-6) Creative play meets construction with this workbench. The best of both worlds, teach them to start making things with their own hammer and drill – maybe this can even get those granddad's involved too!
11 – (8+) We built wooden marble tracks when we were young and now your grandkids can use Gravitrax! It's a STEM toy, which means it teaches Science, Technology, Engineering and Math – all the important stuff schools focus on today.
12 – (8+) Yep, another STEM toy! Kids can create their own electronics like a guitar or drums and then can use their creativity to play their instruments! It's so wonderful we can help our grandkids invent their own toys and learn to play them. Hopefully they pay us back by answering all our calls asking how to use our DVR or new smartphone! (not that I ever need any help like that).
What To Buy The Older Grandkids This Year
The older they get the harder they are buy for. Admittedly, though I have lots of grandma advice, my grand-darlings aren't at this stage yet so I'm not overflowing with experience yet. But I did raise three boys with successful Christmases each year, so there's that. At this age, most are happy to have gift cards or dollar bills, but I think with a little work you can get them something they will appreciate that's a little more personal.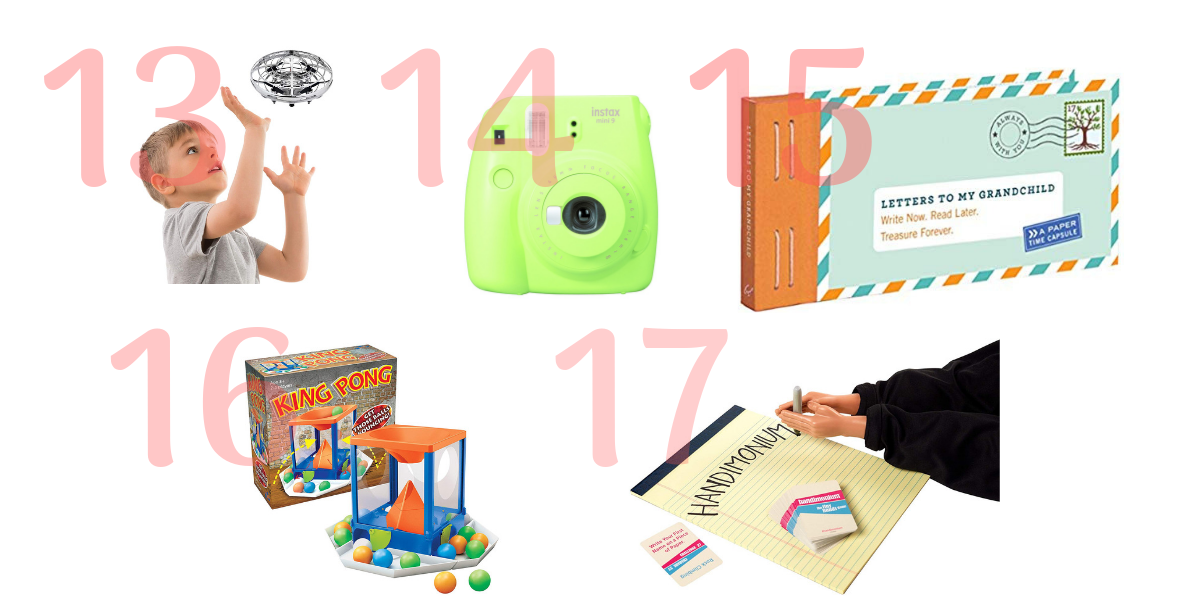 13 – This should be fun for the whole family! A drone that you fly with your own hand movements! See which family member can fly it best (my bet's on grandma!)
14 – You know how much the kids like taking pictures and being in pictures! Let them take that skill off their phone and use a camera that prints their work on the spot! (Then teach them all about polaroids!) Comes in a handful of fun colors, there's one to fit every personality!
15 – No matter how much we want to believe we'll be around forever and for all the big moments, reality gently reminds us otherwise. But, use this book and write your grand-darling messages for their future big moments! I'm thinking: their wedding, the birth of their first child or grandchild, etc. How much would they treasure reading your words in your handwriting for those special moments? Ah, so sweet!
16 – The holidays are a joy and a blessing, but I'm sure we can all remember at least one that had a moment or two of family-fueled tension. Come prepared with a game for all ages that will get everyone smiling again! Big family, no problem, there's no limit to the number of players you can have on a team. I love this one since you have to get up and get your blood flowing!
17 – One more family game, and this one is oh-so-silly! Make some family memories while everyone giggles and laughs! You must try to complete challenges with a set of tiny, plastic hands! What will they think of next?
That's all for now, fierce friends! I hope you all enjoy shopping for the grands in your life!