This post may contain affiliate links. Full disclosure policy
Oh books, how we love thee.
Let me count the ways!
It goes without saying, but since I'm an author and all, books are one of my first loves.
Write them.
Read them.
Love them.
Share them.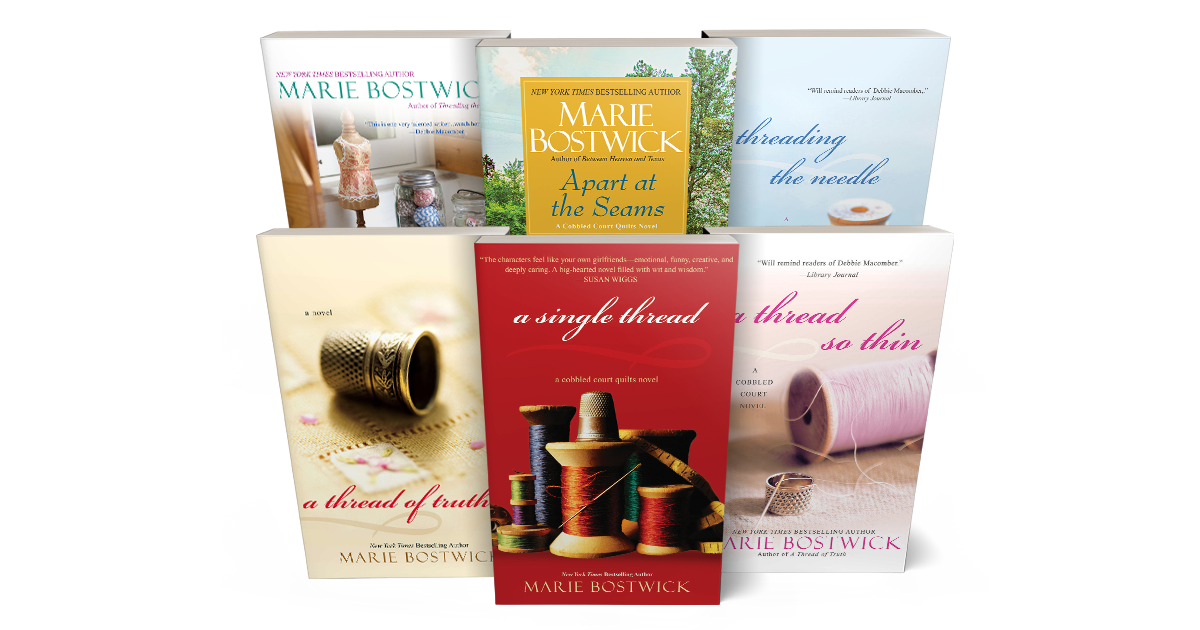 On a related note, gifting a friend my best-selling Cobbled Court Series isn't the worst idea in the world. Or even just starting them with the first book!
It's always a great idea to buy your loved ones books for Christmas. Remember that books are never returned for being the wrong size or color, plus they are proven by science to help calm heart rates, decrease muscle tension, preserve your mental sharpness, and make you nicer! (Not that any of you need to be nicer.)
But for this post, I wanted to take a look at some fun options for the book lovers in our lives beyond books.
You Can Never Have Too Many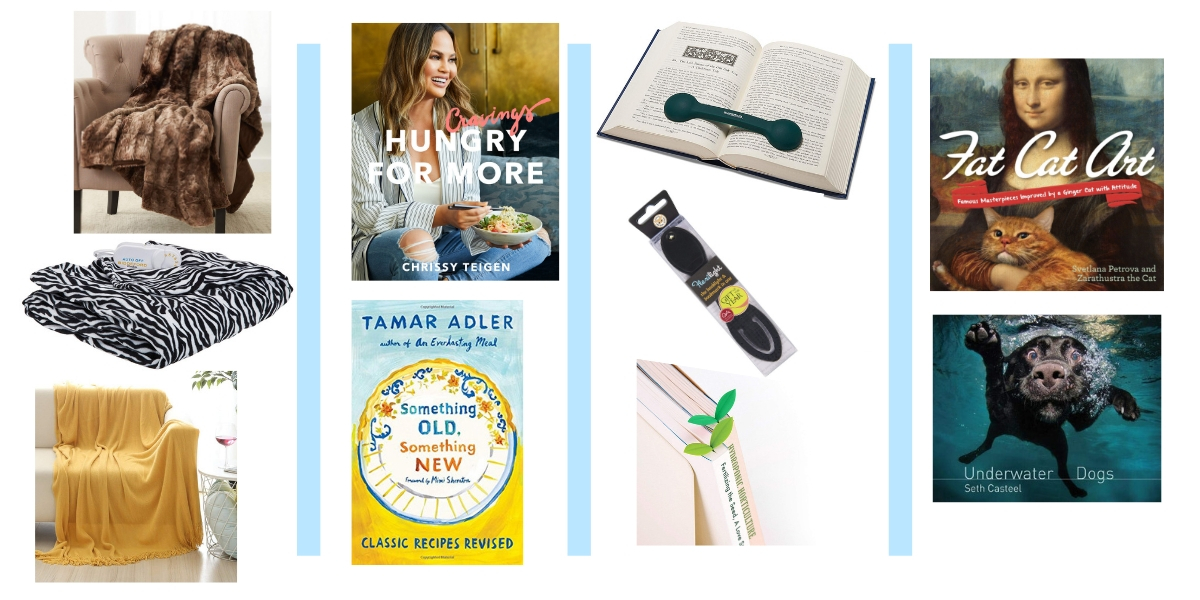 For Those Who Like to Snuggle: All book lovers need a good throw blanket: whether faux fur to snuggle in, lighter weight for travel or a fierce print (and heated!) it's a must to have a blanket around to set the stage for a good book. Unless you are experiencing hot flashes like I am. Then a heated blanket might be more like the nightmare before Christmas.
For Those Who Love to Accessorize: Unless you've gone the e-reader route, bookmarks are a must! And you can never have too many! Like that sock that disappears in the dryer, bookmarks have a way of walking off and then showing up again weeks later. These are silicone so they won't fall out of pages and they look like little plants – how cute! Here is one that is a combo bookmark and book light, and while this one can function as a bookmark, it's mostly a silicone weight to weigh your book down for those times when you've also just painted your nails!
I'll also remind you that one of my most popular posts ever was a darling DIY bookmark tutorial that would make a lovely homemade present.
For Those Who Love to Cook: The way I see it, cookbooks are the perfect combination of pretty pictures, gorgeous covers, and delicious inspiration. If you're looking for a new one to add to your collection, you might like this eclectic one written by Chrissy Teigen (married to John Legend. If you haven't heard his music pause now and do that!) I gifted this to my daughter in love for her birthday and she is loving it. Or check out this Something Old, Something New, a book of classic recipes updated for cooking in the modern world!
Just For the Heck of It: If you're looking for something lighthearted and to spark a laugh, check out this book of cats inserted into classic art! Also, this book of real photography of dogs swimming underwater will make you giggle. Even if you are scared of dogs.
Now, let's turn the page (pun intended) to some gift ideas that are a bit more unique.
For the Love of Reading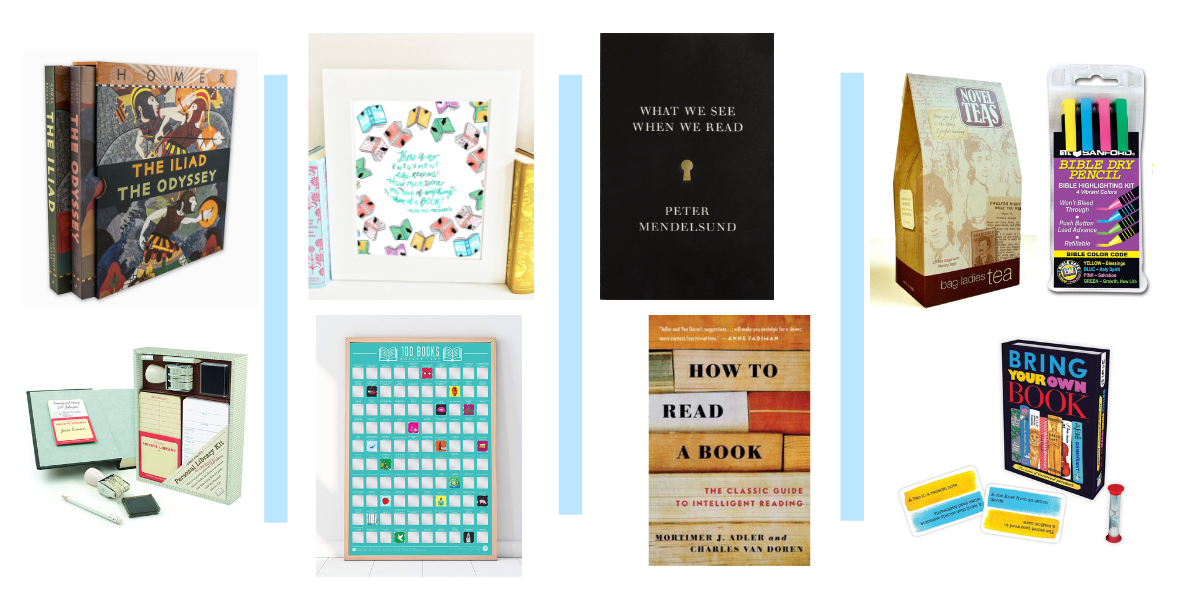 For Those Who Miss Library Cards: Look at this kit where you create personal library check-out cards! Surely you remember the days of writing your name on the card. Let's bring those days back. While this gift is a bit tongue-in-cheek I love the idea of labelling my books to make sure I get them back.
For Those Who Love to Write in Books: Do you like to write or highlight in your book, but the bleed-through onto other pages makes you crazy (or is it just me)? Bible highlighters to the rescue! Originally created for use in thin pages of a Bible, they can be used on any kind of book without fear of color bleeding through. A small but satisfying change, if you ask me.
For Those Who Love to Drink and Read: Know someone who enjoys a cup of tea with their book? They'll enjoy this tea even more, with a quote from a famous female author on each teabag. Brilliant!
For Those Who Need a Plan: A bucket list poster, for a lifetime of reading. We can all learn from reading the classic works – how about 100 of them? A poster to scratch off of a square each time you conquer a classic of literature!
For The Over-Achievers: Two books about reading! This one from Peter Mendelsund, an in-depth look at how we visualize the images in the books we read, complete with beautiful illustrations. And a classic from the 1940s on understanding the various levels of reading and how to read for a truly in-depth understanding. (I'm reading this now and finding it very helpful!)
For the Artsy Readers: Etsy is a wonderful place to find custom items and support those artisans who make beautiful items! One such artist called Carrot Top Papershop makes beautiful prints, bookmarks and other items inspired by Jane Austen or Anne of Green Gables, among other masterpieces. You know how I love supporting local, and this lady is local to my son and daughter-in-love, so I think that counts!
For the Readers Who Judge A Book by its Cover: How about a beautiful, illustrated version of The Iliad and The Odyssey to grace a side table in your home! I bought this for myself recently (one of my goals this year is to shore up the gaps in my education. Homer is one of the gaps). It's actually a retelling of this classic tale, written in very clear and accessible but vivid language. I'm actually thinking I might read it aloud to some of my older grand darlings. It's a simply exquisite edition with beautiful, engaging artwork.
Spice Up Your Book Club: Change up the format of your next book club (or start a new one) and play this game! You each bring a book, someone gives a prompt (think: the secret password to a magical cave!) Then you each get a couple of minutes to search your book for the best line and read aloud. What a hoot!
Merry Shopping!
Christmas gets closer every day. If you're still looking for gifts for your girlfriends, or gifts for your grandchildren don't stress, I already covered both with a host of ideas!