This post may contain affiliate links. Full disclosure policy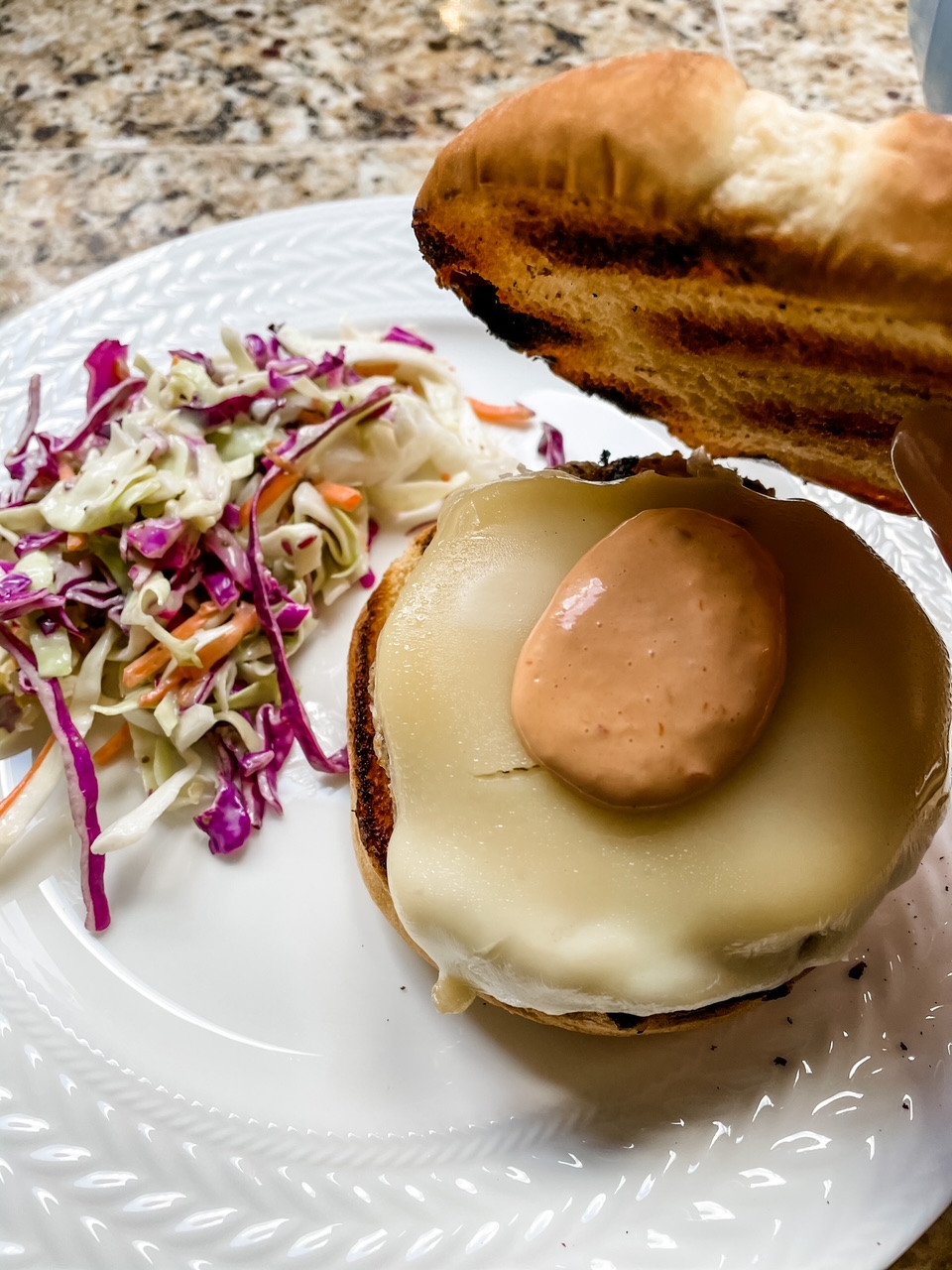 Kick your grilling game up a notch with my Chicken Rueben Burgers! Classic rueben spices, swiss cheese, thousand island dressing, and sauerkraut make for a deliciously different burger. So good!
Upping Your Game with Grilled Rueben Burgers!
The weather has been a little indecisive this month. But when the temperatures top 70, even for a day, I break out the grill.
Eating and cooking al fresco is one of my very favorite things. So if you visit us anytime between May and September, chances are good that I'll be making dinner on the grill – even if I have to wear a parka while I'm doing it.
I cook all kinds of meals on the grill – lots of salmon, fish, ribs, and veggies. And of course, a LOT of burgers. I do love a classic cheeseburger with all the usual trimmings. But I also love getting creative and turning regular burgers into gourmet burgers.
That's how I got the idea to turn the flavors and ingredients in a classic rueben sandwich into a burger. Chicken Rueben Burgers the mouth-watering result of that experiment.
It Starts with the Spices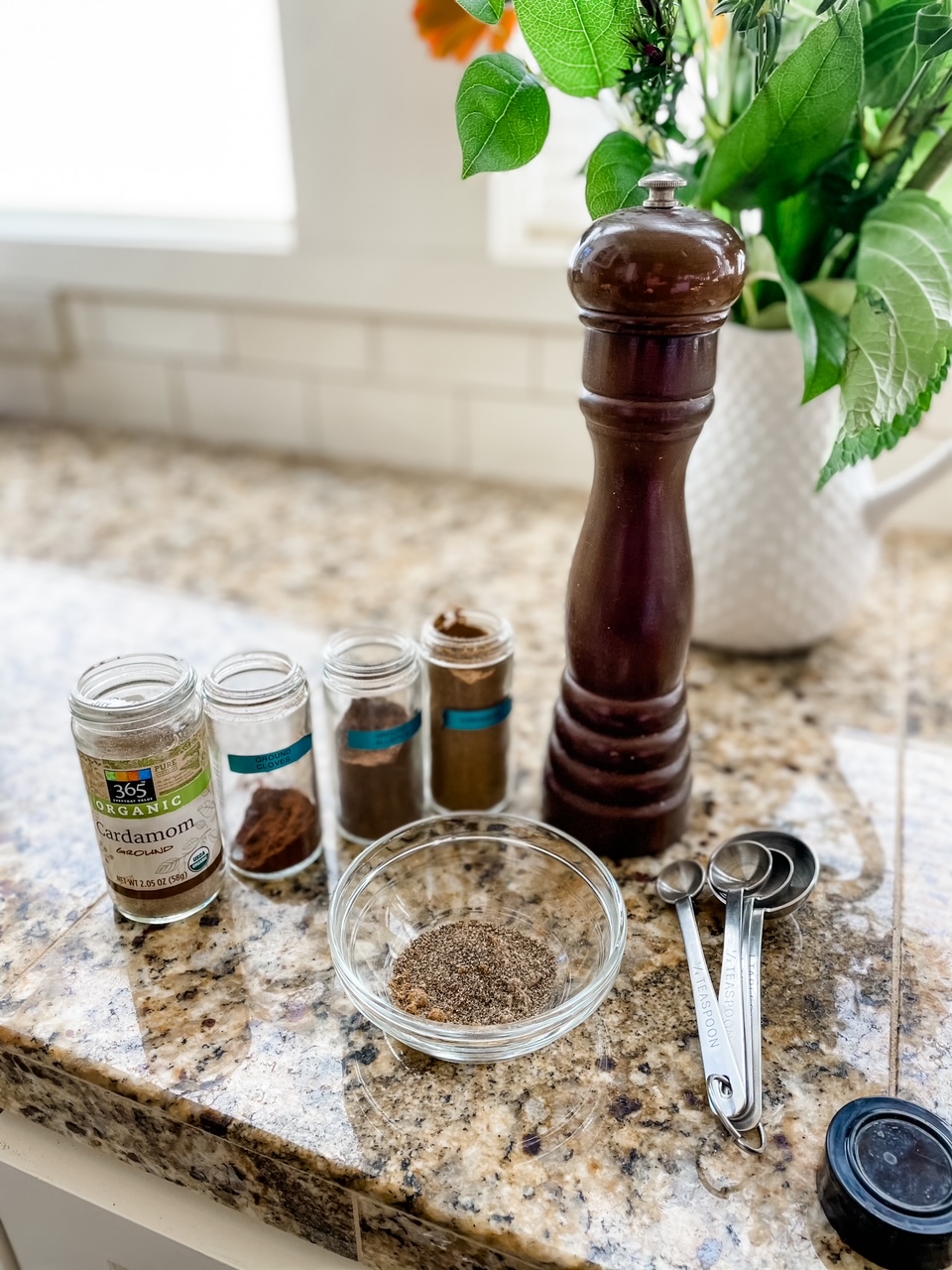 As you probably know, ruebens are corned beef sandwiches on grilled bread, topped with swiss cheese, sauerkraut, and thousand island dressing.And if you've ever had a rueben sandwich, you know what a delicious combination of flavors that is!
If you wanted to keep things super simple, you could just toss those toppings onto your burger and call it a day. It would still be very tasty.
But adding a spices blend based on the flavors of corned beef gives it a more authentic rueben flavor.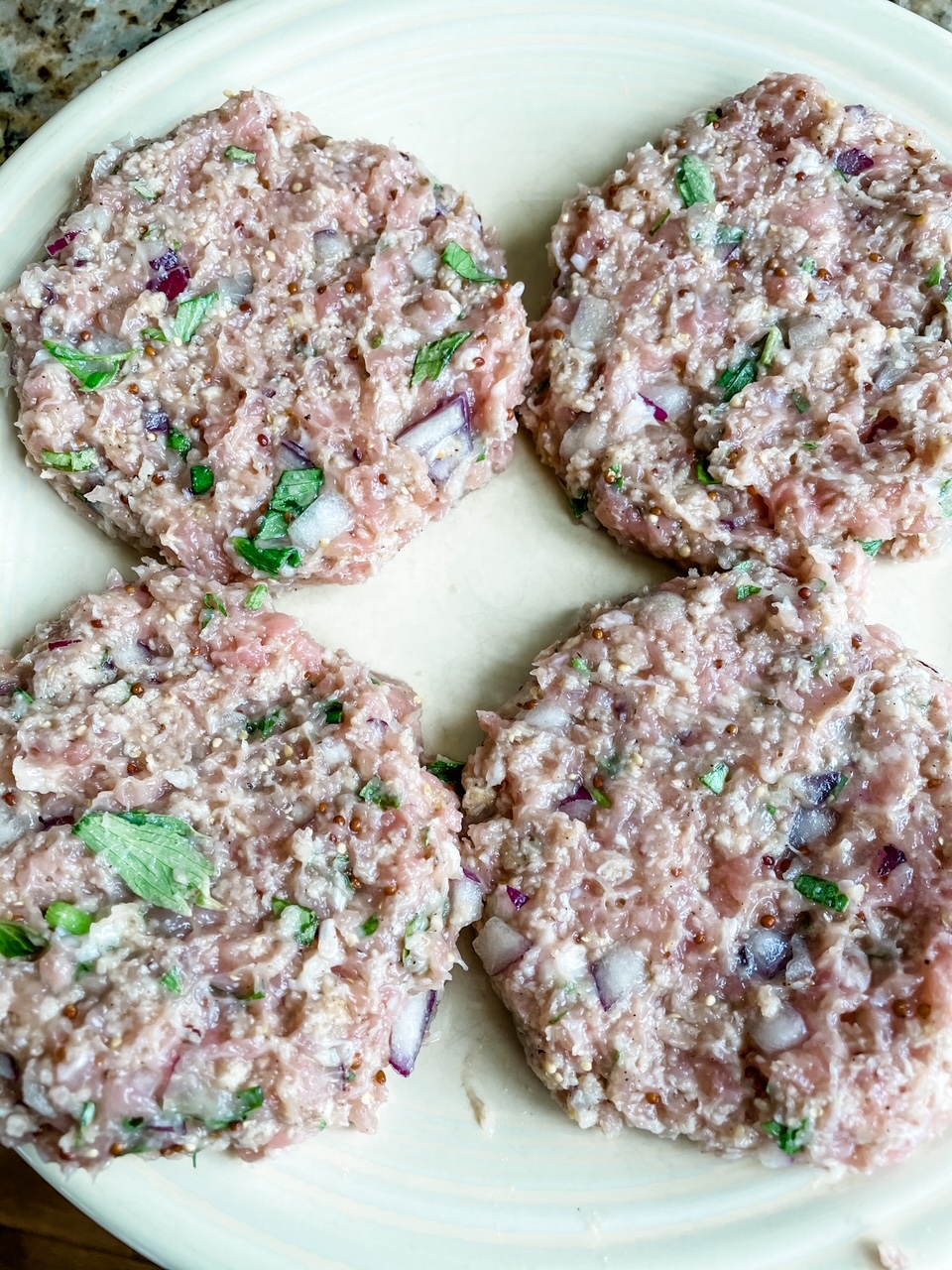 I'm always looking for ways to make meals a little healthier. That's why I decided to make my Rueben Burgers with chicken instead of beef. However, ground chicken can be a little bland. Adding a spice blend of salt, pepper, cardamom, allspice, cloves, and coriander banishes the bland!
But if ground chicken isn't your thing, you can just use good old hamburger, or even ground turkey.
Tips for Better Chicken Rueben Burgers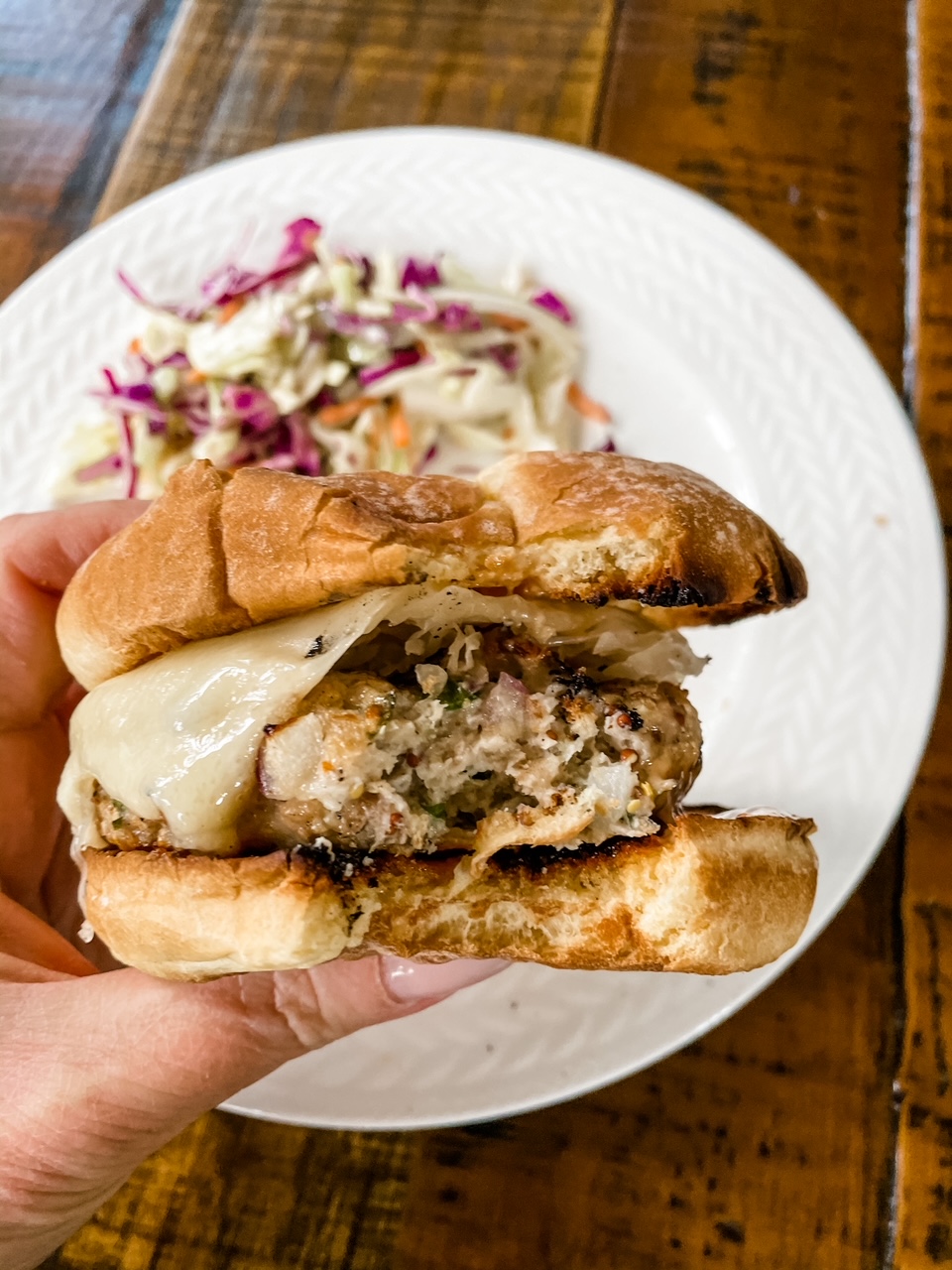 In addition to my corned beef-style spice blend, I added some finely chopped red onion and parsley, plus a little Dijon mustard. If you're using ground chicken, the mixture can end up being a little wet.
If that's the case, adding a quarter to half cup of bread crumbs will make the burgers easier to shape. Try it without the crumbs first and add a couple of tablespoons at a time if needed.
Using a good quality thousand island dressing is essential. If you have the time, you might even try making your own. It's really easy and tastes so much better than bottled. And making your own dressing is a lot cheaper too. Kitchentreaty.com has an easy recipe for Thousand Island dressing that I really like.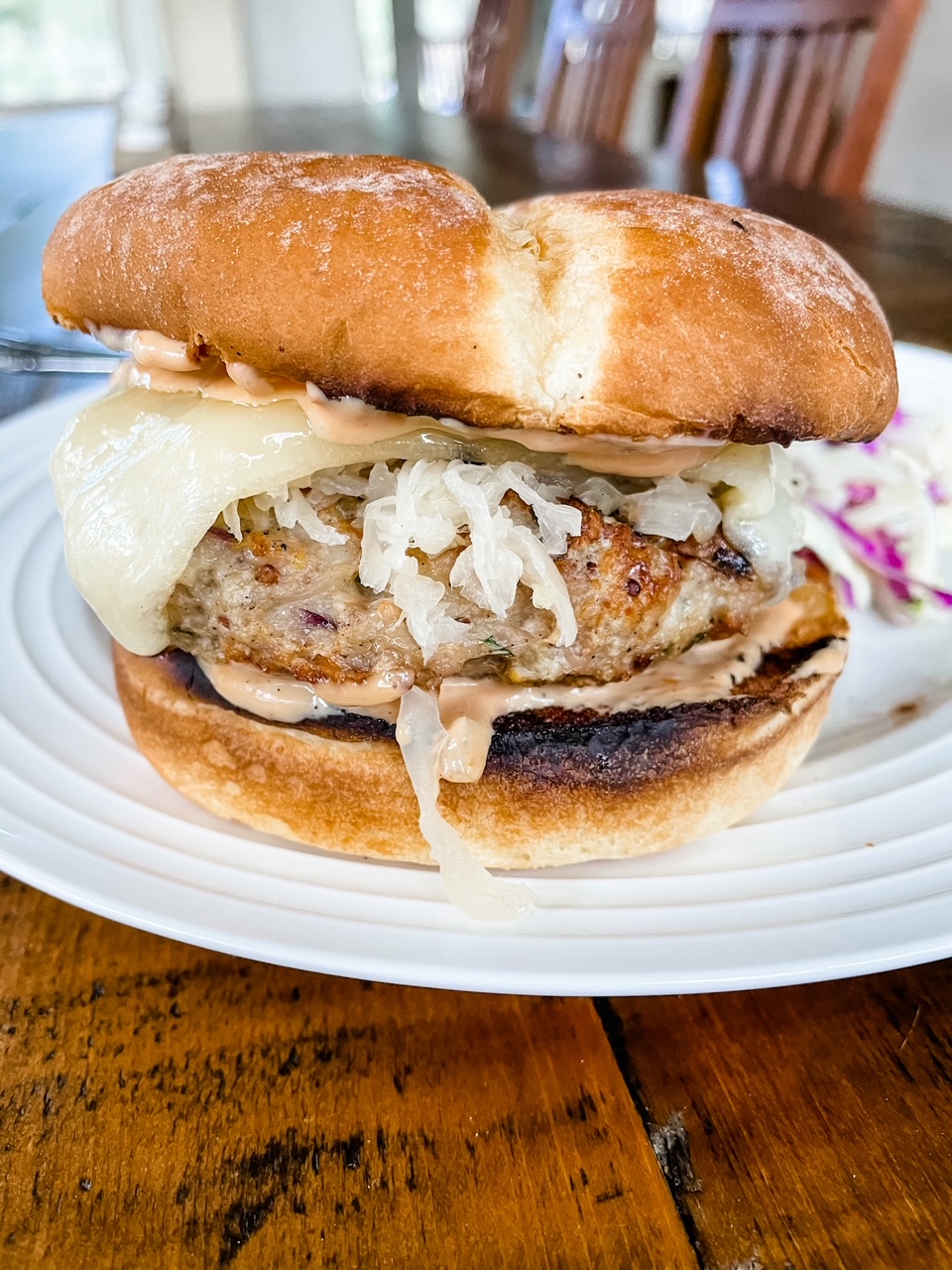 Also, brushing a little butter or oil on your hamburger buns and then grilling gives them texture and extra flavor. And be generous with the sauerkraut! Pile it on as high as you want, but do make to drain it first. Otherwise, you can end up with a soggy burger.
Bring on the Burgers!
Now that weather is warming up, it's a great time to break out the grill and bring on the burgers! And Grilled Rueben Burgers are a terrific way to celebrate the start of the grilling season.
Looking for more healthy burger ideas? Be sure to check out my recipe for Best Chicken Terriyaki Burgers or Tailgate Turkey Sliders!
Print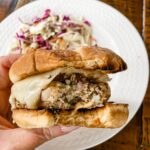 Chicken Rueben Burgers
---
Author:

Yield:

4

burgers

1

x
Rueben Spice Blend
2 tsp

. salt

½ tsp

. fresh ground pepper

½ tsp

. ground coriander

½ tsp

. ground allspice

¼ tsp

ground cloves

¼ tsp

ground cardamom
Burgers
1

lb ground chicken (can substitute beef or turkey)

1.5 tsp

Rueben Spice Blend

2 tsp

coarse ground Dijon mustard

¼ cup

fine chopped red onion

2

T chopped fresh parsley
Bread crumbs (optional, use ¼ to ½ cup if need to get burgers to hold together

4

hamburger buns

4

slices good quality Swiss cheese
Thousand Island Dressing
Sauerkraut, drained
---
Instructions
Mix ingredients for Reuben Spice Blend together in a small bowl and set aside.
In a medium bowl, add ground chicken, spice blend, mustard, onions, and parsley. Mix together with hands to distribute ingredients evenly.
Shape chicken mixture into four patties. If the burger mixture is too wet to shape, add bread crumbs as needed to get mixture to hold together.
Cook chicken patties on hot, preheated grill for about 3 to 5 minutes. Grill hamburger buns at the same time. Remove buns with just toasted and set aside.
Flip patties and grill until firm and cooked. Top sauerkraut and a slice of cheese. Leave burger on grill another minute or two, to melt the cheese.
Spread thousand Island dressing on hamburger buns, then add cooked burgers. Serve immediately.