This post may contain affiliate links. Full disclosure policy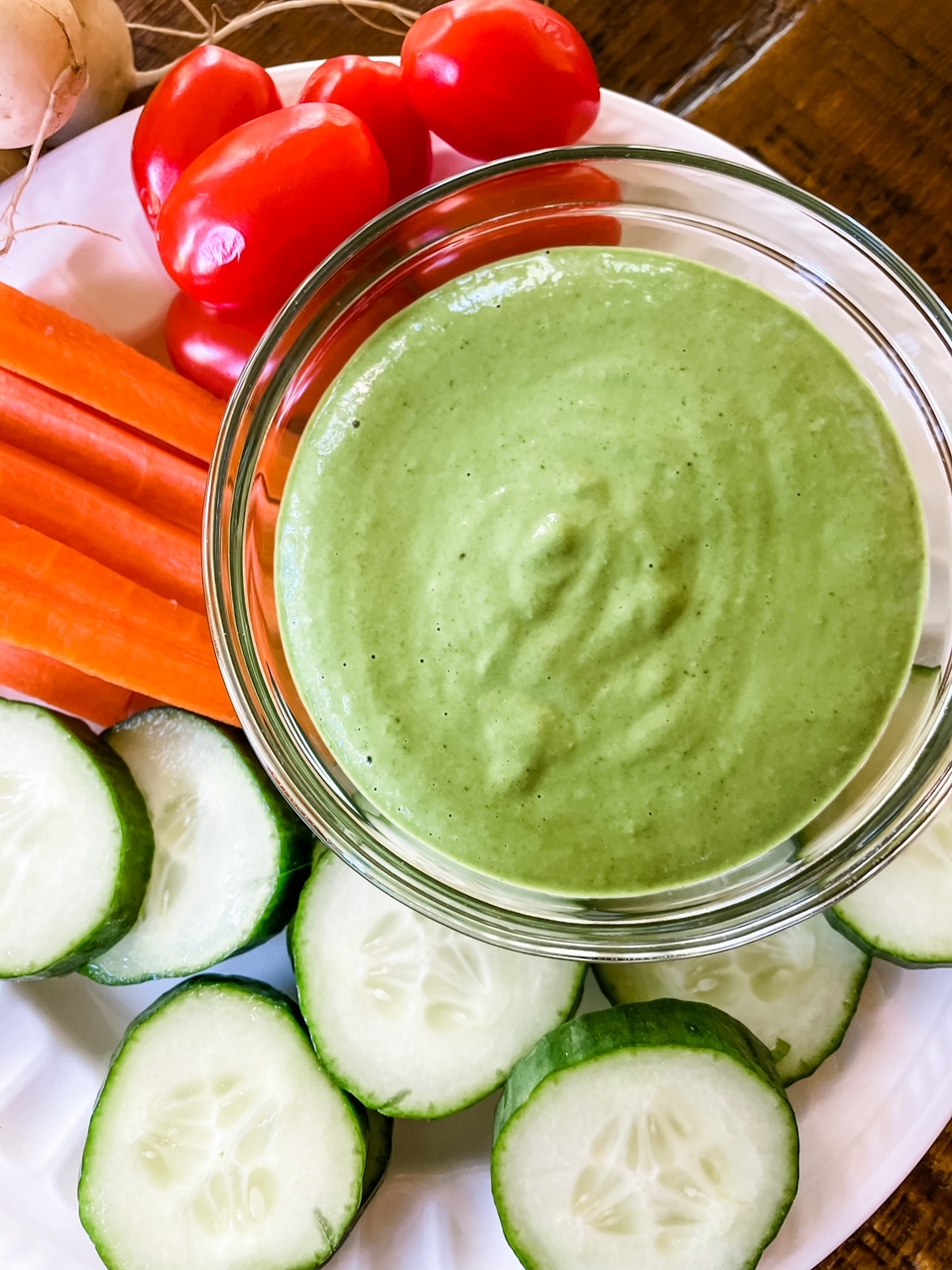 Making Homemade Green Goddess Salad Dressing at home is easier than you think and tastes so much better than bottled. Packed with fresh herbs and a garden's delight of flavors, it's my go-to dressing for the summer salad season!
Green Goddess Salad Dressing is Making a Comeback
Green Goddess salad dressing has been around at least since the 1920s but some say it originated with a chef to Louis XIII.
All that was before my time, but I do remember that it was popular when I kid, in the 1970s. Then it seemed to disappear for a while. Lately, I've noticed green goddess dressing is making a comeback to grocery store shelves and restaurant menus so I decided to try making my own.
Boy, am I glad I did! My homemade Green Goddess Salad Dressing tastes miles better than the bottled kind. I made and photographed this recipe in the morning and it was so delish that I ended up eating crudities and salad dressing for breakfast. Once I tasted it, I just had to have more!
What is in my Homemade Green Goddess Salad Dressing?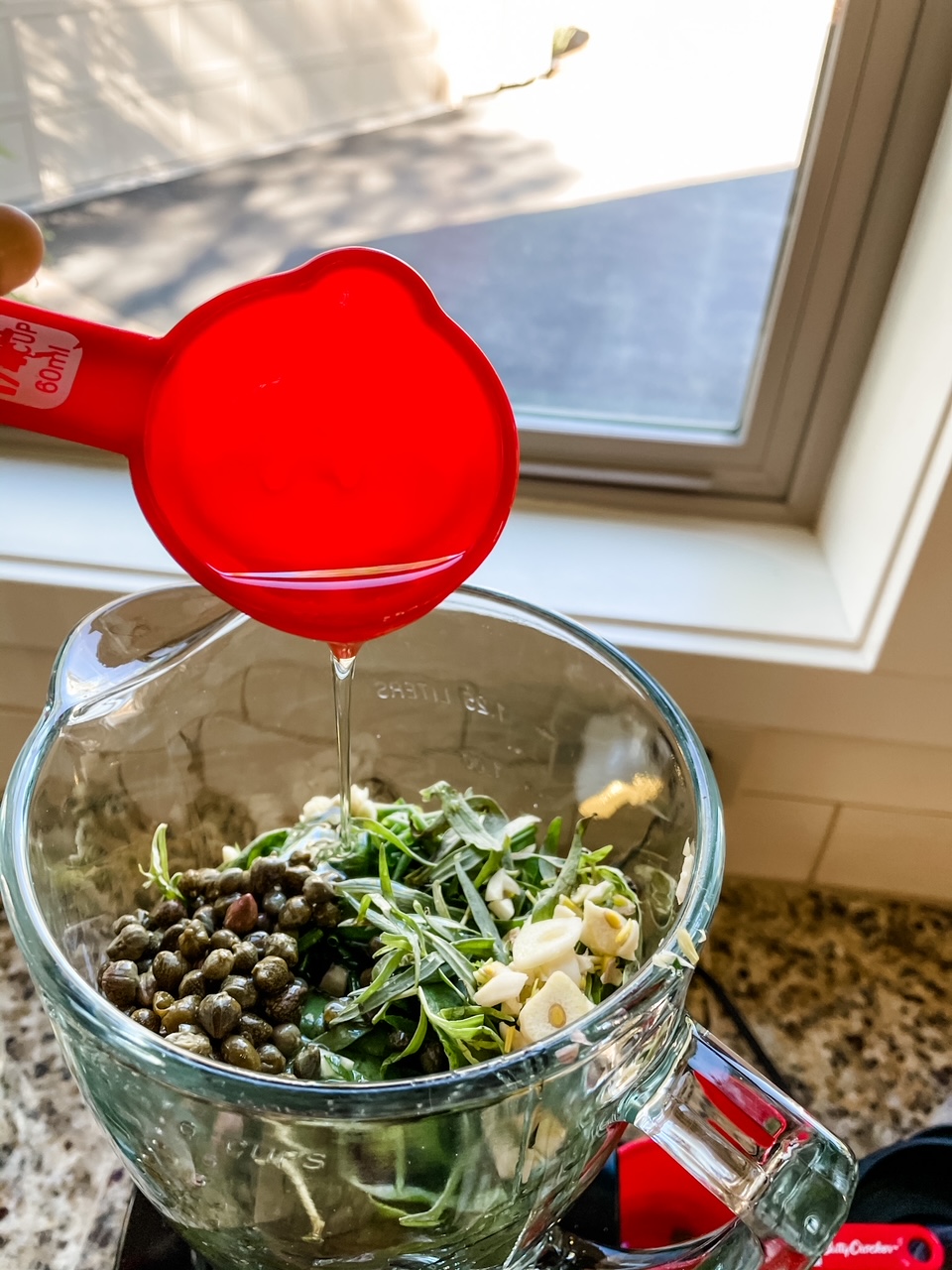 There have been a lot of variations on green goddess dressing over the years but the traditional preparation includes herbs, mayonnaise, oil, and anchovies.
Yep. You read that right. Anchovies.
Honestly, I'm not a big fan of anchovies. And I know I am not the only one.
Since the real purpose of the anchovies in this dressing is to add a salty flavor, I decided to substitute capers in my recipe. Or, as we call them in our family – salt bombs.
My Homemade Green Goddess Salad Dressing also includes….
Parsley
Chard
Chives
Tarragon
Vinegar
Lemon juice
Garlic
Light mayonnaise
Grapeseed oil
Salt and Pepper
Variation and Substitution
When it comes to the greens, there's a lot of room for personal taste and experimentation. I used chard but you could also use kale, spinach, watercress, or just about any green. Just make sure you use the leaves and not the tough stems.
For me, tarragon is a must in any homemade green goddess dressing but mixing and matching your herbs is fine! Basil, chervil, or cilantro could be great here. Just stay away from herbs that have thicker leaves, woody stems, or very strong flavors.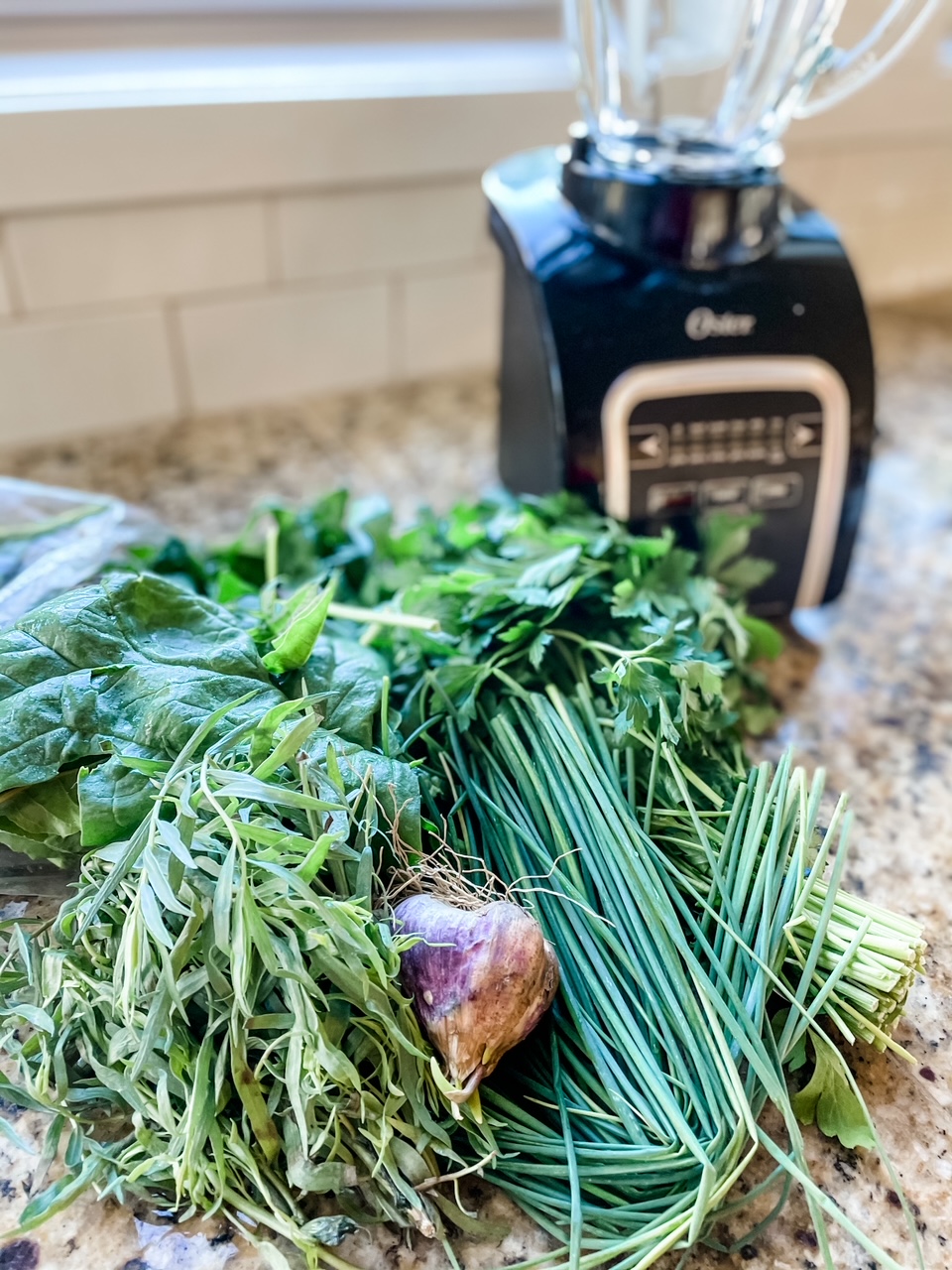 I used grapeseed oil for my recipe but canola oil would work too. I would advise against using olive oil. Normally, it's my go-to oil but has a distinct flavor that would compete with the herbs.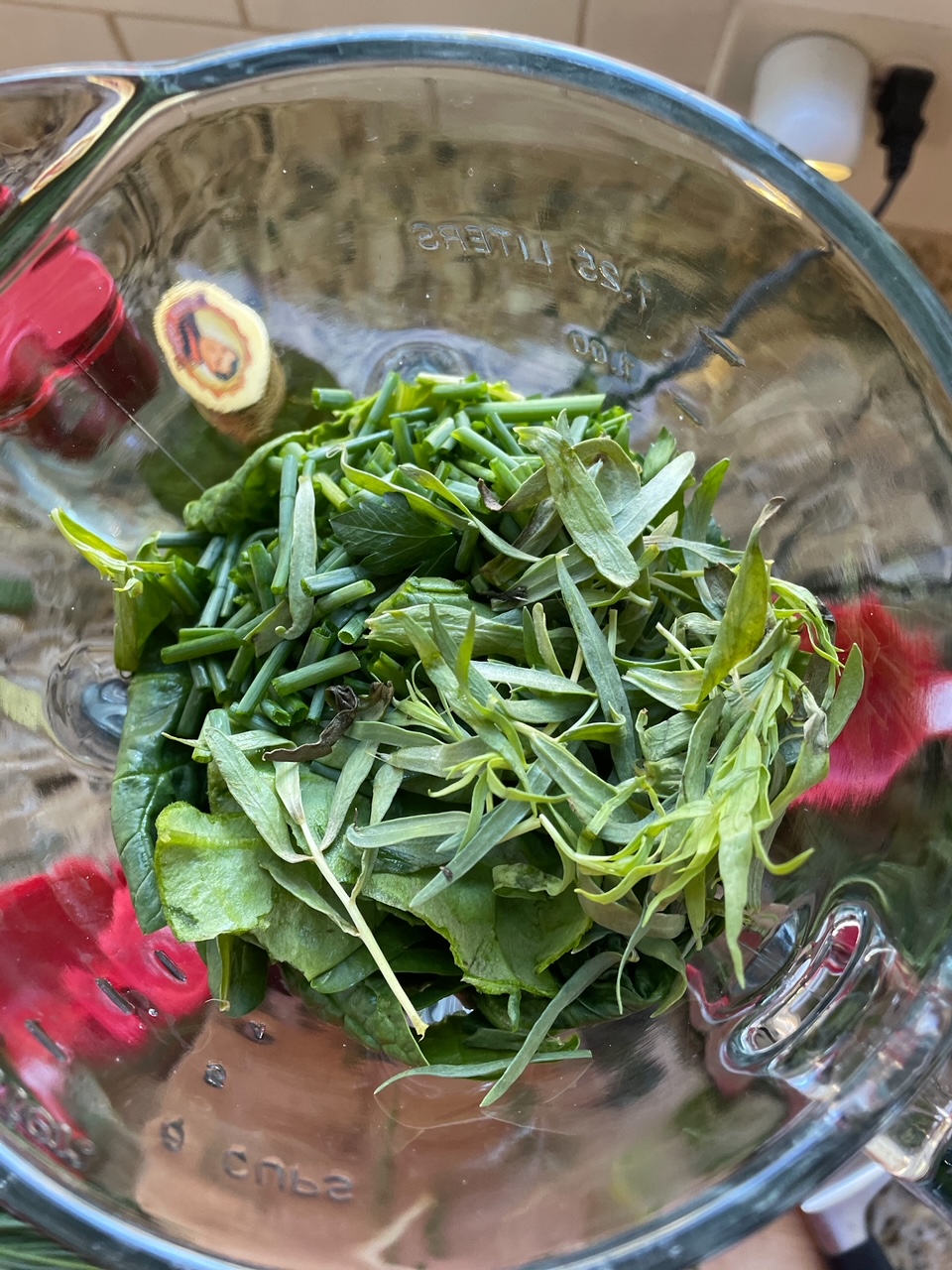 How Do You Make Homemade Green Goddess Dressing?
Honestly, making my Homemade green goddess dressing could not be simpler.
You put the ingredients in a blender, turn the power to high, and blend until the dressing is perfectly smooth and delightfully green. That's it. If you want to use a food processor you can, but a plain old blender will do the job just as well.
My Homemade Green Goddess Dressing took about ten minutes to make from opening the refrigerator to the finished product. Every time I taste a batch of homemade salad dressing, I wonder why I ever buy the bottled kind.
Homemade dressing is so easy. And SO good!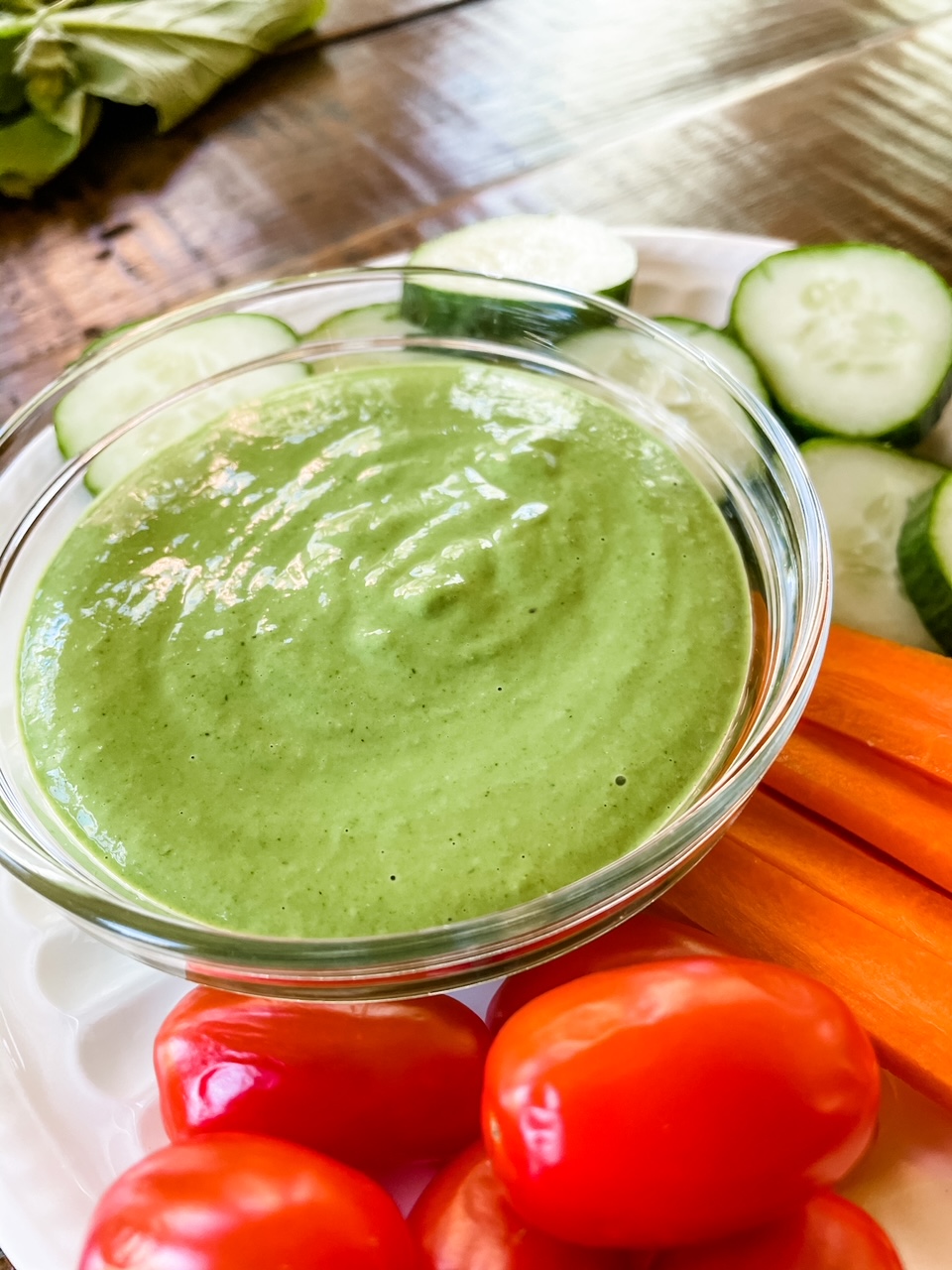 What Do You Serve with Green Goddess Dressing?
Well…salad.
I'll be sharing a new salad recipe with you in my next post. But if you can't wait until then, you might try using my Homemade Green Goddess dressing on a salad you create using this Vegetarian Salad in a Bag Hack from Reluctant Entertainer.
And remember my unconventional breakfast? It's also really good as a dip for raw veggies!
Looking for more salad dressing recipes? Be sure to check out my Homemade Buttermilk Ranch Salad Dressing!
Print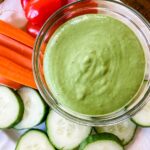 Homemade Green Goddess Salad Dressing
---
Author:

Yield:

1.5 Cups

1

x
1 cup

parsley, packed

1 cup

chard, packed with stems removed (spinach, kale or watercress will work too)

3

T chives, chopped

3

T tarragon leaves

1

–

2

cloves garlic, chopped

3

T lemon juice

1.5

T white wine vinegar

2

T capers

½ cup

grapeseed oil (can substitute canola)

½ cup

light mayonnaise
Salt and pepper to taste
---
Instructions
Place parsley, chard, chives, tarragon, garlic, lemon juice, vinegar, capers, and oil into a blender. Puree on high speed until all ingredients are perfectly smooth – 2 to 3 minutes.
Add mayonnaise to blender far and mix for a few seconds, until well combined and evenly green. Add salt and pepper. Taste and adjust seasoning as desired.