This post may contain affiliate links. Full disclosure policy
I love an old-fashioned hamburger as much as the next red-blooded American. The mustard, the pickles, the American cheese, the juicy goodness, the buttery bun, the familiar char in the air billowing from the grill. It reminds me of summer. And happiness. And time with family.
Side note: I'm making myself very hungry.
In the midst of my daydream about hamburger heaven, I remind myself that it is not all about the beef. Burgers aren't the friendliest in the Weight Watchers life I'm living in right now, and while they are worth an occasional splurge, I like to bring leaner proteins into my life whenever I can.
That's why it's so great that burgers are delicious in all sorts of ways! In Oregon, we eat a lot of salmon burgers, homemade veggie burgers, and now that I've discovered this jewel, the best chicken teriyaki burger recipe has found its way into our weekly menu! I love to sneak in herbs from my garden whenever I can. Healthy, fresh, and seasonal on a bun.
What's not to love?
Suns Out, Buns Out
When the temperatures rise above 75, which takes until about mid-summer here in Central Oregon, the Chairman and I grill for pretty much every meal. We are out of the hot kitchen, enjoying the gorgeous weather, sipping iced-tea or low-point summer cocktails, or a glass of Willamette rosé from our favorite wine shop in Bend, The Good Drop.
One of our favorite things to grill is healthy spins on hamburgers, served with a fresh green salad with citrus-spiked vinaigrette, and maybe low-calorie homemade ice cream for dessert. Seriously, these are a few of my favorite things and I am smiling here just thinking about them.

So when the sun comes out, the buns come out. Grilled rockfish on a bun (thank you, Reluctant Entertainer, for teaching me about this delicious and affordable fish!). Fishcakes on a bun. Pulled pork on a bun. See where I am going with this? The possibilities are endless!
Choose your adventure, Fierce friend!
The Best Chicken Teriyaki Burgers = Your New Go To Recipe for Easy Entertaining
Here's what I am loving about these. You can prep almost entirely ahead. Chop the herbs. Make the patties. Set out your condiments. When guests arrive, all you have to do is grill and toast the buns.
There's also a lot of versatility here. You can swap out herbs (like how good would basil be!?). If you have ground turkey on hand, use that instead of the chicken.
You can also ditch the bun and opt for a healthy quinoa or rice bowl, drizzled with the spicy mayo and sprinkled with toasted coconut (I'm trying this tonight, actually!).
So, without further ado, here's the best chicken teriyaki burger recipe that Pinterest has ever seen. It'll be a game changer in your Summer grilling traditions. I can just feel it.
Print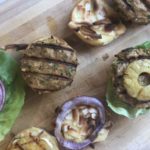 The Best Chicken Teriyaki Burger Recipe Ever (with coconut buns!)
---
Author:

Total Time:

40 minutes

Yield:

4

1

x
Description
Get out of that hot kitchen and live a little! These fresh and light chicken teriyaki burgers have it all. The toasted coconut bun. The zing of fresh ginger. The caramelized sweetness of grilled pineapple. The heat of spicy mayo. Prep ahead, toss on the grill, impress the socks off of your guests and relax.
---
For the chicken burgers:
3/4 cup panko breadcrumbs (Look in the Asian aisle at your local grocery store)
1 pound ground chicken
1/3 cup chopped cilantro
4 scallions, sliced
2 TBS minced fresh ginger (you'll find this in the produce section)
3 cloves minced garlic
1 egg
3 TBS low-sodium soy sauce
1.5 TBS brown sugar
1 TB sesame oil
1 TB chili paste (I used Sambal Oelek but any chili paste from the Asian aisle at your grocery store will do)
half a red onion, sliced into thick rounds
olive oil, for brushing
4 rings of canned pineapple, patted dry
Finishing touches:
1/2 cup fat-free olive oil mayonnaise
2 tsp Sambal Oelek or Sriracha
4 Hawaiian buns
2 TBS butter, room temp
1/2 cup shredded unsweetened coconut
butter lettuce (I buy the kind that comes with the root still on!)
---
Instructions
First, prep by chopping up the ginger, herbs and garlic. This step also doubles as rejuvenating aromatherapy.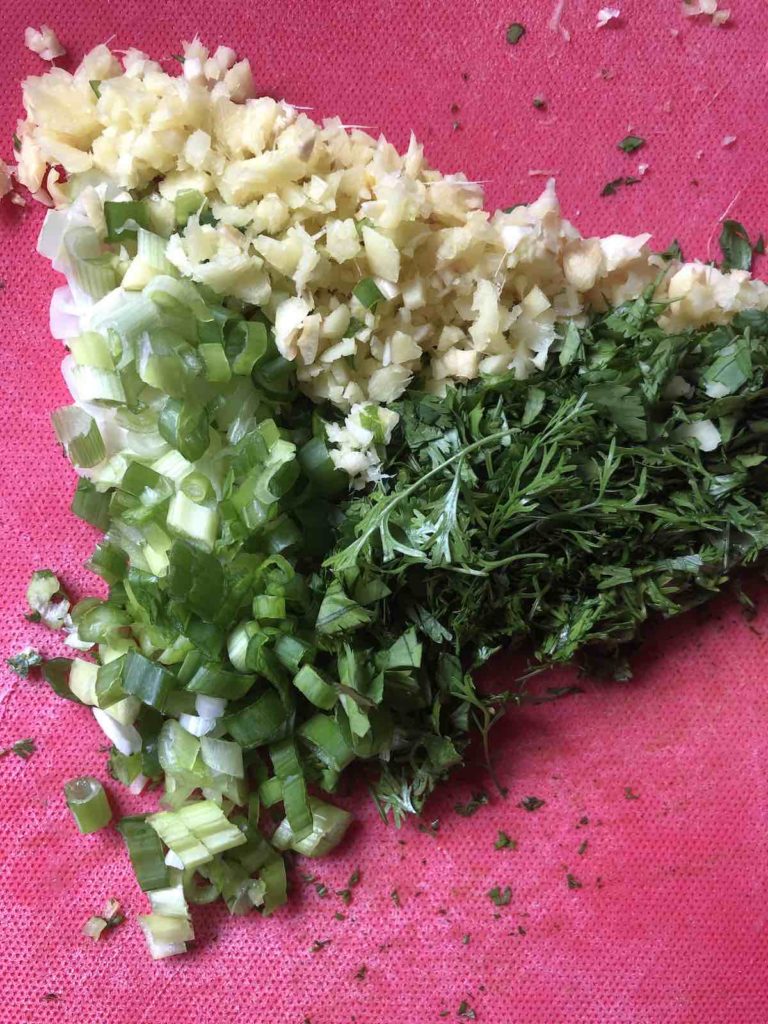 Make the patties. In a large bowl, combine panko, ground chicken, cilantro, scallions, ginger, egg, soy sauce, brown sugar, sesame oil, chili paste and combine.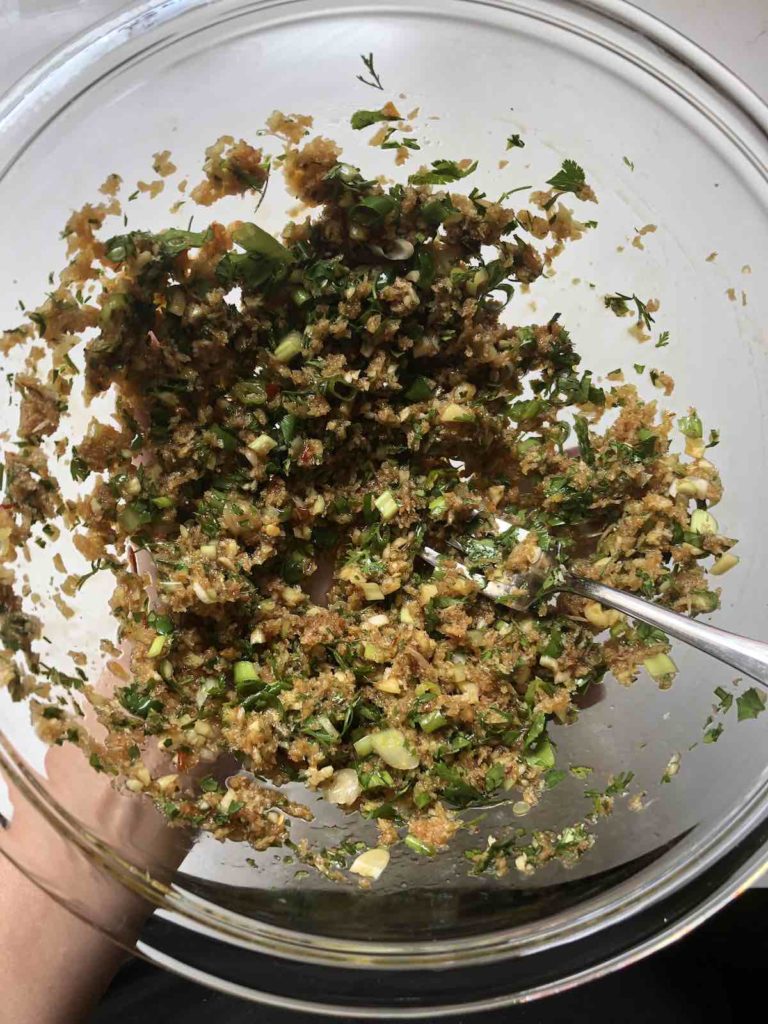 Divide into 4 one-inch thick patties and chill for at least half an hour. You can use your hands or a patty press like the one my son just bought me, which is a little less messy and a lot more accurate.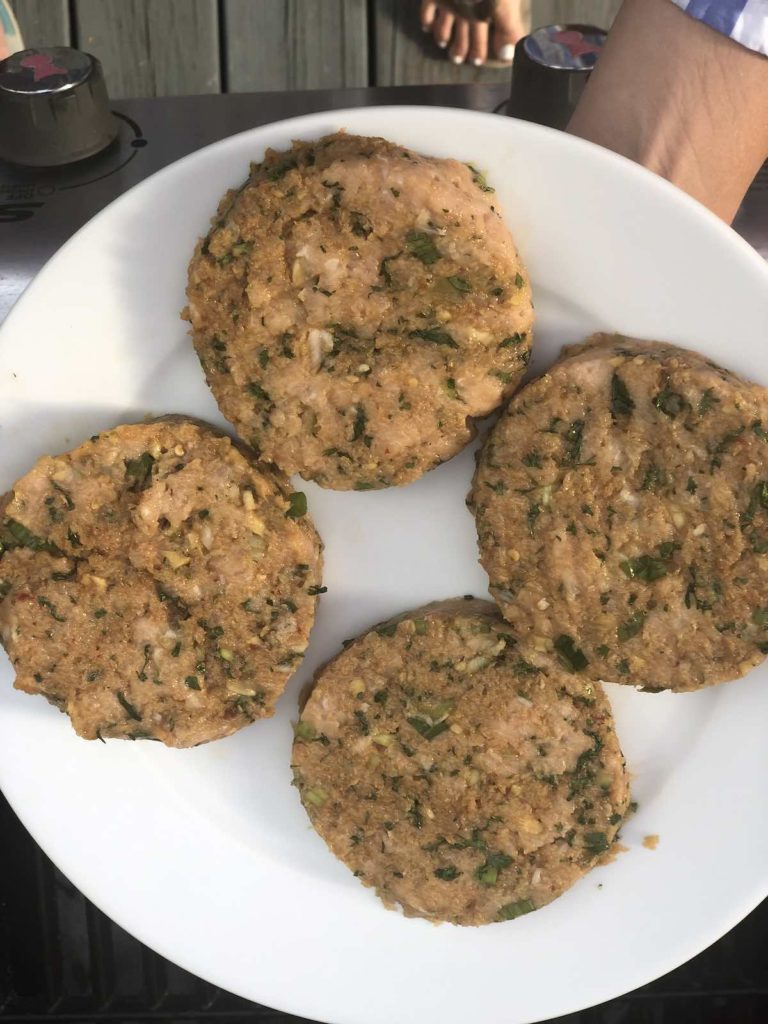 Brush the patties, red onions and pineapple slices with a bit of olive oil and grill about 5 minutes, then flip. Wait another five minutes then they should be ready to take off, all covered with delicious looking grill marks.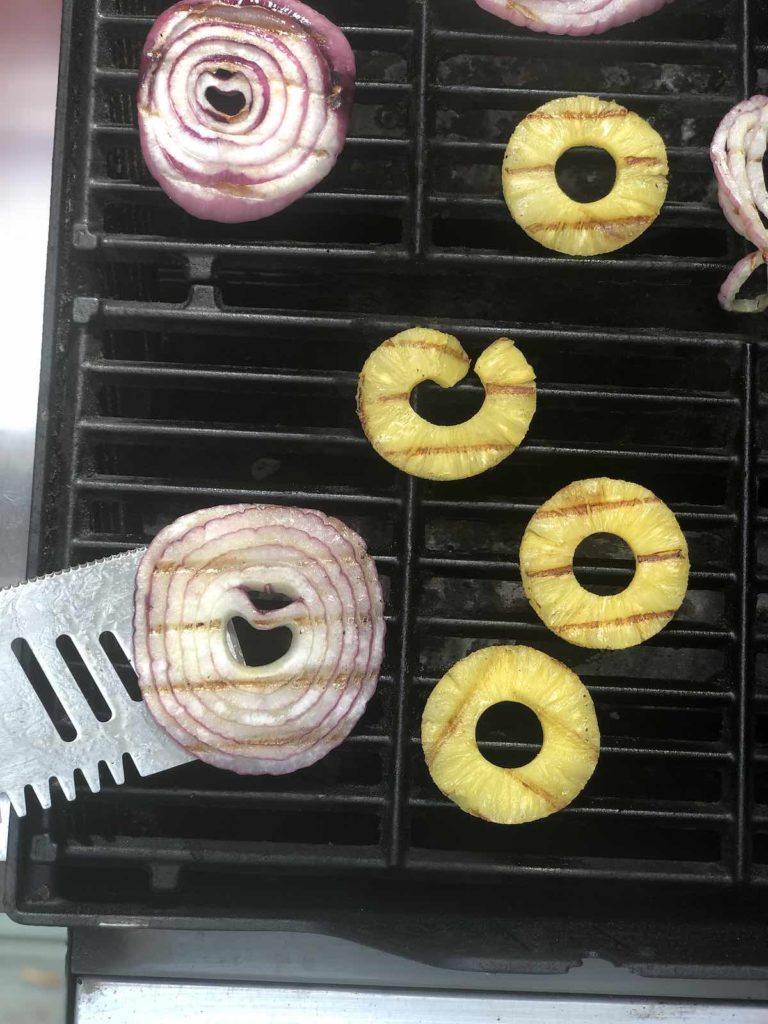 While the burgers are grilling, it's time to work on the crowning glory of these chicken teriyaki burgers. You'll have to pay attention and hyper-focus on this one thing. I know it's hard.
Start by preheating your broiler.
Spread a bit of butter on each bun and push shredded coconut onto each one. Broil just a minute or two (my broiler is super fast and aggressive), until the buns are golden and toasty and aromatic. If you look away, even for a minute to let the dog out, you might burn them. I know this from experience.
Set out your accoutrements: the grilled pineapple slices and red onions, crunchy butter lettuce, and mix together the mayo and chili paste or sriracha to make spicy mayo.
Now it's time to assemble the burgers. Spread on a little spicy mayo to each bun. Then stack the chicken burger and top with grilled pineapple, red onions and lettuce.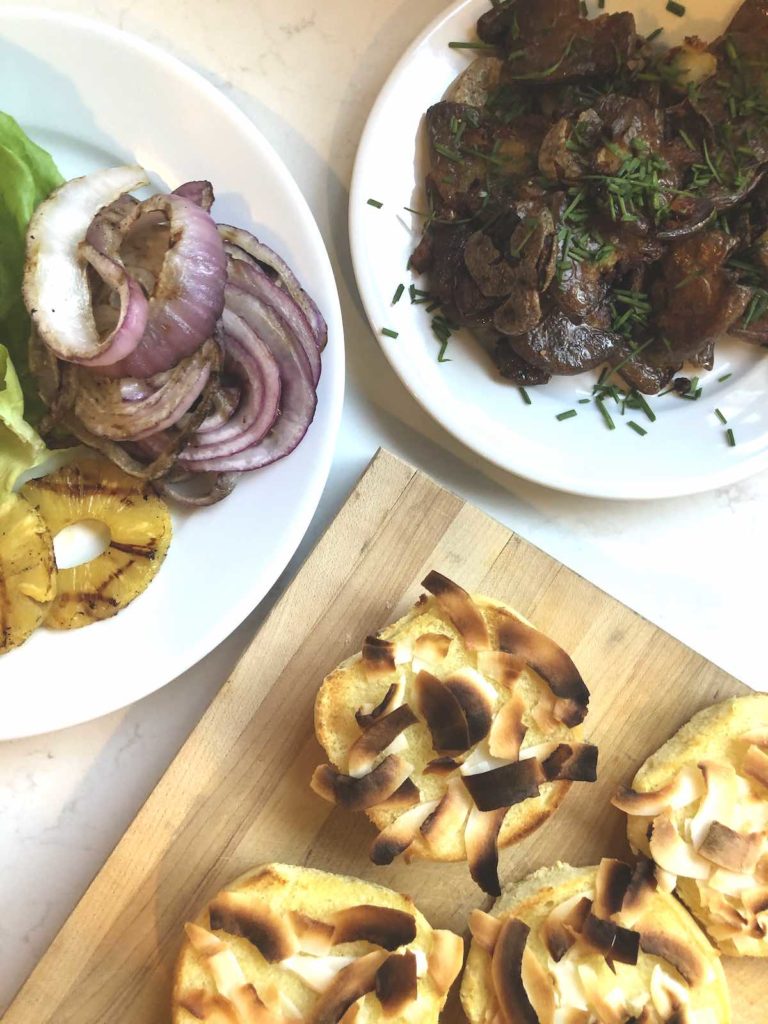 Hello, beautiful.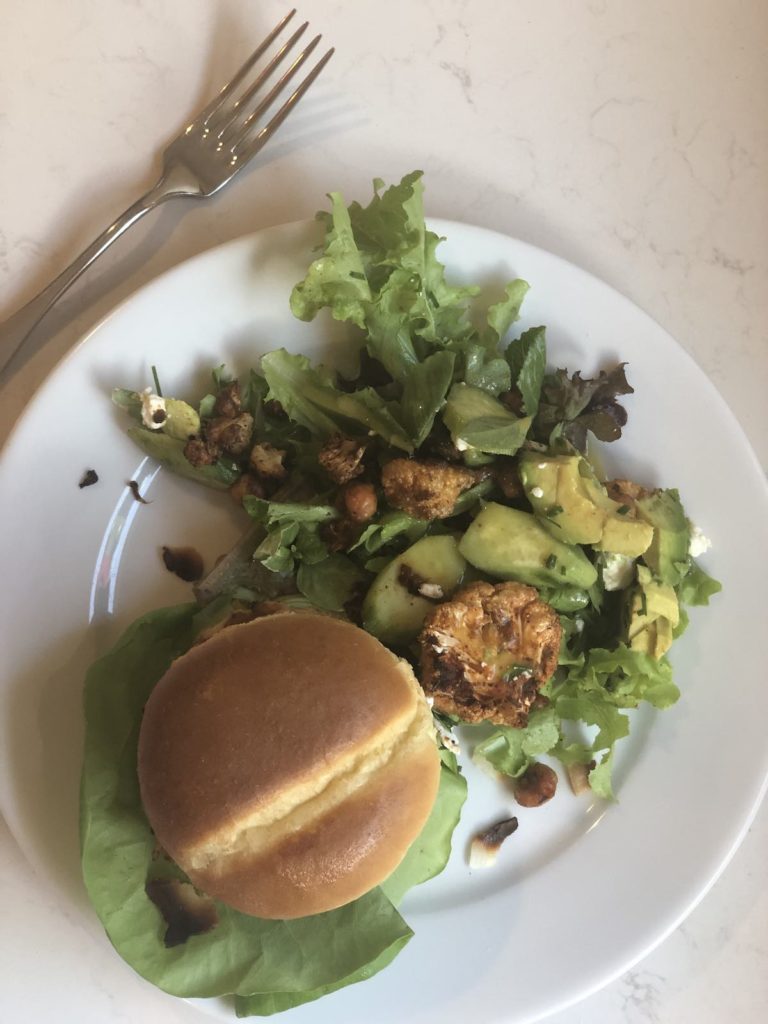 Prep Time:

30

Cook Time:

10

Category:

summer entree

Method:

grill
Keywords: chicken burger, chicken teriyaki, health burger, weight watchers, summer entrees, summer grilling
THIS POST MAY CONTAIN REFERRAL LINKS. IF YOU CLICK THROUGH AND TAKE ACTION, I MAY BE COMPENSATED, AT NO ADDITIONAL COST TO YOU.