This post may contain affiliate links. Full disclosure policy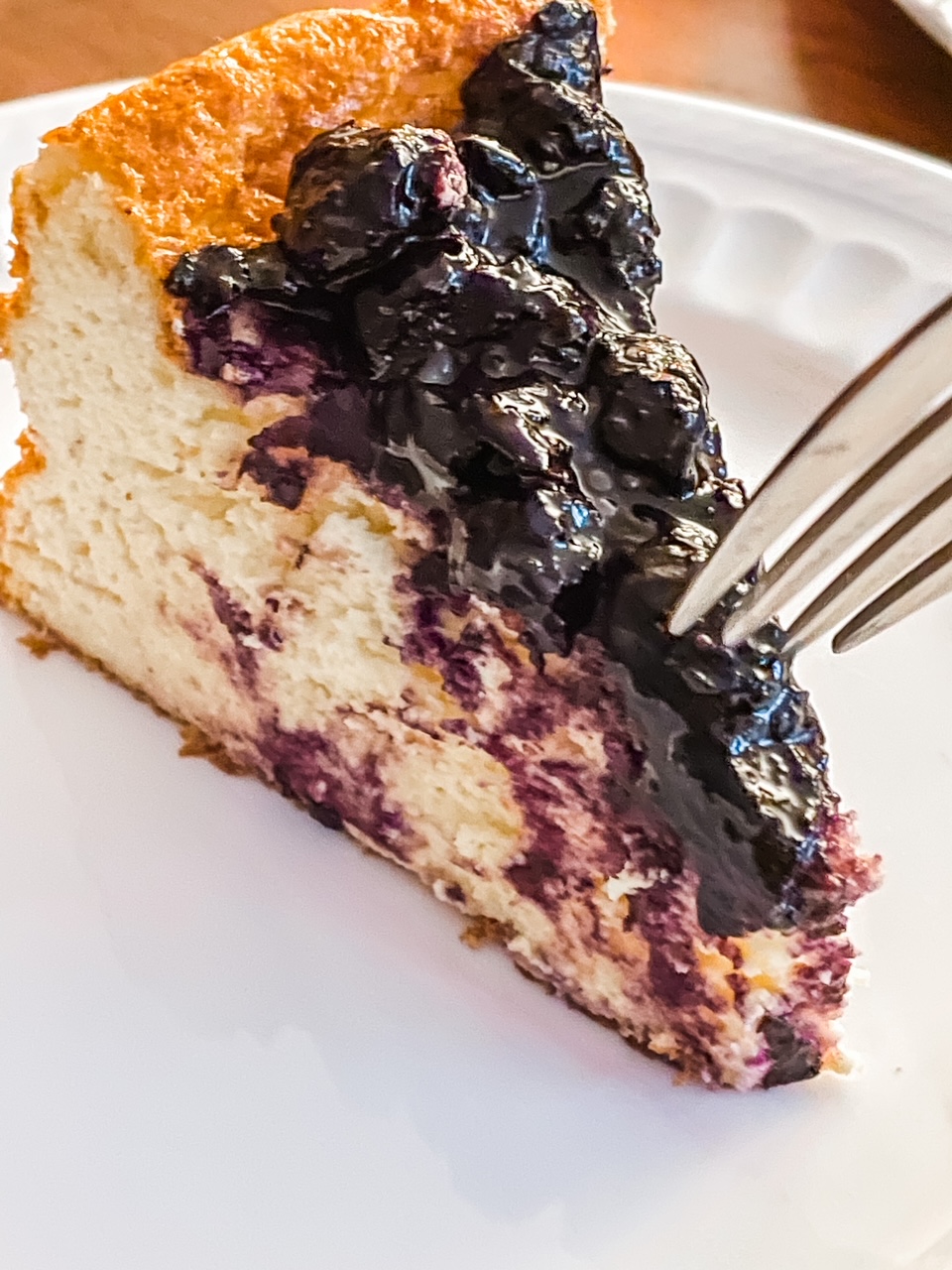 Blueberry Greek Yogurt Cheesecake: Possibly My Best Ever Recipe!
A couple of years ago, I published my original Miracle Muffin recipe. A truly tasty, full-sized muffin with as little as three ingredients that only clocked in at only 1 or 2 WW blue points, really felt a little miraculous!
I was excited about my Miracle Muffin recipe and I still am. In fact, I made some for breakfast today. But at the time, I had no idea that recipe would take the Internet by storm! Hundreds of thousands of people have downloaded my recipes for Miracle Muffins, Best Healthy Miracle Muffins, and savory Fiesta Miracle Muffins. No kidding! They're that good!
But as good as those muffins are, I really think that my Blueberry Greek Yogurt Cheesecake is even better. In fact, it might be the BEST recipe I've ever created!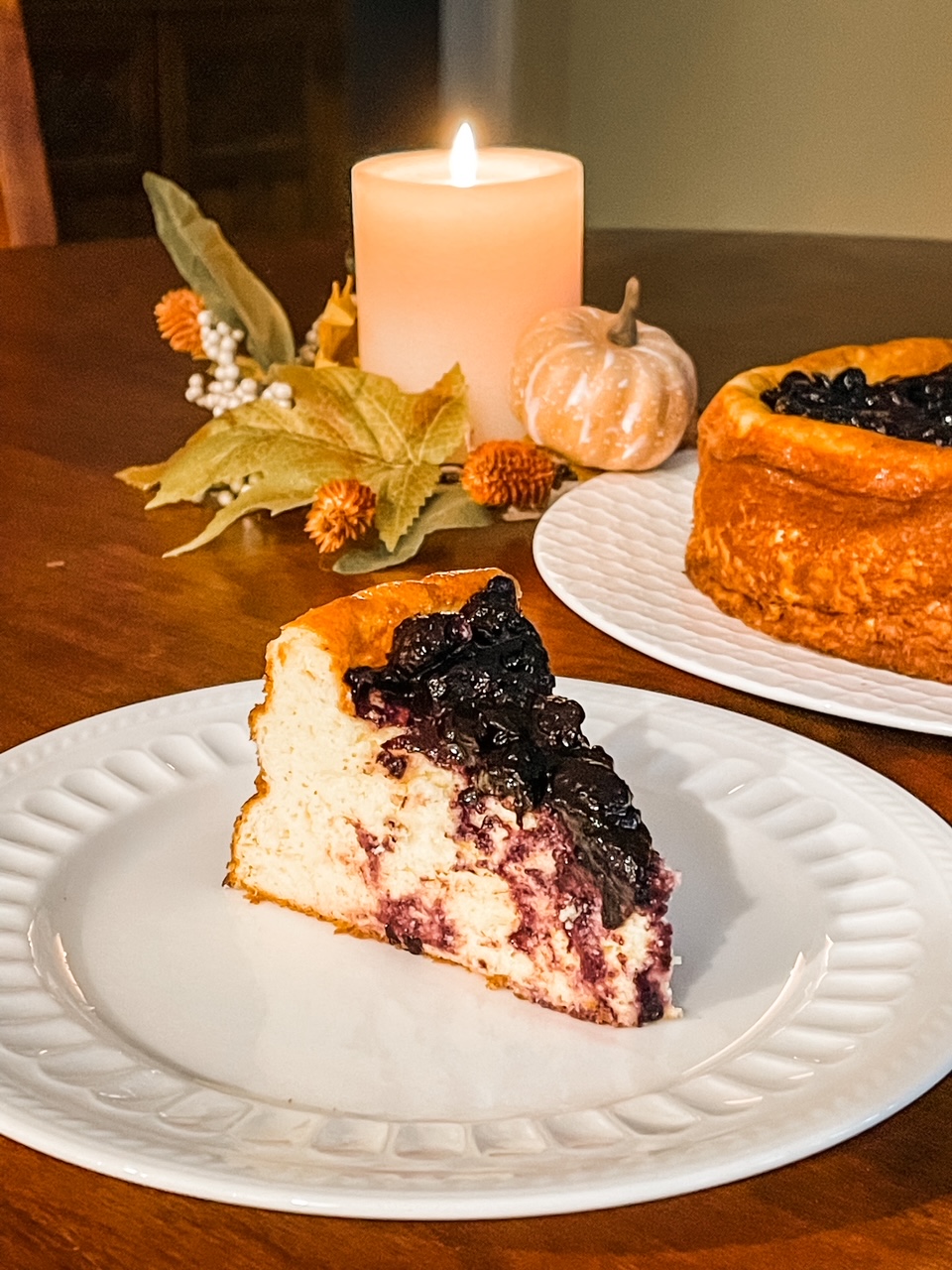 A Lighter, Healthier, Delicious Blueberry Cheesecake? It's Possible!
Enjoying a terrific tasting slice of blueberry cheesecake that's markedly lower in fat and sugar, and high in protein might seem like an impossible dream. But believe me, my Blueberry Greek Yogurt Cheesecake is a dream come true!
I actually call it a "mock" cheesecake because it's doesn't have a crust. Also, the texture isn't quite the same as standard cheesecake. But thanks to some recipe tweaks and my favorite secret ingredient, it's pretty darned close.
Weight Watchers has changed its point system yet again so I've sort of given up on trying to post points for my recipes. However, I was really curious about the results for this one. Sure enough, when I added up the points according to the old WW blue system, each serving of Blueberry Greek Yogurt Cheesecake was just 4 points. That really is a small miracle!
Once you taste it, you won't miss all the extra fat and calories of regular cheesecake. This dessert tastes so deliciously decadent that you might forget how much lighter and healthier it is!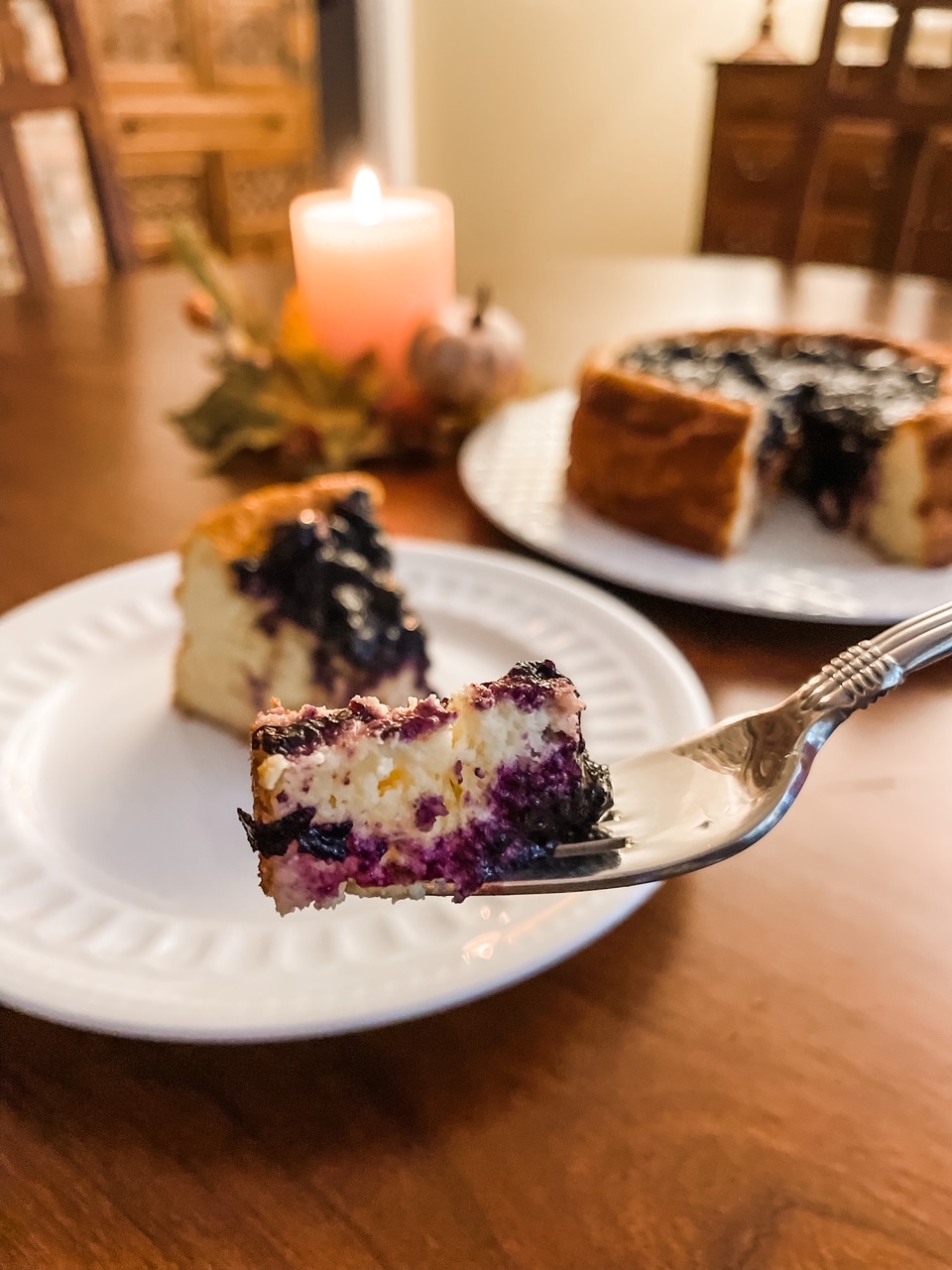 Taste Tests and Two Questions
I am so excited about this recipe! Getting it just right involved a few rounds of tweaking and testing but it was definitely worth the work.
Everyone who has tried the final version wants to know two things. First, where can I get the recipe? Second, how did you do it?
The answer to question one is – you can get it right here! You'll find the recipe below. But before you go look for it, we should discuss the answer to the second question.
Blueberry Greek Yogurt Cheesecake isn't difficult to bake, but there are a few tricks of the trade and a secret ingredient you need to know about.
A Secret Ingredient
Most of the ingredients for Blueberry Greek Yogurt Cheesecake are pretty standard. You'll need…
Sugar
Eggs
Lemon juice
Lemon zest
Blueberries
Flour
Yogurt "cheese"
Did that last ingredient on the list catch you by surprise? If you've tried my recipes, you probably know what yogurt cheese is. But in case it's new to you, let me explain.
All yogurt, including the non-fat plain Greek yogurt I use to make yogurt cheese, contains a lot of water. If you drain out the liquid, it becomes thick and creamy, with a texture similar to cream cheese.
Making yogurt cheese is simple. Simply place non-fat Greek yogurt into a yogurt strainer, like this one, and let it drain for several hours or overnight.
I make yogurt cheese all the time so, for me, a yogurt strainer is a worthwhile investment. But if you don't want to get a yogurt strainer, you could line a fine mesh strainer with cheesecloth, suspend it over a bowl, and let it drain that way.
For this recipe, it's important that you use Greek yogurt, not regular yogurt. Greek yogurt is already much thicker (also higher in protein) than regular yogurt. So after you strain it, it becomes thick enough to use in a mock cheesecake.
More Tips and Tweaks for This Healthier Cheesecake Recipe
Blueberry Greek Yogurt Cheesecake calls for half the sugar of standard cheesecake but that's plenty for a "just sweet enough" cake. The blueberry sauce topping adds a little more flavor and an extra touch of sweetness that balances beautifully with the lemon juice and lemon zest.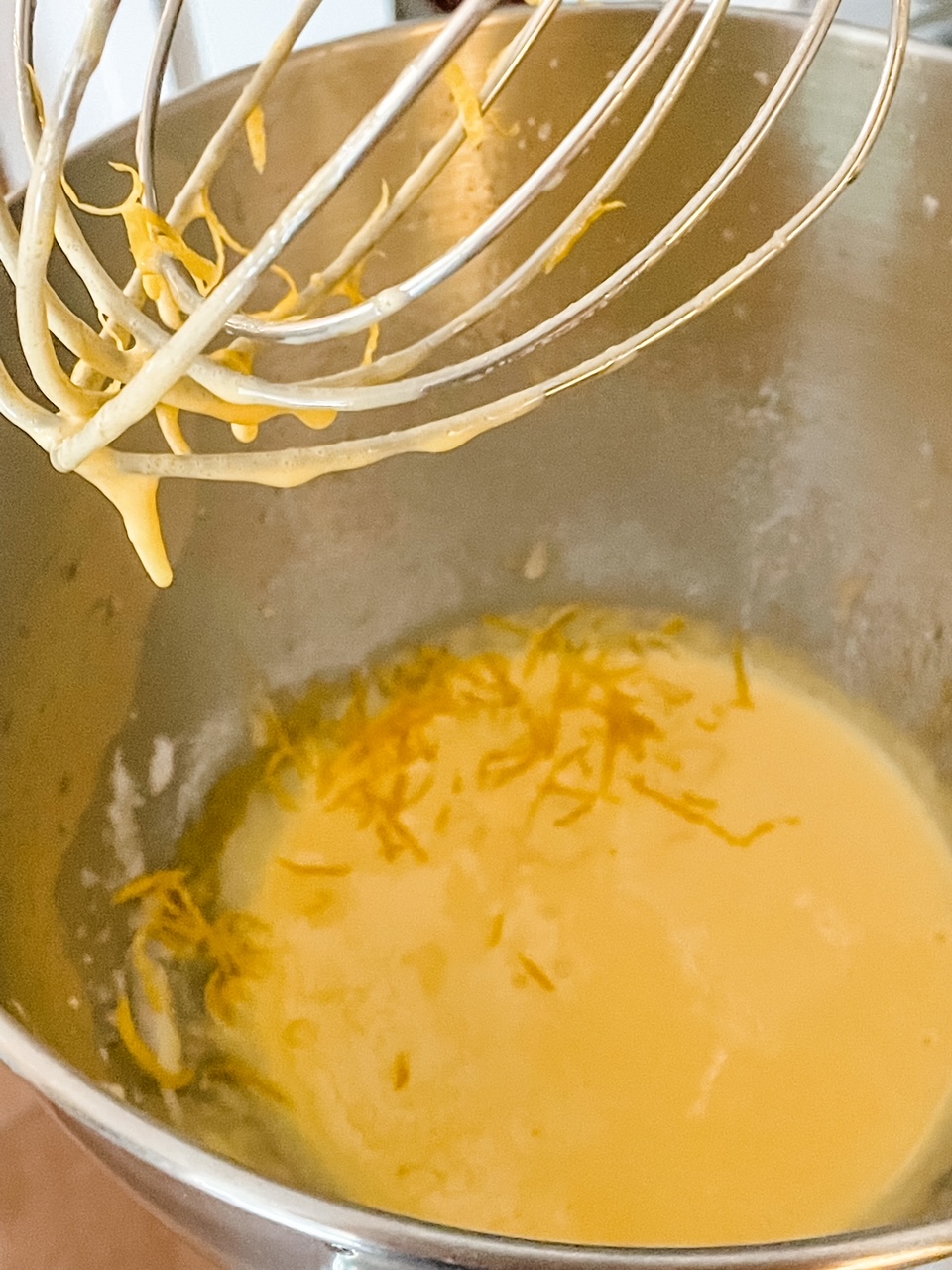 Making the blueberry sauce is easy. All you need to do is add blueberries plus a little sugar, water, and lemon juice to a pan and simmer until the sauce is nice and thick. Just be sure to stir it now and then to prevent burning, especially after it starts to thicken.
Eggs add richness to the recipe but keep the texture light. Be sure to beat the egg yolks for the full time called for in the recipe. It makes a big difference! And be sure to gently fold rather than stir the beaten egg whites so your mock cheesecake tastes light and rises properly.
Gluten-free friends – take note! During one round of testing, I used Bob's Red Mill One to One Gluten-Free Flour instead of regular flour. It worked great and my gluten-free dinner guests loved it!
Some final notes about baking.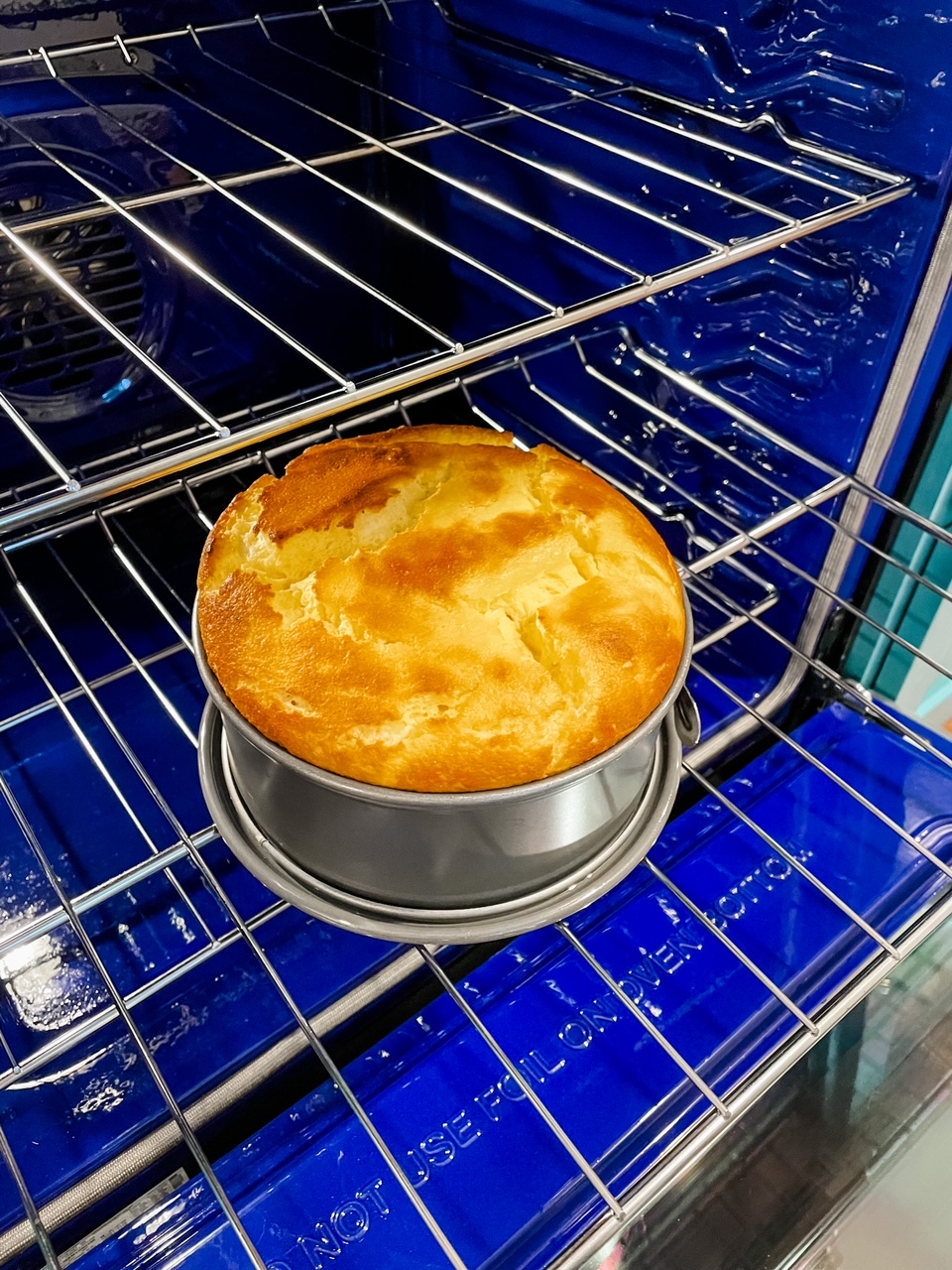 The cake top should be golden brown after baking and quite well set. Gently shake the pan before removing it from the oven. The cake may jiggle slightly, but if the jiggle is more than slight then bake it for a few more minutes.
After the cake is removed from the oven and begins to cool, the top will sink a little bit. Don't worry, this is perfectly normal. As long as it sinks only a little, you're fine. In fact, that slight sinking will make a lovely little lip to hold in the blueberry sauce you'll put on after it cools.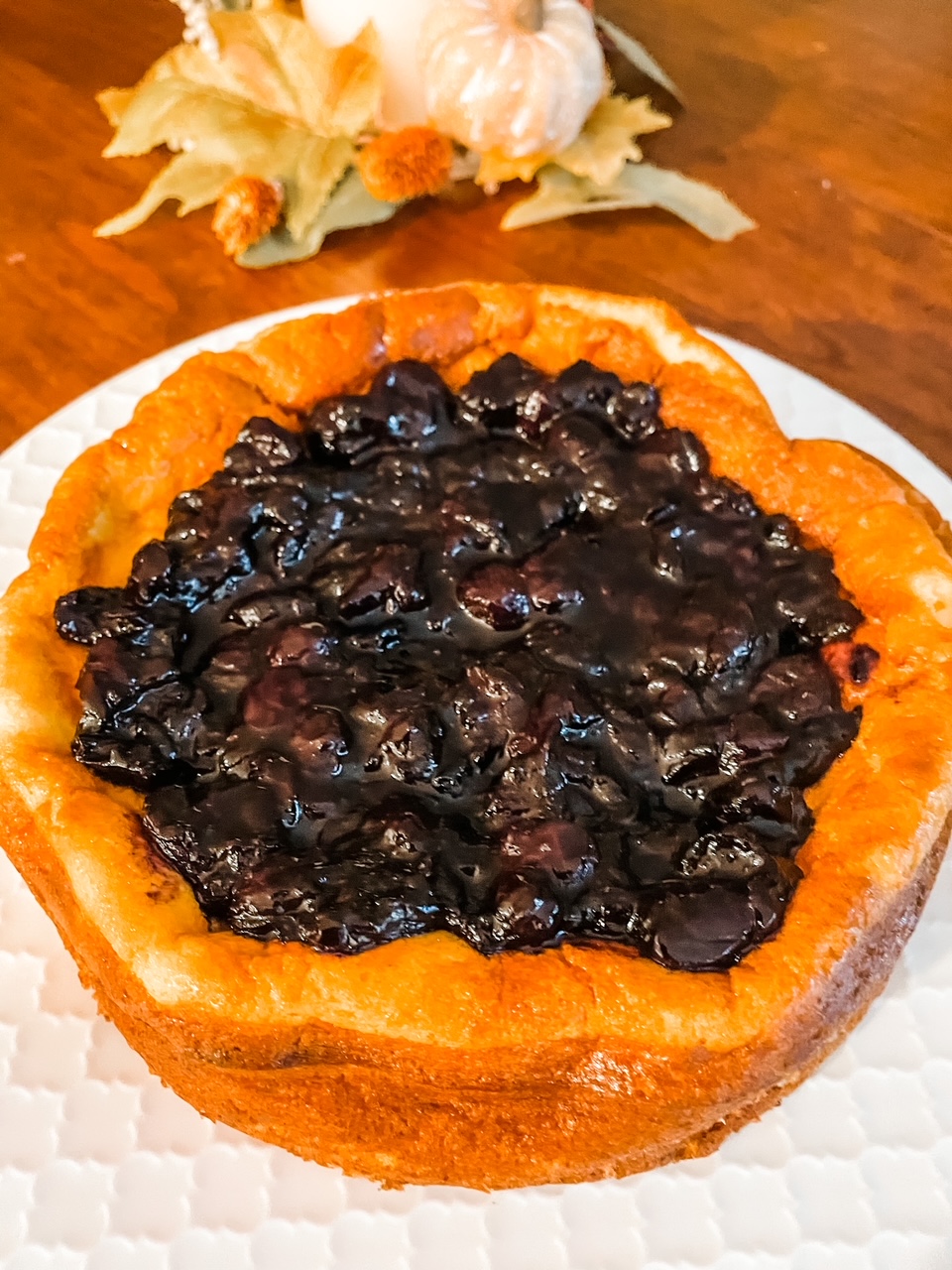 So Excited to Share My New Favorite Dessert!
Being able to enjoy a deliciously satisfying dessert that works with my commitment to healthier eating is such a pleasure. But an even greater pleasure is being able to share my new favorite dessert with all of you.
I hope you'll give my Blueberry Greek Yogurt Cheesecake a try soon!
Print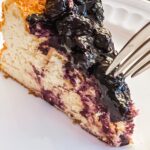 Blueberry Greek Yogurt Cheesecake
---
Author:

Yield:

8

servings

1

x
For Cheesecake
1

and 2/3 cup non-fat Greek yogurt "cheese". (Greek yogurt drained in a yogurt strainer overnight)

6

large eggs, separated (

5

extra large,

5

jumbo)

½ cup

sugar

3

T flour (can sub glu

ten

free flour)
Zest of

1

lemon

1 ½

T fresh lemon juice
For Blueberry Sauce
2 cups

fresh or frozen blueberries

2

T sugar

1

T water

1 tsp

fresh lemon juice
---
Instructions
Preheat oven to 350. Spray 8-inch springform pan with cooking spray and set aside.
Beat eggs whites with electric beaters, medium speed, until soft peaks form. Set aside.
Beat egg yolks and sugar for on medium high speed for 3 minutes, until mixture is pale yellow and thick. Lower beater speed to medium. Add flour (sift), yogurt cheese, lemon zest, lemon juice and beat for one minute, until well combine.
Carefully fold in egg whites into yolk and sugar mixture until there are just a few streaks of egg white visible.
Pour into prepared pan and place on middle rack of pre-heated oven. Bake 50 minutes.
While cake is baking, prepare blueberry sauce. Stir berries, sugar, water, and lemon juice together in a small, heavy bottomed pan. Bring to a boil, then reduce heat to low. Simmer for about 10-15 minutes or until mixture is reduced by half, stirring occasionally to prevent sticking. Remove from heat and set aside.
Removed baked cake from oven and allow to cool. Center of cake will fall slighly during cooling.
When cake is cool, run a knife around the edge of the springform pan and carefully remove the ring. Spread cooked blueberry sauce on the top.  Serve when completely cooled.