This post may contain affiliate links. Full disclosure policy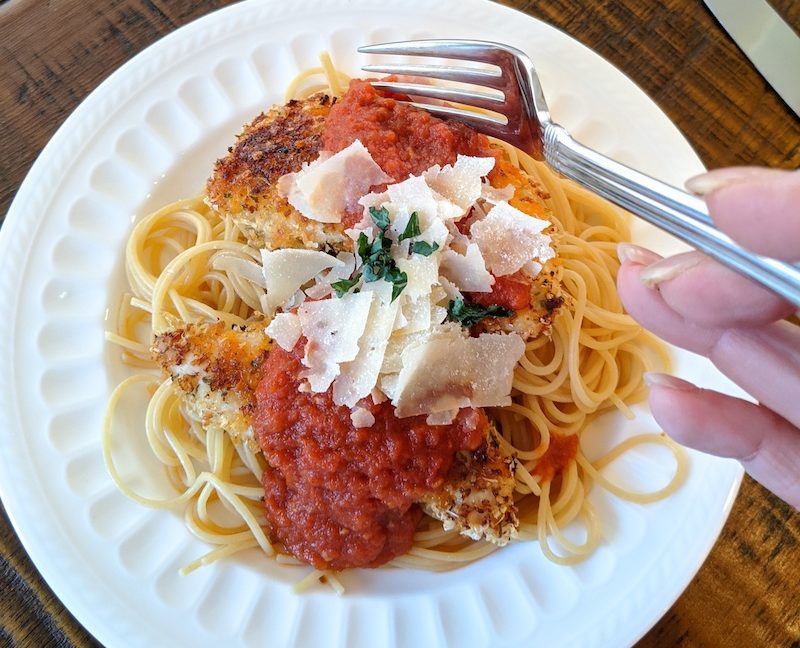 In 2018, I posted a recipe for Chicken Parmesan that clocked in with only 6 Weight Watchers Freestyle points. It was a yummy dish and I was very pleased with the results.
My inspiration came from the classic dish served at my favorite local Italian bistro. The food is good, the service friendly, and the prices are fair. When we walk in the door, we're welcomed so warmly that we feel like family. Or at least members of the club.
The only downside to my favorite Italian bistro is that so much of the menu is devoted to…well, Italian food. Mounds of pasta loaded with mountains of cheese and olive oil, as well as delicious, fattening, fried things.
That didn't really fit very well into the old Weight Watchers plan. But I solved the problem (nearly always) by ordering the fish special.
Still. Now and again, a girl just wants a plate of pasta.
New Weight Watchers Plan, New Chicken Parmesan Recipe
One day, when I was making tomato sauce, I knew I had to give in to that urge. The sauce was delicious all by itself – but all that fresh, tomatoey goodness just cried out to be poured over something!
I set out to see if I could recreate one of my favorite Italian dishes, Chicken Parmesan, without blowing the bank on my Weight Watchers Freestyle Points. As I said before, the results were pretty darned good. I created a convincing version of the Italian favorite for just 6 points. Not bad!
If you're on following the Weight Watchers Blue or Green Program, you'll love my 6 Point Healthy Chicken Parmesan.
But if you're following the NEW Weight Watchers Purple program, with more zero point foods, you are going adore my updated Chicken Parmesan recipe with even more flavor for only FOUR points!
Here's why it works…
Italian Tastes Better With Purple
Since chicken breasts are a zero point food, Chicken Parmesan is an ideal candidate for an Italian Freestyle Food Festival.
Do you know what other main ingredient of Chicken Parmesan is a zero point food? Tomato sauce! How great is that?
A word of caution, there are jarred sauces that will cost you points as some include a lot of extra oil or sugars. So be sure to check that if you're keeping track of points. (My homemade sauce recipe only includes a small amount of oil, about a teaspoon per serving.) But there are many prepared sauces, especially the canned variety, that are still zero points. (Pro tip: jazz up plain canned tomato sauce with an extra teaspoon of Italian seasoning and some garlic powder.)
But the thing that was really a game-changer when I switched to the new Weight Watchers Purple, is the fact that whole wheat pasta is ALSO a zero point food! Again, how great is that?
(Answer: Really, really great!)
Oh, pasta! How I have missed you! And how thrilled I am to live in an age where whole wheat pasta tastes very similar to the pasta I ate as a kid. Nothing like that grainy, chewy stuff we gnawed on back when whole wheat pasta first came on the scene. If you haven't tried it in a while because you were traumatized in the past, give whole wheat pasta another chance. I think you'll be pleasantly surprised.
Taking Advantage of Flavorful Ingredients
Because the whole wheat pasta is zero points on Weight Watcher Purple, I was able to up the cheese for this recipe. Like all cheese, parmesan is heavy on points. But it has a lot more flavor than most other cheeses. Using a full two ounces in this recipe – one ounce in the breading and the other on top of the dish – makes this dish full of fabulous cheesy deliciousness.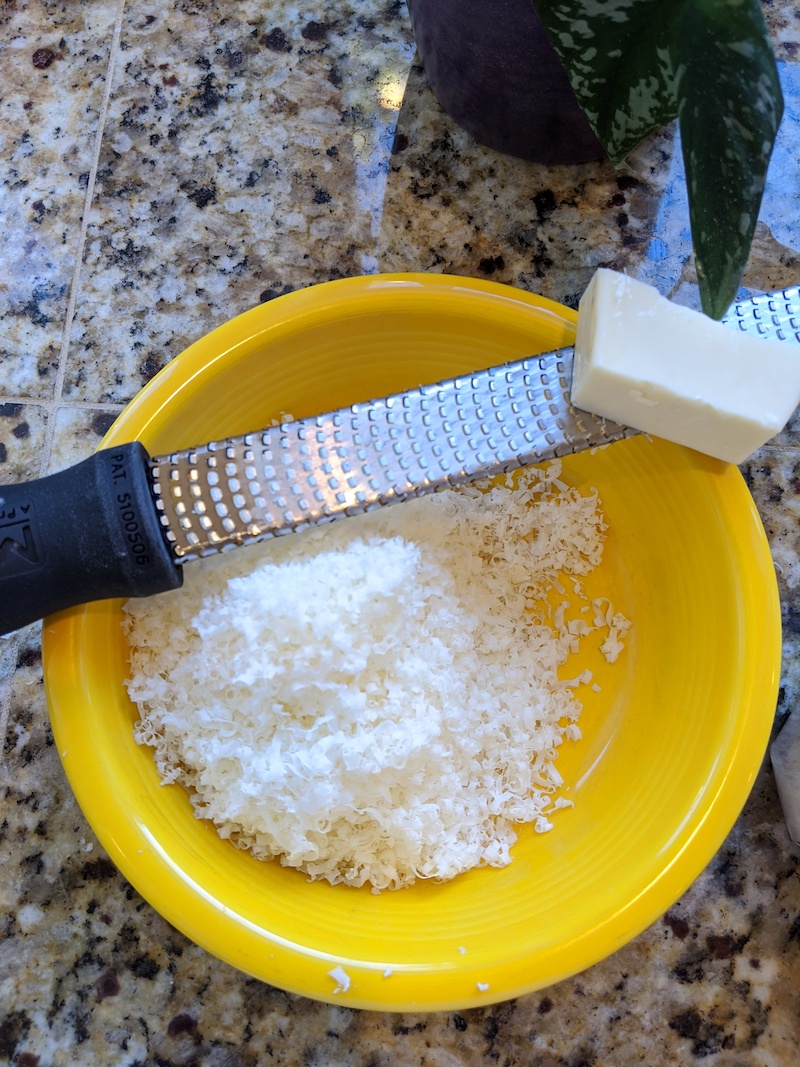 Oh, and speaking of breading.
I keep it light by oven baking chicken with a little cooking spray. My updated version uses panko breadcrumbs instead of regular ones. I really like the extra little crunch that the panko crumbs provide.
My old recipe for healthier Chicken Parmesan was really tasty, but this one is even better. Give it a try this week!
Mangia!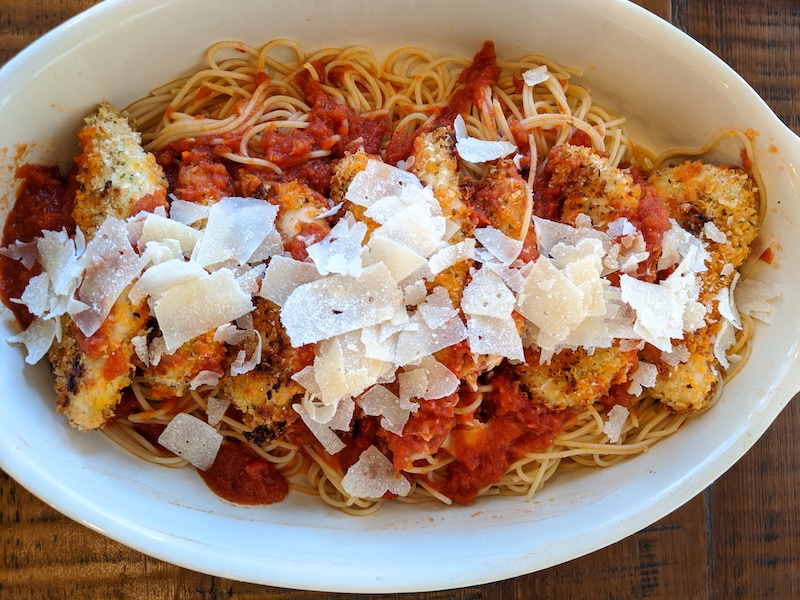 Print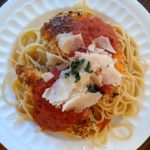 Baked Chicken Parmesan: 4 Weight Watchers Points!
---
½

Panko style cup bread crumbs – 8 points

1 oz

 grated Parmesan cheese – 4 points

1 oz

shaved Parmesan cheese – 4 points

½

 t dried Italian seasoning – 0 points

1

 egg – 0 points

20 oz

 chicken breast tenderloins – 0 points

2 cups

tomato sauce – 0 points (check points on jar or can)

4 oz

 whole wheat spaghetti, uncooked – 0 points (only on WW PURPLE. If you're on WW Green on Blue, pasta is

12

points)
Cooking spray – 0 points
---
Instructions
Preheat oven to 425 degrees F. Line a baking pan with foil and set aside.
In a shallow pan on plate, mix breadcrumbs, 1 oz grated parmesan cheese, Italian seasoning, and a dash of salt.
In a separate dish, whisk egg with a tablespoon of water and a dash of salt to create an egg wash.
Dip chicken tenderloins in egg wash, then dredge in breadcrumb mixture. You may need to gently press crumbs onto the chicken to get them to stick.
Spray the foil covered baking pan with cooking spray.  Place prepared chicken tenderloins on pan. Spray top of tenderloins lightly with cooking spray before placing in the preheated oven.
Cook prepared tenderloins for 20 minutes total, removing pan after first ten minutes and flipping chicken to other side.
While the chicken is cooking, fill a pot with salted water and place on stove at high heat.  When water is boiling, cook spaghetti according to package instructions.  At the same time, in a separate pan, heat the tomato sauce.
When pasta is cooked, divide onto plates. Pour sauce over the pasta, top with chicken parmesan tenderloins. Sprinkle 1 oz of shaved cheese over the top (Grated cheese works too. I just like the look of the shaved variety).
Serve immediately.