This post may contain affiliate links. Full disclosure policy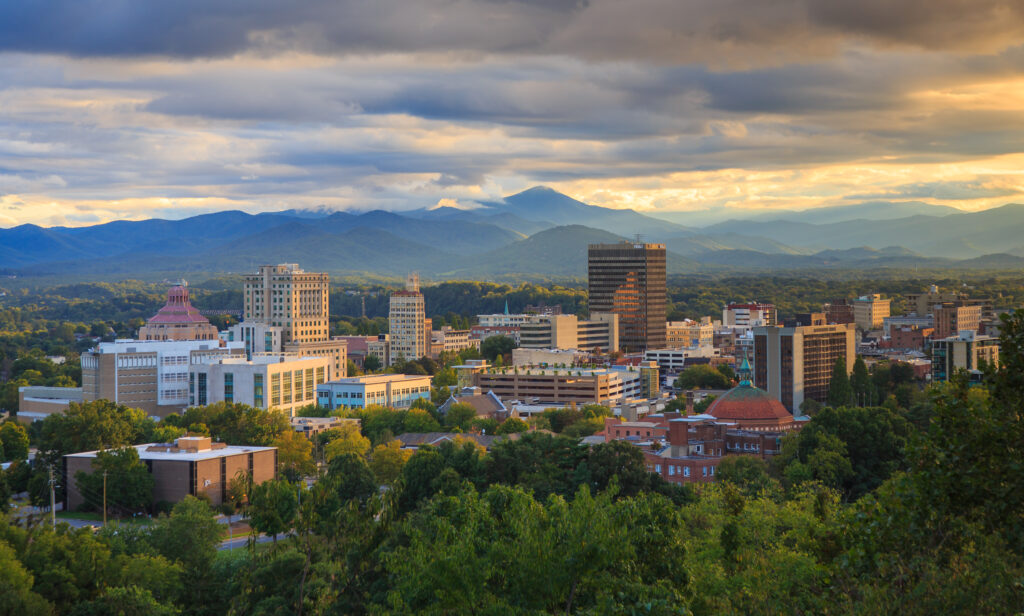 Traveling for research is one of the biggest perks of the writing life, and Asheville, North Carolina, is one of the prettiest, most interesting cities I've ever visited. Though I'm sure I could spend years in Asheville and only scratch the surface of all that this beautiful, artistic, historic city has to offer, I'm excited to share some of my favorite "Land of the Sky" locales with readers in this travel guide to Asheville, NC.
Travel Guide to Asheville, NC: Sights to See
Asheville's Urban Trail
This free, self-guided 1.7-mile walking tour takes you to thirty of downtown Asheville's most important sights and neighborhoods, including many of the neighborhoods and buildings I write about in Esme Cahill Fails Spectacularly. Exploring at your own pace, you'll learn about the city's history, architecture, and culture. Each stop on the Urban Trail features original sculptures and informative plaques. You can learn more by listening to a recorded audio tour with in-depth insights at each stop.
Here's the interactive map and audio tour for Asheville's Urban Trail.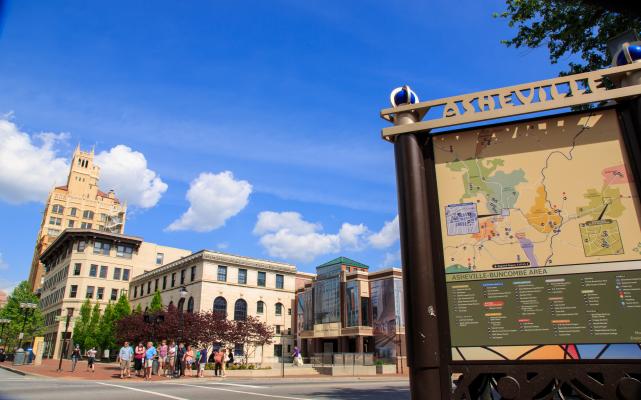 While traversing the Urban Trail, you'll pass by the yellow Queen Anne–-style house where Thomas Wolfe spent part of his youth and which served as a model for the "Dixieland" boarding house in his most famous novel, Look Homeward Angel.
If you've got time, spend an hour touring the home of Asheville's most famous literary personality. It offers a fascinating glimpse into Wolfe's life and Asheville's history.
With eight thousand acres of garden and trails to explore, as well as the 175,000-square-foot mansion that George Vanderbilt called home, you could easily spend a whole day, or several days, visiting Biltmore Estate.
If you can, make time to visit the exquisite formal gardens, as well as Antler Hill Village and the Biltmore Winery. But if you've only got part of a day to visit the property, focus on the Biltmore House, where you'll be able to see some of the artwork that Adele loved in the story and learn more about Biltmore's role in World War II. Advanced reservations are required for entry to the Biltmore grounds, so be sure to purchase tickets ahead of time.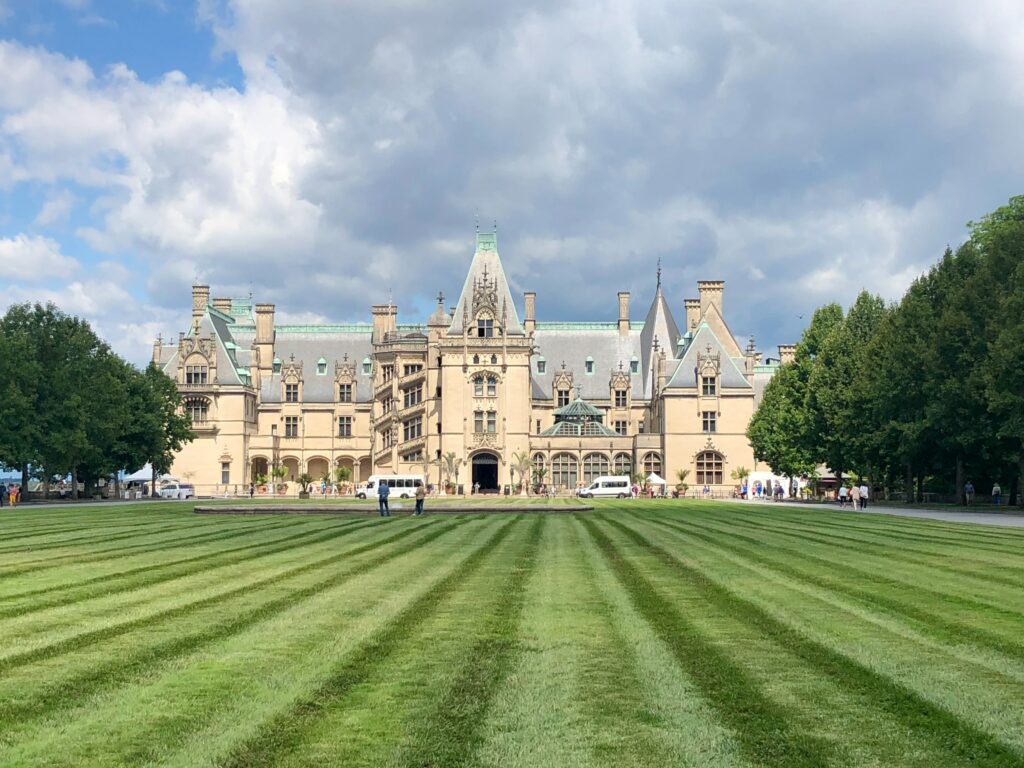 Though it doesn't figure into my book, the beautiful Grove Park Inn played a role in Asheville during World War II, serving as a detention site for diplomats and consul staff of Axis countries, and also as an internment camp for a group of Japanese Americans. Stop by the concierge desk and get a map for a self-guided tour of this historic, architecturally important hotel.
If you have time, enjoy a meal at Sunset Terrace restaurant. The food is excellent and the view is incomparable.
Blue Ridge Parkway
No visit to Asheville is complete without a drive along the Blue Ridge Parkway. The scenery is breathtaking at any time but of the year but especially when the leaves turn in fall. The parkway stretches 469 miles from Virginia's Shenandoah National Park to North Carolina's Great Smoky Mountains National Park.
However, there are plenty of beautiful vistas, picnic spots, waterfalls, and hiking trails near Asheville. The Romantic Asheville offers a listing of various attractions at different mile markers.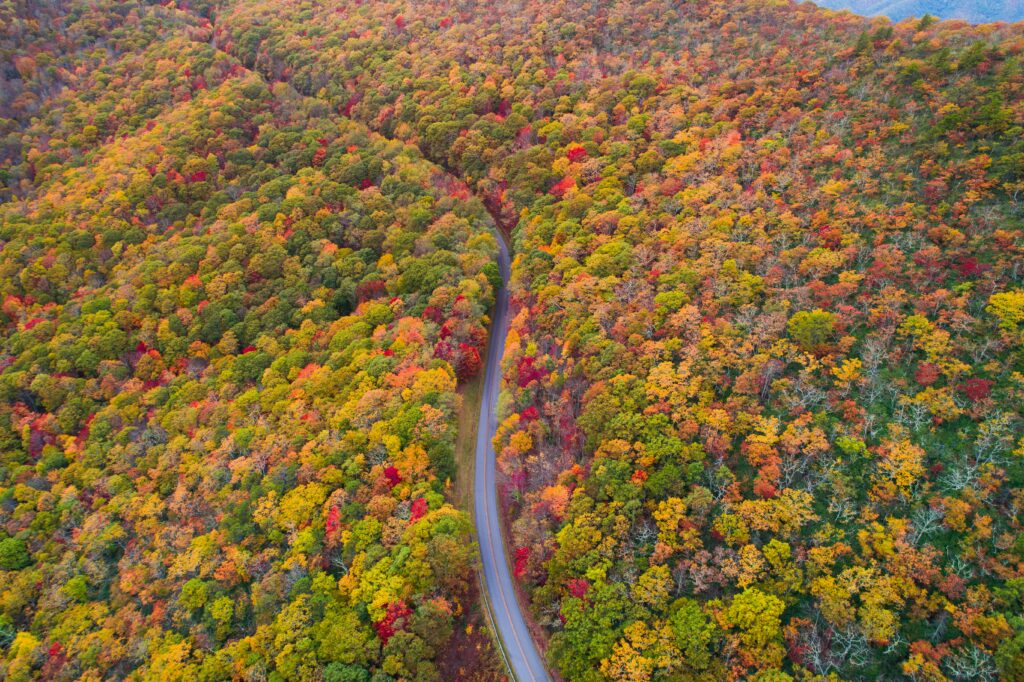 Travel Guide to Asheville, NC: Arts in Ashville
Asheville has long been known as a haven for artists. Street musicians and performers, known as buskers, can be found all around the downtown, and galleries filled with the work of local artists and craftspeople abound. There is no end of terrific museums as well. Here are a two of my favorites: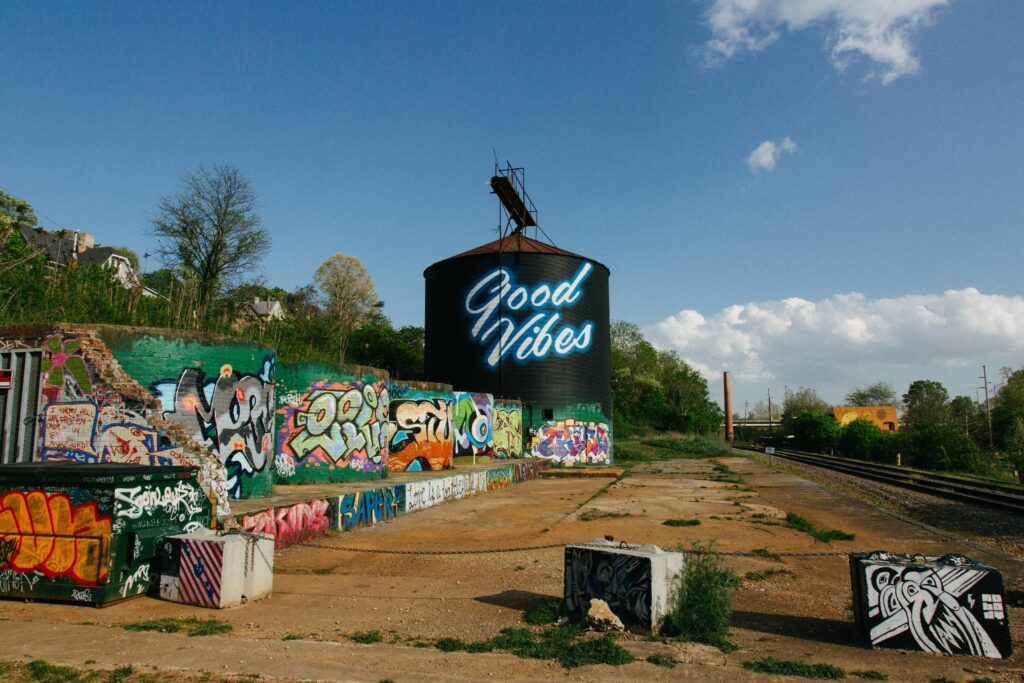 Located in Pack Square, the permanent collection focuses on twentieth- and twenty-first- century works with special emphasis on artists from the southeastern United States. There is also an extensive collection of glass, fiber, wood, metal, and mixed media.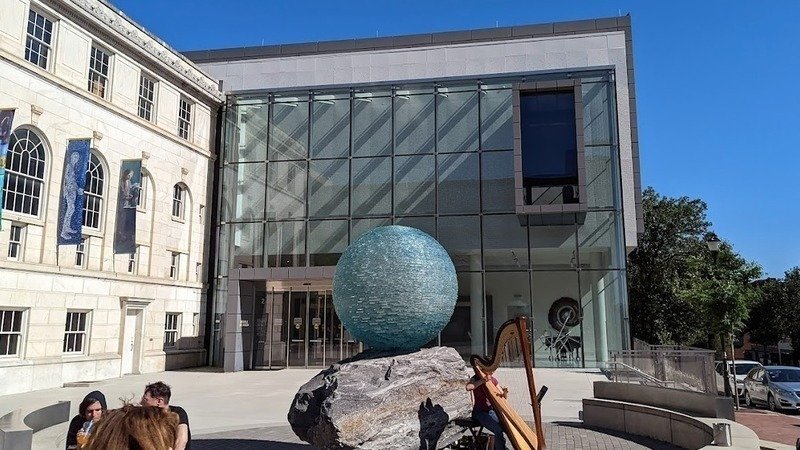 Folk Art Center–Southern Highlands Craft Guild
This amazing facility is the place to see or purchase work from 450 craftspeople and artists. The level of workmanship is stunning, as are the displays. From March to December, you can see daily demonstrations by guild artisans. (If Adele had been real, these would have been her people!)
Travel Guide to Asheville, NC: Eating in Asheville
There are so many incredible restaurants in Asheville that any list I make will be incomplete, but here are a few I've especially enjoyed, including some you'll recognize from the story.
The S&W Building, a beautiful art deco structure that is listed on the National Register of Historic Places, was originally the home of Asheville's iconic S&W Cafeteria. In the story, Adele and George eat at the cafeteria and Esme and Yolanda dine there in early 2009, when it housed an upscale but short-lived restaurant known as S&W Steak and Wine.
Today, the building is hosts a variety of vendors serving everything from craft beers and fried chicken sandwiches to tacos and locally made ice cream. It's a good place to grab an inexpensive meal with a side of atmosphere and history.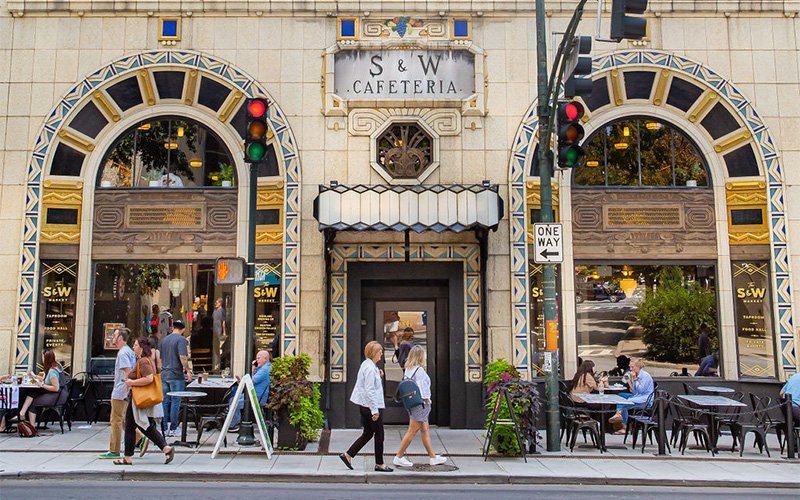 There are three of these restaurants in Asheville. In the book, Esme and Yolanda have lunch at the downtown location. All of three are terrific and they serve breakfast or lunch all day! If you're looking for something healthy, try the Veggie Breakfast Bowl.
And then, because you've been so healthy and responsible, get a side of the banana bread.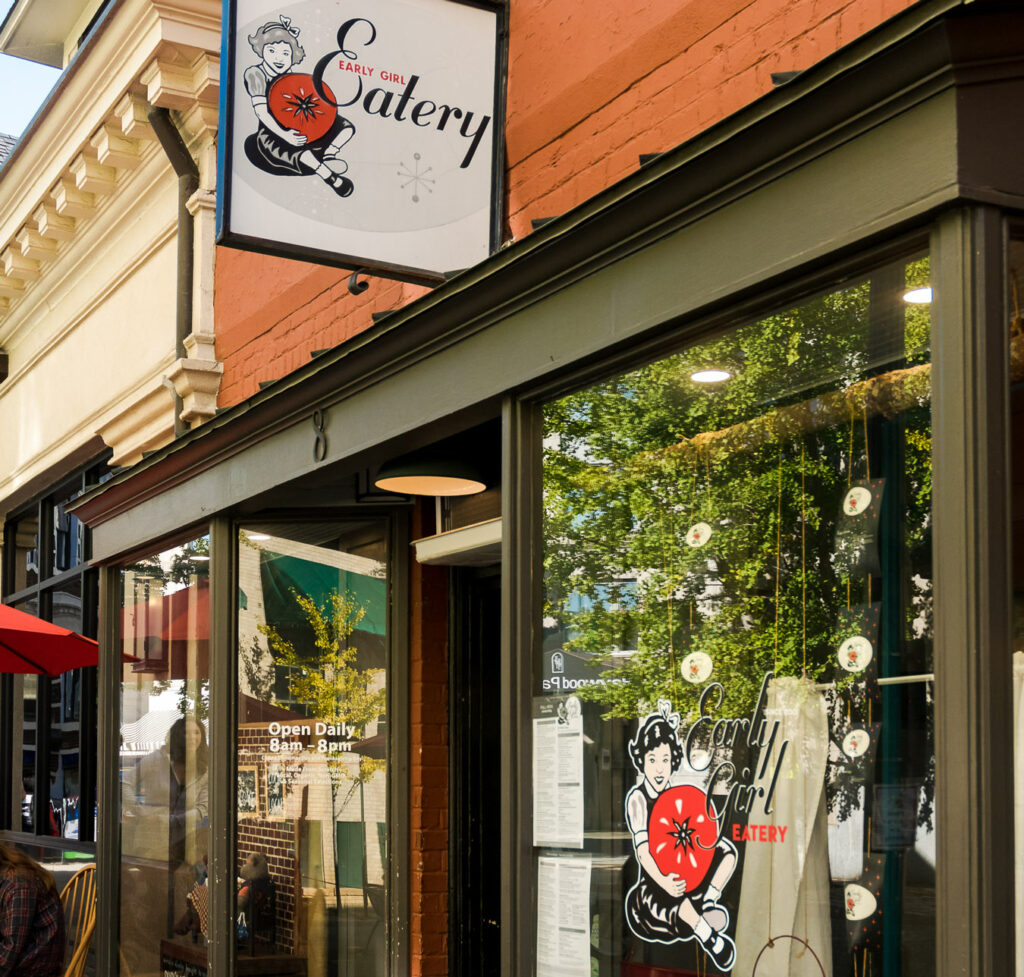 There are two locations in Asheville, one in Hendersonville. If you like biscuits, this is the place to get them. Enjoy them plain with butter or maybe some pimento cheese. Or go all-out and order yours with pulled pork, jalapeno pimento, bacon, maple syrup, and a poached egg.
This downtown eatery specializes in scratch-made Southern cuisine such as fried green tomatoes, chicken and waffles, and shrimp and grits. They're all terrific. If you've got room for dessert, try the banana pudding or pecan pie.
Travel Guide to Asheville, NC: Shopping In in Asheville
Once again, my list only scratches the surface of Asheville's great shopping spots. But here are a few that I especially love, some of which make appearances in the book. (Keep in mind that these retailers are in business at the time of this writing but, of course, that can change.)
One of the best independent bookstores in the country. They've got a huge inventory of books in all genres, including a large section devoted to local history and authors, which was invaluable during my research.
Located in the historic Grove Arcade (which is worth a visit all by itself), this gorgeous shop has an incredible selection of specialty yarns as well as hats, gloves, and scarves designed and crafted by local artisans. I love that this business is woman-owned!
With a dizzying array of supplies for weavers, spinners, basket makers, woodworkers, and crafters of all stripe, this Haywood Street business is my idea of heaven! It served as my inspiration when imagining Yolanda's gallery and workshop.
There are other good chocolate shops in Asheville, but I really love this small Haywood Street storefront, owned by a local couple who are passionate chocolatiers and have been making award-winning, handmade chocolates, truffles, and caramels for more than 20 twenty years. They ship nationwide!
In case you hadn't guessed by now, I'm a sucker for historic buildings. Though Mast stores have been around since 1883, they didn't move into the Pack Square spot in Asheville until 1999. However, a general store did open at this location in 1846. It was home to a series of businesses over the years and, after a fire, was renovated in the 1940's. The building still has an old-fashioned feel, and Mast carries a good selection of clothing, outdoor wear, candy, souvenirs, and gifts. In one of the drafts of Esme Cahill Fails Spectacularly, I wrote a scene with Esme buying her shoes at Mast, but cut it from the final manuscript.