This post may contain affiliate links. Full disclosure policy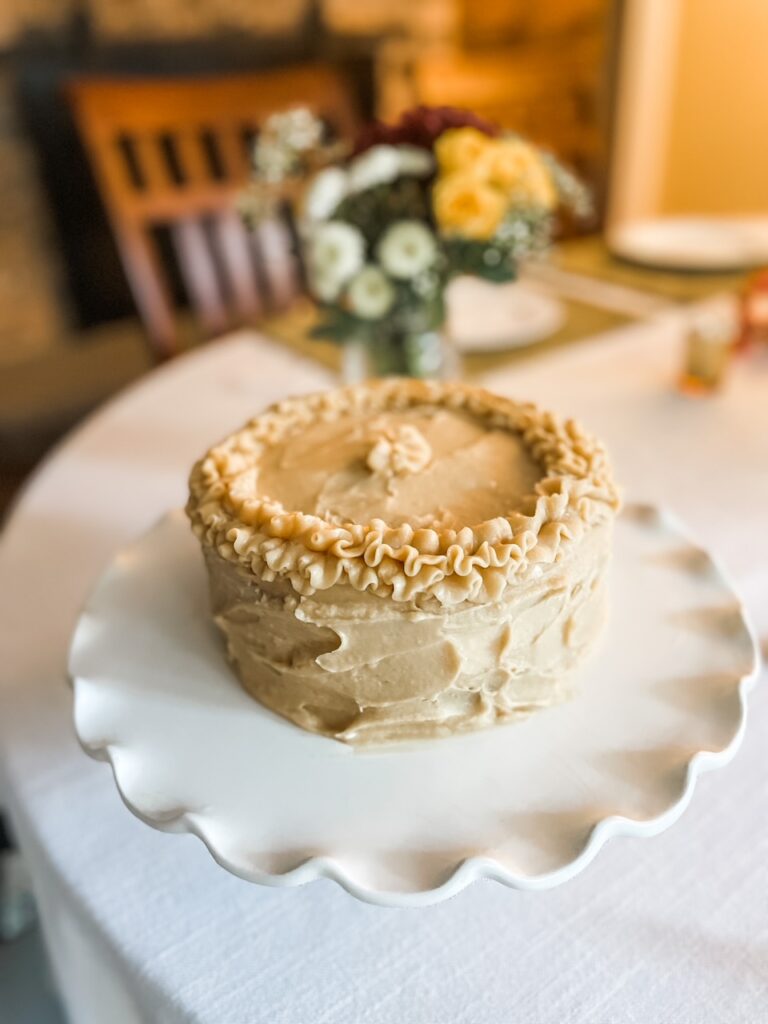 Based on a caramel cake that I describe in my novel, ESME CAHILL FAILS SPECTACULARLY; this cake is decadently delicious and totally worth the calories. Best of all, the recipe is so easy that anyone can make it, even you!
Good Books and Good Food
If you've read my books before, you know there are always some descriptions of scrumptious-sounding food. When I first started writing, I'd sometimes "invent" a dish on the spur of the moment. I'd just type up a description of something that sounded good in my mind, even if I'd never eaten it before.
That's exactly what I did when I was writing A SINGLE THREAD, the first book in my Cobbled Court novels. One of the characters, Charlie, is a restauranteur and foodie. Somewhere along the line, he needed to bake something. I decided it should be cookies with butterscotch and macadamia nuts.
Had I ever tasted such a cookie? Nope. But they just sounded so good!
Fast forward a few months. A reader wrote to ask if I would share the recipe for those yummy-sounding cookies.
Recipe? What recipe?
But I realized that the reader had a point. If you read about something scrumptious in a book, of course you're going to want the recipe. So, I got myself to the kitchen, pulled out the mixing bowls and flour, and started experimenting.
The result was Charley Donnelly's Famous Butterscotch and Macadamia Nut Cookies. They're really, really yummy.
You can find that recipe, and about a dozen more recipes inspired by my novels, on under the "Goodies" tab on my website. Once you're there, just submit your email address and you'll be able to download and print all those recipes for your personal use. Here's a link.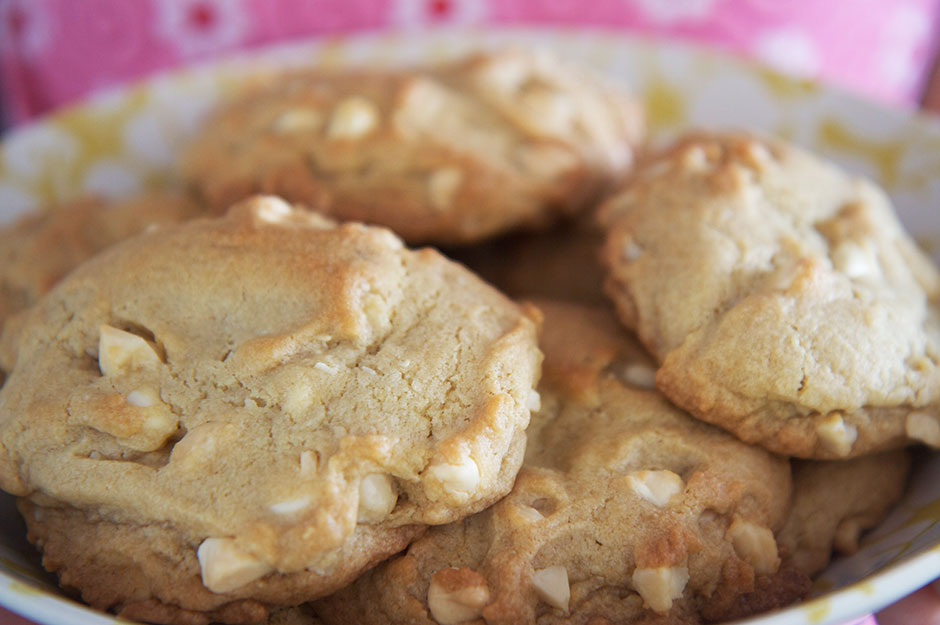 Easier Than Adele's Caramel Cake – A New "Novel" Recipe
Esme Cahill Fails Spectacularly is set in Asheville, North Carolina. So much of the food the characters enjoy in the story is southern cuisine.
I don't create recipes for every dish in my books, but I knew there were "must-make" dishes from the book, my version of two southern favorites. I'll share the second recipe soon, but I'm starting with an absolute southern classic, caramel cake.
Now, if you've ever made caramel from scratch, you know it can be tricky. And poor Esme Cahill, who already feels like she's failing spectacularly, tackles a steep learning curve while trying to make her grandmother Adele's famous caramel cake.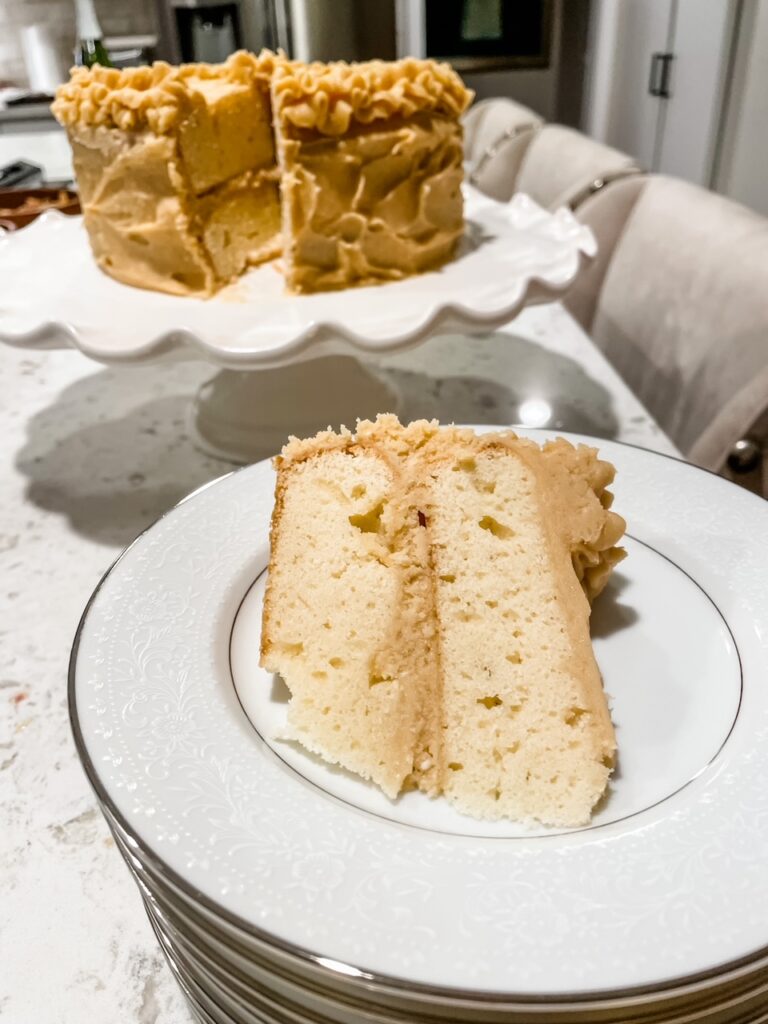 Fortunately for the rest of us, making a scrumptious showstopping cake doesn't require smoke alarms or private lessons from a handsome professional chef.
(But come to think of it, that last part doesn't really sound too bad, does it?)
Using store-bought caramel sauce for the icing (or making your own if you've mastered the art) and slathering it over a rich, decadent, sour cream cake results in a gorgeous cake that's easier than Adele's but just as delicious.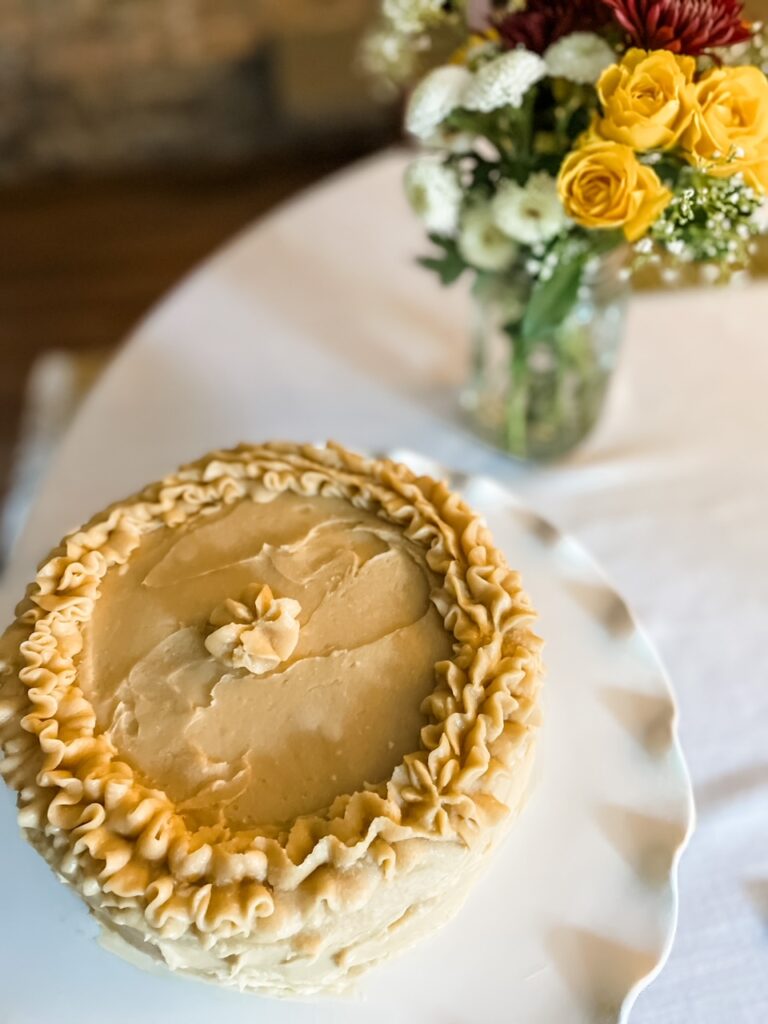 This caramel cake is truly scrumptious and absolutely worth the calories. It's also the perfect thing to serve your book club when they meet to talk about Esme Cahill Fails Spectacularly. (If you want some discussion for your book club, you can find them here.)
Give it a try – the book and the cake!
Print
Easier Than Adele's Caramel Cake
---
Author:

Yield:

Makes

2

layers, 9 inches each or

one

9 x 13 cake

1

x
INGREDIENTS FOR THE CAKE
1 cup

sour cream

¼ cup

whole milk

1 cup

unsalted butter, softened

2 cups

sugar

4

eggs

2 ¾ cups

flour (for a gluten free cake, sub equal amount of Bob's Red Mill Gluten Free

1

to

1

Flour. Note that the cake won't rise quite as high, but will still taste great.)

2 tsp

baking powder

½ tsp

salt

2 tsp

caramel flavoring (Watkins Caramel Flavor preferred, available on Amazon. In a pinch, you can substitute

1 tsp

vanilla and

1 tsp

rum extract.)
INGREDIENTS FOR CARAMEL FROSTING (Enough to frost 9-in layer or 9×13 cake)
1 cup

butter, slightly softened and cut into pieces

1 cup

thick caramel sauce (store-bought or homemade – spoonable, not pourable)

4 cups

powdered sugar

2

T cream or whole milk

½

to

1

tsp kosher or sea salt (according to taste, less if you're using a salted caramel)

1 tsp

caramel flavor (optional but makes a difference)
---
Instructions
INSTRUCTIONS FOR THE CAKE:
Preheat oven to 350. Grease and flour the cake pan(s). Stir milk and sour cream together in a small bowl and set aside.
Place the butter in a mixer and beat at medium-high until smooth. Pour in sugar gradually and beat until fluffy. Add eggs one at a time, scraping down sides of bowl with a spatula and beating welling after each one.
Place flour, baking powder, and salt in a bowl and whisk to combine. Running the mixer on at medium-low speed, add dry ingredients to butter in the mixer, alternating with the sour cream mixture in 3 batches. Scrape down sides of bowl between additions.
Stir in the caramel flavoring. Pour batter into prepared cake pans and bake in preheated oven, 35 minutes for 9-inch rounds, 50 minutes for 9×13 pan, or until a toothpick inserted in the center comes out clean. Allow cake to cool completely before frosting.
INSTRUCTIONS FOR CARAMEL FROSTING:
Place butter pieces in bowl of electric mixer and beat at medium speed, until smooth. Spoon caramel into bowl in batches, beat well and scrape sides of bowl after each addition.
Add powdered sugar, one cup at a time, beating well and scraping bowl after each addition. Add caramel flavoring, salt, and cream or milk.
Beat the frosting at medium high speed for an additional 3 to 5 minutes, until light and fluffy. Spread frosting on completely cooled cake.