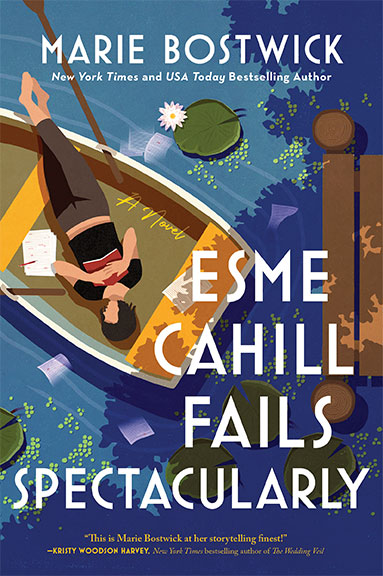 From the author of The Restoration of Celia Fairchild, comes a novel about the meaning of family and the places we call home. If you love "southern summer" fiction authors like Mary Alice Monroe and Kristy Woodson Harvey you'll love Esme Cahill Fails Spectacularly – a novel about family, friendship, and finding your true path in life.
Esme Cahill thinks she has failed spectacularly: fired from her New York City publishing job, divorced from her husband, and possessing little more than a broken-down car and a pile of unfinished manuscripts, she drives home to Asheville at the request of her late grandmother, Adele, who had begged her, just before she died, to return to the place she grew up.
There she discovers the once-charming lakeside retreat run by her family is sliding toward financial ruin, so with the help of her grandfather, George; estranged mother, Robyn; and a travelling chef Dawes (maker of the world's best grilled cheese sandwich) they set to work. In the attic, Esme unearths a trove of museum-worthy art quilts, sewn by Adele. Piecing together the inspiration behind them, Esme discovers a forgotten chapter in her family history and her grandmother's untold story, that of a gifted artist who never received her due.
This is an always-emotional, sometimes humorous, very human novel of what it means to be family—the ties that bind us together and the unintentional hurts that can rend us apart. And, along the way, Esme learns that failure can be the first step toward the life you're meant to find.
Esme Cahill Fails Spectacularly is available for pre-order and will be released on May 30, 2023.
Marie Bostwick is a USA Today and New York Times bestselling author of uplifting historical and women's fiction, including the popular Cobbled Court Quilt and Too Much, Texas series of books.
---
Esme Extras
Get Esme discussion questions for book clubs, recipes from the story, a travel guide to Asheville, NC to get a peek into Esme's world, and a special note from Marie.
---
---
Praise for Esme Cahill Fails Spectacularly
"Marie Bostwick wows with this wise, warm-hearted novel about taking risks, chasing dreams, and finding solace in the places you love most. Set in an idyllic North Carolina mountain resort, it is a vacation in words that I did not want to leave and absolutely could not put down. Esme Cahill is a protagonist to root for who will ultimately uncover the true meaning of family, the power of ancestral memory, and how, sometimes, failing spectacularly is the only way to begin again. This is Marie Bostwick at her storytelling finest!" — Kristy Woodson Harvey, New York Times bestselling author of The Wedding Veil
"Marie Bostwick's latest, Esme Cahill Fails Spectacularly, has everything I love: a funny, brave heroine who knows how to rock failure so well that she's writing a book after receiving 268 previous rejections, women helping each other, a lakeside resort in need of some BIG repairs, a loving and dysfunctional family–and caramel cake! And quilts! I read this wise, loving book in one sitting because I simply couldn't stop. And now I want a sequel!" — Maddie Dawson, bestselling author of Snap Out of It
"VERDICT Readers will love this feel-good novel that embraces the idea of family and small-town living while it extols the unexpected benefits of veering off the path from a perfectly mapped life." — Library Journal
"Bostwick once again expertly writes on themes of finding your own path, healing relationships, and living a life you love." — Booklist, LynnDee Wathen
---
Praise for Marie Bostwick
"Perennial fan favorite Marie Bostwick has done something special. This new novel has all the hallmarks readers have come to love about her books…This big-hearted tale of redemption, family ties, secrets, tough choices, and happy endings is filled with her trademark warmth and wisdom that will leave readers deeply satisfied." — Susan Wiggs, New York Times bestselling author, on The Restoration of Celia Fairchild
"With warmth, heart and hilarity, Marie Bostwick dazzles with a story about taking risks and letting go of the past to make way for the future of her dreams." — Adriana Trigiani, New York Times bestselling author, on The Restoration of Celia Fairchild
"With gorgeous writing, Marie Bostwick has hit new heights with this surprising story of one woman's redemption. The Restoration of Celia Fairchild is wise, witty, and utterly compelling." — Jane Green, New York Times bestselling author of The Friends We Keep
"There is lots of Southern charm as well as plenty of sweet tea in this wise and funny novel… Marie Bostwick writes with such warmth and generosity and humor that you won't want to put this book down." — Maddie Dawson, internationally bestselling author of A Happy Catastrophe, on The Restoration of Celia Fairchild
"Marie Bostwick is my go-to author for feel-good novels. Her writing is always powerful, inspiring, and uplifting." — Robyn Carr