This post may contain affiliate links. Full disclosure policy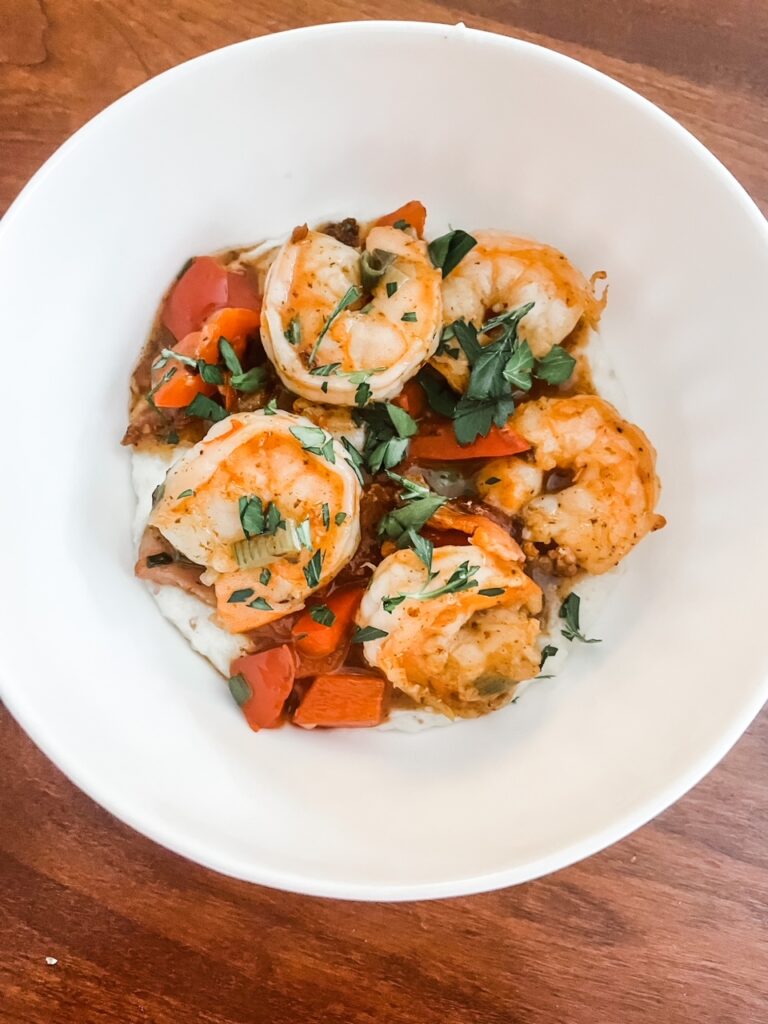 Shrimp and Grits are a delicious staple of Southern cuisine. My version, featuring creamy cheese grits, fresh shrimp, colorful veggies, and smoky bacon, was inspired by my new novel, Esme Cahill Fails Spectacularly.
Shrimp And Grits – Inspired By Esme And Adele
"The grease adds a lot of flavor, so make sure the bacon is good and cooked before you toss in the shrimp," she explained as she stirred a mess of crackling lardons into her favorite cast iron skillet. "New Yorkers probably won't know about it so they'll think you're making something exotic. The best thing about this recipe is it's scalable, perfect for parties."
Oh, Adele.
Any other grandmother about to send her teenage granddaughter off to the big, bad city would have been instructing her in the proper use of handheld mace. Adele's big concern was making sure I was prepared to entertain…
Of course, that's exactly what happened. Shrimp and grits became my signature dish, a recipe that works for a first-date dinner for two or a baby shower for twenty. Like Adele said, it's scalable."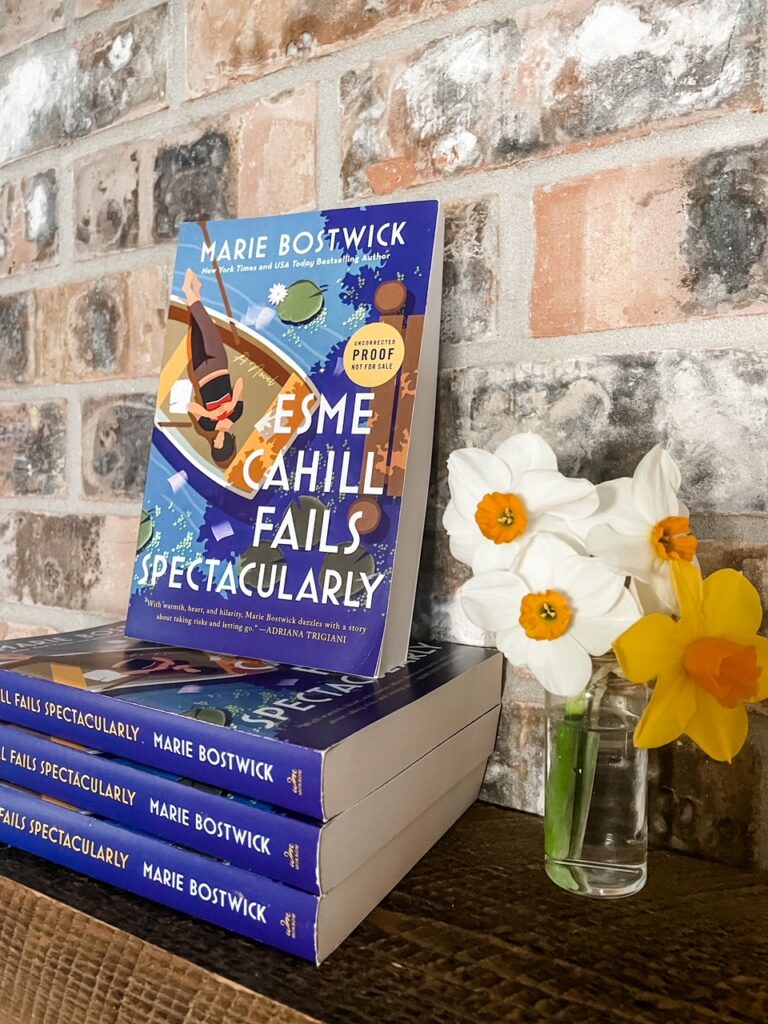 So says Esme Cahill about the recipe her grandmother Adele passed on just before Esme moved to New York, fifteen years before The Incident derailed Esme's life and sent her scurrying back to Asheville, feeling like a spectacular failure.
Well-intentioned though she may be, Esme gets a lot of stuff wrong. But she's right about The Cahill Family's Shrimp and Grits recipe. It's perfect for a romantic dinner, a family meal, or a baby shower.
And here's an idea! Why not serve these Esme-inspired shrimp and grits to your book club members when they gather to discuss my new book, Esme Cahill Fails Spectacularly? Add a green salad and "Easier than Adele's Caramel Cake" for dessert you're in business!
You can even find discussion questions here, in the "Esme Extras" section.
But no matter when or where you serve them, shrimp and grits will surely be a crowd-pleaser.
Tips For Making Shrimp and Grits
The first thing I want to tell you about this recipe is that you shouldn't let the number of steps intimidate you. It's honestly a simple recipe that comes together very quickly. Once you've prepped the ingredients, finishing the dish will only take about 20 minutes.
But that brings me to another point…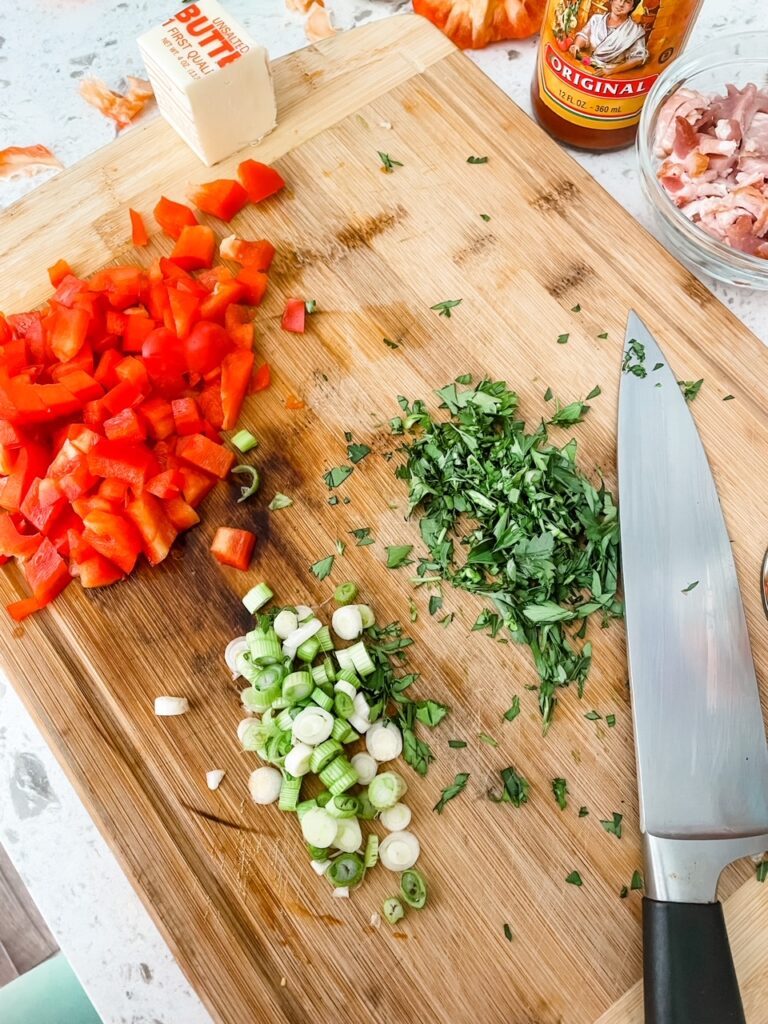 You really must prep the ingredients in advance. Make sure the shrimp are shelled, deveined, rinsed, and dried before you start. Also, chop the bacon and veggies ahead of time. Because you really won't have time to do any of that once you start cooking. Preparation is key here. That also means reading the recipe all the way through a couple of times before you start.
Here are a few other tips to help make your shrimp and grits just as delectable as Adele's.
Nobody likes lumpy grits. Pouring them into the boiling water slowly and stirring them with a wire whisk will go a long way toward eliminating that.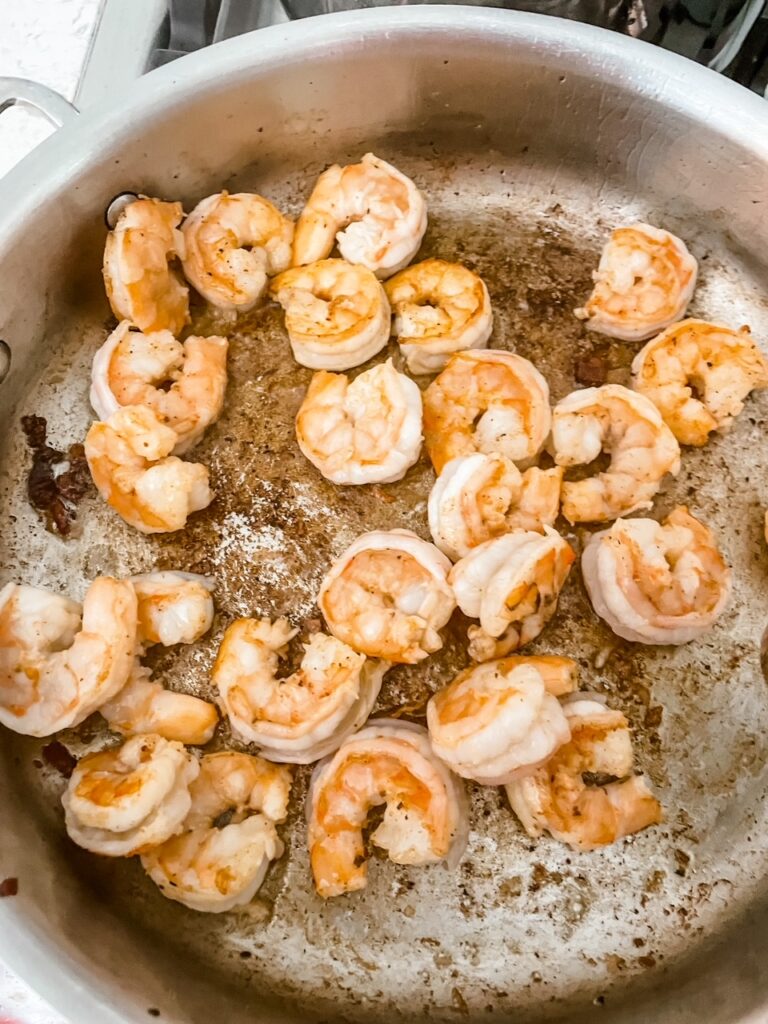 Something else nobody likes? Rubbery, overcooked shrimp. Cook the shrimp until it turns a nice bright pink, but no longer. I'm serious about this! Do not overcook the shrimp!
As Adele said, the bacon does add a lot of flavor. Be sure to cook it until it's nice and crisp and all the fat has been rendered. Finally, shrimp and grits should be eaten immediately. It's not something you can make ahead of time or which is good for leftovers.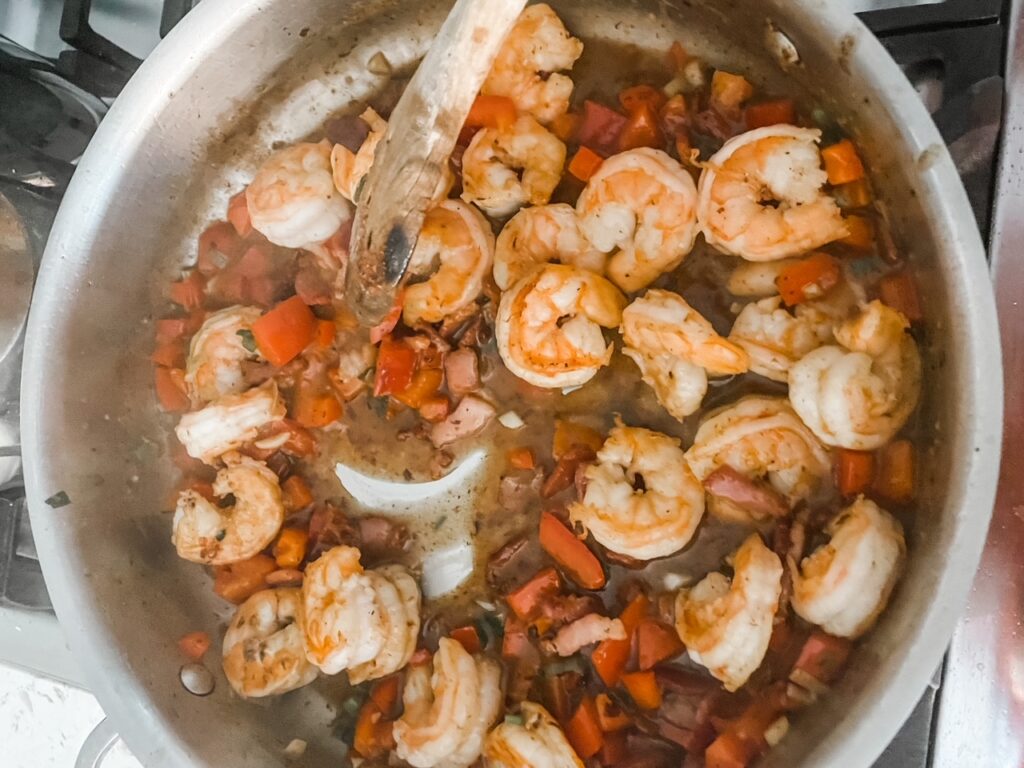 But you know what? You're not going to have leftovers. Because shrimp and grits is one of those dishes that result in totally clean plates.
Give this Esme Cahill-inspired recipe a try soon. My family and guests love it. I know yours will too!
Print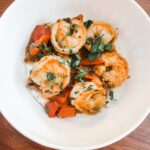 Shrimp and Grits: An Esme Cahill Recipe
---
Author:

Yield:

4

servings

1

x
1 cup

quick cooking grits

4 cups

water

½ tsp

. salt

1 cup

shredded sharp white cheddar cheese

2

T butter, divided

4 oz

bacon, cut into

¼

inch slices

1

lb raw shrimp, shelled and deveined

1

small red bell pepper, seeded and small diced

2

–

3

green onions thinly sliced, white and pale green parts only

1 cup

chicken or shrimp broth
Salt and pepper to taste

2

T chopped parsley
Tabasco sauce (optional)
---
Instructions
Bring 4 cups of water and ½ tsp salt to boil in a heavy bottomed pot. Slowly stir in the grits. (Using a wire whisk will help eliminate lumps.)
Lower heat to a simmer and place a cover the pot. Simmer grits for 5 minutes. Add cheese and 1 T of butter to the pan. Stir to melt. Turn heat off under burner and cover pan to keep grits warm while making the shrimp.
Place bacon in a large pan over medium high heat. Cook for approximately 5 minutes, stirring frequently to prevent burning, until the fat is rendered and bacon is crisp and brown. Use a slotted to spoon to remove the bacon and set it aside, leaving the grease in the pan.
Add the shrimp to the pan with the bacon grease. Cook for about 3 minutes, until shrimp turns pink on both sides. (Don't overcook!) Remove shrimp from pan and set aside, covering to keep warm.
Melt remaining tablespoon of butter in the pan. Add bell pepper and scallions to the pan. Cook for 2-3 minutes, until vegetables are slightly softened.
Pour broth into pan. Bring broth to a boil while using a spatula to scrape up any browned bit from the bottom of the pan, creating a thin sauce. Add salt and pepper to taste. Lower heat. Add the cooked bacon, shrimp, and vegetables to the pan. Stir to combine with the sauce and heat through.
Divide reserved grits among 4 bowls. Top with equal portions of the shrimp and sauce. Garnish with parsley and add a few dashes of Tabasco if desired. Serve immediately.