This post may contain affiliate links. Full disclosure policy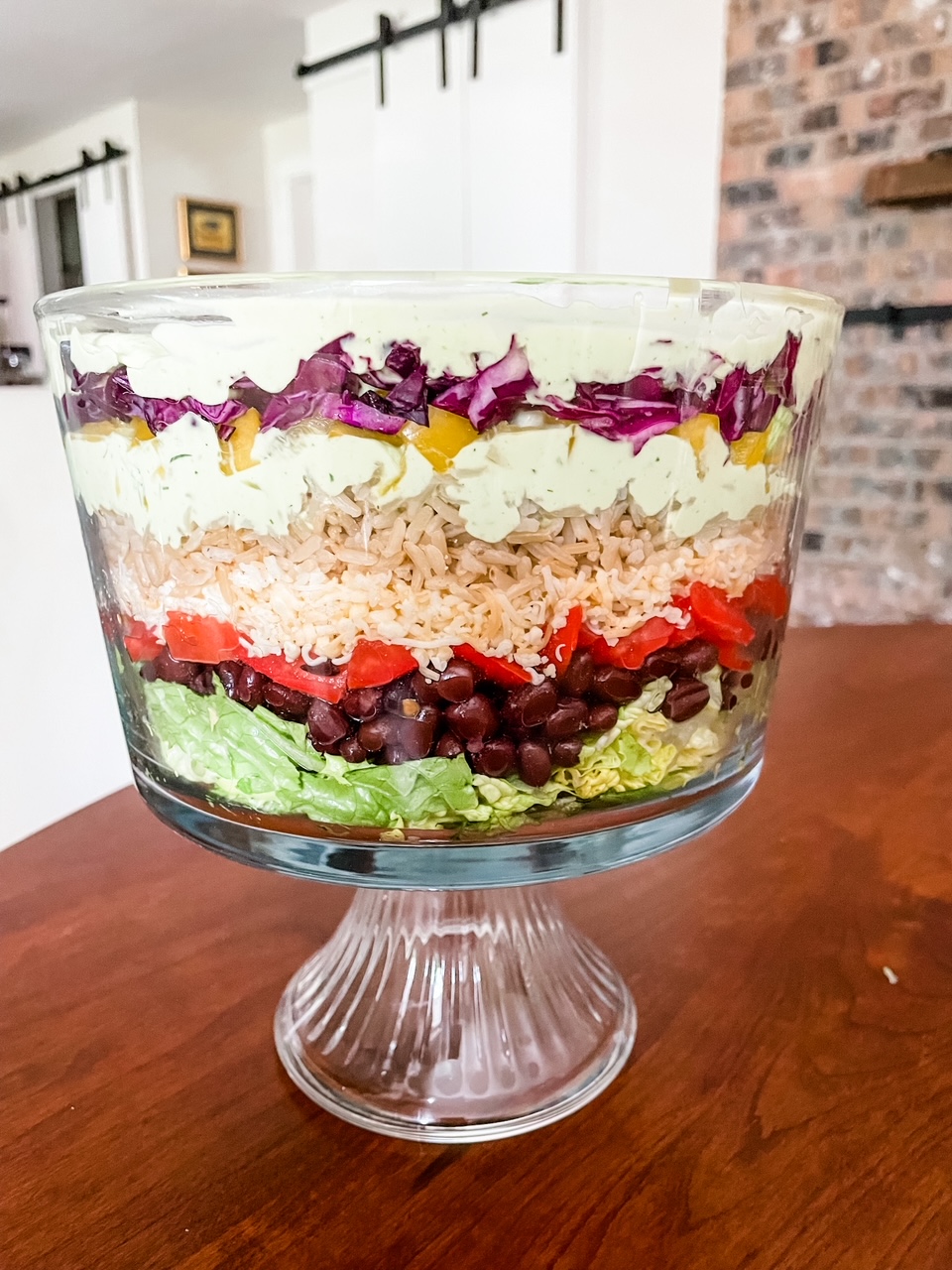 This showstopping Vegetarian Layered Salad with Avocado and Lime Dressing is loaded with color, crunch, and flavor. Creamy Avocado and Lime Dressing adds tang and pizazz to this gorgeous main dish salad. Perfect for a Sunday brunch centerpiece or family get-together. Don't worry about leftovers with this one!
Vegetarian Layered Salad – Nothing Could be Prettier
Is there anything quite as tempting as a big, beautiful salad featuring layer after layer of bright and colorful vegetables? Not in my book.
With summer gatherings coming up, I'm trying out new recipes that can serve a crowd. Making a vegetarian layered salad came immediately to mind. Not only is a layered salad impressive enough to serve to company, but it's also an ideal make-ahead entrée for hot summer days. No stove or oven required!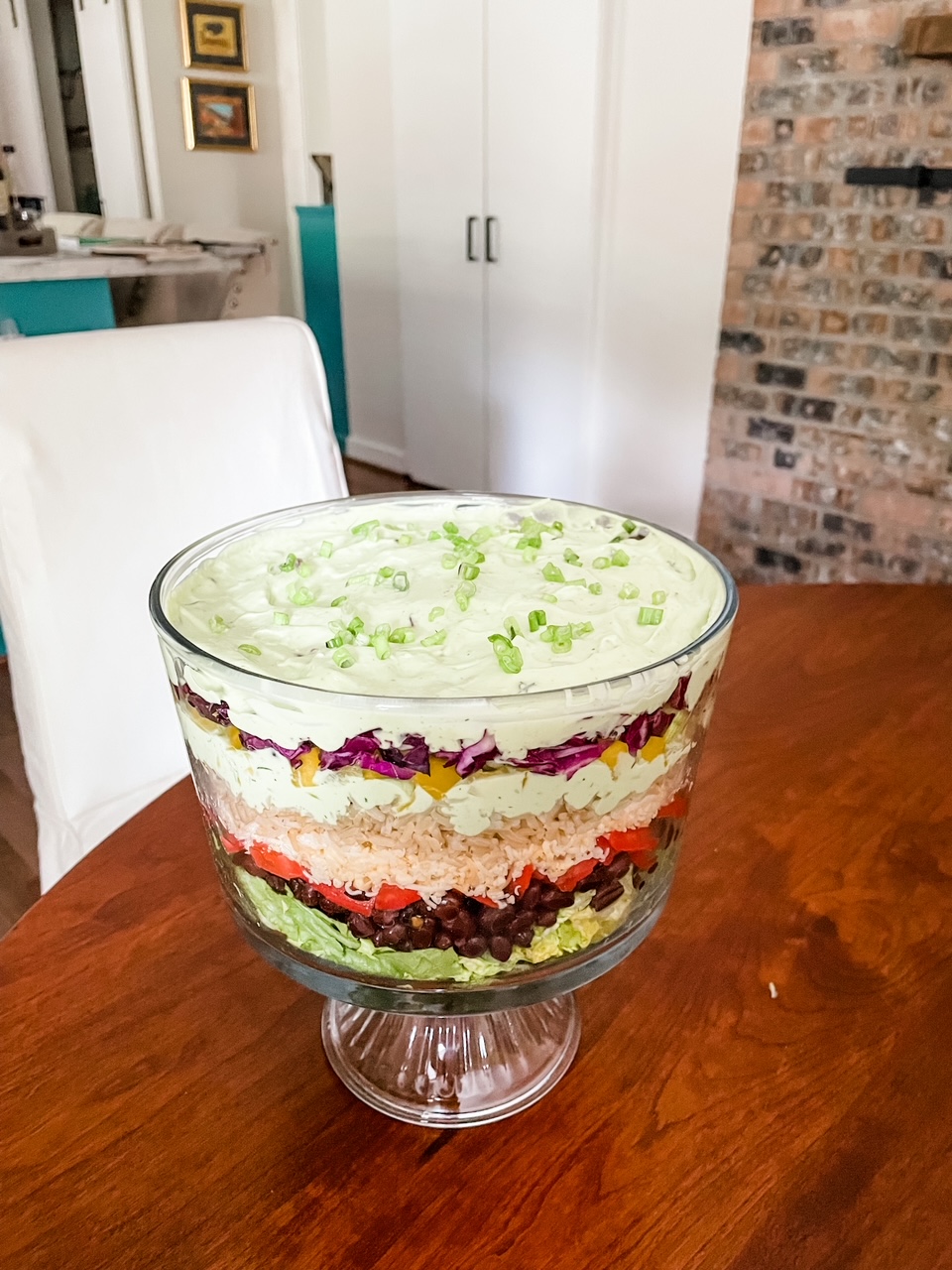 My Way or Your Way – Choose Your Adventure!
Quite a few of my friends and family members are vegetarians and I made this layered salad with that in mind. Instead of chicken or beef, this main dish salad features black beans, brown rice, and low-fat shredded cheese, plus non-fat Greek yogurt in the dressing.
These days, entertaining (or even just feeding your family) can require juggling a variety of dietary restrictions or preferences. That's one of the great things about this vegetarian layered salad; it's really flexible!
Does somebody in your family have allergies to nightshade vegetables such as tomato or sweet peppers? No problem, just use layers of zucchini, shredded carrots, or jicama in their place. Did your cousin Dwayne recently become a vegan? Just leave out the cheese and substitute firm tofu and store brand vegan mayonnaise for the yogurt and mayo in the dressing.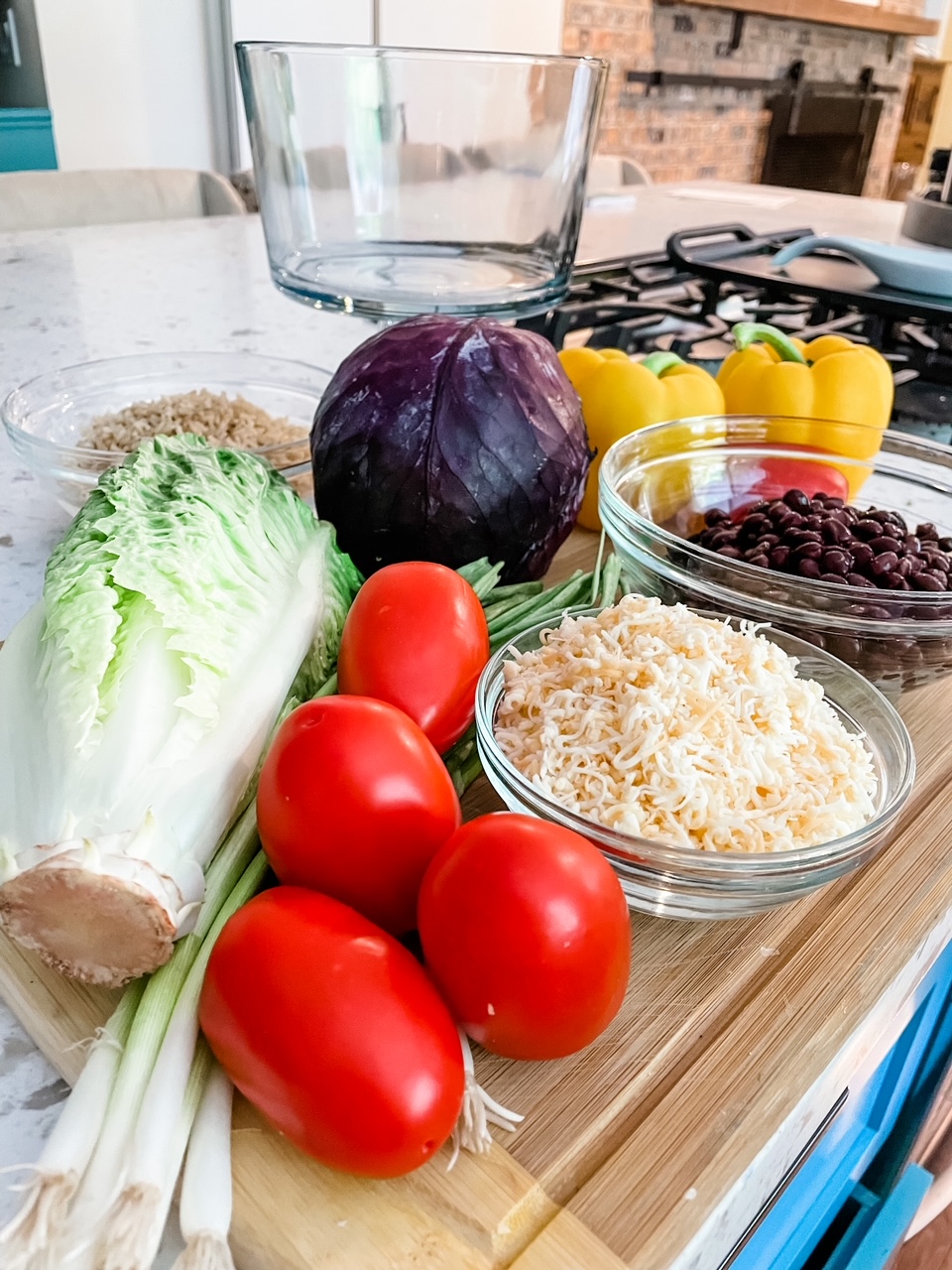 This vegetarian layered salad can easily be adjusted to meet the needs and preferences of just about anybody. In fact, it doesn't even have to be vegetarian.
Is a meatless meal unthinkable at your house? Simply add a layer of ground beef cooked with a little taco seasoning or some cooked rotisserie chicken tossed in a bit of barbeque sauce.
However, unless someone is allergic or just dislikes them, I do recommend you leave in the black beans and rice. They add texture and make this a truly satisfying and filling main dish salad.
Making the Vegetarian Layered Salad
You could make this salad in a large, clear glass bowl but I really think it looks best when served in a trifle bowl, like mine.
A three-quart trifle bowl isn't expensive and has lots of uses. In addition to making layered salads, it's perfect for serving impressive looking desserts, such as my Lighter Berry Trifle with Lemon Filling. And when you're not using it for food, trifle bowls are a great spot for storing fruit or even as containers for flower arrangements.
Once you've got your bowl, making a beautiful salad could not be easier! After washing and chopping the vegetables, you simply add them to the bowl, one layer at a time.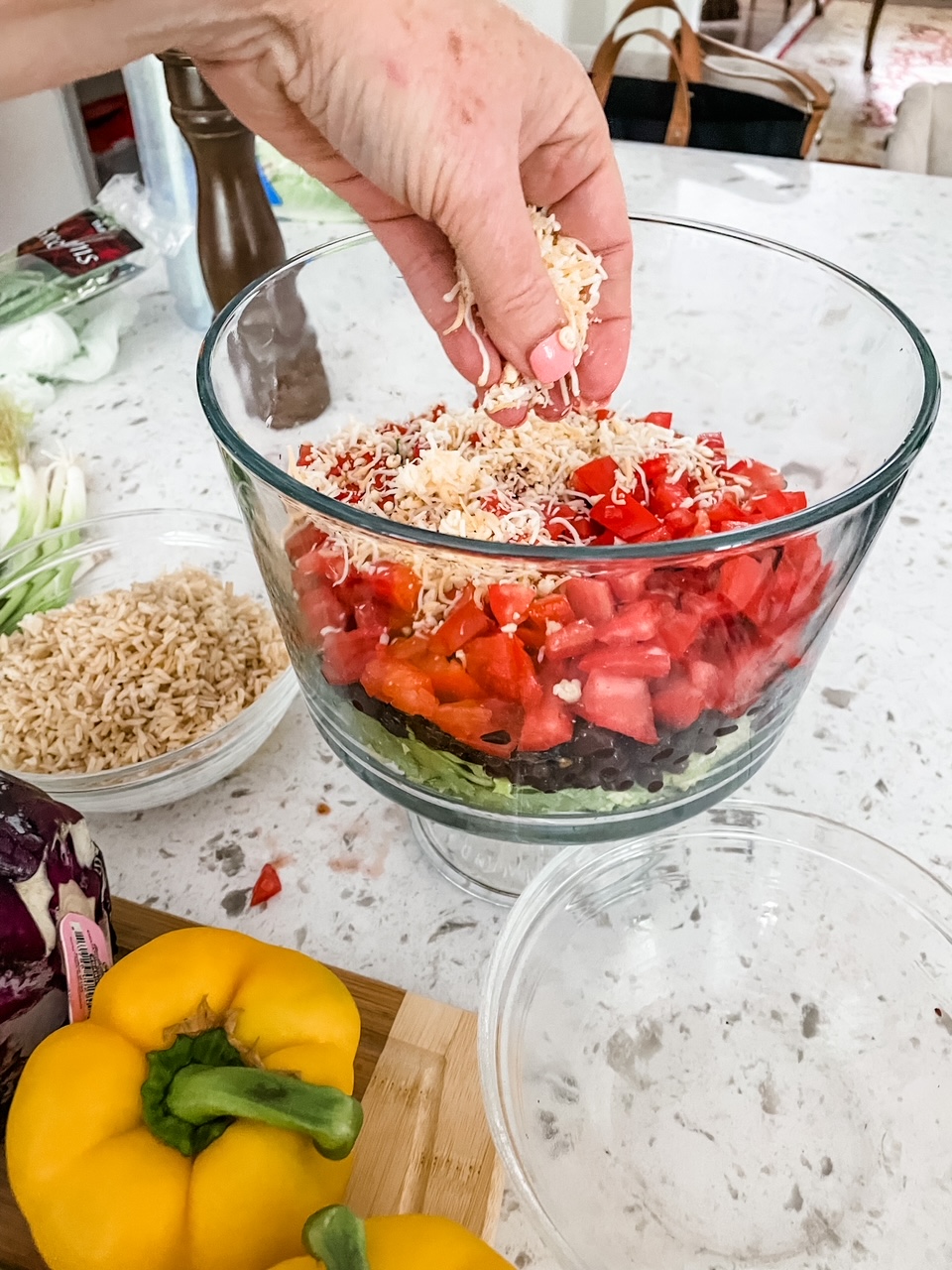 I'll list the order I used in the recipe below, but the layers can be done in any order you prefer. But it will look best if you try to keep similar colors from touching each other. For example, you wouldn't want to put yellow sweet peppers right on top of yellow cheese.
As you'll see in the photos, I put two layers of dressing in the salad. Next time, I think I'll put the dressing in a single layer on the top. In retrospect, I think a thicker layer of dressing would have looked even prettier.
Making the Avocado and Lime Dressing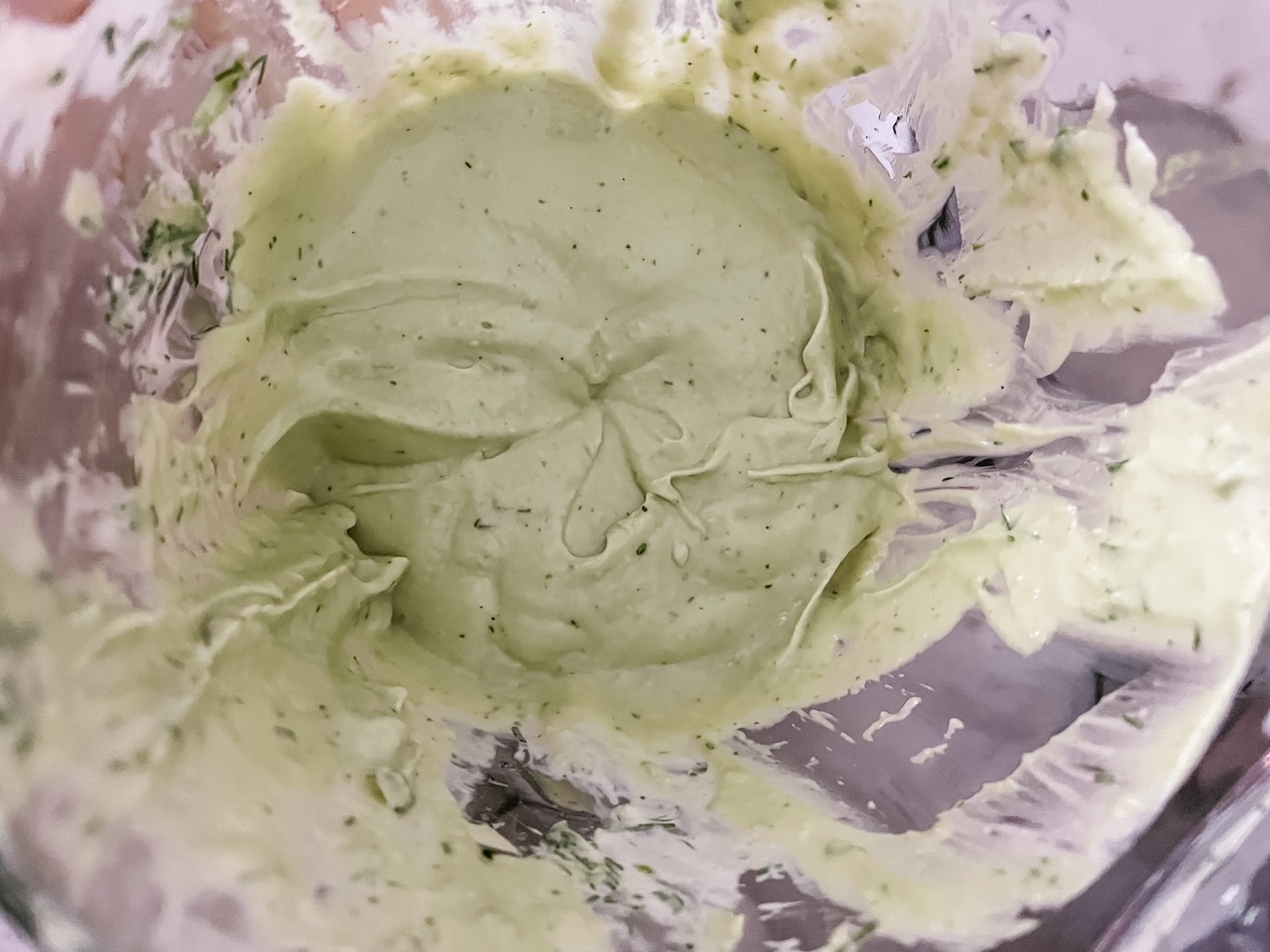 The avocado and lime dressing I made for my salad is incredibly easy to prepare. You literally just toss the ingredients into the blender or food processor and blend until smooth.
However, it's a really, really thick dressing – more spoonable than pourable. So you might need to stop the blender once or twice and stir the ingredients in order to get a smooth consistency.
The dressing goes on last and should be smoothed over the top with a spatula, kind of like you're frosting a cake. That layer of dressing will "seal" the vegetables underneath, keeping out the air so they don't get soggy or discolored.
Serving and Storing Your Vegetarian Layered Salad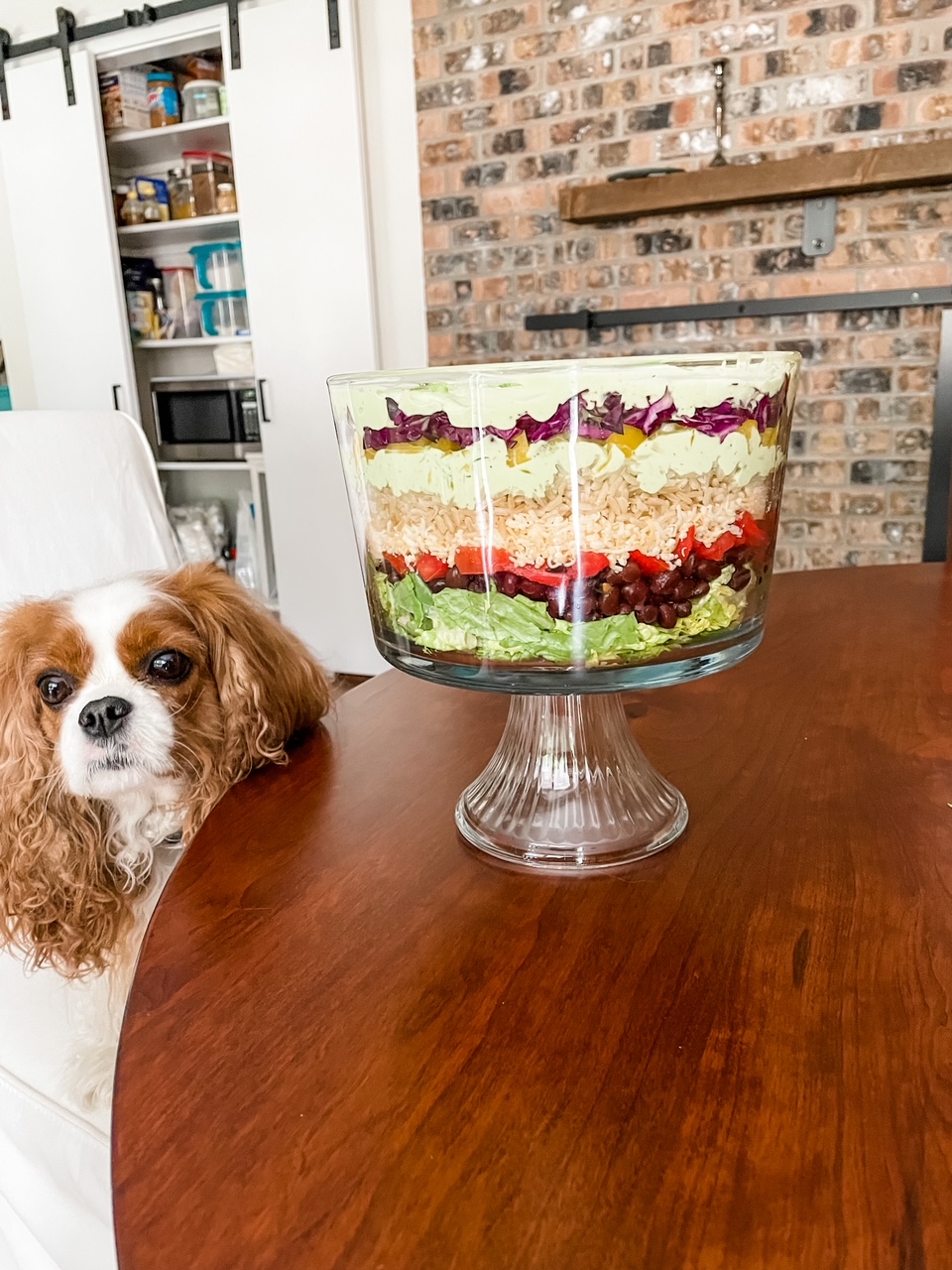 One of the best things about this salad is that you can make it ahead, cover it with plastic wrap and store it in the refrigerator for a few hours before serving. In fact, if you're serving it for a brunch or lunch, you can even make it the night before.
At serving time, put your big, beautiful, showstopping layered salad in the center of the table and give everyone a few minutes to admire your masterpiece. Oooh! Ahhh!
Then dig your salad spoons deep into those lovely layers of healthy deliciousness, toss the dressing with all the ingredients, and dig in!
Print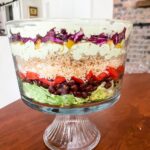 Vegetarian Layered Salad with Avocado and Lime Dressing
---
Author:

Yield:

Serves

6

as an entrée, 8 to 10 as a side

1

x
For the Salad:
4 cups

chopped romaine lettuce

1

14oz can black beans, drained and rinsed

5

Roma tomatoes, seeded and chopped bite-sized

2 cups

cooked white or brown rice

1.5 cups

shredded cheese, low-fat or regular

1

bunch green onions, white and pale green parts sliced (reserve darker green parts for garnish)

2

yellow sweet peppers, seeded and chopped bite sized (can sub green or red sweet peppers)

2 cups

red cabbage, chopped
For the Dressing:
1 cup

plain, non-fat Greek yogurt

1/3 cup

low fat mayonnaise

2

ripe, medium avocados

3

small limes, juice of

1 tsp

salt

¼ tsp

pepper

½ tsp

garlic powder

1 tsp

onion powder

2

T chopped, fresh dill (can sub

2 tsp

. dried dill)
---
Instructions
Make the dressing. Place all the ingredients in a blender or food processor. Pulse to create a thick, smooth puree. Because the dressing is very thick, it may be necessary to stop and stir ingredients occasionally with a spatula, then blend again until perfectly smooth. Set aside.
Using a large, 3-quart trifle bowl or clear glass container, layer the prepared vegetables into the bowl in the following order – lettuce, beans, tomato, cheese, rice, yellow peppers, green onion, red cabbage. Or arrange layers to your personal preference.
Use a spatula to spoon and spread the dressing smoothly over the top of the salad, all the way to the edges of the bowl. Serve immediately or cover with plastic wrap and store in the refrigerator for several hours or up to overnight before serving.