This post may contain affiliate links. Full disclosure policy
THIS POST MAY CONTAIN REFERRAL LINKS. IF YOU CLICK THROUGH AND TAKE ACTION, I MAY BE COMPENSATED, AT NO ADDITIONAL COST TO YOU.
It's almost time for the Super Bowl (and the Puppy Bowl and Super Bowl commercials, take your pick of which one you'll spend your time watching!)
No matter which you are watching it's almost guaranteed you'll be eating something. Because food and the Super Bowl go together like chips and salsa. (Or chips and guacamole, but more on that later!)
I'll still be in Hawaii during the big game thus bearing no hostess or guest responsibilities. However, I want to make sure my Fierce readers are taken care of. So I dusted off an old favorite of mine perfect for game day, then I tried a new appetizer recipe last week, plus I spoke with one of my new favorite people, The Reluctant Entertainer, to get a recipe she thinks packs a punch for a football party!
Without further ado, my suggestions for healthy Super Bowl recipes:
Hearty Chicken Chili (and zero WW points!)
WW points are about the opposite of Super Bowl points – no one would want their team to score zero points, but a hearty recipe with no Weight Watchers points? In this case, zero is a winning number!
I love this for events like a football game watch party. At events where people are going to be around for awhile it can be great to serve something a little heavier in addition to all the snacks.
Print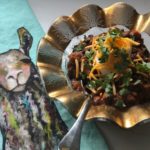 Chicken Chili (zero WW points!
---
3 sprays olive oil cooking spray
1 medium yellow onion, small diced
2 large cloves garlic, chopped fine
12 oz ground chicken (99% Fat Free)**
15 oz can black beans, drained & rinsed
15 oz can pinto beans, drained & rinsed
15 oz can fire roasted tomatoes
1 jalapeño, seeded and diced (if you like a little heat!)
1 red bell pepper, chopped
2 carrots, chopped
2 celery stalks, chopped
10 oz can tomato sauce
1 t. dried oregano
1 t kosher salt
1 t. ground cumin
1 T chili powder
½ t freshly ground pepper
¼ t cayenne (spicy and optional)
chopped cilantro, feta or cheddar, nonfat greek yogurt for garnish (optional)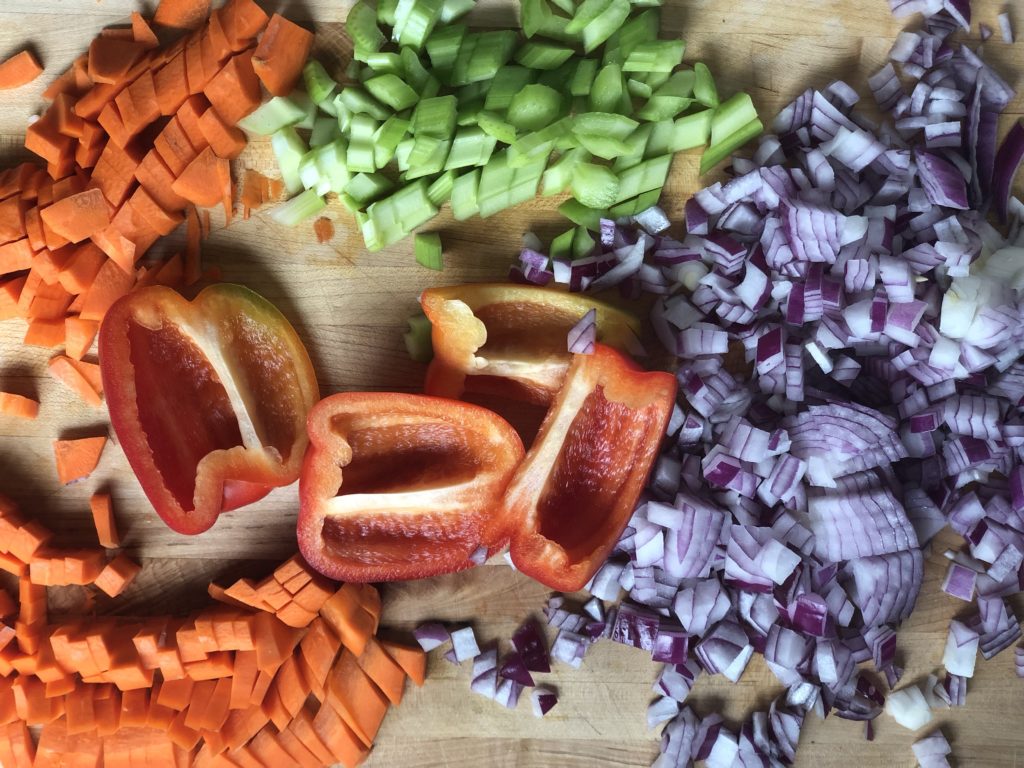 ---
Instructions
Spray a nonstick stockpot with olive oil cooking spray, add onions, red bell pepper, carrots, celery, and jalapeno. Cook over medium heat until onions are soft. After about about 5 minutes, add garlic, cook for an additional minute.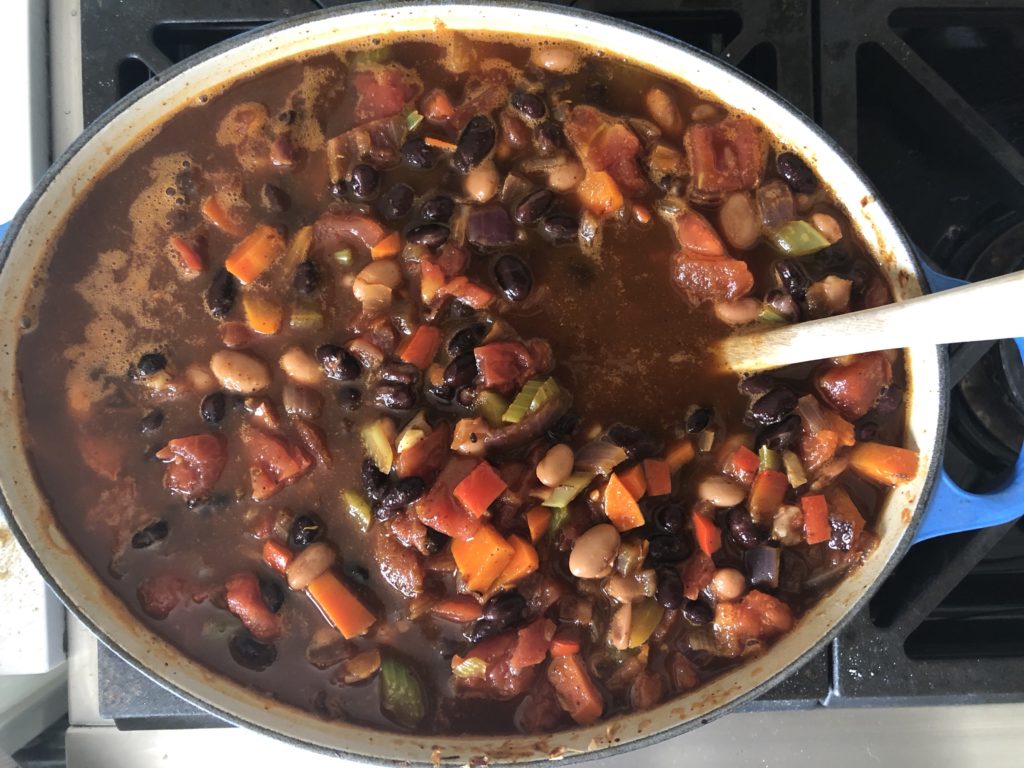 Next, add ground chicken** to cooked vegetables, cook over medium heat, breaking up large pieces with wooden spoon, until chicken is cooked through. Add black and pinto beans, tomato sauce, and roasted tomatoes to pot. Stir and heat through.
Add remaining 6 spices to pot, stir into mixture. Reduce heat to low heat. Simmer chili for 20 minutes. Taste chili and adjust spices to your personal preference. Simmer 10 more minutes to allow flavors to meld.
Serve chili alone or with optional garnishes.
** Note: If you can't find 99% fat free ground chicken, use boneless, skinless chicken breast with all fat removed and either grind in a food processor or mill or dice breast into very small pieces. You could also substitute 93% lean ground chicken but note that this adds 2 WW Freestyle points per serving.
Notes
If you'd like to indulge a little you can add some garnish, but note, it does add points. Ex: ½ oz low fat cheddar or Colby cheese (1 Points) or 1/8 fresh avocado(1 Points) or 2 T fat free sour cream(1 Points)
Homemade Hummus For The Win
Hummus seemingly shows up everywhere these days and for good reason, it's yummy and on the healthier side of things. From a cooking perspective I've recently become attuned to hummus because of its versatility. Find yourself hosting a book club around Halloween? Make Chipotle Pumpkin Hummus. Have nothing in your house but onions? No problem, caramelize and add on top. Wanting to go extra healthy? Serve with crudités in place of chips or crackers.
In the land of hummus, almost anything goes.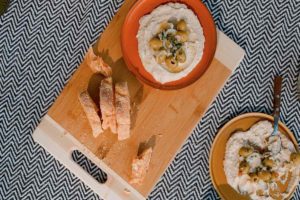 I kept hearing about these yummy recipes and I wanted to have homemade hummus in my arsenal. Sure you can pick it up at the grocery story and that works in a pinch. But homemade is always better. So, I decided I'd whip some up the last day before we left town. It seemed like a perfect all-day snack to have on hand while we spent the day thinking about packing, talking about packing and doing everything else inside the house besides packing. (Please tell me you all do this too?!)
Lo and behold, I found myself in the exact situation I described – ingredients to make hummus but otherwise a bare refrigerator in anticipation of the aforementioned trip. But wait, I found a few frozen cubes of homemade pesto from last summer and it saved the day! I put one cube in the food processor with the hummus and let another melt then drizzled it on top. The pesto held up well and did it's job to add the perfect amount of flavor.
Print
15-ounces undrained chickpeas (usually in a can or bag) OR about 2 cups drained, cooked chickpeas
3 tablespoons extra-virgin olive oil
3 tablespoons tahini
1 1/2 tablespoons freshly squeezed lemon juice (plus more as needed/to taste)
1 small clove garlic
1 teaspoon salt
1/2 teaspoon freshly ground black pepper
Dippers: your preference of pita wedges, pita chips, raw sliced vegetables
---
Instructions
Drain and rinse the chickpeas: Drain the chickpeas and keep the liquid to the side. If time and patience allow, pinch the skins from each of the chickpeas and discard; this will make your hummus smoother.
Combine ingredients in the food processor: Combine the chickpeas, olive oil, tahini, lemon juice, garlic, salt, and pepper in the bowl of the food processor fitted with the blade attachment or blender.
Blend hummus until smooth, probably 5 minutes: Process the hummus continuously until it becomes smooth, about 5 minutes. Scrape down the sides of the bowl as needed to mix well. Note that if you left the skins on the chickpeas there will always be some texture to the hummus no matter how long you blend.
Taste and add additional flavors: add more of any of the ingredients to taste. If your hummus is stiffer than you'd like, blend 2 to 3 tablespoons of the reserved chickpea liquid to thin it out and make the hummus creamier. This is where I added in my pesto – it doesn't need to be pulverized so you can toss items like that in at the end and give them a quick pulse. Pesto, olives, sundried tomatoes (but probably not together!) there's almost no end to the flavors you can add.
Serve: Pour into a bowl, and maybe add a little drizzle of olive oil for flair. Here I added an additional square of pesto on top so some of my dips into the bowl had even more flavor! Then enjoy!
PROFESSIONAL RECIPE FOR A PROFESSIONAL GAME
Don't get me wrong, I've done my share of entertaining over time. But I'm no pro. The next best thing to being a pro is knowing a pro, and I have that part nailed down! I already shared this on social media last week, but it's worth pointing talking about it again in case you missed it. A bacon guacamole recipe from my friend The Reluctant Entertainer. Yep, you read that correctly. Bacon. Guacamole.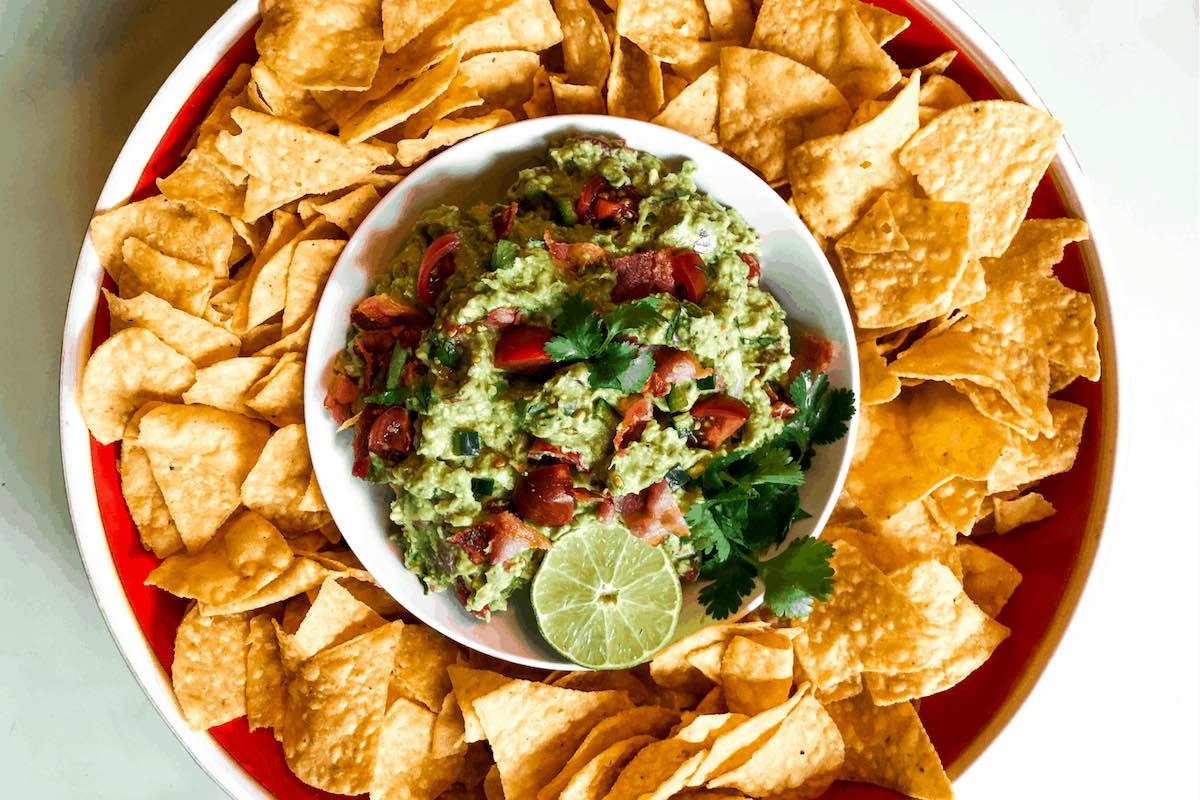 It may not be the healthiest of the bunch, but it's still got avocados with healthy fats and there's nothing fried. I'm not going to tell you it's good for you, but it's less bad than other things.
And honestly friends, we're supposed to indulge sometimes, a little indulgence is good for the soul. Maybe it's your day for for the bacon guacamole and the fried food – I won't tell!