This post may contain affiliate links. Full disclosure policy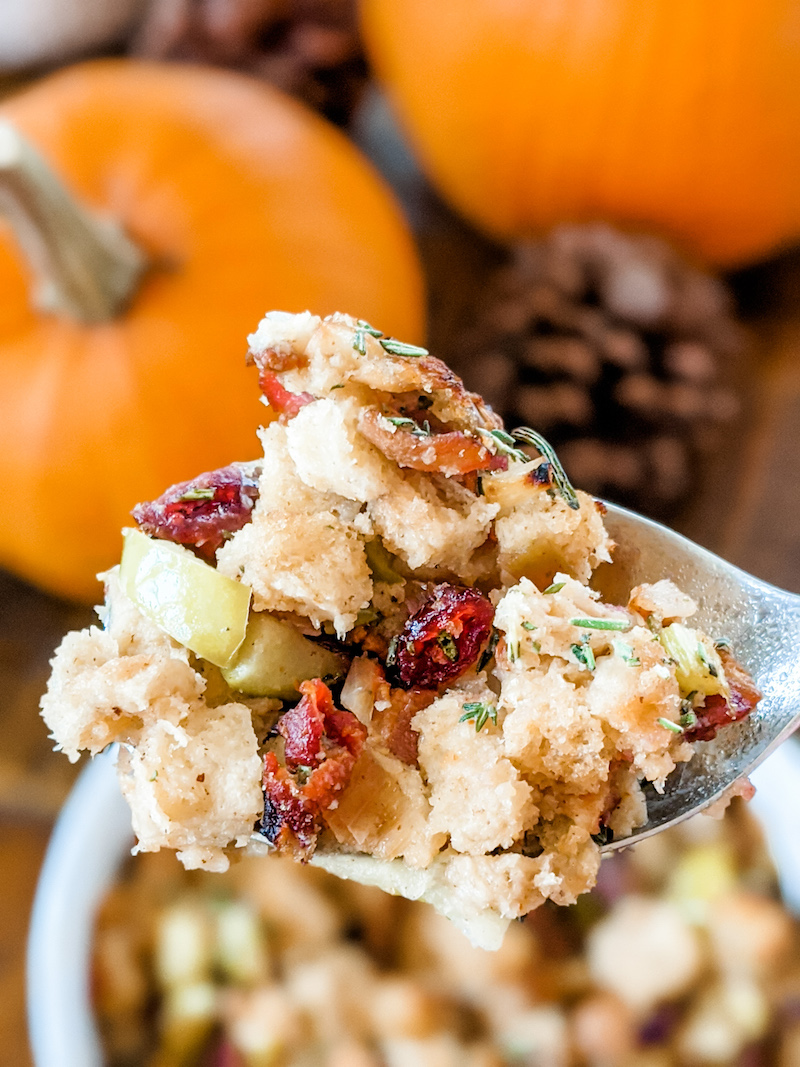 Whether you call it dressing or stuffing, it's the signature side dish to accompany a roast turkey. My Best Flavorful and Moist Turkey Dressing is not only moist, but delicious, and perfectly balanced with savory, sweet, and spicy flavors, plus plenty of fresh herbs.
Dressing? Or Stuffing? What's the Difference – and the Challenge?
People tend to use the words dressing and stuffing interchangeably. And that makes sense because the ingredients of this bread-based side to accompany poultry are basically the same.
The difference lies in how they're cooked.
As the name implies, stuffing is stuffed inside the bird and cooks along with the poultry. As the bird cooks, fat and juices drip into the stuffing, making it moist and flavorful. The dressing is baked apart from the bird, in an ovenproof casserole.
That's why making a really tasty dressing can be tricky. Without the drippings from the bird, oven-baked dressing can end up being dry and bland. But never fear, my friends. I've come up with a recipe for the Best Flavorful and Moist Turkey Dressing that is lives up to the name. It's moist and full of flavor.
But getting it just right was a process.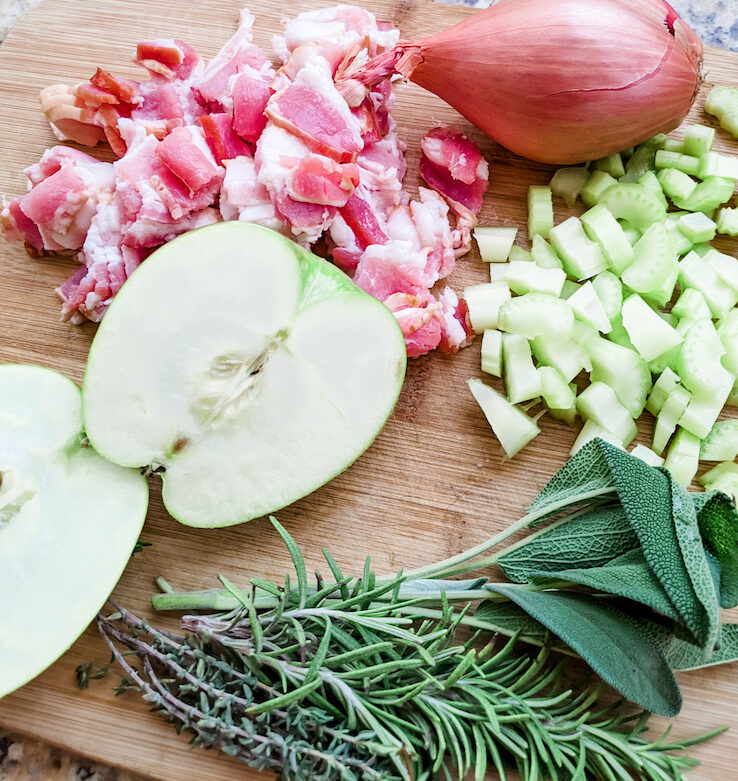 A Flavorful and Moist Turkey Dressing for a Small Scale Thanksgiving
Like so many other families, we'll be celebrating Thanksgiving on a smaller scale this year. Normally, I'd be feeding a crowd and roasting a huge turkey. But since the Thanksgiving guest list is just me, my husband, and my mother, I'm only roasting half a turkey breast and one thigh. (Click here for my Oven Roasted Turkey Breast recipe.)
Since there will be no bird to stuff, serving stuffing wasn't an option so I opted for an oven-baked dressing. But the traditional dressing recipes I tried were just kind of…blah. And definitely not worth the calories.
Since most dressing recipes involve bread, melted butter, and sometimes sausage, it's a long way from low calorie. Though I try to stick to a healthy diet most of the time, I don't mind falling off the wagon during the holidays. But even during Thanksgiving, I'd rather not waste my waistline on things that are fattening but don't actually taste that great.
After two attempts at making a dressing that was just okay, I found the ingredient that transforms this dish into the best Flavorful and Moist Turkey Dressing I've ever tasted.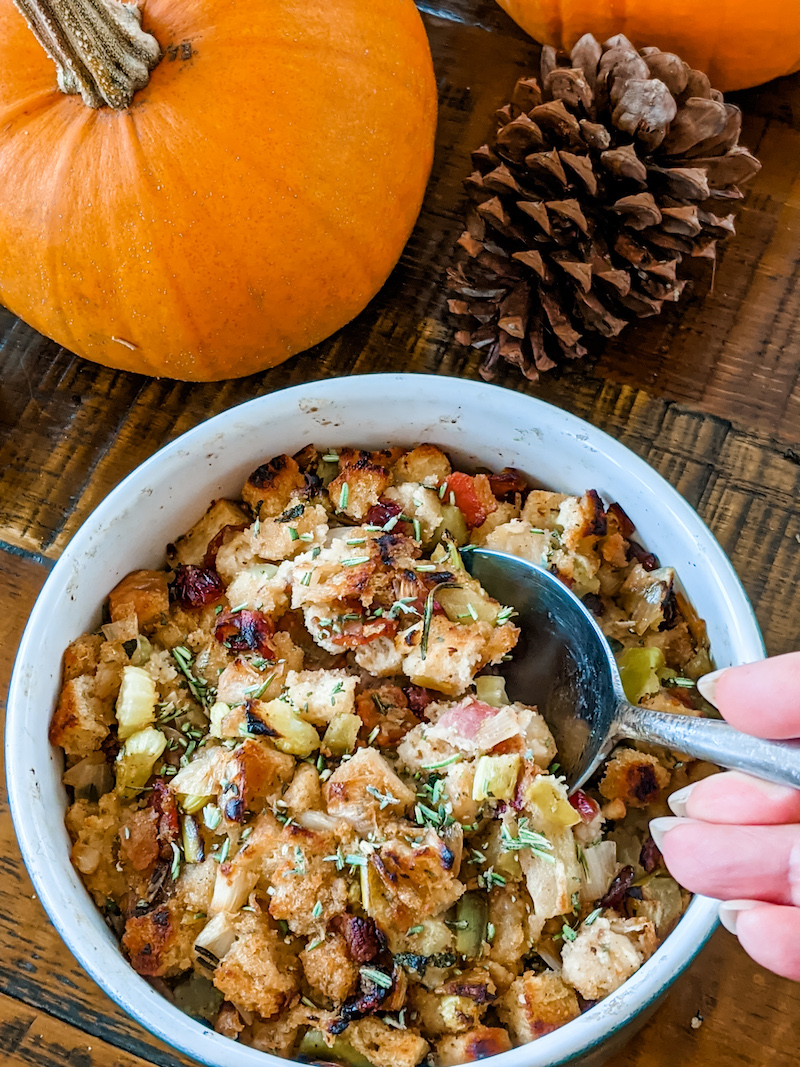 When in Doubt, Bring in the Bacon
Sausage is a tasty addition to many stuffing recipes. But oven-baked dressing needs a little more fat to make it moist and stronger flavors that won't be overpowered by the bread.
Bacon, I discovered, is a much better choice for oven-baked dressing. It's a secret ingredient that takes this Oven Baked Dressing from bland to best. So good!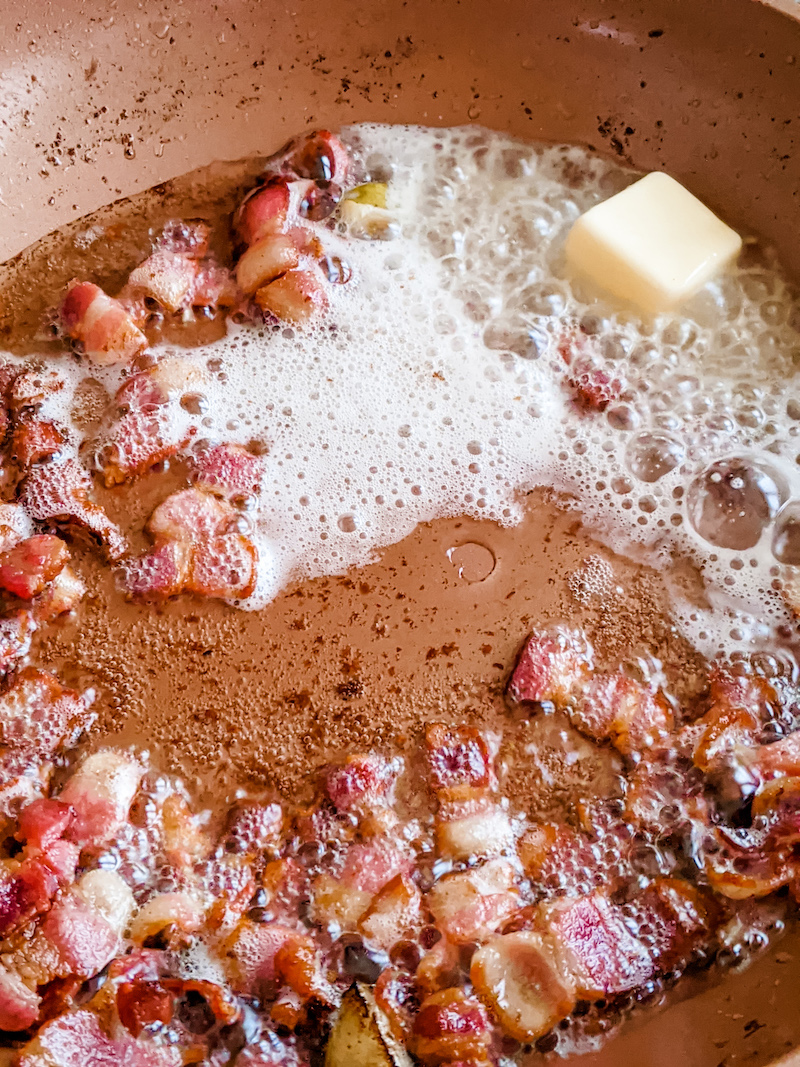 And a Few Extras
The main ingredient of dressing is dried bread cubes. Whether you're using white bread, cornbread cubes, or a mix of the two, bread cubes don't have a lot of flavor. Adding a good amount of bacon adds yummy fat and smoky flavor.
But I've also added a variety of other ingredients to create an oven-baked dressing that's surprisingly complex.
Fresh herbs, garlic, shallots, and celery add interesting texture and fresh, savory flavor. A Granny Smith apple and dried cranberries add a tart sweetness. And a little bit of cayenne – an eighth to a quarter teaspoon, depending on your heat tolerance – adds a just-right bite of spice.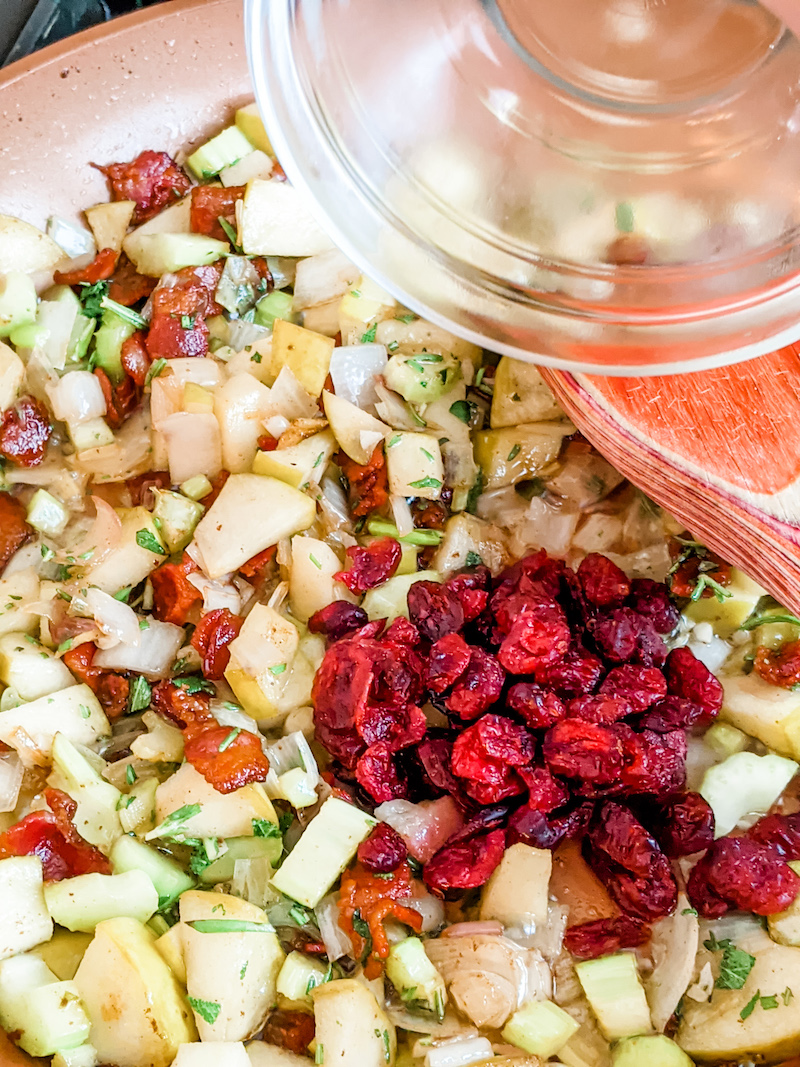 Okay, I can hear some of you saying, "Cayenne? In dressing?" Trust me on this one. Cayenne adds a nice but barely noticeable kick. If you're really nervous, you can leave it out. But I recommend you try adding a least a dash.
I hope you'll add my Best Oven Baked Dressing to the menu for your small scale Thanksgiving!
Print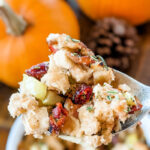 The Best Flavorful and Moist Turkey Dressing
---
Author:

Yield:

4

servings

1

x
4

slices thick bacon, cut into lardons (lardons are small slices)

2

T salted butter

1

large shallot, chopped

2

stalks celery, chopped

1

Granny Smith apple, chopped

3

cloves garlic, minced

¼ cup

dried cranberries

3

T fresh herbs, minced (Rosemary, sage, thyme)

4 cups

dried bread cubes or prepackaged stuffing of your choice

1.5

to

2

cups turkey stock or broth (Can substitute chicken stock or broth)
Salt and pepper to taste (the bacon and butter already have salt, so don't overdo it.)

1/8

to

1/4

tsp. cayenne, to taste  (optional)
---
Instructions
Preheat oven to 350 degrees. Grease a small, oven proof casserole dish.
Cook bacon in a skillet over medium high heat, until just crispy and the fat is rendered. Add butter to pan and stir with bacon to melt.
Add shallot, celery, and apple to pan. Saute until vegetables and apple are soft, about 5 minutes. Add garlic to pan, cook for one more minute, until fragrant.
Add cranberries, herbs, and cayenne to pan, cook for another couple of minutes, until cranberries begin to soften slightly. Remove pan from heat.
Place dried bread cubes into a medium sized bowl. Stir in bacon, vegetable, herb mixture into the bread cubes. Pour turkey stock over bread cube mixture and stir until liquid is absorbed. (Start with one and half cups, then see if you need more, adding a tablespoon at a time if needed.
Put dressing into prepared casserole, cover with foil and place in oven on the center rack. Bake for 25 minutes. Remove the foil, turn on the broiler, and broil for 2-4 minutes, to brown the top.