This post may contain affiliate links. Full disclosure policy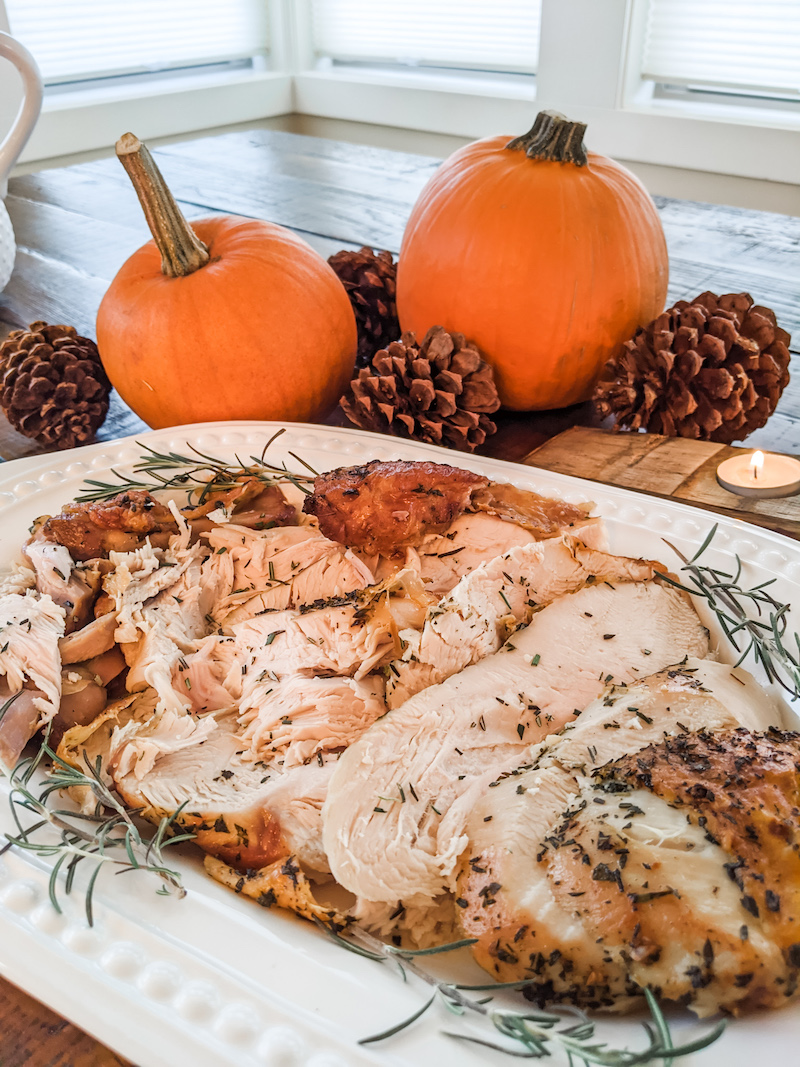 A big, beautiful oven roasted turkey is the traditional centerpiece at the Thanksgiving feast. But if you're planning a small scale Thanksgiving, my tender, mouthwatering Oven Roasted Turkey Breast will be the star of the show!
Right-Sizing Your Thanksgiving Feast
Thanksgiving is traditionally a time to gather our families, count our blessings, and overeat. However, like so many things in 2020, this year might be different.
Instead of feeding an army of relatives, many of us will be scaling back our Thanksgiving feast. This year, our Thanksgiving tables may be set for parties or four, or two, or one. But there's no reason that a small scale Thanksgiving can't be just as meaningful and delicious as a meal cooked for a cast of thousands.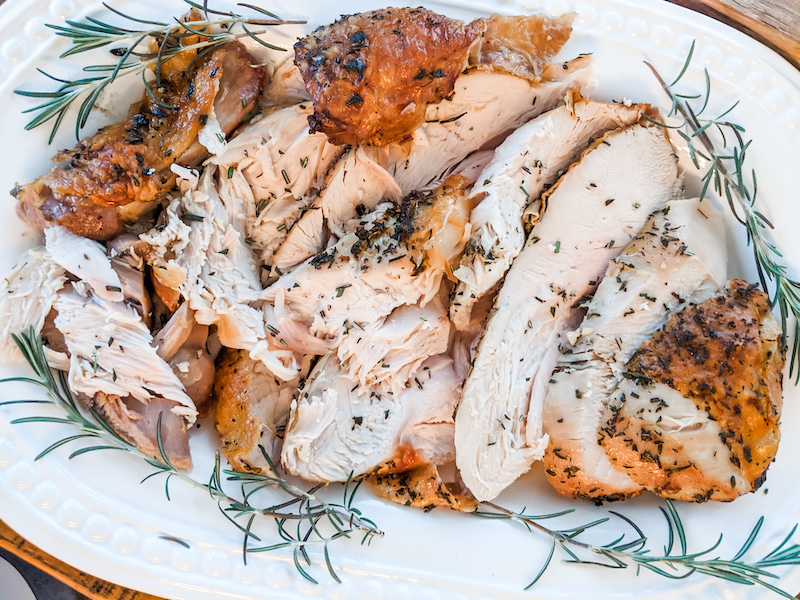 Though I'll miss seeing my kids and grandkids this holiday, I'm looking forward to a very special Thanksgiving feast with my husband and Mom. That's why I've been working hard on a menu of delectable Thanksgiving dishes, right-sized for my small family, including my tender, flavorful Oven Roast Turkey Breast.
(Check out my other small scale Thanksgiving recipes, including Oven Roasted Delicata Squash.)
Not All Turkey is Created Equal
So, let's talk turkey.
Chances are good that your local market has a lot of turkey breasts in stock right now. But I'm here to tell you that not all turkey breasts are created equal!
Prepackaged, processed turkey breasts have been injected with a "solution" of salt, water, and chemicals. Theoretically, it enhances the flavor. I think it simply makes the bird taste salty, so salty you can't taste anything else.
The best Thanksgiving turkey starts with plain turkey – and nothing else. Whether it's is fresh or frozen isn't as important as making sure the bird is free of chemical and saltwater solutions.
How to Find an Unprocessed Turkey Breast
This year, finding an unprocessed turkey breast can be a challenge. In preparation for writing this post, I made several trips to the market in search of an unprocessed turkey breast with no success. I found thighs and drumsticks, but no breasts.
Apparently, turkey breasts are in high demand this year. So, how can you get hold of unprocessed turkey breasts for your Thanksgiving feast?
Your local market will be happy to cut up a whole turkey for you. Most turkeys are frozen, so place your order in advance. When I called my local Albertson's market on a Wednesday and asked them to choose and portion a 14 to 15-pound turkey, the butcher said I could pick it up on Saturday.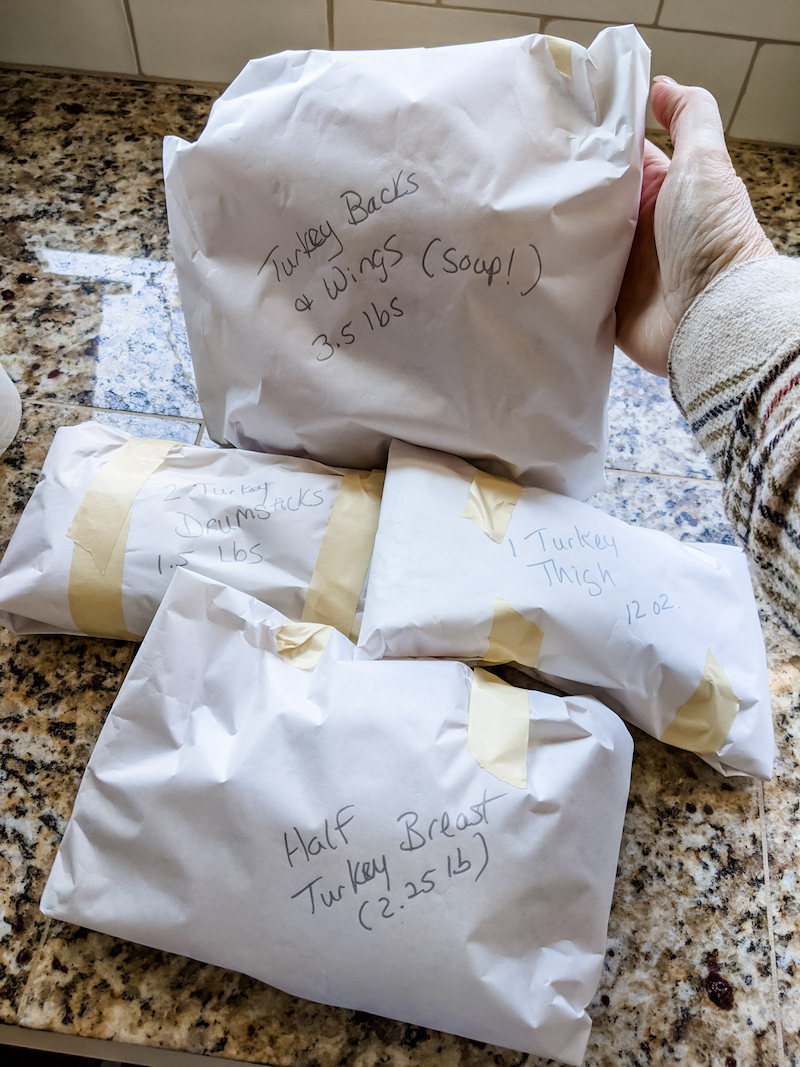 That whole, portioned turkey gives me a delicious breast for our small scale Thanksgiving feast as well as drumsticks and thighs to be refrozen for later meals, plus backs and wings for soup.
There should be no problem refreezing previously frozen turkey pieces. Just be sure to wrap them carefully in freezer paper and get them into the freezer right away. Thawed turkey must not be left at room temperature for no more than 2 hours.
White Meat? Dark Meat? Both?
Turkey breast is the most popular part of the bird for Thanksgiving dinner, but it's not everybody's favorite. My husband loves white meat. I prefer dark.
Clearly, the light/dark controversy could be a source of marital discord. Fortunately, the savory herb rub for my Oven Roasted Turkey Breast is on thighs, drumsticks, or turkey breasts. Use the combination of turkey parts that work best for your small scale Thanksgiving.
For example, I've asked my butcher to cut the breast in half. That way, I can roast a half breast for my husband and Mom, and a thigh for myself.
Oh, and if you are planning on having a larger celebration and roasting a whole bird, simply double the recipe for the herb rub and increase the roasting time.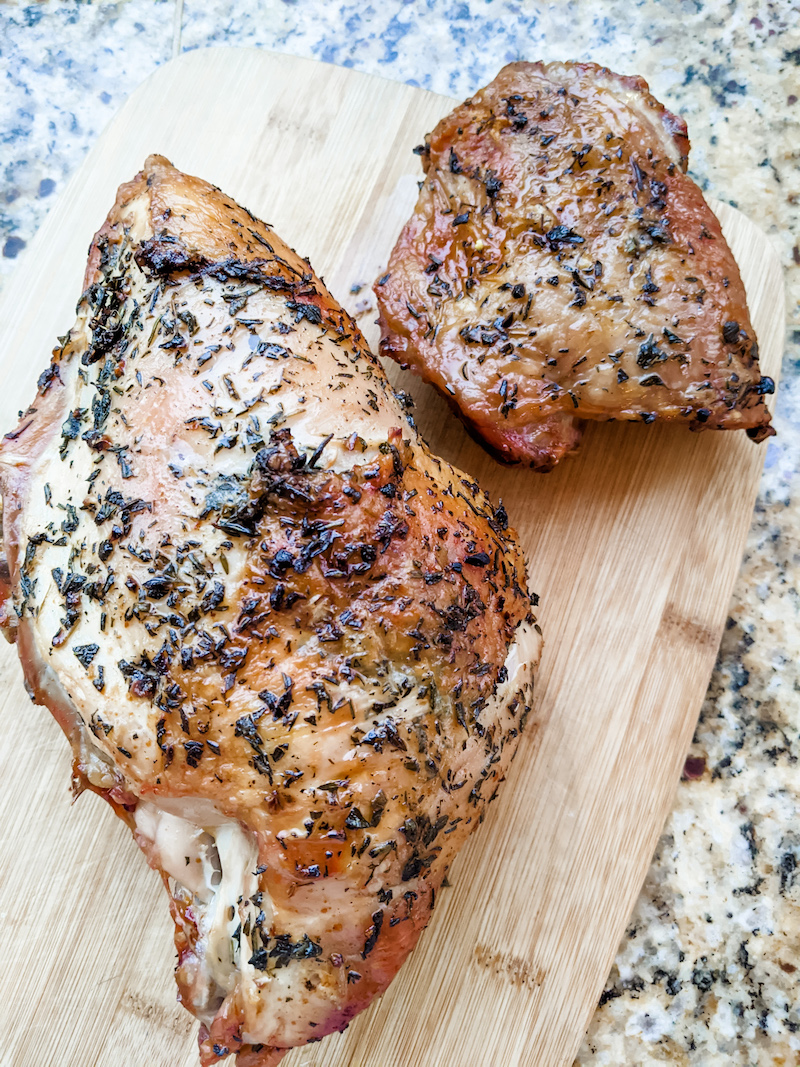 Crispy Skin, Tender Meat, Tons of Herbs
Once you've got your unprocessed turkey breast (or thighs and drumsticks) all you need is a delicious rub that will bring out the flavor of your bird.
No worries, I've got you covered.
Though my recipe for Oven Roasted Turkey Breast requires a little advance planning, it's crazy easy to make. And tastes absolutely divine! Spices and lots of fresh herbs combine to create a hugely flavorful rub that will enhance the taste of your turkey, not cover it up.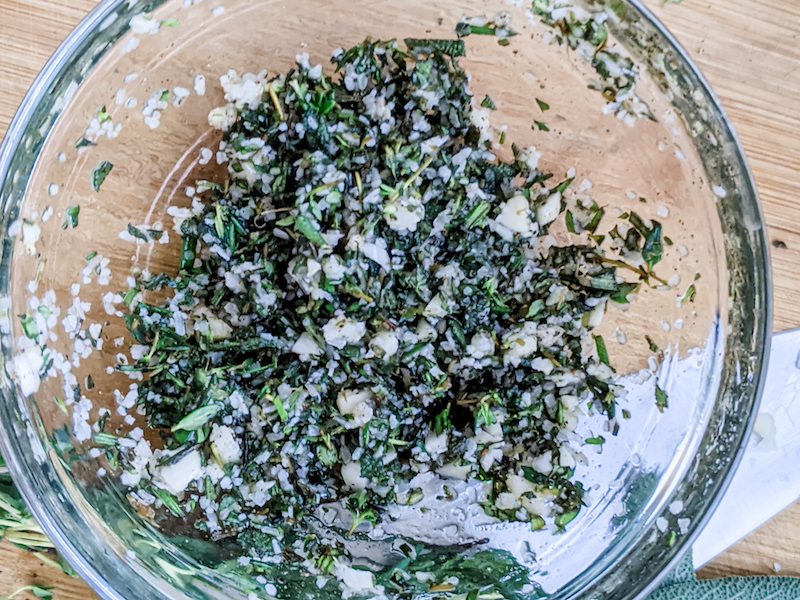 I highly recommend you use kosher salt for this recipe – not regular table salt. If you do substitute table salt, then reduce the amount you use by half a teaspoon.
Any mixture of fresh herbs can work in this recipe. But I love the blend of fresh rosemary, sage, and thyme for oven roasting turkey. The poultry blend packages of herbs you'll find in the grocery store have all three and are perfect for this recipe.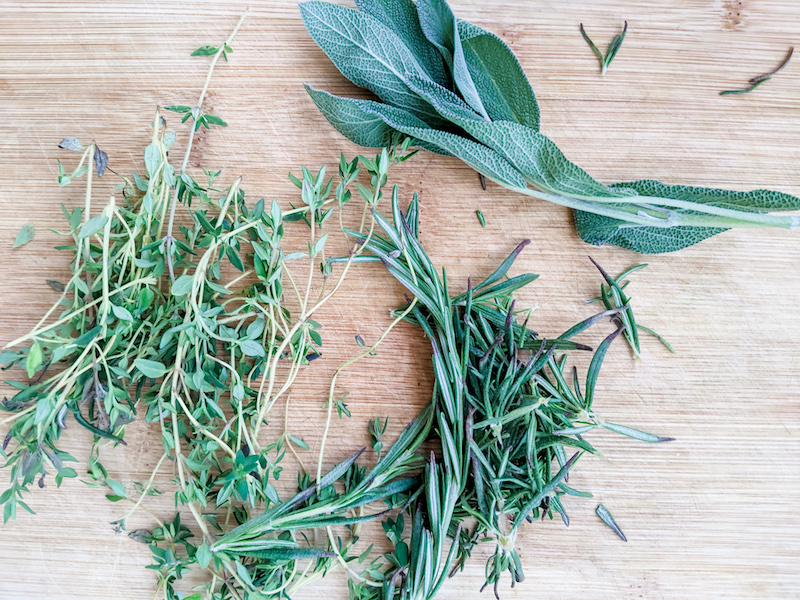 Extra Time Means Extra Flavor!
I highly recommend that you prepare your turkey the day before you plan to roast it.
Leaving the prepared turkey in the refrigerator for at least 6 but up to twenty-fours before cooking infuses the meat with savory herb flavor and also removes liquid to give you mouthwateringly crispy skin and juicy, flavor-infused turkey meat.
Yes, it takes a little planning but, trust me, the results are worth it! Besides, getting your bird ready the day before means one less thing you have to deal with on Thanksgiving day.
How Long Should I Roast My Turkey Breast?
One of the great things about cooking a turkey breast or parts instead of the whole bird is that it takes less time.
I like to cook my turkey at 425 degrees because roasting at high heat results in tender meat and crisp, golden skin. Conventional wisdom says that the roasting time should be 20 minutes per pound. But those times can vary depending on the bird, your oven, etc.
That's why a good instant-read thermometer is a must when you're cooking turkey, chicken, meat, and so many other foods. I love this one. It reads quickly, has an ergonomic handle, and big digital numbers so can see the temperature reading easily.
If you're roasting a whole breast, set your oven timer for one hour. If you're roasting a half breast, start at 45 minutes. Plan about 35 minutes for thighs and drumsticks. (You don't have to but I like to flip the pieces over for the last 15 minutes of cooking.)
When the timer goes off, place a thermometer into the thickest part of the breast. When the interior temperature reaches 165, your turkey is done. If the temperature is a little short, pop the bird back into the oven and keep checking every 15 minutes or so, until it reaches 165.
Remove the pan from the oven and let it rest for about 10 minutes before slicing. That gives those delicious juices a chance to work through the meat. It'll also give you a little time to drain off the pan juices and make gravy if you're making your own.
Happy Thanksgiving!
Friends, whether your feast is large or small, I wish you a happy Thanksgiving with good memories and many, many reasons to feel grateful.
Print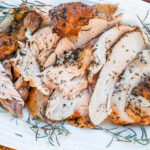 Oven Roasted Turkey Breast For Your Small Scale Thanksgiving
---
Turkey breast or turkey parts, thawed

3

T fresh herbs, chopped fine (sage, rosemary, thyme recommended)

3

cloves garlic, minced

2 ½ tsp

kosher salt

½ tsp

fresh ground pepper

1

T olive oil
---
Instructions
Rinse the thawed turkey breast or parts with cool water and pat dry with paper towels. Set aside.
In a small bowl, mix together herbs, garlic, salt, pepper, and olive oil.  The results will be thick, almost like a paste.
Rub the herb mixtures over the turkey. Place on a platter and put the turkey in the refrigerator, uncovered. Leave turkey in the refrigerator for at least 6 hours or up to 24 hours.
Preheat the oven to 425.
Place the turkey on a rack in a rimmed baking sheet or roasting pan and place in oven. (See post for suggested roasting times for various cuts and parts of turkey.)
Roast until a thermometer placed in the thickest part of the breast shows an interior temperature of 165.  When 165 is reached, remove pan from oven and allow the turkey to rest for 10 minutes before carving