This post may contain affiliate links. Full disclosure policy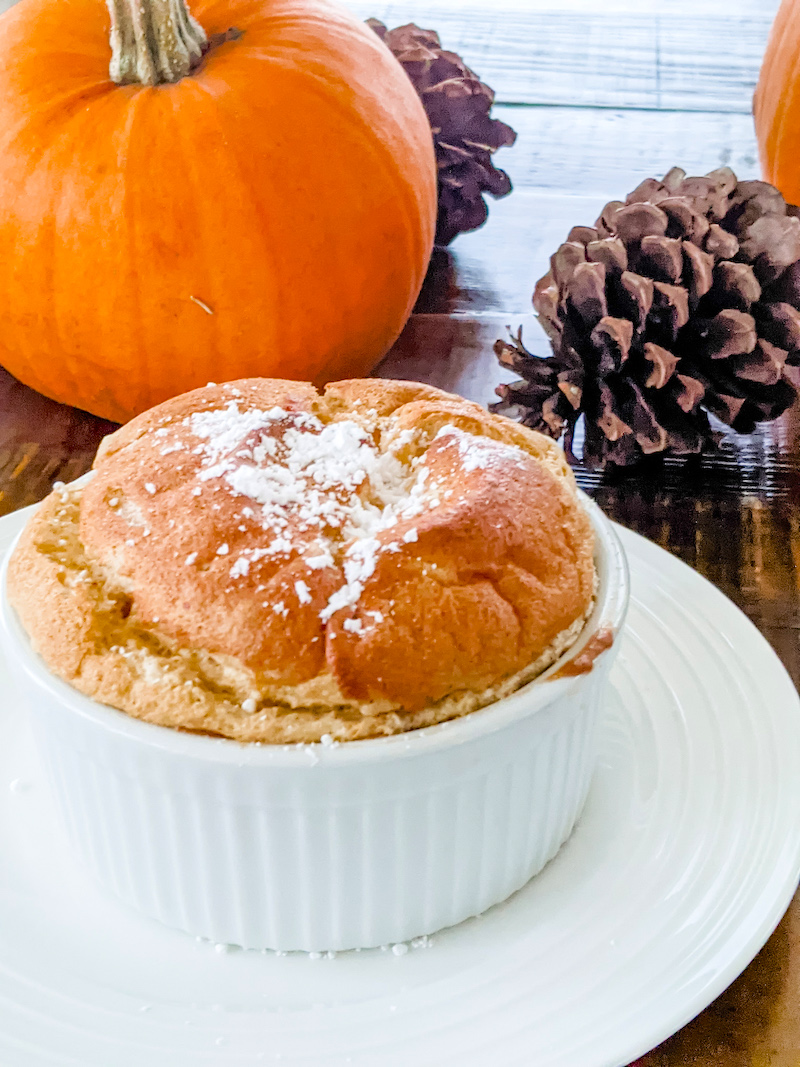 If you're hosting a small holiday dinner, Pumpkin Soufflé with Bourbon Molasses Sauce is the scrumptious, right-sized alternative to pie. It's light, delicious, loaded with flavors of the season, and easier to make than you might think!
What to Serve Instead of Pie – Pumpkin Soufflé with Bourbon Molasses Sauce
Don't get me wrong, I love pie. In fact, I'm known for my pecan and blueberry pies. But since we're only three for dinner this year, I started searching for tasty, special holiday desserts that served just a few people.
A recipe for Pumpkin Soufflé with Bourbon Molasses Sauce that I found on Epicurious.com sounded ideal! Few desserts are more impressive than a warm from the oven soufflé, but they're actually easier to make than people think. And a pumpkin souffle is a wonderful alternative to pie.
Right-Sizing the Recipe
The only problem with the original recipe is that it was meant to serve eight, which was way more than I needed. I tweaked the recipe a bit and cut the ingredients in half. My version serves four which is perfect for a small holiday gathering.
One thing to keep in mind when you're making my right-sized version of pumpkin soufflé is to be sure to use your smallest saucepans when making the soufflé batter and sauce. The mixtures have to have a little depth while cooking, otherwise, they'll burn.
Soufflé is Easier than You Think!
Soufflé is one of those things that can intimidate even experienced cooks. Honestly, making a soufflé is a lot easier than you might think. But there are a few tricks involved
First, you need to make sure you beat the egg whites until they're fairly firm. How will you know when you reached that stage? They'll look glossy and when you pull the beater out of the egg white and sugar mixture, you'll see pronounced peaks that hold their shape.
The next trick is all about folding, as opposed to stirring.
You'll fold about a third of the pumpkin batter into the egg whites to lighten them, making a gentle, circular motion with a rubber spatula incorporating the pumpkin and egg whites. Then you'll fold the rest of the egg whites into the batter, combining thoroughly. Just be sure to fold gently, not stir. Otherwise, the egg whites will break down and your soufflé won't rise.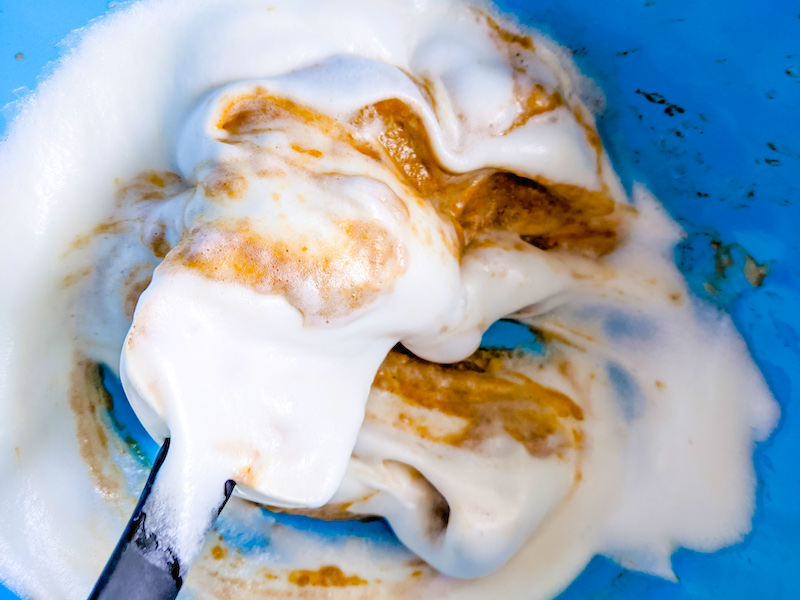 The Rise and Fall – It's Normal
Once your soufflé goes into the oven, it's going to rise high and create a light and lovely, impressive-looking crown. But almost as soon as you remove them from the oven, your pumpkin souffle will start to fall at least a little.
Don't worry about that! It's normal. And even if your pumpkin souffle were to fall completely, it is still going to taste wonderful.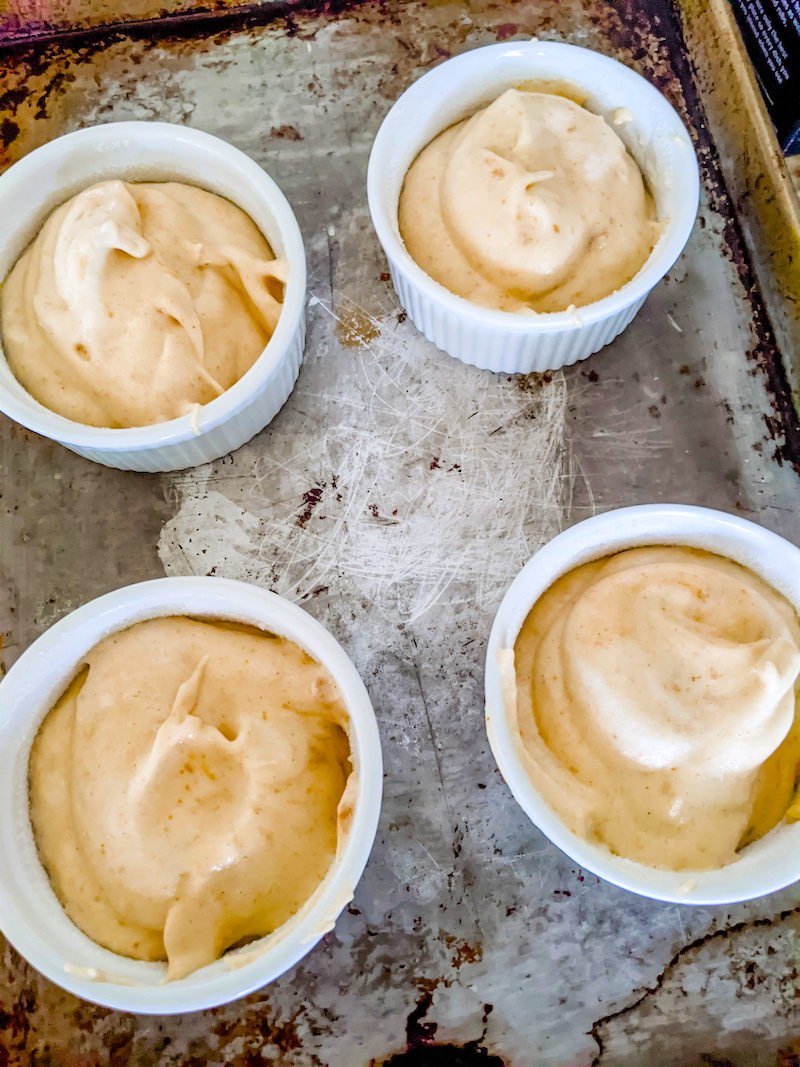 One other little soufflé tip? Your soufflé should be placed on a rack in the bottom third of the oven. But be sure you remove the upper racks! Your soufflé will rise a lot while baking, so much so that it might hit the rack above. If that happens, you might end up decapitating your pretty soufflé when you take them out of the oven.
(Don't ask me how I know this…)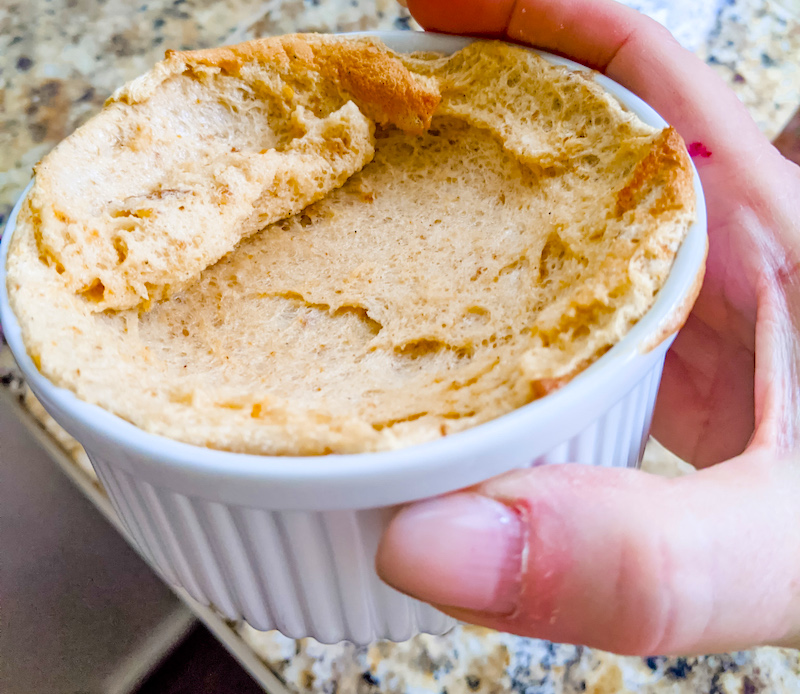 To Sauce or Not to Sauce Your Pumpkin Soufflé with Bourbon Molasses Sauce
The hardest part of this recipe isn't the pumpkin soufflé but the bourbon molasses sauce. Why? Because it's essentially a caramel sauce with some molasses and bourbon and caramel sauces can be tricky.
Again, use your smallest saucepan. Once the sugar and water are combined, you won't stir the mixture at all. However, you will swirl the mixture in the pan, to keep it from burning. Once it starts to turn from clear to amber, remove the pan from the heat immediately. Caramel sauce can go from perfect to burned in the bat of an eye.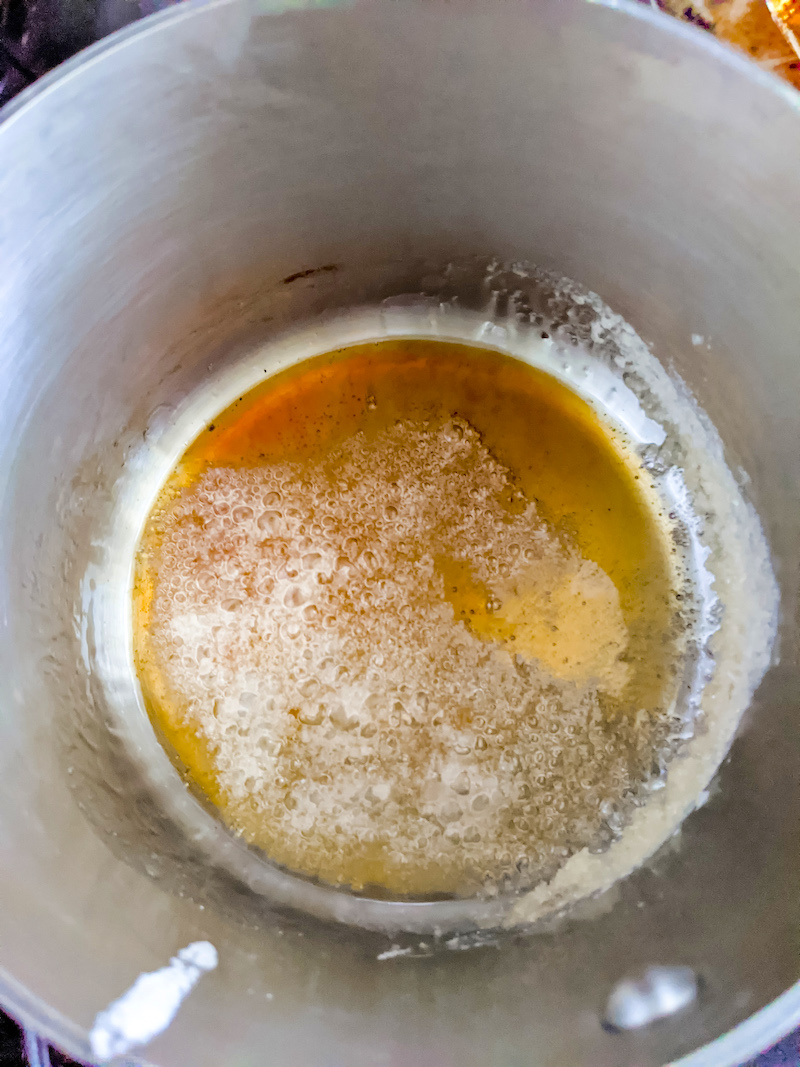 When you add the water, bourbon, and molasses, you might end up with a big ball of caramel. Don't panic! Just stir it gently when you're reheating the sauce to melt any sugar crystals.
And if all this caramel sauce business sounds too intimidating to you, skip it completely. Pumpkin soufflé would still be delicious serves with homemade whipped cream flavored with sugar and a touch of bourbon or cinnamon.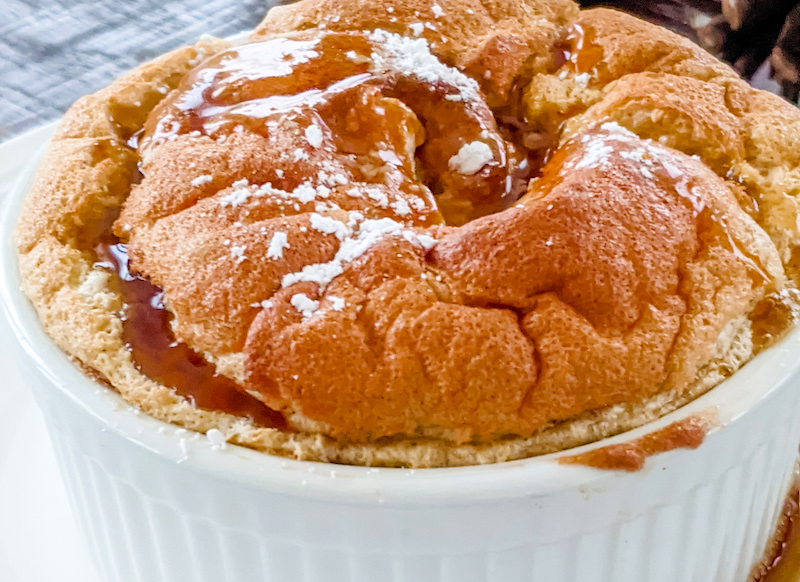 The Perfect Dessert for Small Holiday Gatherings
Even if you're hosting a small gathering, a special holiday feast calls for a very special dessert! In my opinion, dessert doesn't get a lot more special than a light, scrumptious, warm from the oven pumpkin souffle with a delicious bourbon molasses sauce. Give my Pumpkin Soufflé with Bourbon Molasses Sauce a try this year!
Print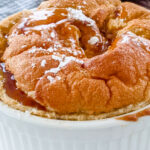 Pumpkin Soufflé with Bourbon Molasses Sauce
---
Author:

Yield:

4

servings

1

x
Pumpkin Souffle Ingredients:
¼ cup whole milk
1. 5 tsp cornstarch
1/8 tsp grated nutmeg
1/8 tsp ground cinnamon
Dash of ground allspice
Dash of ground cloves
6 T plus and 2 tsp white sugar, divided, plus additional for coating ramekins
6 T pumpkin puree (just pumpkin, not pie filling)
5 large egg whites
1/8 tsp salt
Powdered sugar, for dusting
4 6oz ovenproof ramekins, buttered and dusted with sugar
Bourbon Molasses Sauce Ingredients:
6 T cup sugar
1/8 cup plus 1 T water, divided
1. 5 T bourbon
1.5 T unsalted butter
2. 5 tsp molasses (not robust or blackstrap)
1/8 teaspoon salt
---
Instructions
Make the sauce first, if using…(you can reheat just before serving)
Place sugar and 1 tablespoon of water in small, heavy bottomed saucepan over medium heat, stirring until the sugar is completely dissolved.

Boil without stirring, swirling the pan as sugar mixture begins to caramelize, making sure it colors evenly. When the mixture turns amber, remove the pan from the heat.

Off the heat, stir 1/8 cup of water, bourbon, molasses, butter, and salt to the pan.

 

(

D

on't panic if crystals or even a ball of caramel for

m at this point!)

Reheat sauce over low heat and simmer, dissolving any sugary crystals.
Next, make the souffle.
Place the milk, cornstarch, and 2 tsp sugar in a small, heavy bottomed saucepan over medium heat.  Whisk and bring to a boil, then whisk while boiling for another two minutes, until the texture is thick, like a roux.

Remove pan from heat. Stir in pumpkin and spices. Place mixture in a medium sized mixing bowl and allow it to cool to room temperature.

While souffle batter is cooling, preheat oven to 400 and place a rack in the lower third of oven. (Make sure upper racks are well away from the lower one.)

Use an electric mixer to beat egg white and salt together until soft peaks form. Add the 6 tablespoons of sugar, a little at a time, and beat on high speed until the mixture is glossy and fairly stiff.

Gently fold approximately one third of the egg whites into the pumpkin batter to lighten.  Add remaining egg whites to bowl, folding gently until the color is fairly even and the batter is well incorporated with the egg whites.

Spoon souffle batter into prepared ramekins, filling them very full and mounding the mixture.

Place ramekins of a rimmed baking sheet and bake in preheated oven for 18 to 20 minutes.  Dust souffles with powdered sugar. Serve immediately with Bourbon Molasses Sauce or whipped cream.