This post may contain affiliate links. Full disclosure policy
In my post on Hospitality 101, I pointed out that creating a fun and memorable experience for friends and family does not require you to go all out in the food, drink, and décor department. But sometimes it's fun to do exactly that. A dinner party I recently gave for new friends from church proves the point.
With so many people having different dietary preferences and limitations these days, making a sit-down dinner for a crowd can be a challenge. That's one of the many reasons I like buffets. People can pick the food they like and skip the dishes they don't care for or can't eat. And while most buffet suppers don't lend themselves to breaking out your best china, a delicious buffet meal can be a casually elegant occasion that actually leaves you time to visit with your guests. My church dinner party is a perfect example.
Taco Tuesday Inspiration From A Reluctant Source
Inspired by a yummy dinner I attended at the home of my new friend, Sandy, also known as The
Reluctant Entertainer, I decided to create a taco salad bar for my guests. Everybody loves tacos, right? And even better, my party was on a Tuesday evening so I could call it Taco Tuesday – what fun! And I love that you can add so many colorful, healthy ingredients to your salad. My taco salad bar included crisp romaine lettuce, tortilla strips, cheese, diced tomatoes, corn, oven roasted red, yellow, and orange peppers, homemade guacamole, black beans, green onions, sour cream and three kinds of salsa – mild, medium, and hot.
So, borrowing a tip from Sandy, who introduced me to the joys of rockfish, I offered two kinds of oven broiled rockfish – one sprinkled with salt and smoked paprika, the other with dill, garlic powder, and a squeeze of lemon. I also served some pork carnitas that I found at Costco. They were delicious and all I had to do was heat them up.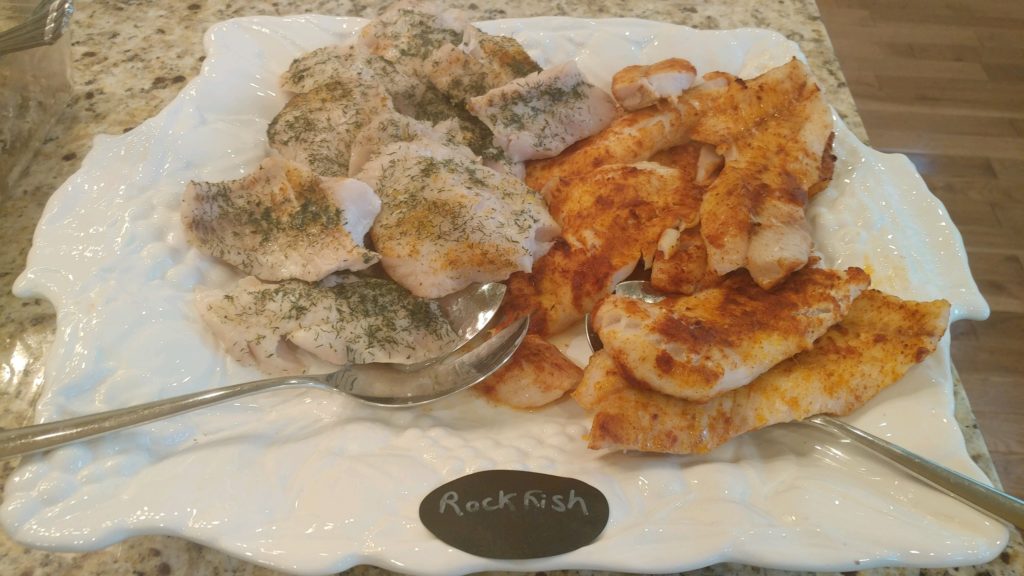 For me, creating a pretty presentation is half the fun of entertaining. I decided to give my party a unique look by incorporating one of my favorite decorating elements.
Dinner Party Decorations
Yep, you guessed it – mason jars!
I don't know why but everything served in a mason jar just seems to look cuter and taste better to me. I'd have served every single item in jars if I could, unfortunately, I didn't have enough big jars. But I did have a number of matching glass vases in the cupboard which fit the bill nicely and had wide mouths for serving.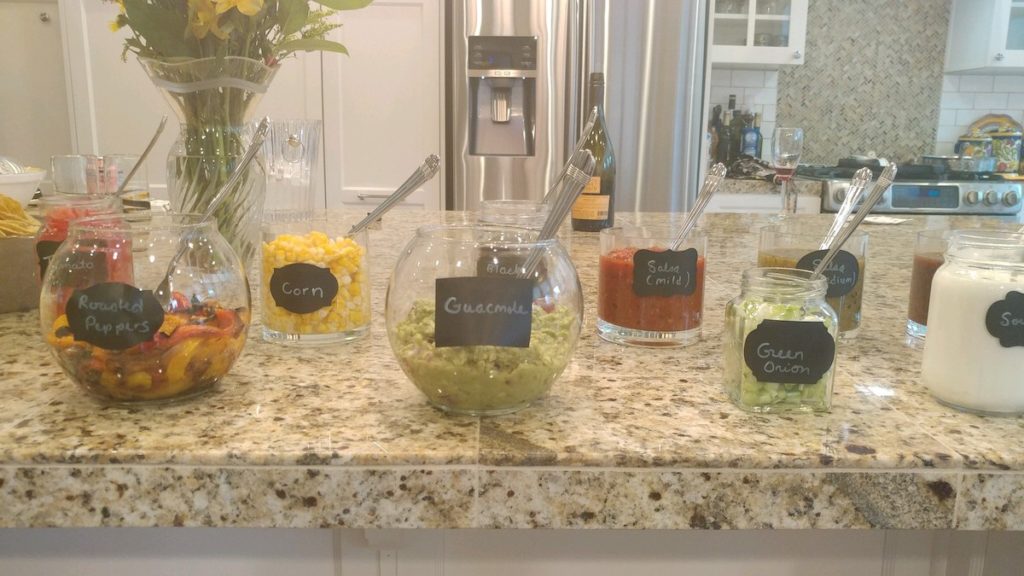 (By the way, everybody went crazy over those roasted peppers! They really couldn't be easier to make. Just seed and slice 6 peppers, drizzle with 1-2 Tablespoons of olive oil, sprinkle with salt, broil on the top rack of a very hot oven until the peppers are soft and the skins begin to go black in spots. Be sure to keep an eye on them. You want charred pepper skins, not burned!)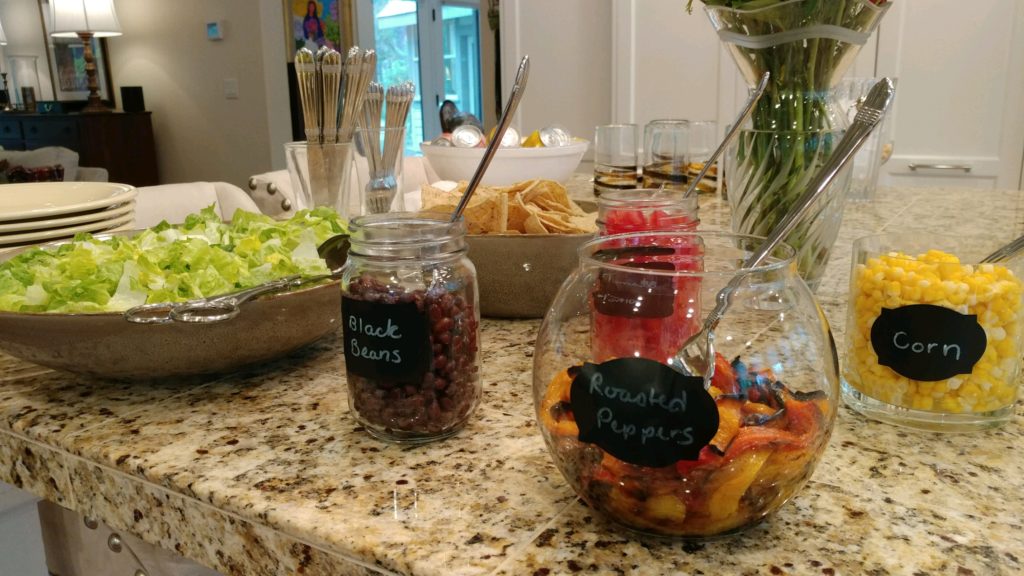 To add a little extra touch of whimsy, plus give the buffet a more uniform look and make it easy for my guests to know what they were eating, I put a cute little chalkboard label on each of the jars. The labels I found on Amazon were perfect and even came with a chalk pen. They really added a festive touch. With the addition of a few fresh flowers, I had the world's prettiest Taco Tuesday buffet table. Such fun!
The Grand Finale: Dessert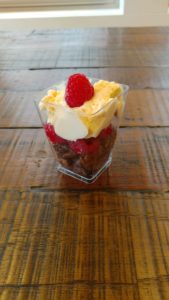 Speaking of fun, the mini dessert parfaits I offered after dinner were a big hit! This is an idea I borrowed from PF Chang's, one of my favorite restaurant chains. Even after a big meal, it seems people can always find room for one of their adorable little desserts, right? I thought it would be great to give my guests a choice of two darling, teeny-weeny, no-guilt desserts.
I found just what I needed on Amazon, 5-ounce dessert shot glasses that came with their own little spoons. Seriously, how irresistibly cute are these?
Best of all, my dessert parfaits truly were about as close to guilt free as dessert can get.
For the raspberry parfaits, I made a batch of Chocolate Miracle Muffins (with the easiest, high protein mix!), broke them into pieces for the bottom layer of the parfait, then topped them with fresh raspberries, and a couple of tablespoons of low-fat vanilla ice cream. (Pro tip: put in the cake and berry layers first, then top with ice cream just before serving. If you assemble all the layers beforehand and then put them in the freezer, the raspberries will freeze. Don't ask me how I know this.)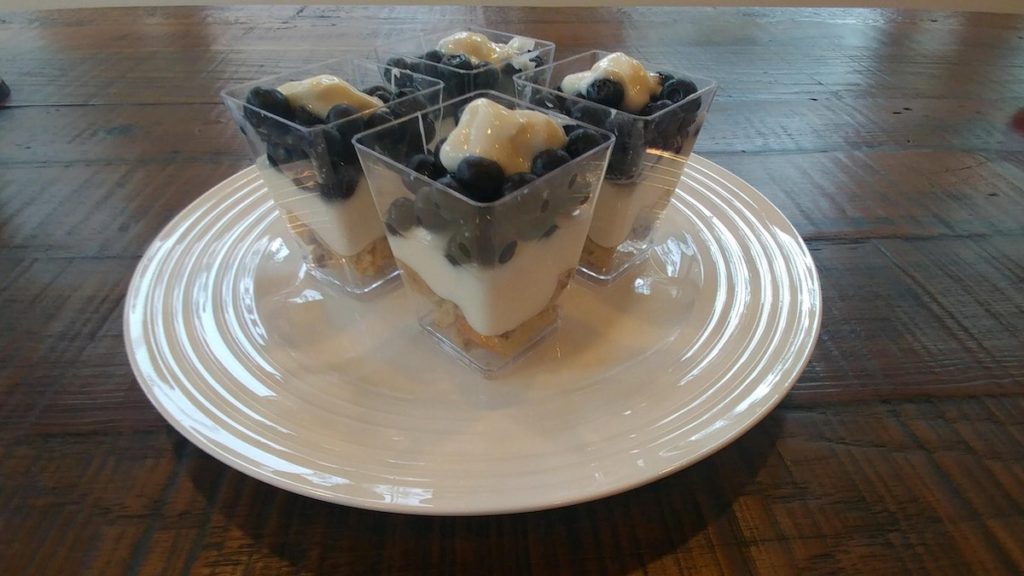 The blueberry parfaits were just as easy. I used Blueberry Lemon Miracle Muffins for the cake base, a layer of vanilla Greek yogurt (put it in a yogurt strainer in the refrigerator for a least an hour. This will give you a thick, creamy, custard style yogurt that won't make the muffins go soggy), and topped with fresh blueberries. Yum!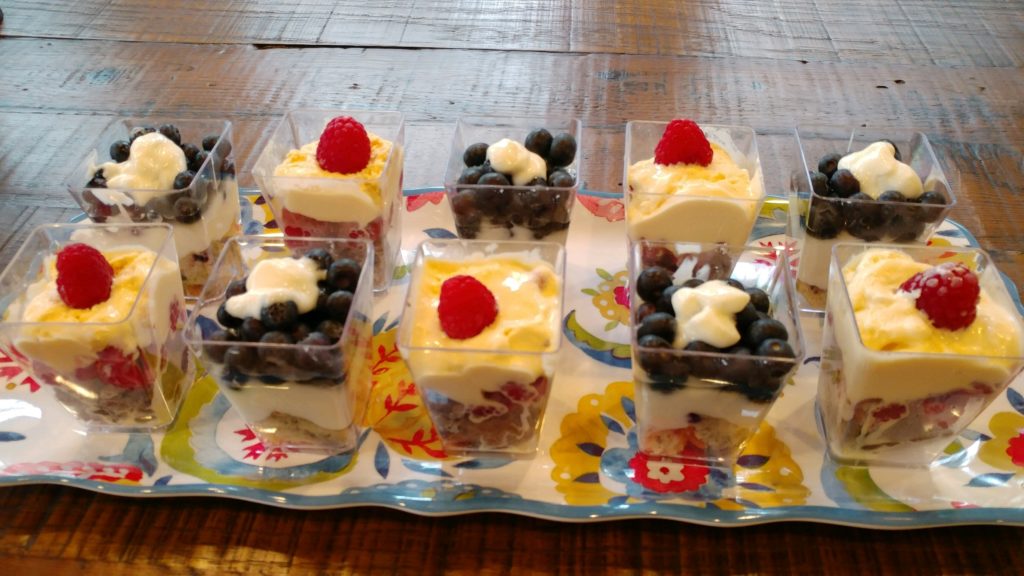 Pulling together an Elegant Taco Salad Bar does require a little advance planning but, once you've thought it through, it really couldn't be easier to make. And best of all, because you prepare everything in advance, this is the kind of easy entertaining that will wow your guests but leave you free to enjoy their company.
And isn't that what throwing a party is all about?
THIS POST MAY CONTAIN REFERRAL LINKS. IF YOU CLICK THROUGH AND TAKE ACTION, I MAY BE COMPENSATED, AT NO ADDITIONAL COST TO YOU.