This post may contain affiliate links. Full disclosure policy
Last week, I had my entire family in town: my three sons, three daughters-in-love, and six very, very advanced grandkids (I'm obviously not partial). It was a constant whirl of activity. The whole crew made a homemade slime recipe together. We visited the fire station. We paddled down a river. Some of us rode horses. We ate loads of ice cream. It was such fun and I'm still soaking up the sounds of their laughter and little voices.
Having the family around one table just made my heart so happy. But now, they've all travelled back home and we will have to rely on the fun photos to keep the memories fresh.
Here's a highlight reel of our time together (because I am shameless in bragging about how cute my grand-darlings are).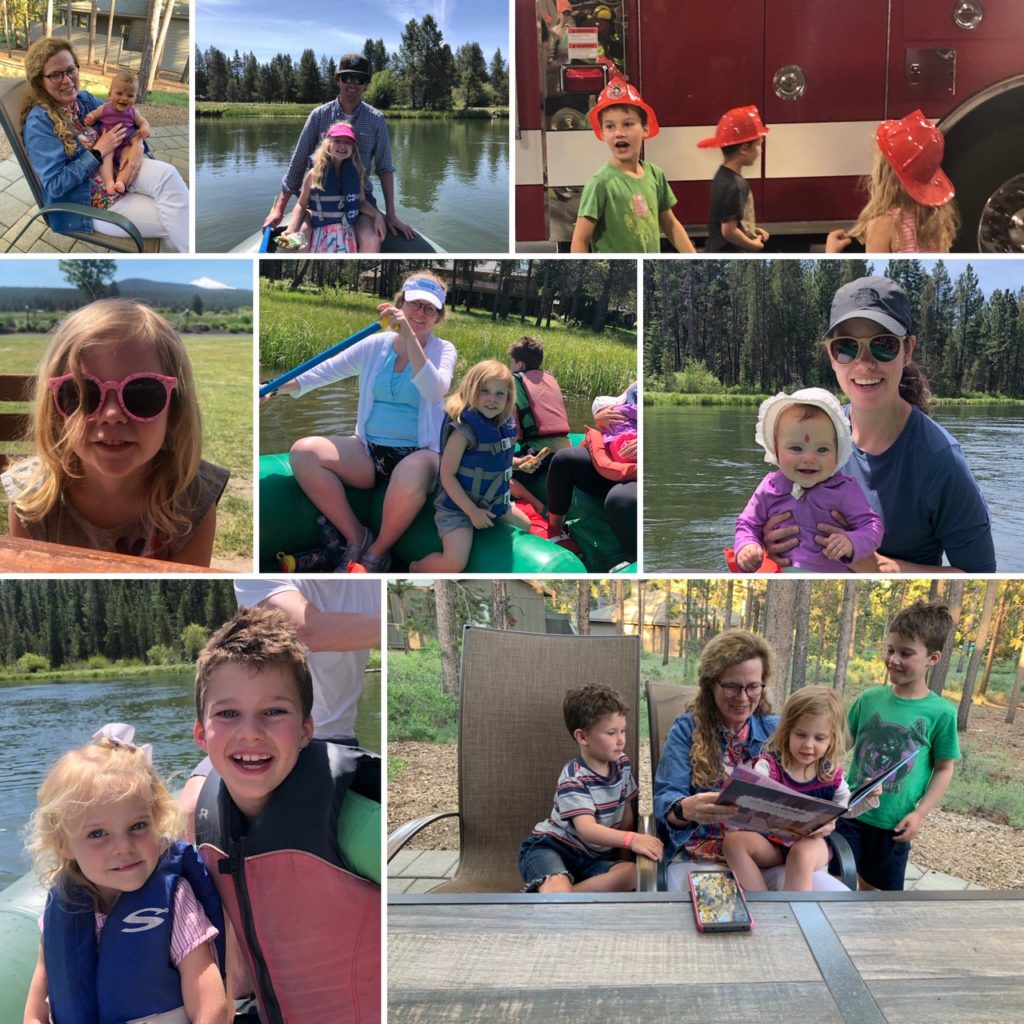 What Being A Grammy Means to Me
This got me to thinking about my job as a Grammy. Sure, I am suppose to love them and pinch their chubby cheeks and (slightly) spoil them.
But how can I use experiences and activities with my grandkids to teach them about life? What nuggets of wisdom can I impart on the younger generations?
First, you have to learn how to speak their language. I've found that simply telling them over and over that I love them (and why I love them) is important, but using quality time spent together as a platform for my teaching agenda is far more effective. These little minds learn best by example. They also pay attention longer if there is an activity.
So what do I aim to teach my grand-darlings? Oh the list is endless, but some of my priorities are: a fascination with nature, the importance of creativity, the sheer joy of adventure, and (obviously) a love of reading. I believe I teach them empathy, compassion, how to seize each moment, the importance of my faith. I hope I do, anyway.

Making Memories
While they were in town, one of the ways I endeavored to pass on these values and make memories together was to schedule little outings with each of them individually (well, almost all of them). Don't tell the baby and the two year old.
I took Sweet Pea to the local craft store. I showed Twoodle how to use a sewing machine and make a quilt. The Llamette and I went to the toy store and to get ice cream. I took Noodle to get ice cream too. Ok, there was a lot of ice cream involved but what Grammy hasn't tried to become her grandkids' favorite by offering them delicious treats?
The point is, I got to spend time with each of them with my complete, undivided attention and it was wonderful.
I also wanted to spend time with them as a group, because I love watching the group dynamics and the giggles that ensue when cousins play together.
So I made our very own little crafting gang, reinforcing the lessons in creativity that I send them throughout the year with Grammy's Craft of the Month Club.
Homemade Slime Recipe: A Grandkid Love Language
While they were in Oregon, we made tie dye t shirts and then we made what was to become their favorite activity for the whole trip: SLIME.
Remember that bit about speaking their language? Slime is their love language. To say the least, this was a hit!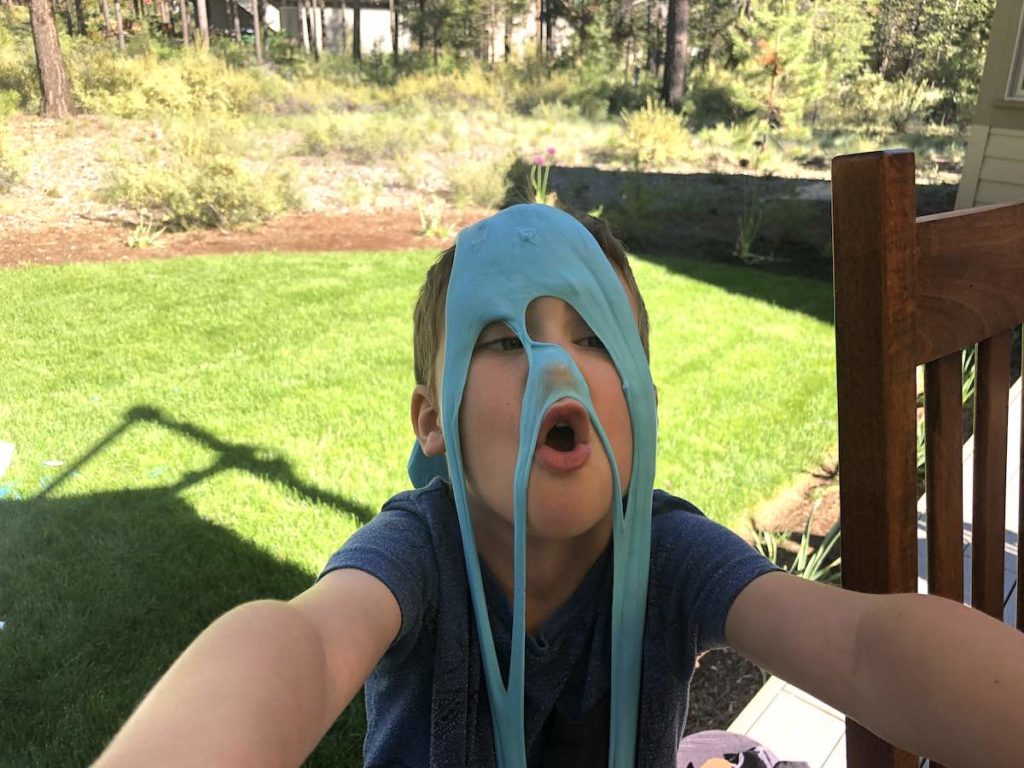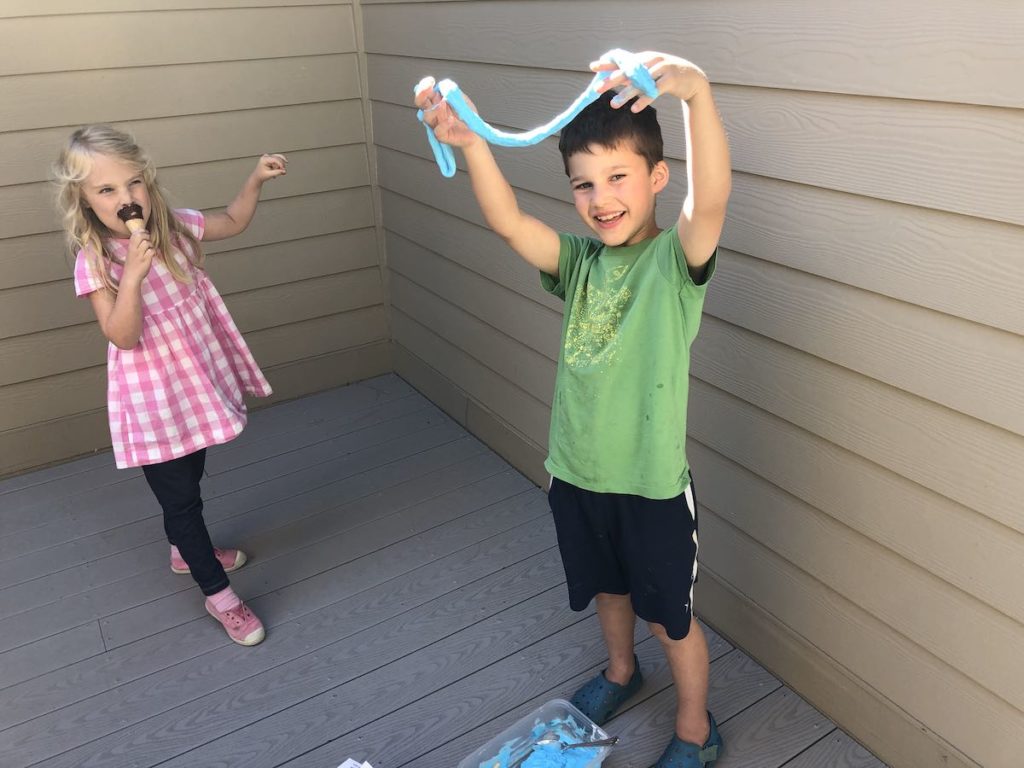 Here's how I made it. This homemade slime recipe is easy peasy and oh so fun.
Print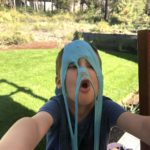 Homemade Slime Recipe
---
Author:

Total Time:

5 minutes
---
12 oz glue
1.5 t baking soda
washable poster paint
3 T saline solution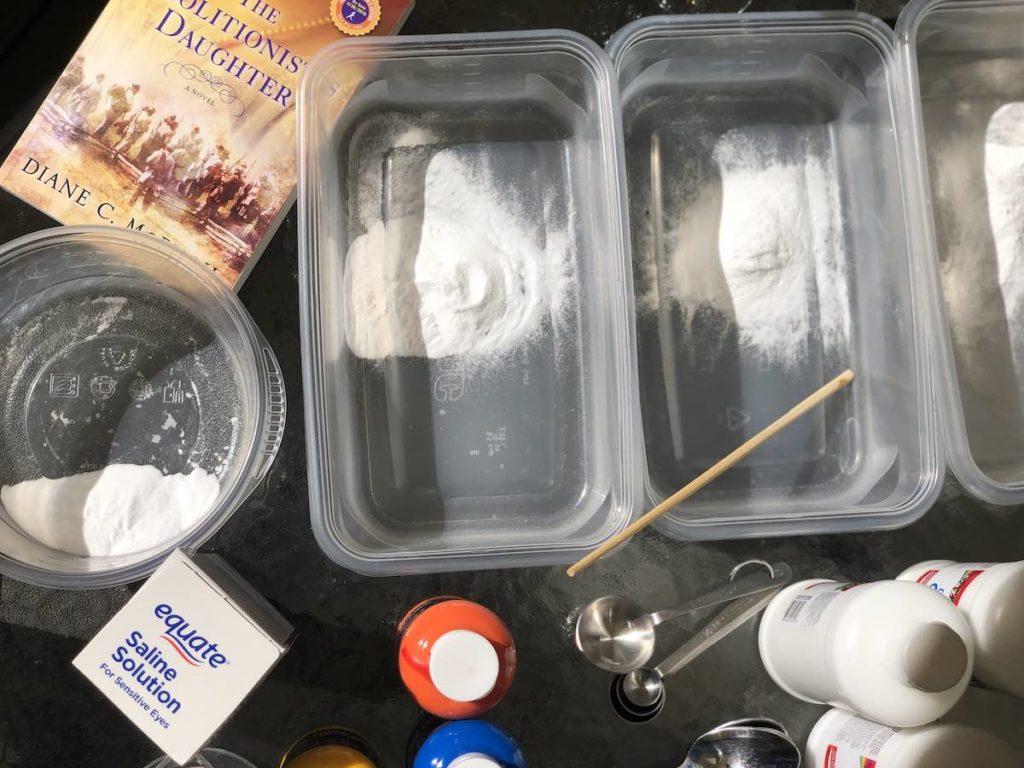 ---
Instructions
Mix the baking soda into the glue.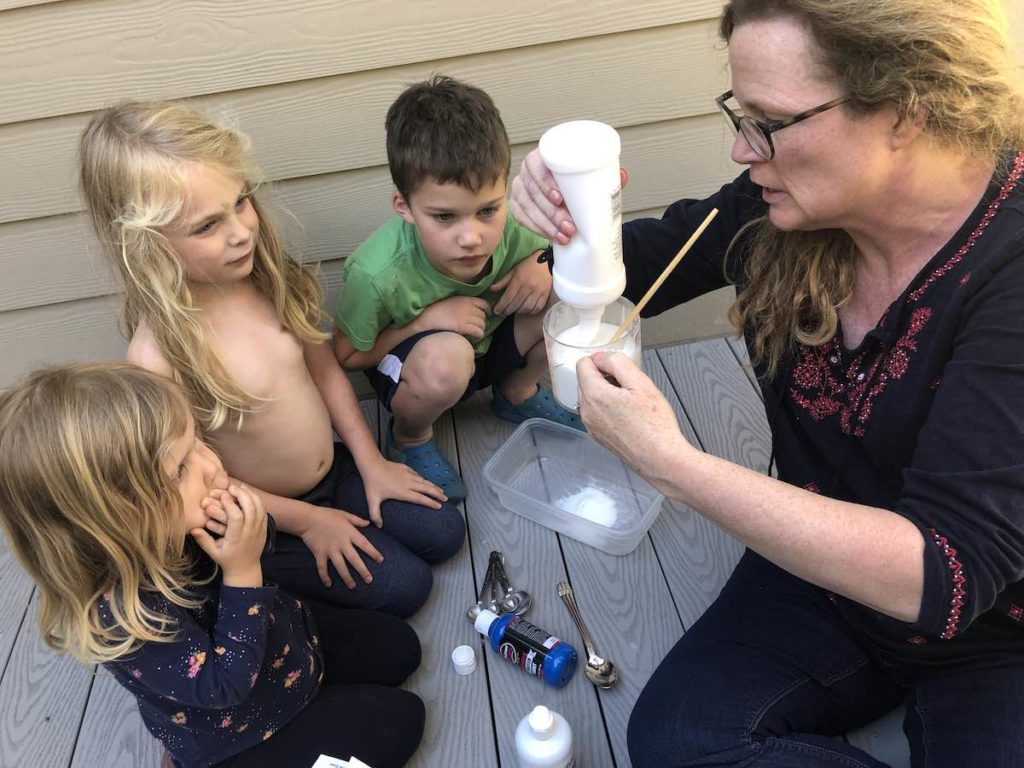 Stir in washable poster paint (use what you need to get the color you want) until it is mixed through.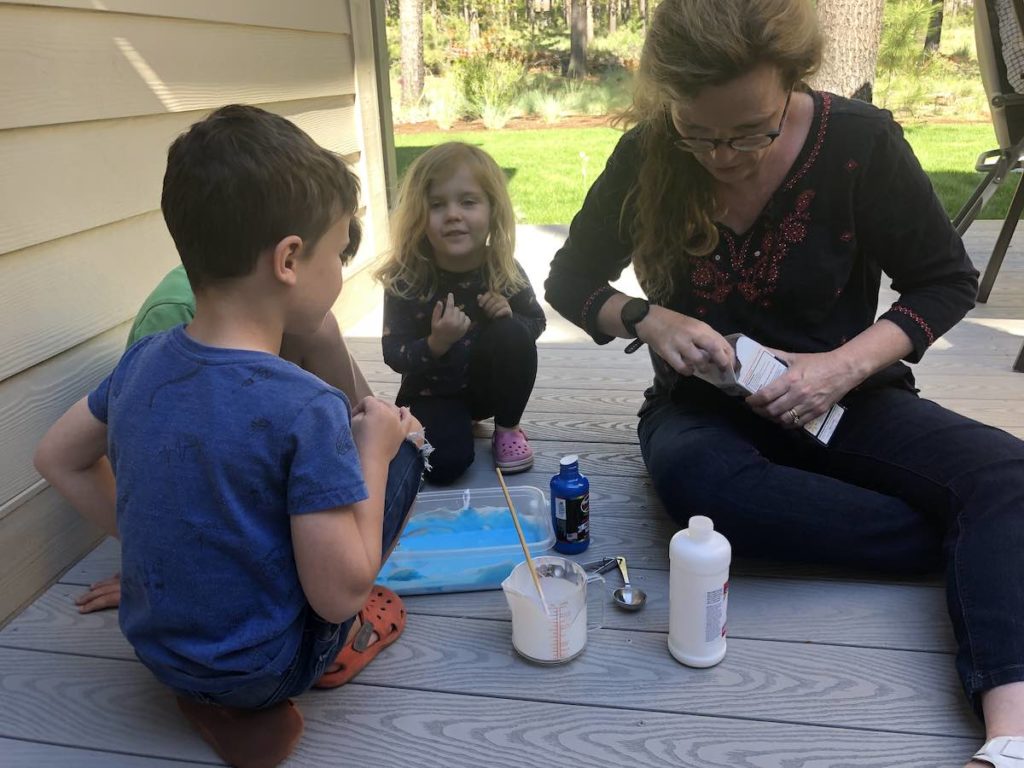 Add saline solution and stir.
That's it!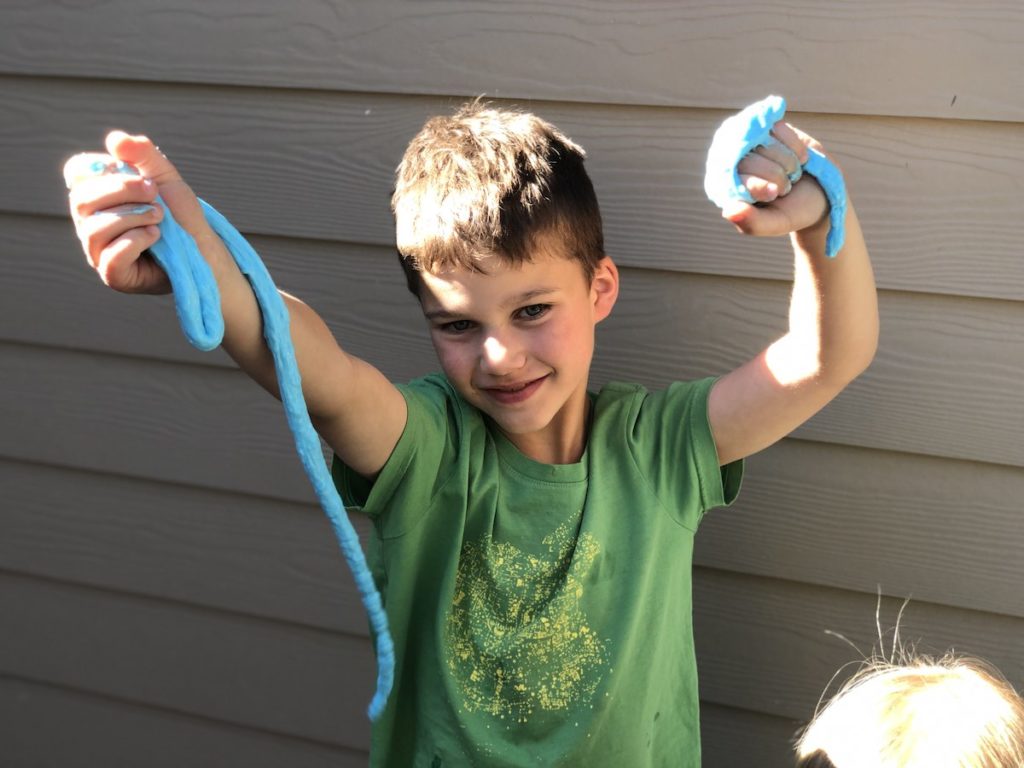 Notes
After a few hours, this gets pretty nasty. Make sure you make it disappear before the ingredients start separating. Trust Marie.
Also, advise all of your grandchildren that slime isn't for snacking.
Helpful Hints for Grandkid Visits
Whenever you spend any time at all with a grandchild, wear something you can wash.
Keep everyone outside as much as possible.
Provide distractions, like ice cream.
Keep your planned activities as short as possible with virtually no set up time (because, attention spans).
Spend time with each grand-darling individually.
Model the values important in your life.
Spoil them slightly (with treats or presents or books)
Tell them you love them and why.
Hug a lot.
Cherish every. single. second.
THIS POST MAY CONTAIN REFERRAL LINKS. IF YOU CLICK THROUGH AND TAKE ACTION, I MAY BE COMPENSATED, AT NO ADDITIONAL COST TO YOU.