This post may contain affiliate links. Full disclosure policy
What a strange week this has been!
A little over a week ago, I was going about my business as I always have. I went shopping, showed up at the gym, and even went to the meeting of my local quilt guild. Sure, I was a little more tuned to the news than usual, but none of what they talking about was impacting me personally.
Then things changed – and quickly!
We are definitely homebodies right now. I moved my mother out of her retirement community and into our house for the duration. (Her cat is here too. Thankfully, my dog not only seems to like her, she actually seems to enjoy the company.)
My heart goes out the many people who have been laid off, as well as health care workers, grocery workers, and the many others in vital industries who are putting in extra hours to get us through this. If you're reading this, thank you so much! We all appreciate your effort!
Changes in the Home
It's definitely easier for me. I've always worked from home, so there isn't much that's different from me on that front. What is strange is having so many people here in the house with me, 24/7. And though I have always enjoyed cooking, I'm having to spend a lot more time in the kitchen than usual.
When it's just me, I kind of graze on whatever's around and only cook when the mood strikes me. And since my husband travels a lot, more often than not, it is usually just me.
But now, there are three of us. That means I'm serving three meals a day, every day. But, there are still blog posts to write, a novella to wrap up, a new book to start, and…Well, you get the idea. I can't spend all day in the kitchen and still get my work done! So how am I juggling it all?
Soup to the Rescue!
I've always loved making soup, but never more than right now. Making a big pot of soup is a great way to use up leftovers and gives me two or three days of healthy, self-serve lunches. Nothing not to love about that!
If you look back over my old blog posts, you'll find lots and lots of delicious soup recipes. My One WeightWatchers Point Tomato Soup is a really good choice right now because it uses lots of pantry staples.
Something I also make frequently is my Easy Vegetable Chicken Soup. It's so simple to prepare and hearty enough to be a meal all by itself. And there's a reason that the book, Chicken Soup for the Soul, was just a big hit. Everybody who saw that title knew exactly what they would be getting – a book that was cozy and comforting.
That's why I decided this was the right time to share this recipe. We need all the comfort food we can get right now!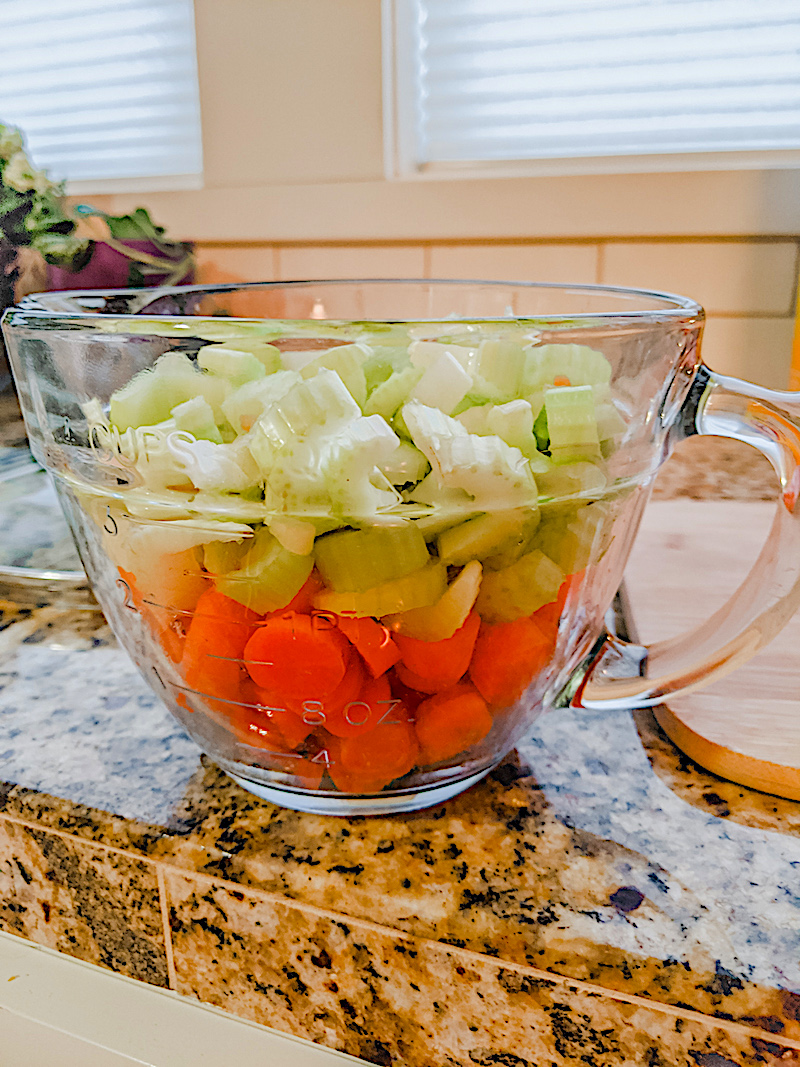 My Easy Chicken Vegetable Soup – Easy and Flexible
My recipe varies quite a lot depending on what I have in the refrigerator, but that's one of the things I love about making chicken soup. It's flexible! Right now, recipes that work with what I've got and don't require extra trips to the market are high on my list.
My basic recipe for chicken soup is what I think of as 2x2x2x2. I use 2 quarts of stock, 2 cups of chicken, 2 cups of 2 different veggies, and 2 cups of some kind of starch.
It couldn't be simpler! And there are lots of ways to vary the end result.
You can use canned or boxed stock or even make your own. And as far as additional chicken, you can cook your own chicken or use canned chicken. My personal favorite vegetables are carrot and celery, but in the past, I've used onions, green pepper, mushroom, peas, or even parsnips, depending on what was in the refrigerator. Today, I used leftover cooked rice in my soup. However, macaroni, spaghetti, or any other cooked noodle will work too.
See? Flexible! And easy!
Starting with the Stock
I'll share the recipe in a second but first I want to talk to you about making stock.
You can absolutely use grocery store chicken stock in this recipe. It'll be just fine. But I think that homemade stock is the best. It's really is easy to do and is such a good way to make sure that no food goes to waste. (I'm very big on making sure we use everything.)
My stock starts with a silicone container I keep in the freezer. I throw vegetable peels, carrot and onion ends, celery tops, kale stems, and any other vegetable leavings into that bag. When it gets filled up, I use it to make vegetable, chicken, or beef stock. (I keep another bag for beef or chicken bones.)
I just throw the contents of the bag into a big pot. If I'm making chicken stock, I cut up an inexpensive stewing chicken too. Then I cover the chicken and veggies with water and put it into the stove over high heat. (My soup pot hold about 4 quarts of water, so I end up with 4 quarts of stock).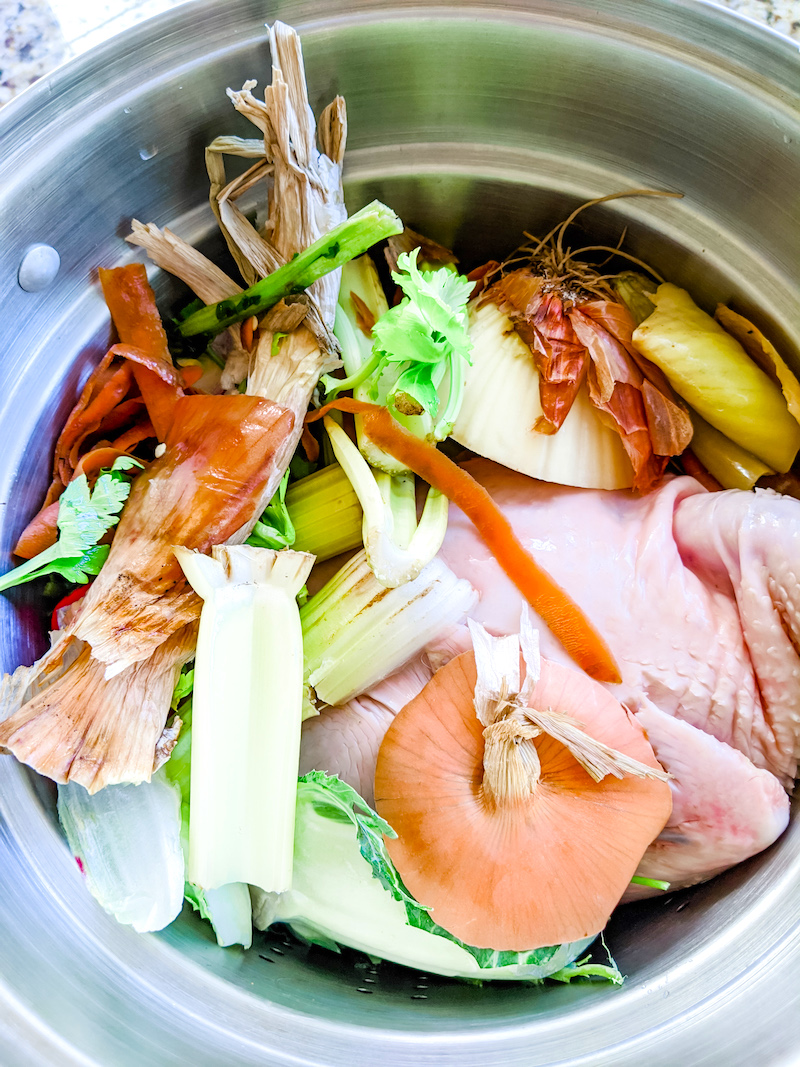 When the pot boils, I lower the flame so the pot is just bubbling, and let the stock simmer for at least 2 hours. (Makes the house smell fantastic!). If I'm making chicken stock, I pull the chicken pieces out after about 45 minutes, let them cool, and then pull the cooked meat off the bones to add back to the soup later, then toss the bones back into the stock so they'll continue to simmer.
The reason I take the meat out earlier instead of just letting it cook for the whole two hours is that I still want the chicken to be flavorful when I get a bite in the finished soup.
After two hours of simmering, I remove the chicken, vegetables, and bones, then put the clear stock in a clean container and place it in the refrigerator. After the stock cools, the fat will rise to the stock of the container. Just skim off that fat before you use the stock.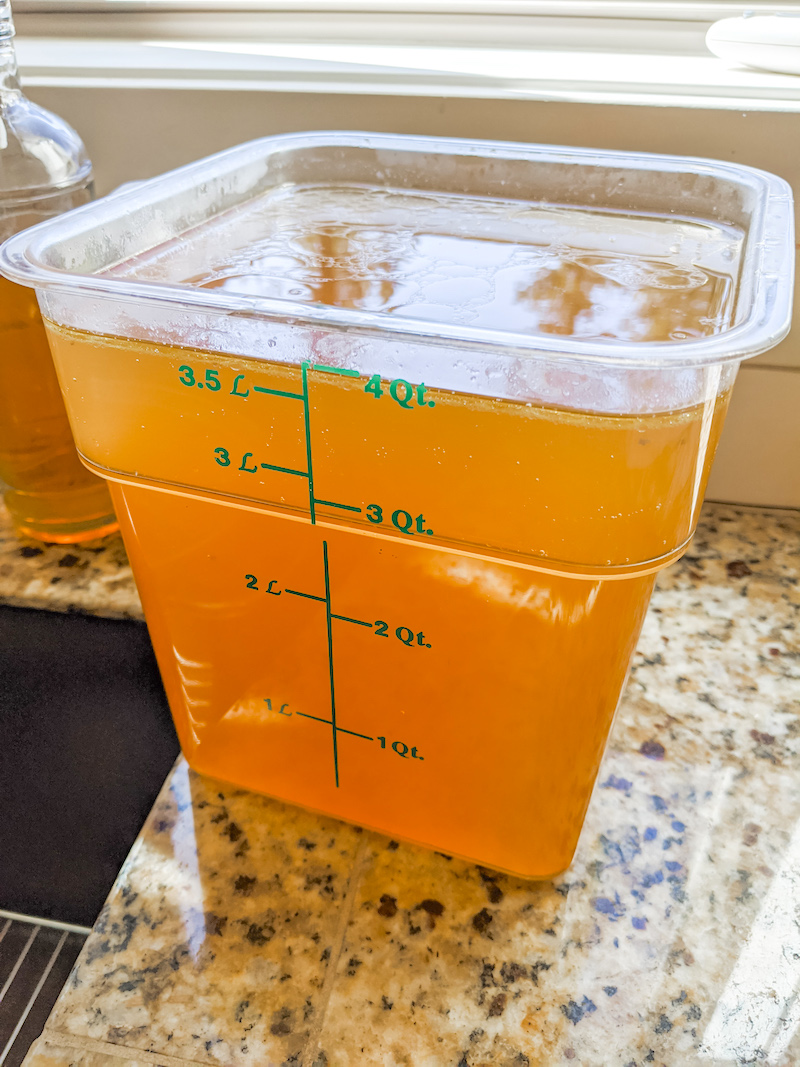 See? Easy Vegetable Chicken Soup!
That's all there is to it!
Making your own chicken stock is super easy. But, as I said, you can use canned, boxed, or homemade stock for my Easy Chicken Vegetable Soup. You can even use chicken bouillon and water in a pinch.
Give this crowd-pleaser a try today!
Print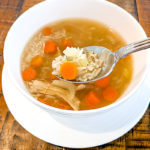 Easy Vegetable Chicken Soup
---
Author:

Yield:

6

servings

1

x
2 quarts

chicken stock (canned, boxed, bouillon, or homemade)

2 cups

cooked chicken (fresh or canned)

2 cups

peeled, sliced carrots

2 cups

sliced celery  (you can use other veggies. Mix and match to your liking!)

2 cups

cooked rice (cooked macaroni, spaghetti, or other pasta works too.)
Salt and pepper to taste
---
Instructions
Wash, peel, and slice your vegetables.
Put chicken stock in large pot over medium/high heat. Bring to a boil, the reduce heat low.
Add vegetables to stock. Simmer for 30 minutes. (Root vegetables – such as carrots, celery, onions, or parsnips can be added immediately of cooking. Other, more delicate vegetables – such as peas or mushrooms – should be added in the last 5 minutes of cooking so they don't get too mushy.)
Add cooked rice or pasta to soup and heat through. Taste soup. Add salt or pepper as necessary.