This post may contain affiliate links. Full disclosure policy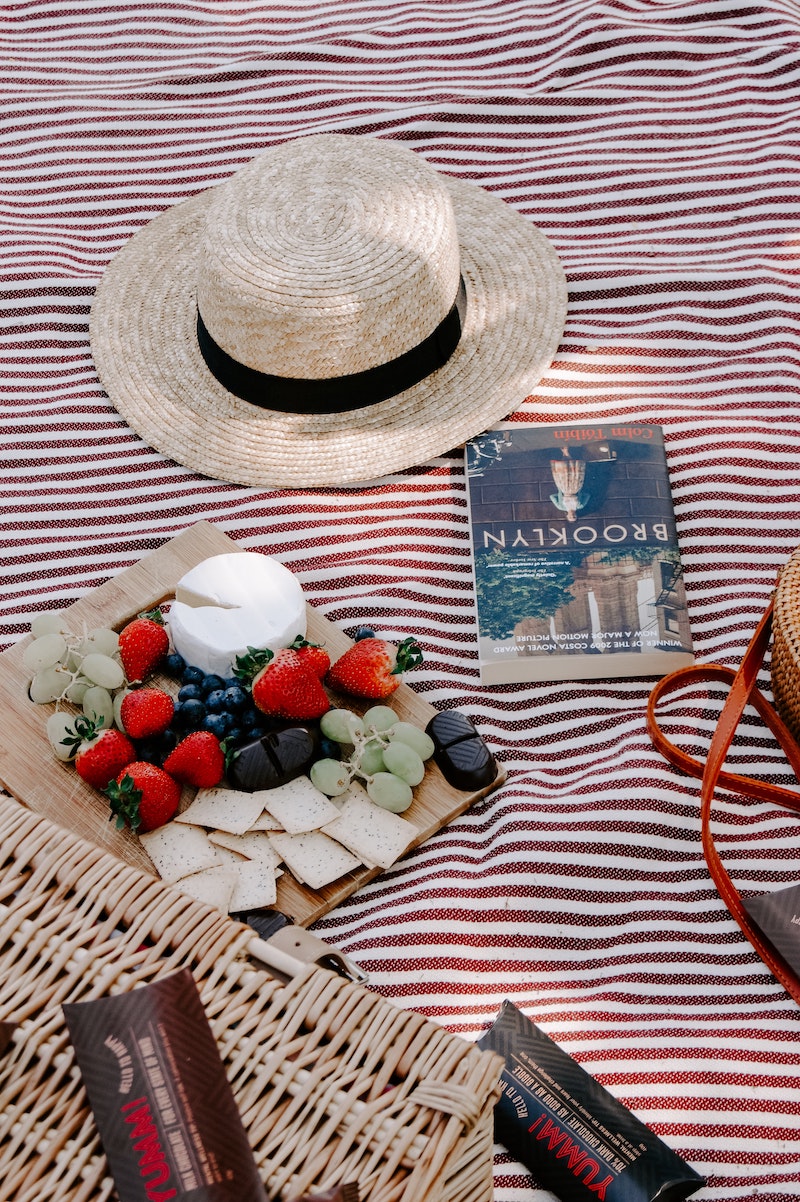 Summer is that you?
Sometimes it's hard to tell. When warm weather arrives in the Pacific Northwest, my calendar is usually packed with summer get-togethers. Like everybody else in my area (and probably in yours too) I want to take advantage of the good weather by going, and doing, and seeing as much as I possibly can while it lasts.
But this year? Not so much.
Turns out there's a lot of emotional turmoil to deal with during a pandemic. One of the things I'm struggling with is how to live my life and enjoy summer activities while still feeling (and staying) safe. Ideally, I'd like activities that get me out of the house, and also support local small businesses.
Introducing National Picnic Month & Picnic Ideas
Now, you can make fun of those made-up national holidays, weeks, or months if you want. But I often find them inspiring. Especially since July is National Picnic Month!
Picnics are the perfect summertime activity – even in a pandemic. With a little bit of planning and a lot of imagination, a picnic is something we can all enjoy, safely. Sure, you've probably gone on lots of picnics in the past, but in a time when we might not be able to enjoy some of our usual summer activities, it makes sense to put a little extra effort into creating a truly special picnic. At times like this, a picnic can be like a little vacation in a basket. So, I want you to really think outside the box with this one and come up with some truly unique picnic ideas.
Who do you picnic with?
Let's start with the members of your household – your husband, your kids, roommates, etc. They probably need a lift just as much as you can right now. A picnic is something everybody in the house can look forward too.
But your picnic doesn't have to be limited to just your housemates. Call your mom, your sisters, your best girlfriend, and get out into the nice sunshine. Just be sure to play it safe by keeping the group on small and keeping at least six feet apart. When you're gathering with people you haven't seen in awhile, everybody should bring their own chairs, blanket, food, masks etc. Even at a distance, you can still have a great visit with people you've been missing.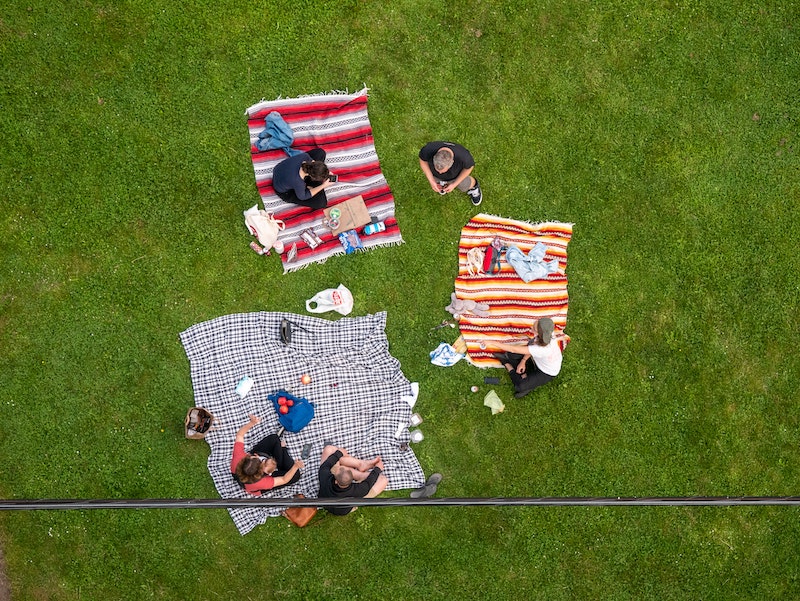 But there's also something to be said for keeping it intimate, as in just you. Pick a beautiful spot, pack a delicious meal or snack as well as a good book, and spend the afternoon enjoying the scenery and sounds of nature. I guarantee you'll come home refreshed!
Where to Go:
There are endless possibilities. Pick your favorite park, or beach, or someone's backyard to go and spread out your blanket and enjoy. Some of my favorite picnic spots are near water of any kind – lake, pond, or river. Rivers are my favorite because I love the sound of moving water. If you live within driving distance of the coast, there's really nothing better than a beachside picnic.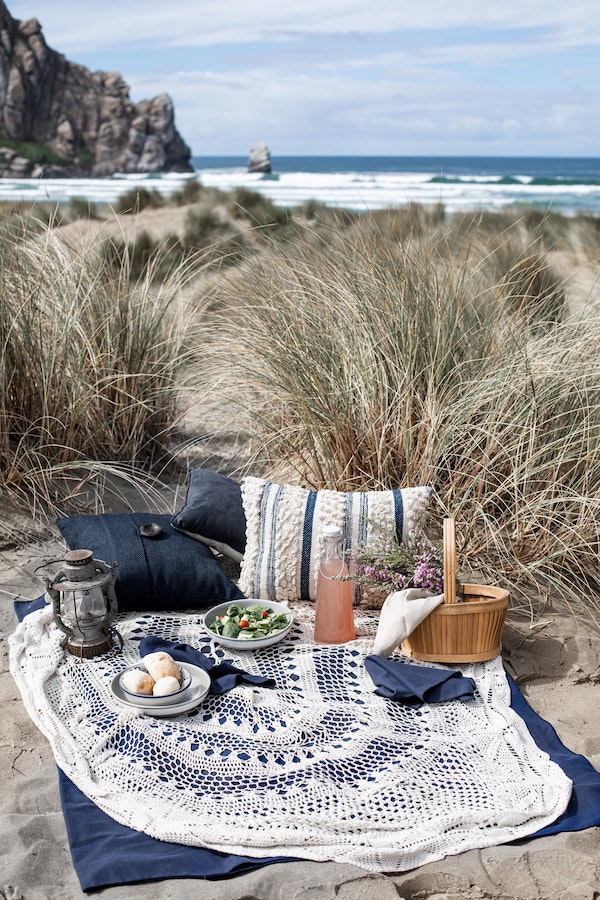 What to Do:
Read a book, watch the birds, play a board game, blow bubbles. Bring a guitar and play some music. Bring your watercolors and paint plein air. Bring your handwork or knitting to do some stitching. Or you might engage in my very favorite picnic activity, taking a nap. There's nothing quite as wonderful as an outdoor snooze on a sunny day. Ahh….
What to Eat:
When it comes to picnics, delicious food is the star of the show. Of course, there's nothing wrong with tossing a few sandwiches in a bag. But why not go all out and make your picnic a truly special celebration?
What about trying a theme?
You could create an Italian feast with a bottle of Chianti, cold Italian sodas with a touch of cream, and a big, beautiful antipasti board with imported cheeses, cured meats, and olives, and some amaretti cookies for dessert. What about French with a bottle of chilled Vouvray, baguette, wheel of brie with some fresh seasonal fruits, radishes spread with butter and salt, and a rustic pear tatin? An All American picnic would be fun too. Think cold fried chicken, coleslaw, baked beans, and apple pie served with a locally bottled beer, wine, kombucha, or iced tea. Yum!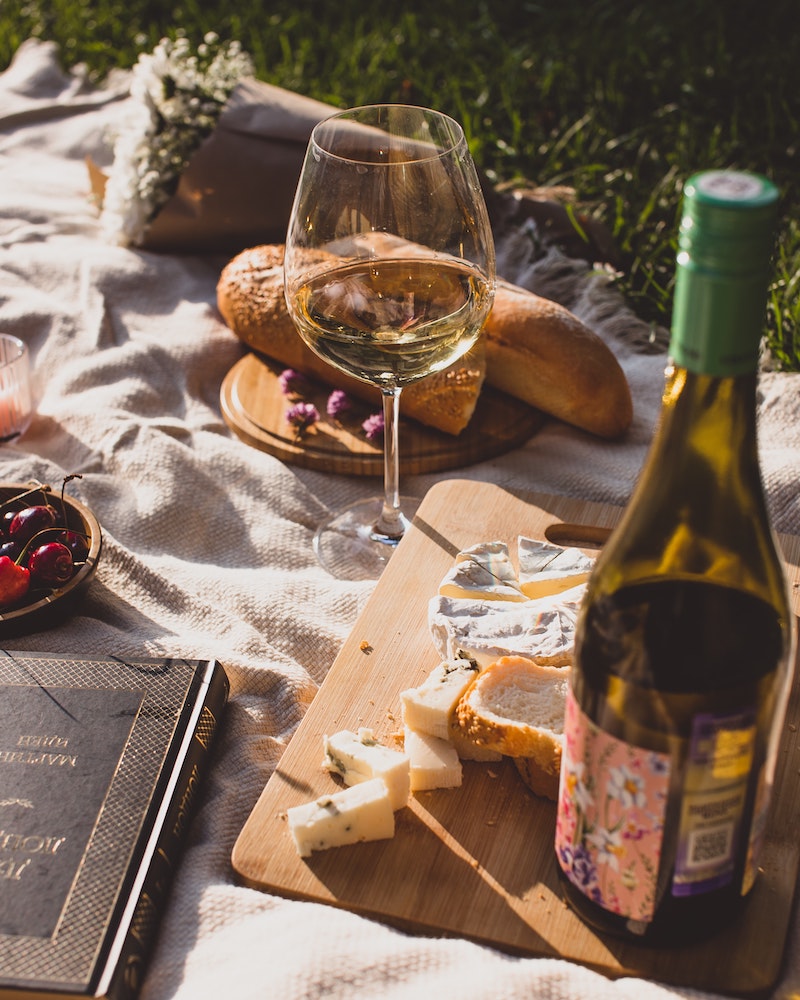 After my visit to Highclere Castle last year (also known as Downton Abbey), I think a proper outdoor tea is the perfect and perfectly elegant way to picnic. Tiny cucumber, salmon, and egg salad sandwiches. Some Stilton cheese and fruit. Scones with jam and clotted cream. Or perhaps a loaf of my Tea Cake with Lemon and Blueberry? When it comes to an outdoor English tea picnic, there are so many ways to go. Of course, you can absolutely serve tea. But I think a split of chilled champagne served in stemware is a must.
Opportunities to Help Small Businesses
One of the things I love about planning a special pandemic picnic is that it gives you a chance to support your local small businesses. They really need our help right now. You can pack your own basket but why not make sure it's filled with goodies from local specialty markets, delis, or your local organic farm? It'll make your picnic extra special and give an extra boost to businesses in your area. And if pulling together a picnic seems like too much work, why not order some extra special takeout and pack it right in basket?
Voila! Instant picnic!
Oh, and speaking of that basket…
What to Pack:
Oh, how I love a lovely picnic hamper! I swear it makes the food taste better. I know it turns even a simple picnic into a special occasion. It also makes picnicking easier, because a good picnic hamper already has a lot of you need, which makes planning easier.
Our picnic basket includes plates, cloth napkins, cutlery, wine glasses, a small cutting board and knife, and a corkscrew. We got it years ago. Here are a couple of picnic hampers that I just love.
Retro Classic Picnic Basket for Two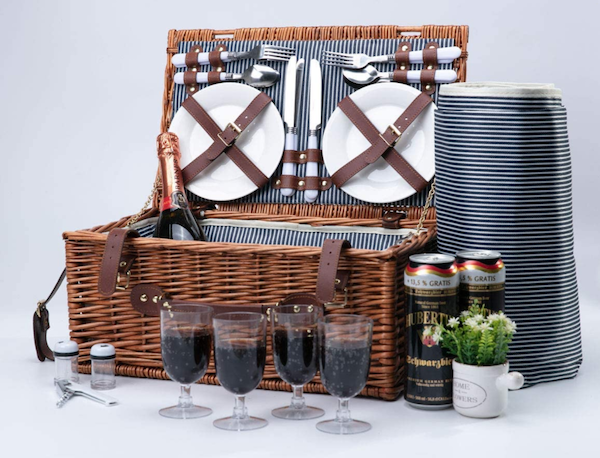 Home Innovation Picnic Basket for Two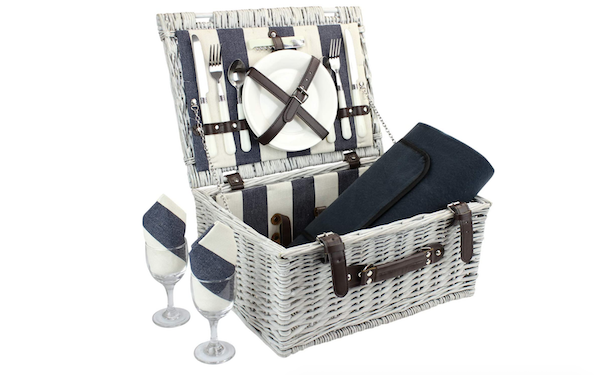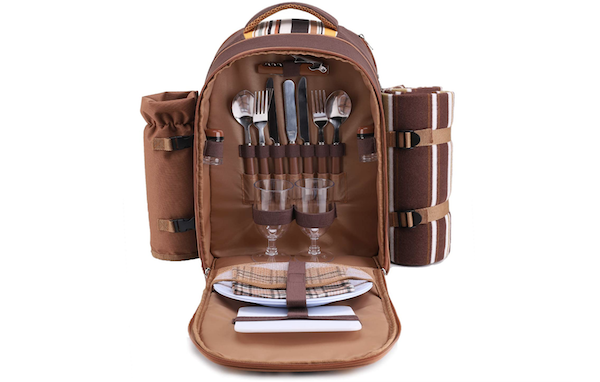 And if you'd like to add an extra touch of atmosphere to your special picnic, why not bring a bouquet of flowers? Or even just a vase? You can give younger picnickers the job of filling it with wildflowers. If your picnic is in the evening, bring some votive candles or a hurricane lantern. So romantic!
As you can tell, when it comes to picnic planning, I really like to gild the lily. You may feel the same way. Or not.
But there are a few items that I consider to be absolute musts for any picnic.
Moving onto my helpful top ten list of Picnic Essentials to be sure to pack!
Sanitizing wipes (They make having a picnic a cleaner and more sanitary experience.)
A large quilt or blanket
Cards or a book
Cooler bag with ice packs (Or a Costco to go hot bag if you are doing takeout!)
Sunscreen and/or an umbrella
Sandals (Easy to kick back and take your shoes off.)
Insect Spray
Utensils
Cutting Board and knife
Plates and cups
This is a strange summer, no doubt about it. But planning a special picnic can be a safe and wonderful way to enjoy the pleasures of summer wherever you are.