This post may contain affiliate links. Full disclosure policy

Marinated Tri Tip steak is great for family gatherings and mouth-wateringly good! Delicious, savory marinade infuses every bite with flavor. The perfect entrée for your Labor Day cookout!
Marinated Tri Tip Steak – Steakhouse Flavor Made at Home
If you've ever lived on the west coast or visited a Brazilian steakhouse, you probably know all about marinated tri tip steaks and remember them fondly.
In case you haven't been lucky enough to taste it yet, tri tips are triangular cuts of beef that come from the bottom part of the sirloin. The triangle shape is where it gets its name.
Though tri tip has much less fat, the rich and meaty flavor of tri tip is reminiscent of brisket. But because tri tip is a steak, the cooking time is much shorter, which is one of the many things I love about it.
When properly cooked, marinated tri tip steak is just as tender and flavorful as any of the fifty-dollar-a-plate version you'll find on the menu of the nearest steakhouse.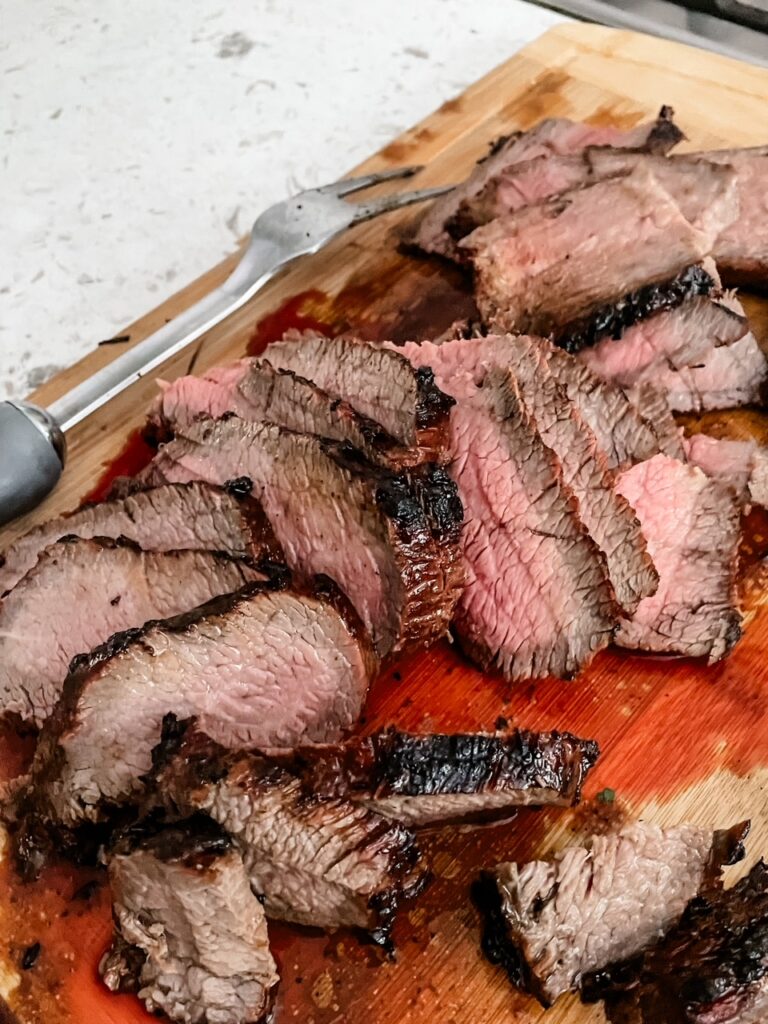 Great Tri Tip Starts with A Fabulous Marinade
A good tri tip can be delicious all on its own. But giving the meat a few hours to marinate in a delicious blend of herbs, spices, vinegar, oil, and more will infuse every bite with flavor and make the meat extra tender.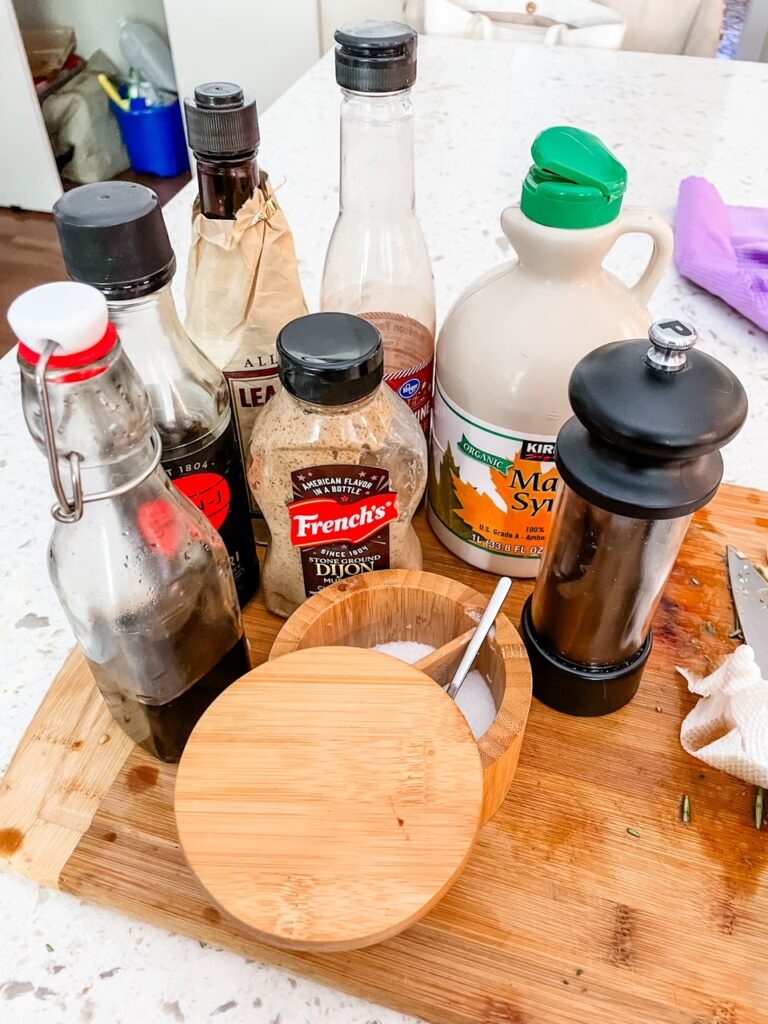 My tri tip marinade starts with a base of olive oil plus red wine and balsamic vinegar. The oil adds a little extra fat and helps tenderize the meat. The acid in the vinegar does its part, too, breaking down the steak's tough fibers.
But we don't just want our tri tip to be tender; we also want to be delicious. That's why we'll add other ingredients to infuse the marinade with a complex blend of flavors you'll taste in every bite!
My recipe for marinated tri tip includes generous helpings of a classic savory flavor combination, garlic and rosemary. Unless you're allergic or intolerant, definitely leave in the garlic. It adds a lot. However, if you don't love rosemary, you can substitute another fresh herb such as thyme, oregano, cilantro, or Italian parsley.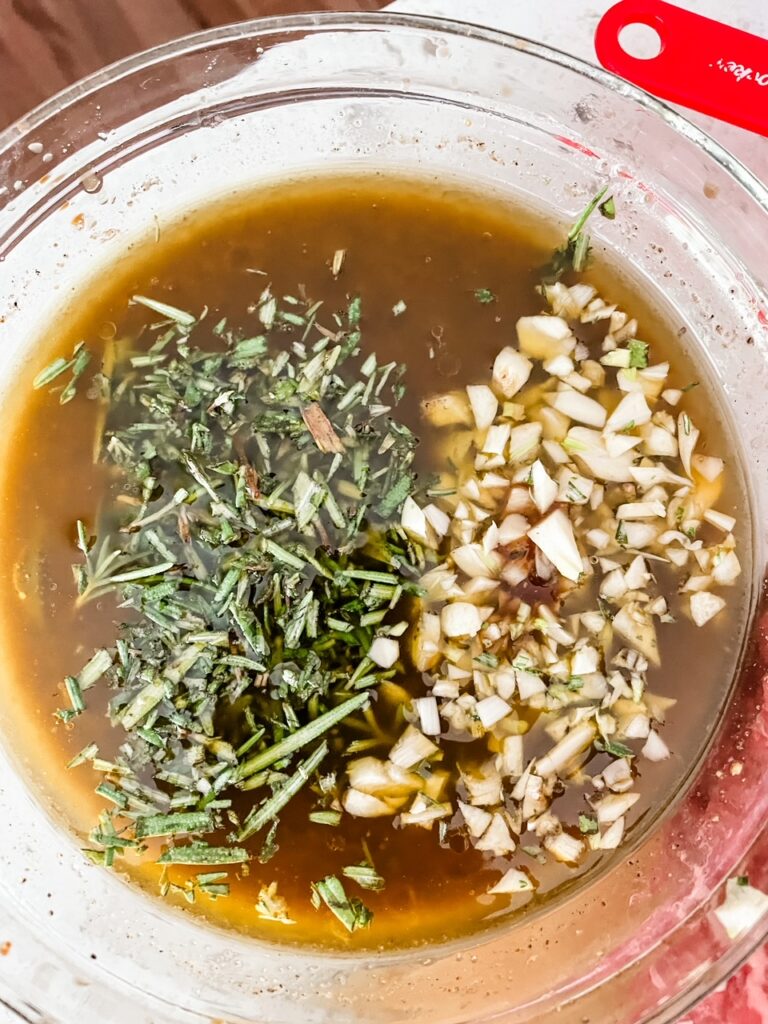 Worcestershire and tamari sauce bring salt and umami flavors to marinated tri tip. If need be, you can use soy sauce in place of tamari. Soy sauce is a little saltier than tamari, so cut back on the added salt if you decide to use it.
A bit of mustard and maple syrup give the marinade a subtle sweet-tart taste. Dijon is my preferred mustard, but you can use whatever you have on hand. Also, slightly smaller amounts of honey or brown sugar can be used in place of maple syrup.
Yes, this does seem like a lot of ingredients but don't let that intimidate you! All you'll have to do is whisk them together and pour the marinade over the meat, so it really is easy.
And if you don't have one or two of the ingredients I used on hand, just sub something you do have in stock. It will still taste wonderful!
Marinating Tri Trip – Give It Time, But Not Too Much
Before putting the tri tip into the marinade, I like to pierce it all over with the fork so the marinade can seep into the steak's interior.
I also like to put the meat and marinade into a plastic zipper bag so the marinade surrounds the meat on all sides. But a shallow bowl or pan works too. Just make sure you turn the steak partway through the process.
To get a really good flavor infusion, marinate the tri tip for at least eight hours or overnight. The maximum amount of time you should marinate the steak is twenty-four hours. If you leave it in for longer than that, you risk breaking down the fibers too much, giving the meat a mushy texture.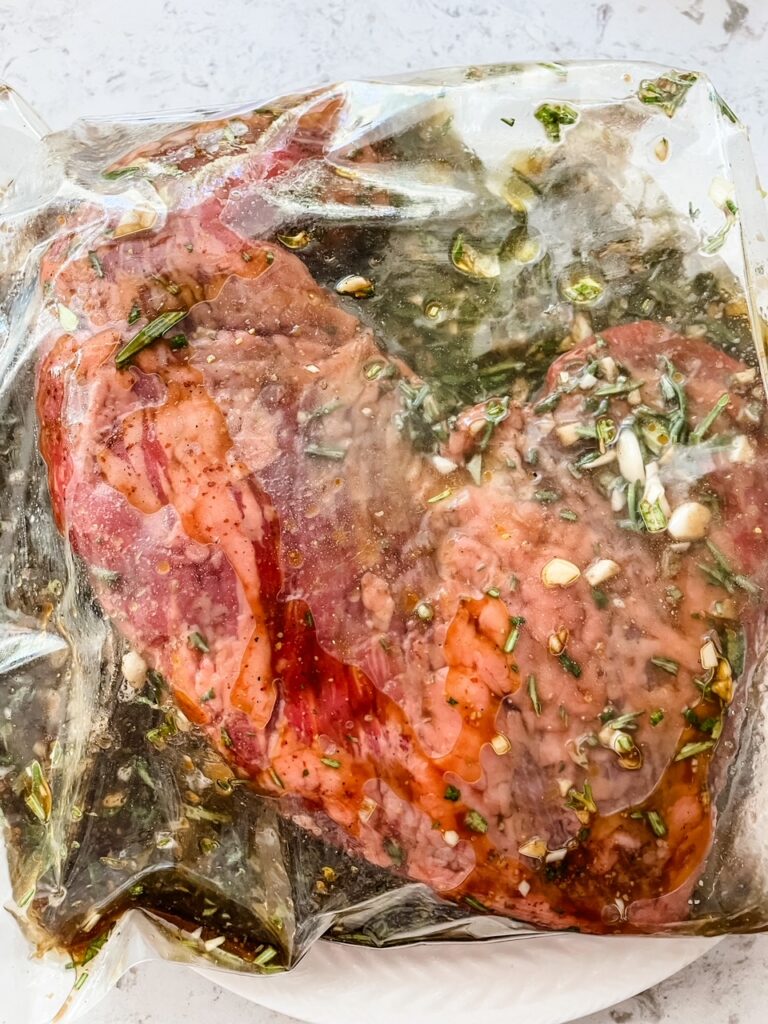 How To Cook Marinated Tri Tip
Because tri tip is fairly lean, you'll need to cook it somewhat quickly at a high heat. Otherwise, it can turn dry and tough.
Grilling is my favorite way to cook tri tip.
After preheating the grill to about 500 degrees, you'll sear the tri-tip on each side for three minutes to give it a nice crust and seal in the juices. At this and every stage of the cooking, be sure to close the grill quickly after turning the meat and leave it closed so the heat stays inside the grill.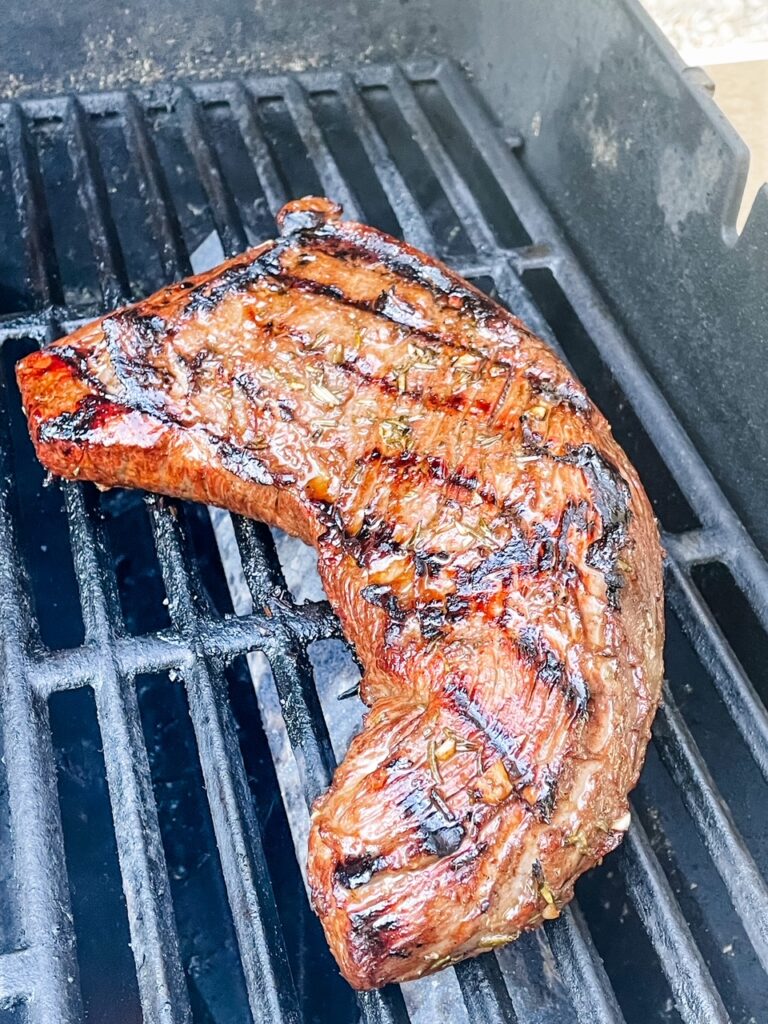 After the meat is seared, lower the temperature on the grill so it stays around 400 degrees.
Tri-tips are generally around 3 pounds. And though there can be variations depending on thickness, it should take about 12-15 minutes per pound of cooking time.
With that in mind, I leave the grill closed and let the meat cook for 20 minutes on one side, then flip it over and let it cook for an additional twenty minutes. After that, I use my instant read thermometer to see if the tri-tip is ready or needs to cook longer.
The interior temperature for a rare tri tip is 125 to 130 degrees. For medium, the temperature is 135 to 140. And for medium well, which is how I like it, the temperature should be 145 to 150. Anything above 150 is going to be well done.
Once the meat reaches the desired temperature, take it off the grill and let it rest on a rimmed cutting board or in a pan for 10 to 15 minutes, allowing the juices to reabsorb into the steak.
Don't skip this step! If you do, your tri tip won't be as tender and juicy as it could be. If you'd like, you can keep the steak warm by tenting some foil over it as it is resting.
After resting, slice the meat perpendicular to the grain. The grain of tri tip runs in two different directions, so you'll need to find the spot where the grains intersect and cut accordingly. This post from Traeger has photos and slicing diagrams that will show how to properly carve your tri tip.
Print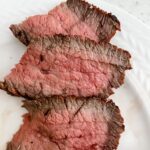 Steakhouse-Worthy Marinated Tri Tip Steak
---
Author:

Yield:

6

-

8

servings

1

x
3

lbs tri-tip steak

½ cup

olive oil

½ cup

red wine vinegar

¼ cup

balsamic vinegar

¼ cup

tamari or soy sauce

¼ cup

Worcestershire sauce

3

T fresh, fine chopped rosemary (can sub thyme)

3

T minced garlic

3

T maple syrup (can sub

2

T honey or brown sugar)

2

T Dijon mustard

1 tsp

kosher salt (reduce salt by half if using soy sauce instead of tamari)

½ tsp

fresh ground pepper
---
Instructions
Place the tri tip into a large plastic zipper bag or shallow bowl.
In a medium-sized bowl, combine all the remaining ingredients and whisk together. Pour marinade over the meat. Close the zipper bag or cover the bowl with plastic wrap and place the tri tip in the refrigerator for at least 8 but no more than 24 hours. (If using zipper bag, you may want to place the bag inside a bowl to prevent leaks.)
Preheat the grill to 500 degrees. Sear steak on each side for 3 minutes. Lower grill flame so temperature is approximately 400. Cook steak in closed grill for 20 minutes, then flip over and cook an additional 20 minutes before using a meat thermometer to check interior temperature. Cook to desired temperature: 125 to 130 for rare, 135 to 140 for medium, 145-150 for medium well, 150 plus for well done.
Remove tri tip from grill and place on a rimmed pan or cutting board. Allow steak to rest for 10 to 15 minutes before slicing and serving. (See post for information on proper slicing.)