This post may contain affiliate links. Full disclosure policy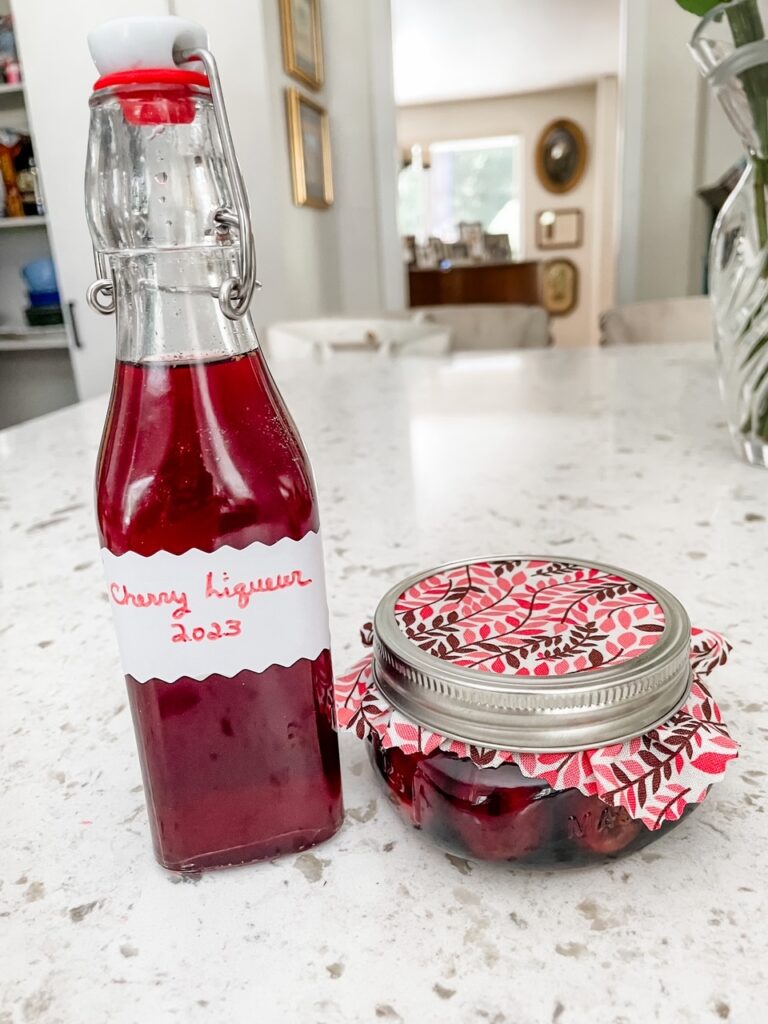 Make your own cherry liqueur with just six simple ingredients! Sweet, flavorful cherries infuse in a beautiful liqueur that tastes like summer in a bottle. Perfect for gift giving. No cooking or crafting required!
Cherry Liqueur – Homemade Gifts For The Non-Crafty
As I said in my recent tutorial on how to make One Hour Beach Totes, homemade gifts are a big deal around here. By the time mid-summer rolls around, I'm already deep into holiday gift-making mode.
However, if your Christmas list is as long as mine, even gifts that only take an hour to make can add up to a serious investment of time.
But what if you don't have that kind of time? Or what if you don't have a crafty bone in your body? What then? Can people with no crafting, cooking, or creative skills really enjoy a homemade holiday?
Yes, Virginia. Even if the craft gene skipped you entirely, a handmade Christmas is not beyond you.
Because anyone – yes, even you – can make your own cherry liqueur.
Making your own cherry liqueur is simple and fun. It requires no special equipment or special skills. Even so, this gorgeous, scrumptious cherry liqueur is something that so many people on your gift list would be thrilled to receive.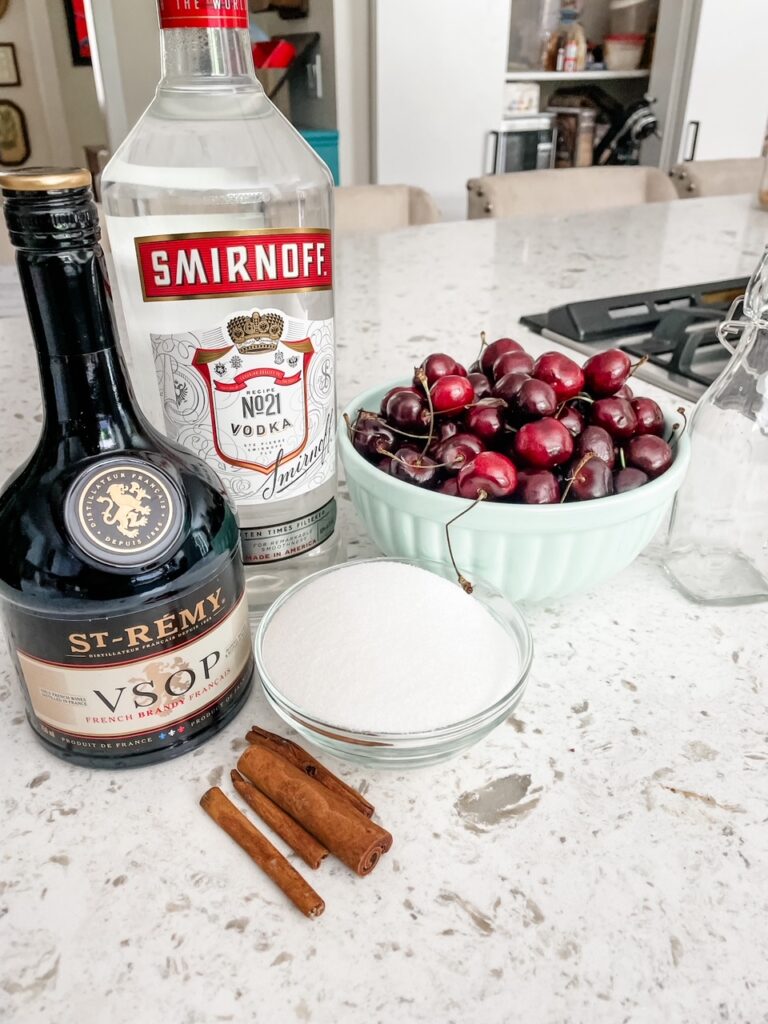 What Can You Do with Cherry Liqueur?
Liqueur is alcohol that has been infused with additives to impart flavors, such as sugars, herbs, spices, or fruit, so when I say that "many people" would enjoy receiving some cherry liqueur as a gift, children and teetotalers are not part of that group.
However, those who enjoy a nice adult beverage will love it!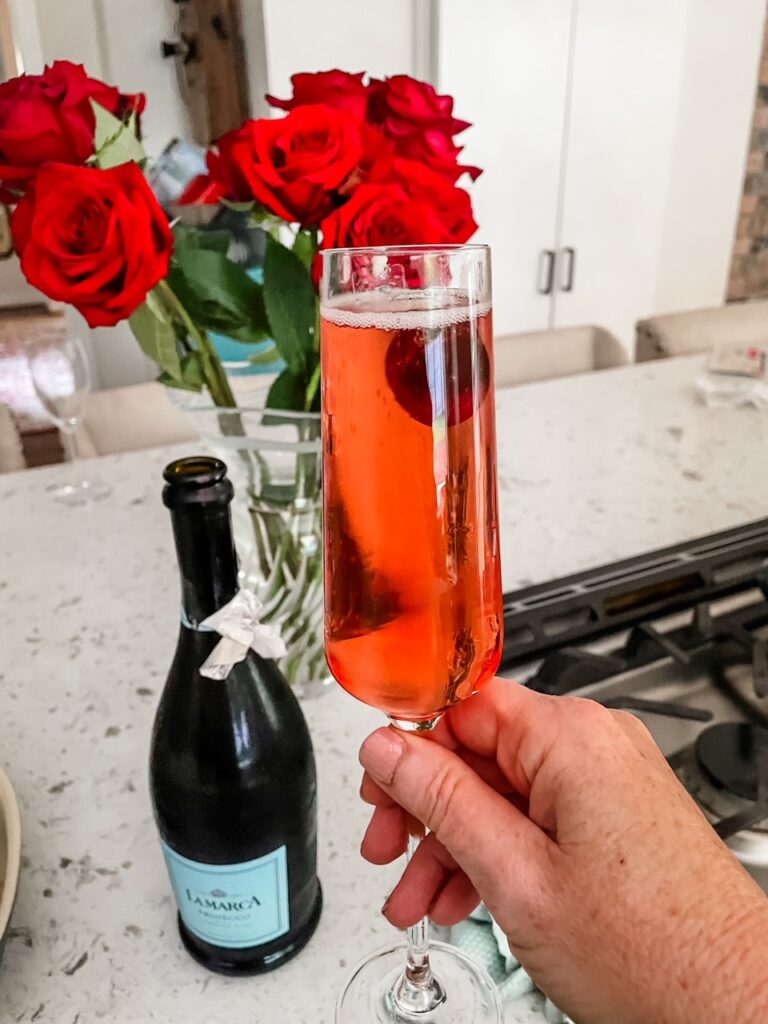 A small glass of Cherry liqueur can be sipped straight, like you would any other liqueur. The bright red color and strong, sweet cherry flavor also means it's a terrific addition to cocktails.
That can be as simple as topping off a glass of prosecco with an ounce of cherry liqueur to give it a pretty pink blush and a hint of cherry flavor. You could also make your own cherry liqueur and add it to sangria, or use it to make fancy, craft cocktails like this Cherry Old Fashioned Smash.
Bakers and home chefs will also appreciate getting a gift of cherry liqueur. It adds an extra depth of flavor when brushed onto cakes, including pound cake, fruit cake, or black forest cake.
And what about adding a little to a cherry crisp or cobbler? I'm also thinking of using it the next time I make my fresh cherry clafoutis.
As you can see, homemade cherry liqueur has all kinds of uses!
How To Make Your Own Cherry Liqueur
When I tell you that cherry liqueur is easy to make, I'm not kidding. If you can use measuring cups and pour stuff into jars, you've got this. The only vaguely difficult task in the process is pitting the cherries.
If you're up for it, do what I did. Place each cherry onto the opening of a bottle and use a small, flat-bottomed tool, such as a chopstick, to push the pit out of the cherry. It's time-consuming but it works.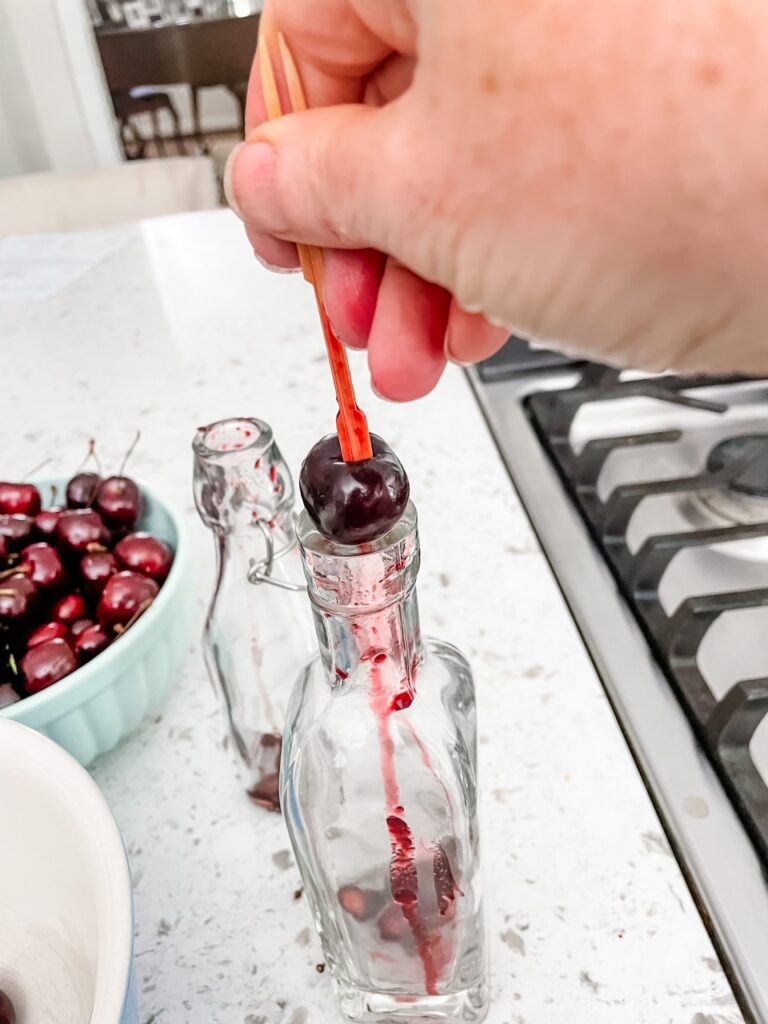 You could also get cherry pitter like this one, which I just ordered. It's not expensive and I find myself pitting cherries often enough that it's worth having. Of course, you could use pitted, frozen cherries in this recipe. But I always feel that fresh is best and frozen cherries can be pricey. When I find a good sale on fresh cherries, I like to stock up.
Once the cherries are washed and pitted, all you'll do is place them into glass jars with lids. Old spaghetti sauce jars are perfect for this purpose. Then, you'll add some sugar and a cinnamon stick, pour in liquors, put the lid on, and give the jar a good shake so the sugar will start dissolving.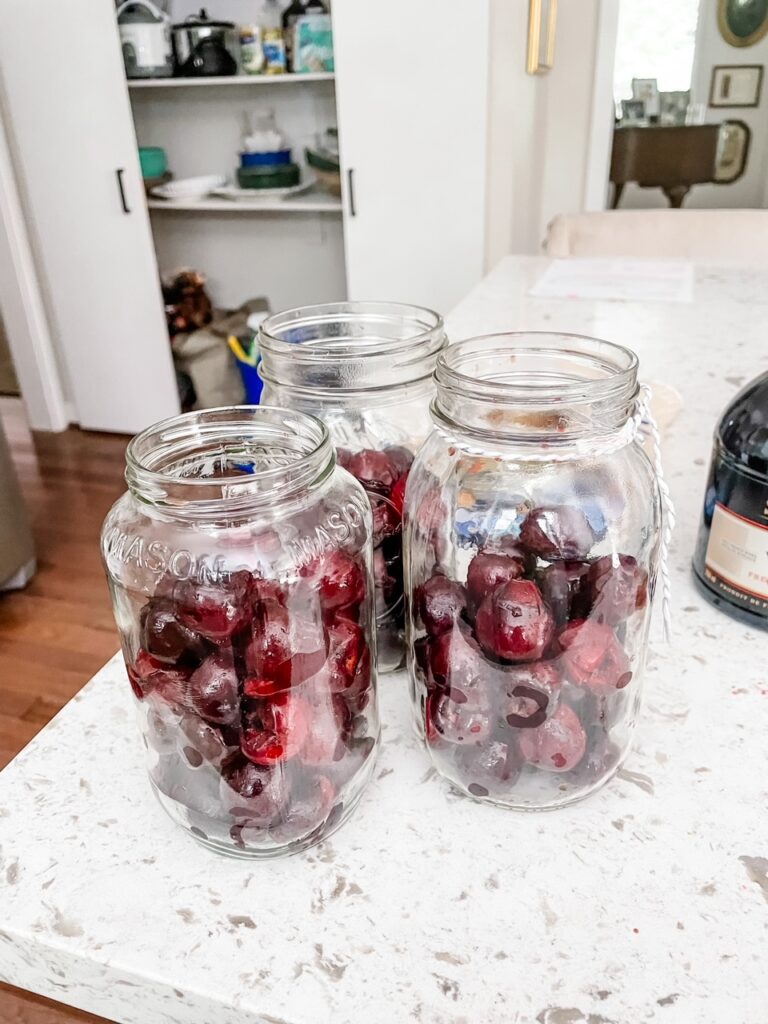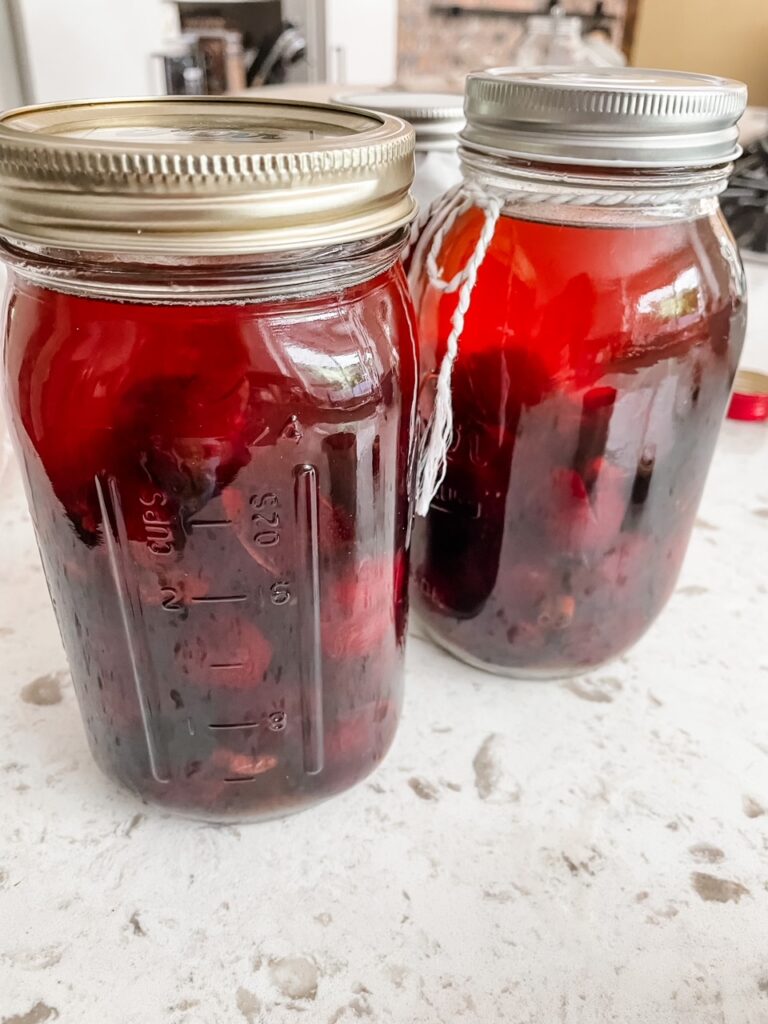 Make Your Own Cherry Liqueur: The Waiting Game
After that, all you have to do is wait.
You'll store the lidded jars in a cool, dark place for a month or more, allowing the cherries and cinnamon to infuse the liquors. It's not completely necessary, but if you think of it, give the jars a shake every week or two.
When the liqueur is ready, pour it through a strainer and decant it into bottles for gift-giving. I like to use these swing-top bottles for storing my liqueur. They also come in handy for storing salad dressings and my homemade vanilla extract, another gift that non-crafty folks will have no trouble making!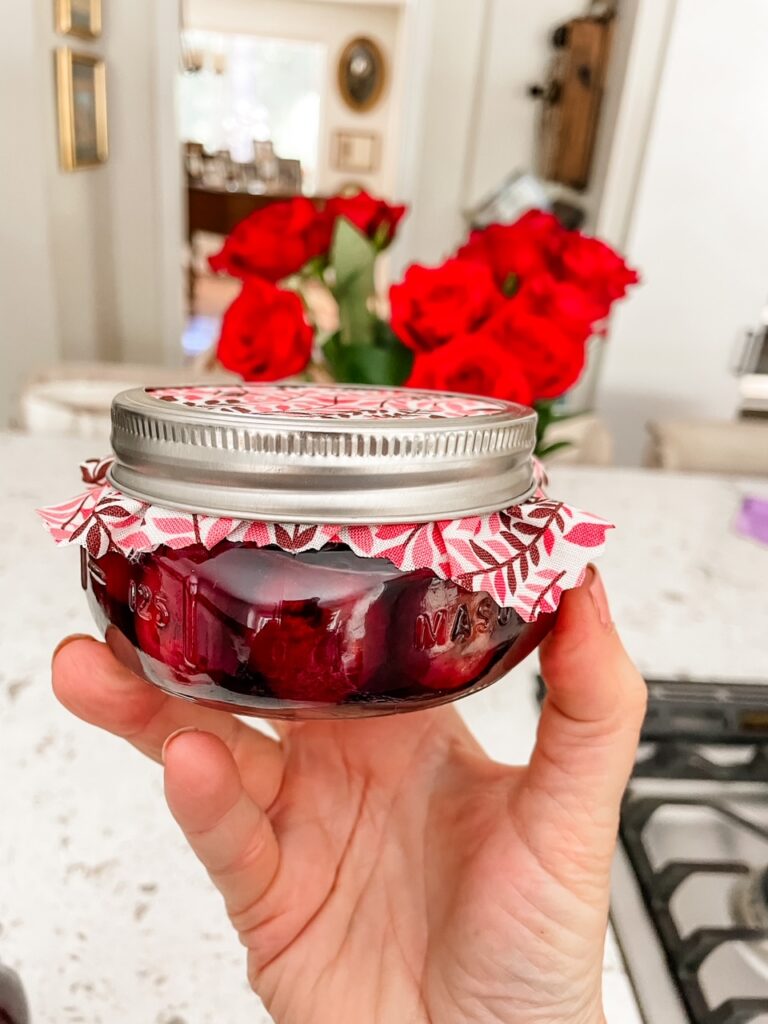 After decanting the liqueur, you can pack the cherries tightly into small jars and fill the jar with brandy or some of the liqueur so you'll have cocktail cherries to use or gift as gifts.
Just make sure that the cherries are completely covered by the brandy or liqueur. If they are, they can be stored in the refrigerator for up to a year. My husband loves using these cocktail cherries to make Manhattans and Old Fashioneds. They can also be added to baked goods.
With fresh cherries in season and often on sale, now is the perfect time to make your own cherry liqueur! Mix up a batch soon, and you'll be set for holiday gift-giving!
Print
Make Your Own Cherry Liqueur
---
Author:

Yield:

Makes approximately

7.5 cups

of liqueur

1

x
2

lbs cherries, pitted

2 ¼ cup

sugar, divided

3 cups

vodka, divided

3 cups

cups brandy, divided

3

cinnamon sticks

1.5 cups

water, divided

3 quart

jars with lids, sterilized
---
Instructions
Wash the cherries and remove the stems and pits. Divide the pitted cherries evenly into the clean jars.
Pour ¾ cup of sugar into each of the three jars and lightly stir to coat the cherries, taking care not to crush or muddle the cherries. Add a cinnamon stick to each jar.
Pour 1 cup of vodka and one cup of brandy into each jar. Add up to ½ cup of water to each jar, just enough so that the cherries are covered by liquid. Screw the lids tightly onto each jar and give them a shake to help dissolve the sugar.
Place jars in a dark, cool spot for a month or longer, giving the jars a shake every week or two.
When the liqueur is has infused sufficiently, pour it through a strainer to remove any solids, then decant into bottles. Pack leftover cherries tightly into small jars and cover completely with brandy or the liqueur. The cherries can be used as cocktail cherries.