This post may contain affiliate links. Full disclosure policy
THIS POST MAY CONTAIN REFERRAL LINKS. IF YOU CLICK THROUGH AND TAKE ACTION, I MAY BE COMPENSATED, AT NO ADDITIONAL COST TO YOU.
Having lived in Wisconsin, Colorado, and Connecticut, I've told my share of Snowmaggedon jokes over the years.
My tongue in cheek taunts were winks at people who live in temperate climes, the people who race to the mini-mart in a panic and empty the shelves of bread and milk at the merest dusting of white stuff and never learned to use the business end of a snow shovel.  
You know, Floridians.  Or anybody who never learned to ice skate.
Don't be offended. I'm just kidding.  This is just something people from frigid climes do to keep the blood circulating in February. However, I'll admit there is an unspoken element of pride in our teasing. Deep in our hearts, residents of the Frozen North believe we are made of sterner stuff than the rest of you. Blizzards build character, dontcha know.
But this week, I'm over it. Really, really over it.
SNOWMAGEDDON (THIS ITERATION)
Yesterday morning, I opened the front door and was greeted by snowdrifts that topped my knees. Though I had shoveled the porch before bed, I was now basically trapped inside the house.  That's when I remembered that the last thing I'd done before turning in was put the shovel away. In the garage. Which was now way, way on the other side of that snowdrift.
Fortunately our intrepid snowplow guy showed up to rescue me.  The roads are still too treacherous to drive on but at least the dog can get outside to do her thing.  So, there's that. Could be worse.
But not a lot worse.  Beam me up, Scotty. Preferably to Florida.

PIZZA DELIVERY DOESN'T HAPPEN DURING SNOWMAGEDDON
There is a silver lining in this however, at least for my Fierce readers.  Since I'm snowbound, I had to dig into my pantry to pull something together for dinner last night and came up with the ultimate healthy and heartwarming comfort food – Savory Salmon Cakes. (I told you having a prepared pantry was so important!) 
They're Weight Watcher friendly (just 2 points each!), heart healthy, crazy easy to make, and so delicious they're almost worth getting snowed in for.  
(Almost.)
To lift my spirits, add some cheery color, and kick the flavor up a notch, I paired the salmon cakes with my Easy Pineapple Salsa. So yummy!  Add a little steamed rice and you've got yourself a weeknight dinner that's good enough for company and hearty enough to satisfy after a day of shoveling snow.
Sound good, Snow Bunnies?
Here's how to make it.
Print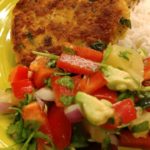 Savory Salmon Cakes (AKA Pantry Recipes for the Snowbound)
---
Scale
Ingredients
Two 6oz cans of salmon, drained (0)
1 egg, beaten (0)
1 T. Old Bay Seasoning (0)
3 scallions, sliced (0)
2 T chopped cilantro (0)
1/3 cup panko bread crumbs (4)
4 t. olive oil for frying (4)
---
Instructions
Place salmon in a medium sized bowl and flake with a fork.  Add eggs and mix. Mix in Old Bay Seasoning, scallions, and cilantro. Stir in bread crumbs until just combined.   Divide salmon mixture into four equal balls. Using hands, press balls firmly to create four salmon patties.  Heat 2 t. of olive oil in ceramic or nonstick pan over medium high heat. Place salmon cakes in pan and cook until golden brown, 3 to 4 minutes.  Add remaining 2 t. olive oil. Flip salmon cakes over and cook for an additional 3 minutes. Remove from pan and serve immediately.
---
Print
EASY PINEAPPLE SALSA (4 servings, Zero Weight Watchers Points!)
---
Description
I only used 2 rings of pineapple for my recipe because that's what I had on hand.  Feel free to add more. You can use any type of canned pineapple. This recipe is really flexible. You can substitute all kinds of peppers and onions and it'll still be delish. If you like your food on the spicy side, use one small jalapeno pepper in place of the poblano. When I finished making the salsa, I found half of a small avocado and decided to put that in too. Avocados are great in salsa and very good for you, but remember that they aren't on the Weight Watchers "Point Free Food" list. My half avocado added 4 points to the recipe, or 1 point per serving. Totally worth it.
---
Scale
Ingredients
2 rings canned pineapple, chopped, plus 2 T juice from can (0) 1 small sweet red pepper, diced (0) ½ medium poblano pepper, diced (0) ¼ cup red onion, diced (0) ¼ cup cilantro, chopped (0) 2 t. lime juice (0) Dash of salt and pepper Dash of cayenne pepper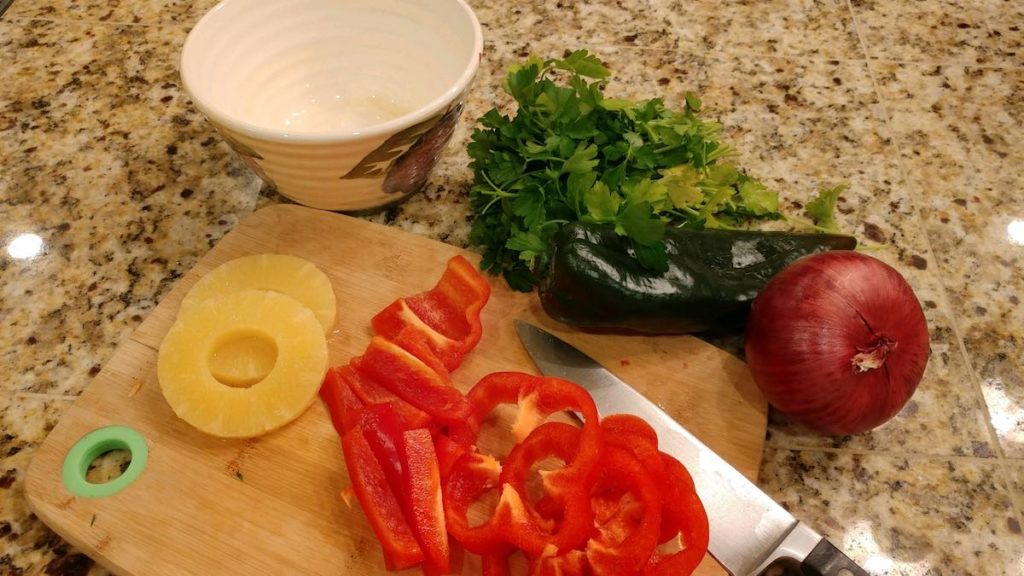 ---
Instructions
Place all ingredients in a bowl and stir. If you have time, it's nice to let the salsa sit in the refrigerator for an hour or two so the flavors can meld.  But if you're in a hurry you can serve right away. It will still taste wonderful.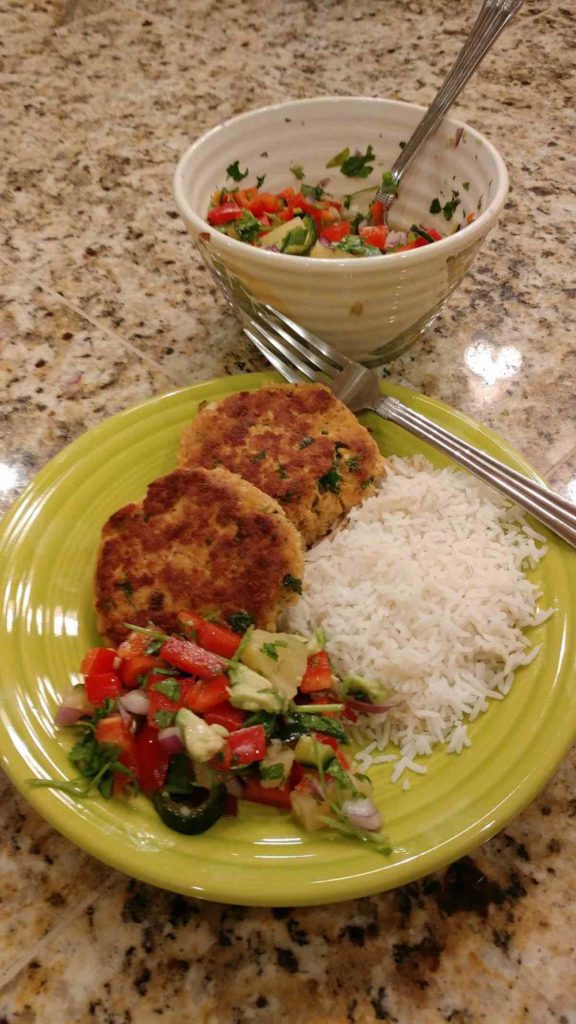 ---