This post may contain affiliate links. Full disclosure policy
From Marie:
I don't invite people to guest post here unless they are very special people with something important to share.  Tierney Davis Hogan, definitely qualifies.
Tierney was the first friend I made when I moved to Central Oregon.  I actually met her before I moved, at a fabric trade show. Her husband was with her. When Terry learned I was a novelist, he asked what kind of books I wrote. With a completely straight face, I answered, "Erotica."  Terry blushed all the way up to his ears! It was a terrible trick to play on someone I'd just met. But something told me he was a guy who could take a joke. I was right. He was a very good sport about it.
That day, Tierney offered to show me around after I moved. We met for lunch and enjoyed a couples night out.  Tierney helped me get connected to the local quilting community. She also invited me over to her house, where I had the pleasure of seeing her studio. Tierney is a talented fiber artist and has had many pieces included in important art quilt exhibitions.
Because we're both working women, Tierney and I don't get to spend as much time together as I'd like (but we did  get together on Saturday for a day of stitching. SEW much fun!)  But I always keep up with her adventures through her wonderful blog, TierneyCreates.com. Her tagline for the blog is "a fusion of textiles and smiles", which is spot-on. If you love crafting and quilts, I highly recommend you check out TierneyCreates.com and follow her posts.
In December, Tierney's world was rocked when her beloved Terry passed away unexpectedly. Nothing about this journey has been easy. But with the help of family, friends, and her support group, she is coping.
Tierney is a strong, wise, beautiful woman and someone I admire very much.  But never more than when I read the blog she posted on Valentines' Day and which she has graciously allowed me to repost here.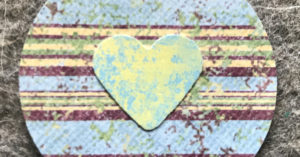 A little less than a week ago I began having quite a bit of anxiety over how I was going to face my first Valentine's Day without my Valentine. In December 2018 my husband Terry suddenly passed away. I've been with Terry more than 1/2 my life and we've never been apart on Valentine's Day.
I was anticipating a painful day on February 14th, completely stricken my grief, perhaps not even able to get out of bed.
In the middle of my anticipatory grieving anxiety, I suddenly realized that doing something for others might be the solution to dealing with Valentine's Day.
For the past 5 weeks I've been in a difficult but awesome Spousal Loss Grief Support Group that meets weekly. It suddenly hit me that all the widows and widowers in the grief support group with me were facing the same dilemma of their first Valentine's Day without their Valentines.
So why don't I invite them all the be my Valentines?
And that is just what I did.
For My Valentines
For the men in my grief support group:
Terry's favorite cookies were the Molasses Crinkle Cookies that I loved to make. I've done little cooking and no baking since he passed so it was a pretty big thing to open my cookbook and actually bake something.
I made a huge batch of these cookies and it felt good to bake again, so good that I actually experienced a sweet moment of joy as I assembled the ingredients.
I put the cookies in a basket and included little sandwich bags for them to take as many as they wanted home.
For the women in my grief support group:
I gave them each little wallets. If you are new to my blog here is a post about the little wallets I made a zillion of since I first became obsessed with them – "Little Wallet Madness" . If you are not new to my blog then you know all about little wallets and some of you own some of my little wallets you won in my blog anniversary drawings!
For the group facilitator:
I gave her a set of my little heart pillows, as she has been helping us heal our hearts.
I then made "Oregon Healing Hearts" valentines using my circle punch and heart punch from my card marking supplies with Oregon/outdoor themed colored papers:
People had the option of an "Oregon Healing Heart" with a dog in the middle of the heart (as I consider dogs healing) or a plain heart:
Here is the whole set up I surprised them with earlier this week at our weekly Spousal Loss Grief Support Group:
I think it went over pretty well. The facilitator let me present them at the start of our support group meeting.
The men were willing to share their cookies and both the men and women got to take home some cookies if they wanted. There was laughter, smiles and hugs despite the difficult topics we discussed at that support group session.
Feeling at Peace
Today is Valentine's Day and I feel at peace. I think it is because I stepped outside of myself and my grief and thought of others for a moment.
Day and night wallowing in my grief was not working for me, even if everyone expected and supported it. I had to try something else. That's where my grief group came in, my unexpected valentines.
Grieving is hard work, maybe the hardest work I've ever done. It's definitely a hobby I don't recommend for anybody.  But, if you're suddenly find yourself a member of the club that no one ever wants to join, find a grief group. Part of what I have learned from this experience is, don't try to go it alone.
The purpose of life is not to be happy. It is to be useful, to be honorable, to be compassionate, to have it make some difference that you have lived and lived well."
― Ralph Waldo Emerson