This post may contain affiliate links. Full disclosure policy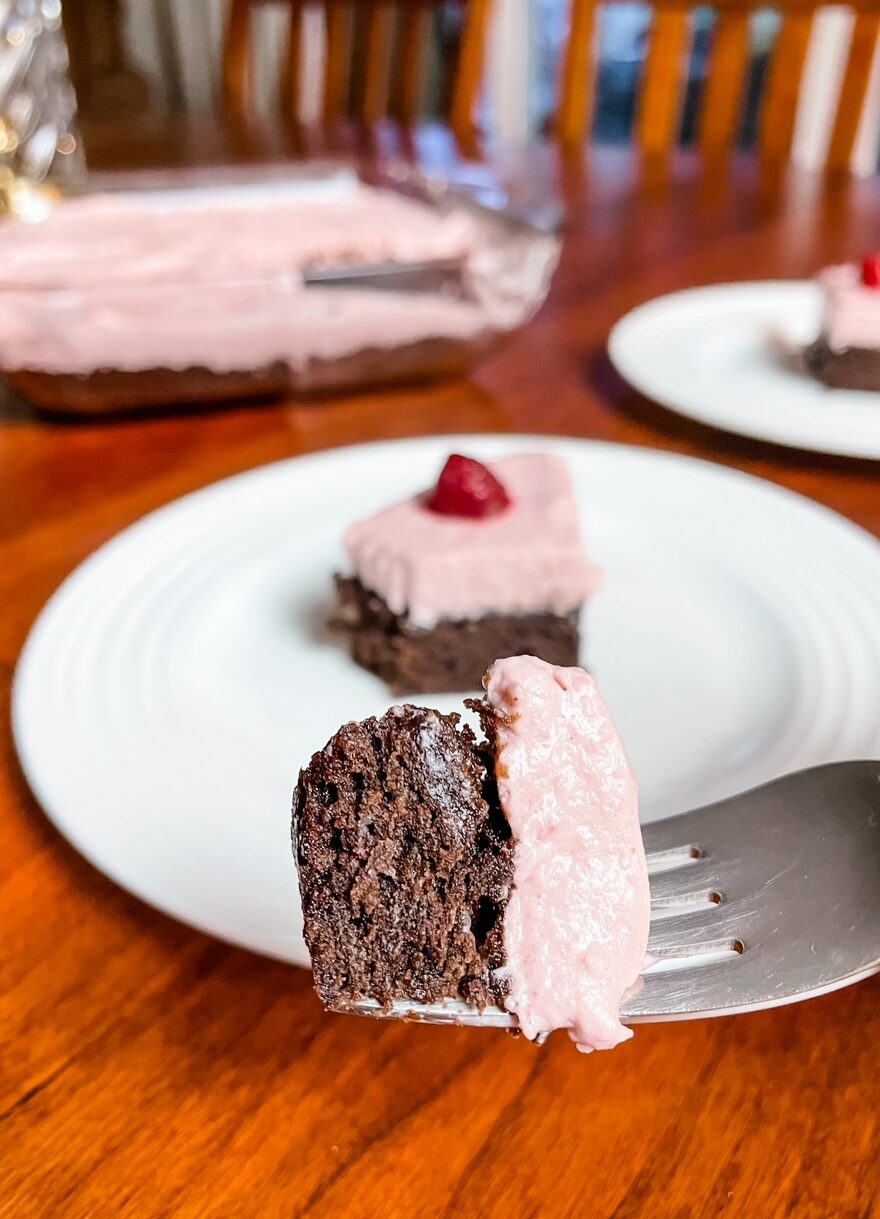 Looking for a delicious, simple-to-make dessert that looks as good as it tastes? Give my Easy Raspberry Chiffon Brownie Cake a try. So scrumptious, so pretty, and SO very easy!
For Valentine's Day or Any Day: Easy Raspberry Chiffon Brownie Cake
With Valentine's Day just around the corner, my thoughts naturally turn to love. And what says, "I love you" better than a delicious and decadent chocolate dessert?
Well…I am sure there must be something but nothing is coming to mind right off the bat. Oh, except maybe the cute camping trailer I've had on my wish list forever? (Honey, if you're reading this, take note.)
Recreational vehicles notwithstanding, making a scrumptious dessert is one of the best ways I know to share a little love. Especially around Valentine's Day, that dessert has just got to involve chocolate. But adding a luscious layer of raspberry chiffon makes this easy dessert one your family will love on Valentine's Day or any day.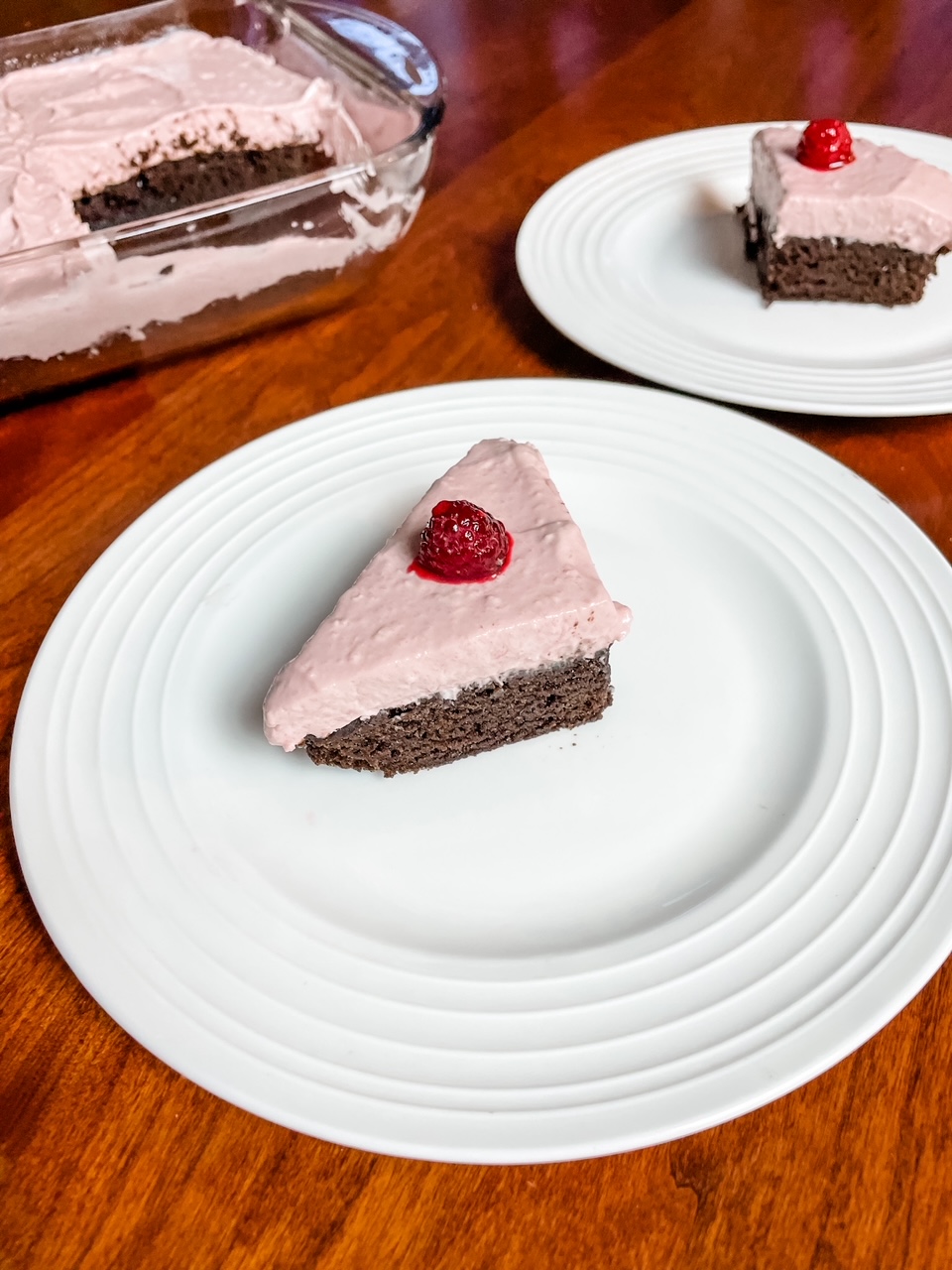 You Do Have Time to Make Easy Raspberry Chiffon Brownie Cake
Unless we're having company over, I don't usually make dessert. Part of the reason involves concerns over expanding waistlines but a lot of it just comes down to lack of time. Most days, I feel like I'm doing well just to get dinner on the table, let alone dessert. I think most of us are in the same boat.
However, my Easy Raspberry Chiffon Brownie Cake is a dessert you really do have time to make. It does require a little time for the cake to cool and the raspberry chiffon to set but the actual cooking time is minimal. If you've got an hour, you've got time to make this cake.
When Time is Short, There's Nothing Wrong with Taking a Shortcut
Though I do enjoy cooking and baking from scratch, I rarely have the time to do it. If I can find a mix that's going to help make my life easier, I've got no problems using it. For this recipe, I decided to make my life easier by using a brownie mix from the grocery store for the chocolate cake layer.
Just about any mix will do but I recommend using a mix that's more "cakey" than "fudgey"; a cake layer that's too heavy doesn't pair as well with the lighter raspberry chiffon. I used a dark chocolate brownie mix that had instructions for making a more cake-like brownie by adding an additional egg.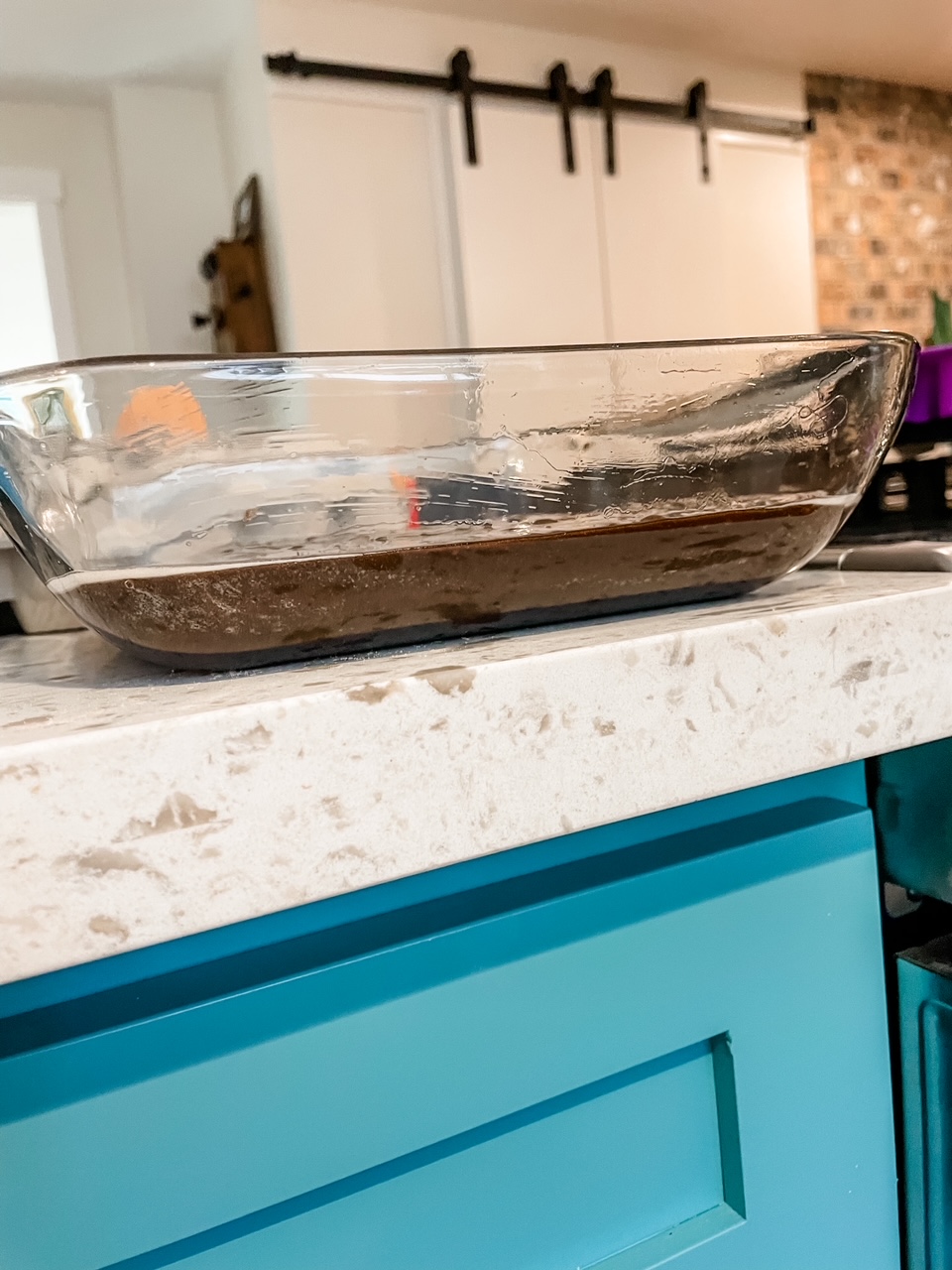 After you make the mix according to the instructions on the package, you'll pour it into your baking pan but only fill it about 1/3 of the way, so you'll have room for that pretty raspberry chiffon layer. This means you'll have some extra brownie mix leftover. You can save for another use if you'd like.
An Easy Raspberry Chiffon – Just 4 Ingredients
There are a few different raspberry chiffon recipes out there. Most involve a lot of ingredients, and separating eggs, and a bunch of steps that I just don't have time to fool with right now.
After looking over a few options, I decided to try stripping the recipe down to the necessities. My first attempt involved just three ingredients – whipping cream, raspberry jam, and cream cheese.
It tasted good but it didn't set up as I'd hoped. When I took it out of the pan, my pretty layer of raspberry chiffon became a sloppy mess. Not good. On my second attempt, I used some plain gelatin to create stabilized whipped cream. It was an easy fix gave me a nice firm layer of raspberry chiffon that held up well after it was plated.
Making the Stabilized Whipped Cream
If you've never made stabilized whipped cream, it's very easy. All you'll do is sprinkle one packet of gelatin powder into two tablespoons of water, stir it and let it sit for about five minutes. Then you'll slowly pour it into a cream that you've already whipped into soft peaks.
The gelatin needs to be fully dissolved but still in a liquid state when you add it to the cream. If it's become too firm, just pop it into the microwave for 5 to 10 seconds so it melts. It's okay if the gelatin is a little warm when you add it but it shouldn't be hot.
One other thing, be sure not to overbeat the whipped cream. You just want it to be at the soft peak stage when you add the gelatin, not overly firm or bumpy looking. The reason I know this is because that's exactly what I did!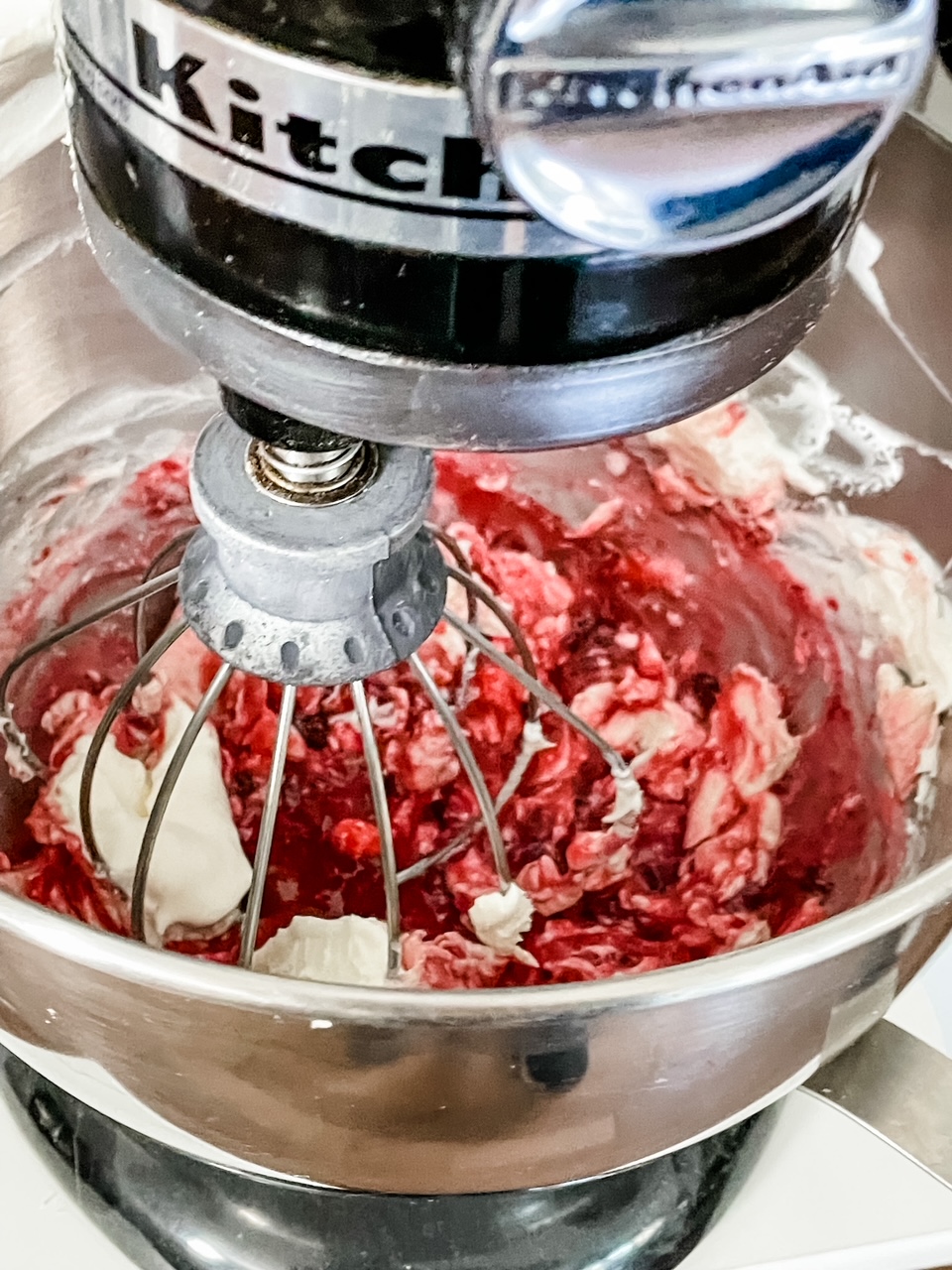 I left my mixer on and got distracted. By the time I came back, the whipped cream was kind of gravelly looking. The end result meant that the chiffon wasn't as smooth and even looking as I would have liked.
If I'd had more cream, I'd have started over. But I didn't and there was no time to go to the store, so I just went with it. However, it still tasted terrific and that's the most important thing. Even experienced home chefs have bobbles now and then. When it happens, I just remember the immortal words of the immortal Julia Child, "No matter what happens in the kitchen, never apologize".
And really, when your family tastes these sumptuous bites of chocolate and raspberry chiffon heaven, a few little lumps of cream is the last thing they're going to notice! Never apologize!
Plating and Serving Your Easy Raspberry Chiffon Brownie Cake
This is a wonderfully rich and satisfying dessert, so I recommend keeping the portions small. To serve, I cut the cake into four squares, then cut corner to corner across each square in both directions to make four tidy little triangles, sixteen total.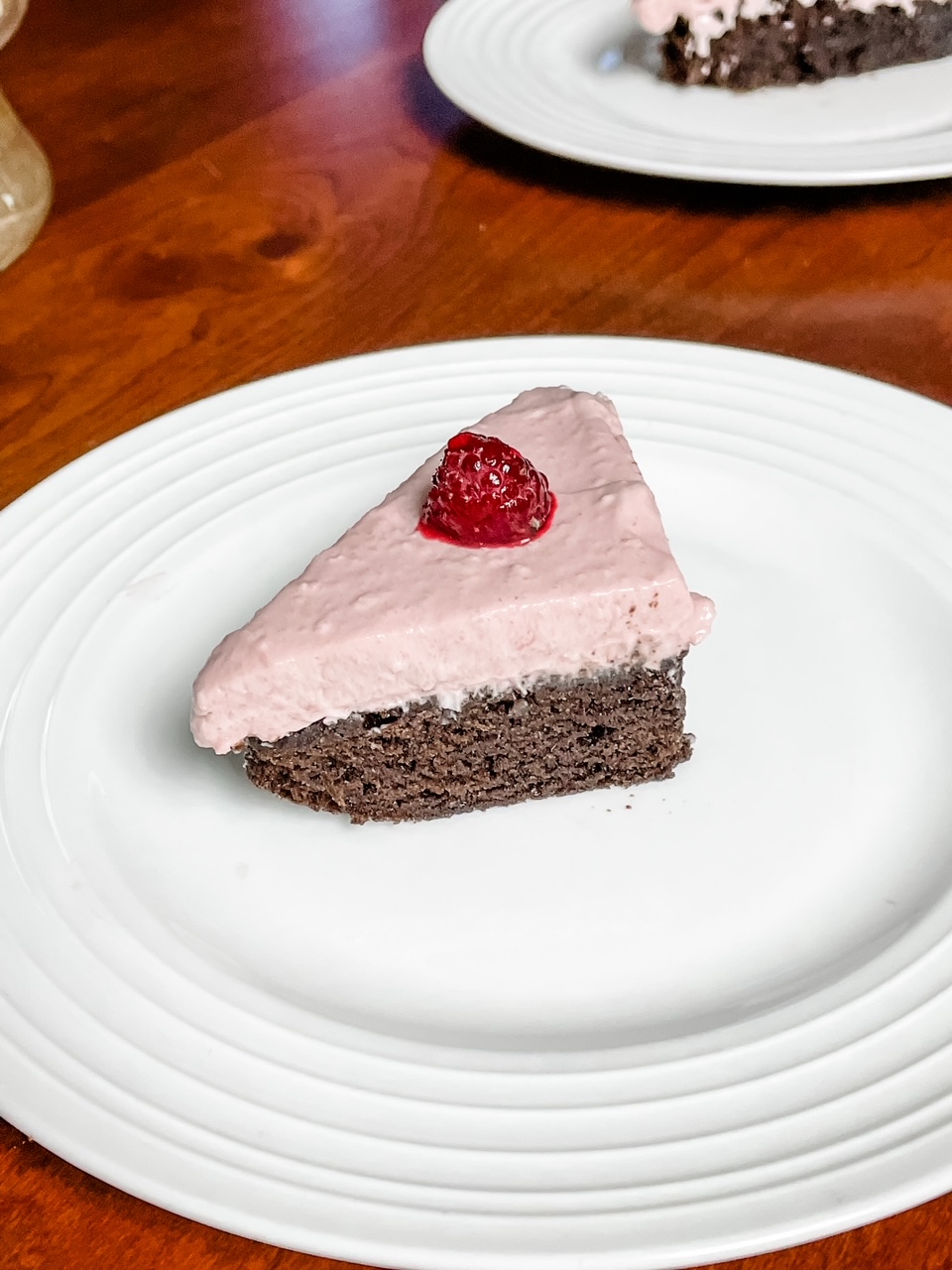 Of course, you can cut them any way you want but I think the triangles look a little more elegant. If you've got some raspberries on hand, those sweet little triangles look lovely with a berry on top. I didn't have fresh berries in the house, so I just unthawed a few frozen raspberries for my garnish.
Whether you serve it for Valentine's Day, a birthday celebration, or as a sweet finish to a weekday dinner, my Easy Raspberry Chiffon Brownie Cake is a dessert your family will love. Try it this week!
Print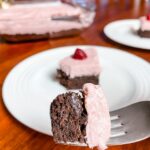 Easy Raspberry Chiffon Brownie Cake
---
Author:

Yield:

16

servings

1

x
Description
1 box brownie mix, along with ingredients to make the brownies according to package directions, usually eggs, vegetable oil, and water
8 oz cream cheese, softened
¾ cup raspberry jam
1 cup heavy whipping cream
1 packet (.25 oz) plain, unflavored gelatin powder
2 T water
16 fresh or unthawed frozen whole raspberries (optional for garnish)
---
Preheat oven to 350 degrees. Use cooking spray or butter to lightly grease an 8-inch square baking pan. Remove cream cheese from refrigerator and allow to soften on counter.
Mix up the brownie batter according to the package directions. (See post for thoughts about cakey versus fudgey brownies). Pour prepared batter into the baking pan so it is about 1/3 of the way full, leaving room for the raspberry chiffon layer later.
Place the pan into the oven and bake for approximately 35 minutes, until baked through or until a toothpick inserted in the center comes out clean. Allow brownies to cool in the refrigerator while you're preparing the raspberry chiffon.
Place softened cream cheese and raspberry jam in a deep bowl or in the bowl of a stand mixer. Beat until cream cheese and jam are well blended and perfectly smooth. Set aside.
Place

2 tablespoons

of water into a small bowl. Sprinkle gelatin over the water and let stand for about five minutes, until thick but still liquid (If gelatin becomes too firm to add to cream later, you can place it in the microwave for about

5

seconds to melt. See post for notes.)
Place heavy cream into bowl. Beat with electric beaters or mixer until the cream is thick and soft peaks form when the beater is lifted from the cream. Do not overbeat. (See post notes.)
Slowly pour in the prepared gelatin into the whipped cream and beat until smooth and well combined. Add the raspberry and cream cheese mixture to the bowl. Use a wooden spoon or spatula to fold into the whipped cream until the mixture is smooth.
Remove the brownie cake from the refrigerator. When the cake is cool all the way through, pour the raspberry chiffon on top of the cake. Smooth with a spatula. Cover cake with plastic wrap and return to the refrigerator. Allow to sit for at least 2 hours, until chiffon is set.
Cut cake into sixteen triangle shapes. Garnish each triangle with a raspberry if desired.
---